Welcome to Cottage Living & Style!
Cottage Living and Style is your guide to modern cottage living. You'll find everything you need to make life beautiful and be inspired to improve your home or cottage and create a life you love.
You'll find fresh seasonal inspiration for life and home, and tons of actionable ideas for home projects, decor, beauty, families, and more!
We've helped thousands of readers create their dream cottage, by finding the information they need to update an old bathroom vanity, space-saving solutions for small cottages, and all the other tips you need to finish your to-do list, and finally enjoy the cottage.
Our editor-in-chief, Stephanie, provides a personal look at renovating a cottage and cabin. But most notably she writes about life as an Indigenous woman, wife, and mother.
You can read her interview on CupofJo, where she chats about culture, raising children close to nature, and her life growing up on a reservation.
Cottage Living and Style is proud to be an Indigenous-owned, women-led digital publishing company.
We truly appreciate your support and readership, and our goal is to continue to bring you only the best, fact-checked, well-researched information that is backed by the highest standards of journalism.
Stephanie Vainer
Stephanie is an Ojibwe woman, mother, wife, and the founder of Cottage Living and Style. She was born and raised at the cottage, which is part of a native reservation and island in the middle of Georgian Bay Ontario. It was her childhood that inspired her to share her love of cottage living. From helping her dad at a young age fix the plumbing, add a new roof, or even frame their new guest house.
But it wasn't until 2017 when her then-boyfriend and she sold their Toronto condo for a three-bedroom bungalow in cottage country, that she realized she had so much knowledge to give. Shortly after, Cottage Living and Style was born.
Now with two children (Penelope and Lake), two properties, and a puppy (Scout) they are designing and renovating their cottage and cabin. They love the challenge of working within a budget and inspiring others to make the most of what they have.
Stephanie also has years of experience working with children as a former teacher. She also owned a Bridal Beauty Salon for seven years. Being a multi-hyphenate, she brings her love of creating a beautiful life to Cottage Living and Style.
Follow along with her journey, in a free newsletter, which you can sign up for HERE.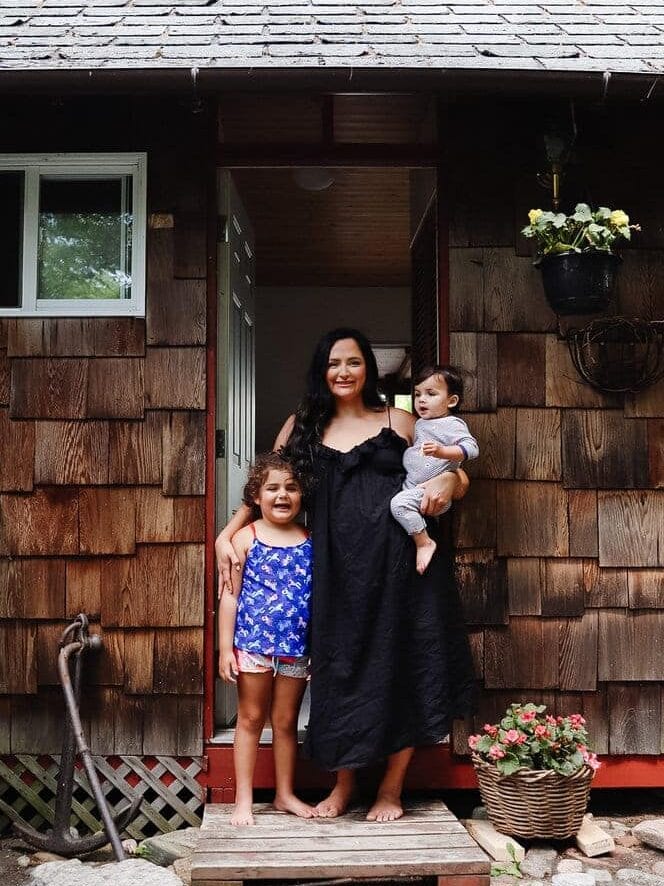 A little about me…
Fav Coffee
Homemade Latte
Fav Biz to support
Poppy & Peonies