Father's Day Gift Guide for the Outdoorsy Dad
In today's article, we're sharing a Father's Day Gift Guide for the outdoorsy dad. Handpicked for my father and husband.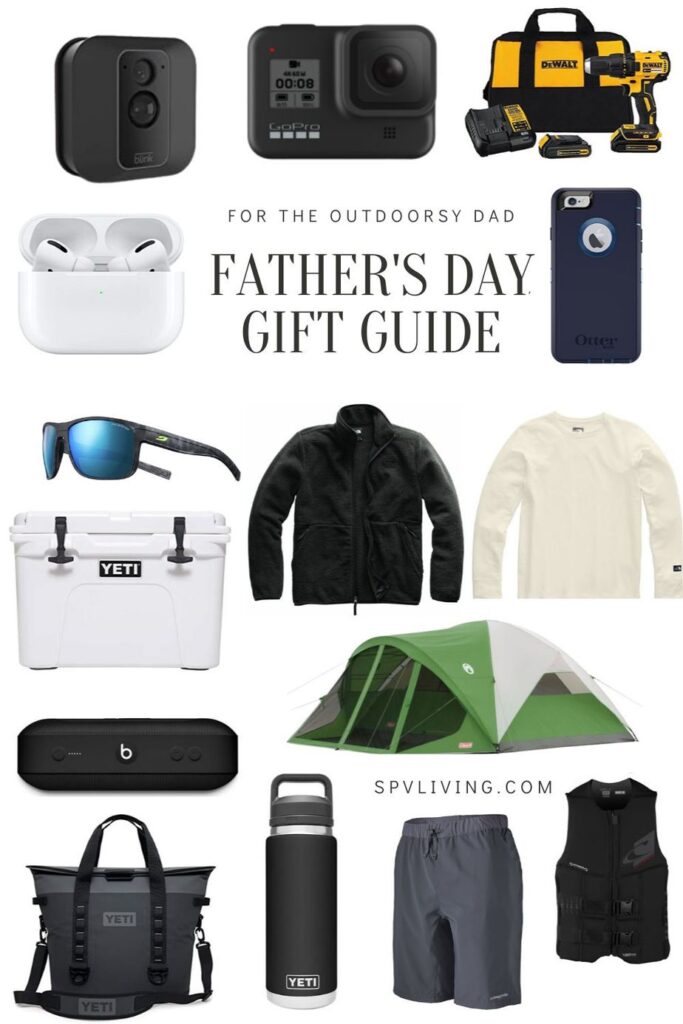 Even though a gift is only a small token of gratitude we have for the hard-working fathers out there. We still wanted to make sure we were sharing a few perfect ideas for the outdoorsy dad in your life. In fact, these are all handpicked by my dad and husband who are the epitome of an outdoorsman. Not only does this father's day gift guide make my job super easy, but I hope this helps you give a gift we know your outdoorsy guys will love.
This blog post may contain affiliate links, and we always appreciate your support when using our recommendations.
But first, I couldn't resist sharing a few pictures of my favorite people doing what they do best. Actually, I think Luke Bryan's song, "Hunting, Fishing and loving every day" is literally the soundtrack to their life. If the guys in your life are the same then these next items will be perfect.
Father's Day Gift Guide for the Outdoorsy Dad
Without further ado, let's start with the two things Tony and my dad would both love regardless of being an outdoorsman. The Beats Pill +, and Apple AirPods are essentials for any guy. I finally jumped on the AirPod bandwagon and now I can't leave home without them (in fact I'm wearing them right now!).
Tony has been talking about getting an outdoor camera for our backyard just to see what kind of animals we have come through. I'm still 99% sure we had a bear out there the other day. The Blink XT2 also works as an indoor security camera as well.
Every outdoorsy dad NEEDS a Go Pro HERO 8. To be honest this has also been on my list of things to get for over a year. I would love to be able to use it at the cottage or on vacation, imagine the awesome videos we would have.
Every household needs a drill kit! It's honestly one of those things that you just need in your home, regardless if you own your home or rent it. Both my husband and I use it regularly.

More Gift Ideas for Father's Day
Otter boxes should just come with iPhones by now.
An outdoorsman needs two types of shirts, a light long sleeve to protect from the sun and a thermal or sherpa for the early mornings on the water.
Walmart has a pretty good selection of quality tents like this one. Since we plan on doing some local camping trips this summer I thought a new 8 person tent would be a perfect gift.
I try to get a new lifejacket every couple of years or when our old ones are looking a little rough. This black O'Neil lifejacket is a must-have for any water lover.
This Yeti Rambler was actually one of my mother's day gifts that I seriously love. So I thought why not return the favor, and get them both one of these.
The Yeti soft cooler is perfect for early morning fishing trips, or cottage weekends.
A Beats Pill+ speaker is essential for the summer months ahead. Tony uses his speaker in the backyard, on the boat, while working out, and even at the cottage. I highly recommend it because it's easy to bring anywhere, the sound is amazing but the quality of the speaker is so good!
I'll be honest, I'm buying this Yeti cooler as a father's day present but I'm secretly going to use it for myself.
These sunglasses are under $200, good quality and are polarized.
Finally, the best purchase I made recently were these AirPods pro's. I know both my dad and Tone would love them as well! The sound is so good, they are comfortable and very convenient.
P.S Check out a few more ideas linked below.
Read More: