My Nordstrom Sale Picks for 2020
Well, it's that time of the year for my Nordstrom Sale picks of 2020. If you aren't sure what the Nordstrom Anniversary Sale is or how to shop it, you can find more information here.
But first I'll quickly go over the dates of the Nordstrom Sale that you should know about. It's a bit different than the years before in terms of the days you get to shop. I've added a quick cheat sheet below: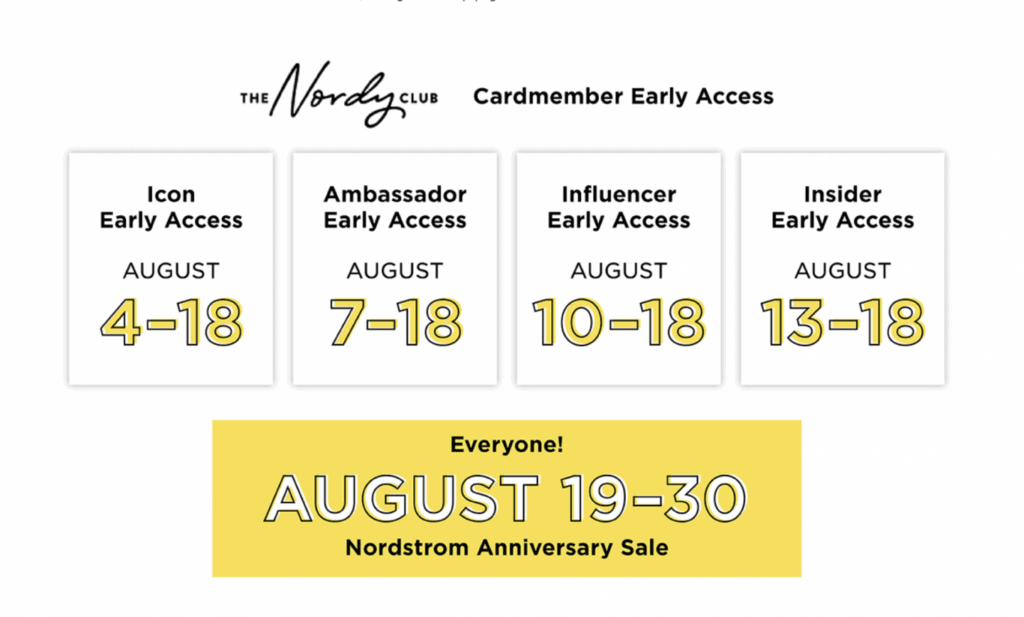 If you're like me and you had no idea what category you fall into, I've got you covered. I'm linking a quick way to find out your Nordi status.
My Nordstrom Sale Picks 2020
Now that we have that out of the way I want to get into my Nordstrom Sale Picks 2020. Starting with my all-time favorite over the knee boots. These have been on my fall shopping list for a very long time, last year we saw them everywhere. But I'm determined to get a pair of the tanned version, but I'm also linking black for you too.

Next, is the t3 hair curler in 1.25. I have almost bought this so many times but I knew Nordstrom was going to have it in there sale this year. It's a highly coveted item and similar to the Sephora VIB Event, the T3 usually sells out fast.

Another cult favorite and it is the softest blankets I've ever felt! I'm buying a Barefoot Dreams blanket this year for Christmas presents and I seriously hope they don't sell out before I can.

I've had my Ray Bans for over 5 years and they've stayed in great shape. I bought them from Nordstrom before I even started this blog and before I knew I could wait for this sale.

The Hydro Flask is another item I literally see all over Instagram. I get the hype thou I love drinking out of my pink one. It keeps the water cold and for some reason I drink way more water this way.

I'm excited that the Riki Mirrors are included in this year's sale. I've been wanting to get myself one so I can do my makeup anywhere other than the bathroom. I figured it would also be perfect for traveling, like doing makeup in an airport, in the car or even at the cottage.

Spanks Faux Leather Leggings are back! I knew they would be included and I'm pretty excited they are. I think they would look super cute on literally anyone. They come in a ton of different sizes and would look great with the Barefoot Dreams cardigan or with over the knee boots.

I'm sure you know I have a love of hats, and this one is no exception. It makes me excited to wear this one in the fall meeting for a distanced coffee with girlfriends or to just hide dirty hair.

Last year I bought the ankle booties in the tan colour and I still wear them all the time. They are really comfortable and easily dresses up any outfit.

So Barefoot Dreams also makes cute cardigans, that are just as soft as you could imagine. They come in several different colors but personally I love the pink and white. Also, they are majorly discounted and affordable.

One of my last picks for women's is this Tory Burch wallet in pink. To be honest there wasn't a lot of accessories or bags to choose from. This was my favourite and I honestly need a new wallet.

My Nordstrom Sale Pick for Babies
Now for my baby girl pick, these adorable pink Ugg's are going to look so cute this fall. Again they come in a variety of sizes from little babies to girls and I'm assuming these will sell out quick as well.

Finally, the last of my Nordstrom Sale Picks of 2020. My dream stroller, and the one I should have got instead of the one I picked. I've heard nothing but amazing things about the Uppa Baby Stroller line. It's majorly discounted and honestly I almost want to convince Tony to buy it for our next child.

As always thank you very much for visiting my blog and shopping through my links. I earn a small commission at no extra cost to you every time you purchase something I recommend. Let me know in the comments if you are excited about something that I didn't mention above.
Don't forget to pin this post for later!