6 ways to style a summer dress for fall
One of the things I wanted to do was share more fashion and style on the blog. I want to share more of my favorite outfits, how I style them, and of course more family fashion. It's an essential part of feeling good about yourself, and that's exactly what SPV Living stands for. My goal is to be your resources for living a beautiful life, no matter where you are, what size you wear, or what you do. We all deserve a life that's beautiful no matter what beauty looks like to you.
So today I am sharing 6 ways to style a summer dress for fall. If you're like me and love buying cute effortless dresses in the summer you will be happy to know that you don't have to put them away just yet. When I buy clothing I always think about how I can get the most wear out of it, and how I can pair it with things I already own.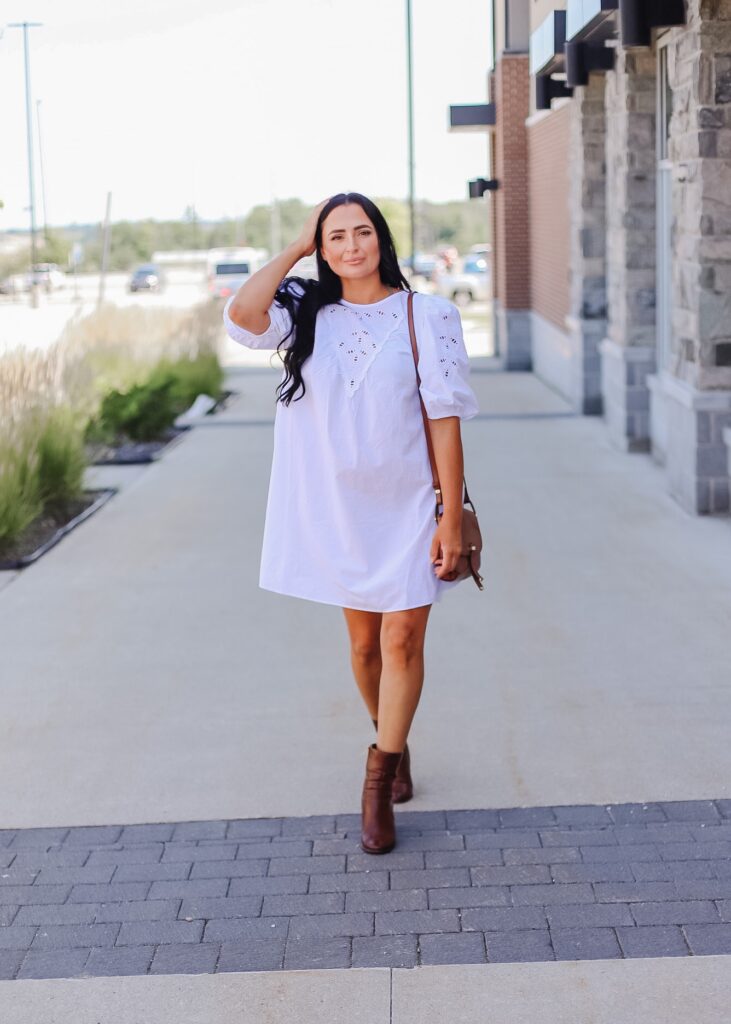 6 ways style a summer dress for fall
Fall is my favorite season to shop but summer is a close second. This is why the majority of my closet consists of both summer dresses and fall accessories. I love that I can still get a lot of wear out of my favorite summer dresses in the fall just by adding a few staple pieces. So here are 6 items that I always have in my closet.
Booties
I love boots and wearing booties is one of the ways to style a summer dress for fall when it's still a bit warm out. Sometimes it's too hot to wear over the knee boots but you also don't want to wear sandals. Sharing my favorites below.

Sweater
You can wear a dress any time of the year simply by adding a cute sweater. Fall is also the perfect time to show off your sweater collection by pairing your summer dresses with either a lightweight sweater or a chunky knit. I've included all of the best below. Oh, and sweaters are also a good thing to invests in since you can wear them over and over again.

Denim Jacket
I don't think I will ever stop wearing denim jackets in the fall. I don't know if it's my country-girl heart but I swear them pairs well with just about any casual outfit. Plus it's another fall essential that you will have forever, especially if it's one I linked below.

Over the knee boots
Over the knee boots are a STAPLE in any fall wardrobe. Expect to see me wearing my OTK boots a lot this year, especially with some cute dresses. Thinking about ways I can style them makes me so excited for fall! If I had to choose one thing to buy it would definitely be these boots.

Wide Brim Hat
Wide brim hats have been a popular fall accessory in the past few years and I totally understand why. I love wearing hats especially when my hair isn't co-operating or dry shampoo isn't cutting it. Sharing some cute options below!

Over sized Scarf
I don't even own a "regular" sized scarf anymore because I would rather have over-sized scarves. I love how pretty they look draped over the shoulder, or paired with a neutral cardigan and of course a summer dress. oh and mama's I've totally used it as a blanket for my little one last fall.

Anyways, I hope this gave you a little inspiration for fall which is right around the corner. These 6 ways to style a summer dress for fall are all items all great transitional items you can use year after year. I do love trendy pieces but I really like to invest in accessories and I hope this makes the transitioning to fall a bit more exciting.
Pin this to your outfit inspo for fall!
Looking for more style?
My Favourite Fall Footwear from Nordstrom
These are my Fall Necessities from Nordstrom
Lets be friends on Pinterest too! I share lots of Fall Inspiration