The Ultimate Fall Winery Style Guide from Amazon
If you plan on visiting a winery this fall, we're sharing the best fall winery outfits from Amazon that are perfectly curated to make you feel good and enjoy your time at the winery.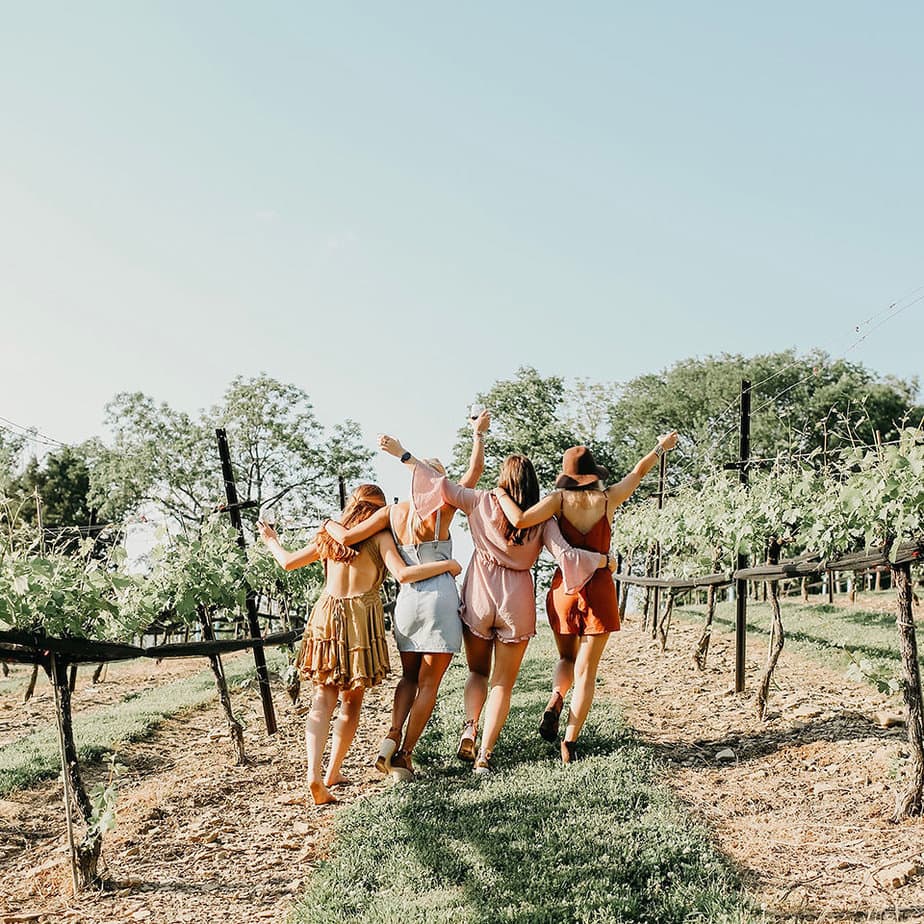 Fall is the perfect time to visit a winery. The weather is crisp but generally warm in the afternoons with the sunlight still giving end-of-summer warmth. Late fall also provides the perfect backdrop for gorgeous photos thanks to mother nature coloring the backdrop with hues of yellow, red, and oranges. Not to mention, fall is also less busy than summer weekends, with the kids back in school and the world returning to new and normal routines.
So if you are fortunate enough to live close to vineyards, you likely also live close to apple orchards and pumpkin patches, so your weekend adventure can easily be a double or triple-duty adventure with a little planning and determination. Or maybe you're planning a little getaway with girlfriends or a fun date!
Whatever the occasion may be, we're sharing our favorite fall winery outfits from Amazon that are all hand-picked by our editors. We wanted to make sure they are all not only super cute, stylish, and affordable, but will arrive as early as the next day (in case you're on a time crunch like I am 90% of the time).
Keep reading our ultimate guide to fall winery outfits from Amazon below. We're rounding up our favorite things for the perfect fall winery style guide.
Fall Winery Outfits
What do vineyards, apple orchards, and pumpkin patches have in common for country girls like us? Perfect outfits to match the occasion of course! Let us know what you want to see styled next in the comments.
Anyway, let's kick off our ultimate style guide for fall wineries, starting with your choice of clothing, followed by shoes, then accessories.
Clothing
Winery outfit ideas are really an anything-goes mentality. Your first step is to ensure you are comfortable. Wine touring can be a day-long adventure, so ensuring you are dressed for the weather, for comfort, and for style are all very important factors when choosing your outfit. While your summer outfit can likely be repurposed into a fall outfit, the time of year you plan to visit will play a big part in what you wear.
A Button-Down Shirt
A white button-down shirt should be a staple in every woman's wardrobe. We could write an entire blog on this one piece of clothing and the many versatile ways you can wear it. The crispness of the white will also contrast the fall colors and vast landscape photos you take beautifully. For a winery visit in the fall, pairing your white buttoned-down collared shirt with skinny jeans or leggings and a great pair of boots is a classic look you can't go wrong with. Speaking of jeans; for a chic look, pick a dark color wash. For a more modern look, lighter-wash denim is the way to go.
Sweater Dress
Because no fall wardrobe is complete without sweater dresses, we had to include them in our list of outfits for vineyard tours.
Midi Dress
Just because it's fall, doesn't mean we need to pack up those summer midi dresses or flowy dresses quite yet.
Short Dress
Short dresses when paired with pretty shoes and an outer layer are perfect for a fall day at the winery. Wearing a dress is also our recommendation for a winery wedding outfit, and adding pops of color with your accessories will make this the perfect option.
Shorts
A pair of shorts may seem like a summer winery outfit, but early fall afternoons can still be very warm. Pack an extra layer of outerwear and you will be ready to indulge in delicious wine this harvest season. But we included our actual favorite 2-piece linen short set below.
Jeans
A nice pair of jeans can take you anywhere, including a local winery for a laid-back look. If jeans aren't your thing, long pants such as leggings or jeggings will also pair perfectly with a crisp shirt or sweater and a good pair of boots for a casually stylish outfit. But I wanted to throw in another favorite which is a long denim skirt.
Long-Sleeve-Top
Fall can bring quickly changing temperatures, and similar to a back-to-school outfit, wearing a long-sleeve top is the perfect laying item. Did we mention it will also help keep mosquitos at bay?
Shoes
Sometimes, starting an outfit from the bottom up is the way to go! Once you determine which shoes or boots you want to wear, the rest of your outfit will easily fall into place. Wineries generally require a bit of walking around, so choosing pretty and comfortable shoes is key. Wineries generally pour samples graciously, even more so in the off-season, so comfortable shoes will also ensure your safety after a few drinks. High heels and outdoor wineries are not a good idea! Wine country casual is also a well-defined style and easy to pull off for your fall wine tour.
Knee High Boots
Knee boots have been around for years and for good reason; they make our legs look long and lean and can turn a basic fall outfit into an outfit worthy of a fall winery outfit.
Flat Sandals
If you are like us, flat sandals are a year-round staple. We live in these slip-on sandals from Amazon!
Flats
Flats or ballet flats are another great option and one of the safe bets. Not only are they comfortable but they come in so many styles and colors. The perfect addition to any outfit you choose.
Loafers
Classic loafers are a personal favorite, especially in the fall months. We love loafers with a pair of tights and a cute midi or mini dress.
Ankle Booties
Ankle Booties remain a steadfast everyday shoe option because of their style and versatility. They also come in many affordable options and are easy-to-find, trending pieces.
Block Heels
Ok, we know we said no heels, but a block heel is different. Heals are dangerous because you could easily get stuck or trip on leaves, branches, or gravel. A block heal looks cute and will also be safe for long afternoons traipsing around the fields.
Sneakers
For years, sneakers were for the gym and not the streets. Now, a pair of sneakers is a necessity in every woman's wardrobe arsenal, not only for the comfort and versatility but because of how amazingly stylish they have become.
Outer Layers
Now that we have the perfect outfit planned, we need to add on outer layers like complimenting jackets, pretty scarves, and accessories. A light jacket like a denim jacket can be worn year-round and transitions perfectly into fall.
Leather Jacket
A well-fitting leather jacket will never go out of style. A warm coat will likely be needed for a full day at a winery as mornings and evenings can tend to be cooler.
Jean Jacket
This year-round staple will look great paired with a maxi dress, or cozy sweater and is a great option for cooler evenings at the tasting room.
Sun Hat
No winery tour is complete without the perfect fall. In the summer months, you can still protect yourself from the sun with a cute hat. A great choice for a fall winery sun hat is something like this.
Don't think we forgot the man in your life. If matching with your man is as important as choosing your next sample, we've also rounded up a few fall outfit ideas for him.
Using our recommendations above, let us know how you've styled your fall winery outfits. Warmer fall days were made for a glass of wine in hand at your local winery