14+ Best Toddler Toys for Road Trips in 2023 Perfect for Cottage Weekends
When it comes to finding the best toddler toys for road trips, we put all our favorites to the test! Here are our editor's personal must-haves that they use every time they travel.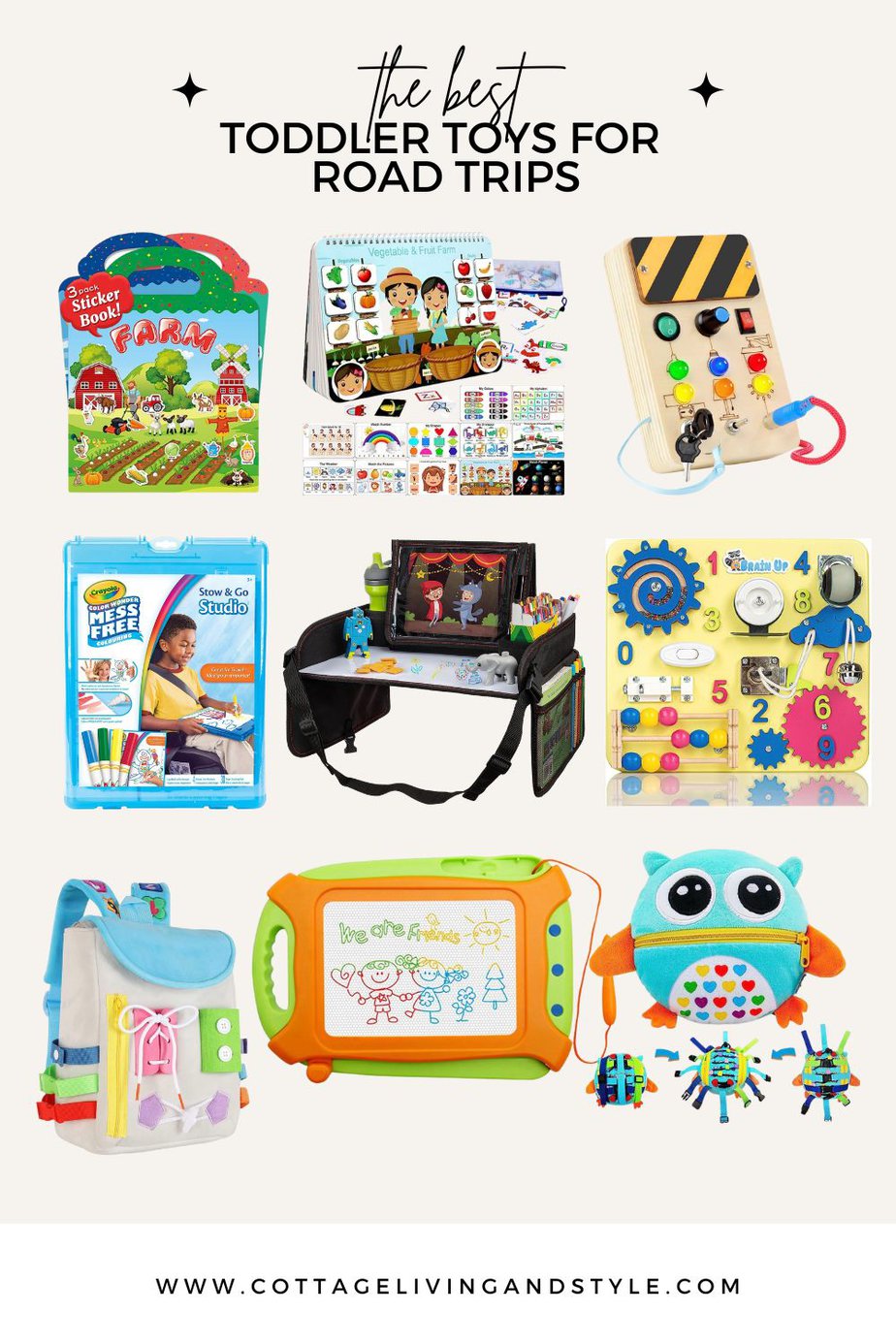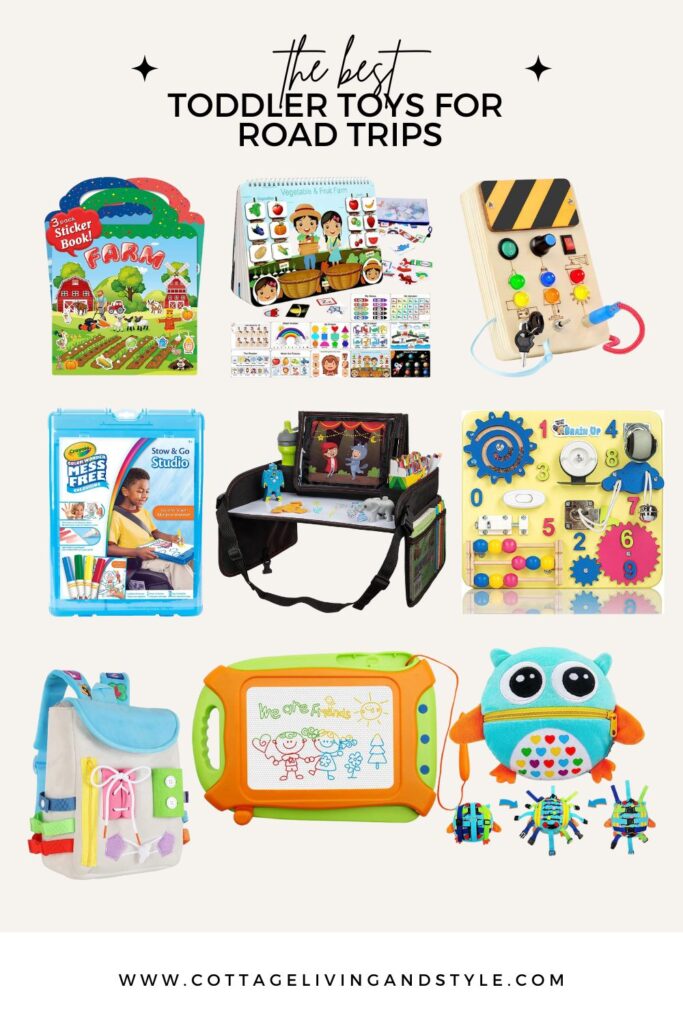 Family vacations are supposed to be fun, but we all know that traveling with toddlers and their unique needs can sometimes be stressful and overwhelming for all involved. In a world where people pass shame on too much screen time, coming up with ways to keep your little ones busy on long car rides can seem daunting.
So we've rounded up the best travel toys to keep little hands and little minds busy on your next long road trip or the weekly drive up to the cottage. Because young children are still developing their fine motor skills, we wanted to make sure to include a good mix of fun and educational toys to make that can even make rainy-day hotel stays a bit smoother. The best part of this list is that all of the items featured are available on Amazon with Prime delivery! So if you are leaving in less than a week and forgot to purchase a few car essentials, we've made it really easy to add to your cart!
Keep reading to find out what exactly are the best toddler toys for road trips!
Best Toddler Toys for Road Trips
We all know, as parents, we would much rather over-pack, than under-pack. But I want to make your life a bit easier, with our tried and true (as tested by our editors) must-haves for road trips with our toddlers in tow.
We recently did a 7+ road trip with our two-year-old and five-year-old in tow. As much as you plan to have games, toys, and crafts for them to do it gets to a certain point where you just need a second. This is where the fire tablet comes in, it's not only safe and dependable for ages 6-12, but it's even great for toddlers too! I prefer to add age-appropriate games that I've shared below.
Similar to the book above, a busy board is an ideal activity for young kids to play with in a car seat or at your travel destination. The felt boards inside of a busy board kit are generally jam-packed with interactive toys for learning colors, shapes, time, letters, and animals. Some boards even help with learning to zip zippers or tie laces for older toddlers. Amazon Canada has so many great options, and we love this one.
As children, our editorial team was obsessed with stickers and sticker books. Who remembers going to the Dentist and getting a sticker? Or even better, the Lisa Frank line of stickers! Ok, you get our excitement so you can likely relate to why your toddlers would love them too. 3D reusable stickers that are made of high-quality materials will keep them busy for several family trips. Most of the time, these stickers are washable, durable, and great for toddler age groups for long road trips. The learning opportunities from stickers are endless as they learn hand-eye coordination, concentration, and imagination development. We do recommend only using stickers for older kids because the little pieces are a choking hazard. We love this one if you are looking for a tried and tested set!
My kids never leave home without packing a coloring book and crayons. This is a great option for little kids of multiple age groups and has been voted as the best toddler travel toy item for years. Coloring kids are the perfect size to throw in a car activity bag and can keep kids entertained for hours of creativity on long car trips! The Crayola Mess Free Color Wonder Stow & Go set is our top pick because the ink from the markets will only show up on the special paper provided (guaranteeing a mess-free car ride) and comes in a handy storage case that kids can easily open themselves in the backseat.
While we're on the subject of coloring books, my daughter who would spend hours drawing loved the lap table I found on Amazon. It's great for on-the-go because it's sturdy, has velcro to ensure it won't move, and has plenty of pockets and even cup holders.
​For your next plane ride or long journey, we recommend packing a magnetic drawing board. We seriously love ours, now only are they educational, but these reusable writing boards are the new age activity books. On long car trips, your toddler can draw, write and doodle with the mess-free stylus over and over again. These boards have certainly evolved over the past few years, and now come in different colors!
This versatile toy in our opinion one of the best toddler toys for a road trip. Using a reference card with an image, your toddler with use the small magnetic tiles to imitate the same pattern on the other side. This sensory toy is perfect for little fingers and will help your child learn essential problem-solving skills. Because they are usually made from bright colors and common photos like farm animals, your child will have endless fun with the different designs available. A magnetic travel puzzle is a top pick for imaginative play on a family road trip.
Fidget toys are amazing! Especially for my busy boy who loves figuring out how things work. This 6-in-1 Montessori toy is a great toy for smaller toddlers (1-3 years) for family road trips. The 6 different sides will spark imagination and curiosity while they explore, experiment, and discover. Sensory toys such as this one are like having 6 different toys in one, so they are easy to pack and unpack when you as a parent need a minute of silence.
The Water Wow Books and the Mess Free Coloring are two things I always have on me for road trips. Not to mention the cost for this activity is amazing and it's perfect for keeping little minds and hands busy on family road trips. Available in many different sets, water wow books are a great alternative to coloring books for your youngest family member. The Melissa & Doug on-the-go water book features reusable pages that come to life when wet with the special pen provided. When water is placed onto the special pads, the colorful images come to life. Designed for younger toddlers with small hands, the compact, spiral-bound format is ideal for travel. This item is one of our top picks from the list!
As parents, we're confident you've heard your child's favorite song a million times on the last road trip. For your next one, why not download a kid-friendly audiobook? 'Brown Bear, Brown Bear, What Do You See' is a favorite in our households and we know your little one will love it too!
Buckle toys are another perfect road trip toy as they do not take up too much space, are made of good quality materials, and are a great way to entertain your toddler for long periods of time. Made for learning and development, these toys will help teach your child about colors, numbers, counting, and more. We especially love how quiet this toy is, and that it can be clipped onto a car seat or stroller.
While any book could be used for quiet time, quiet books are a good choice to throw in a travel bag for younger kids. What makes these books different is that they help teach matching skills to children as they learn to problem-solve and play independently. Kids will look at empty shapes on one page and use the reusable Velcro image from the other page to match shapes and fill in the blanks. These books are available for several age groups and feature different things such as animals, food, and cars. Because of their compact design, they are a perfect travel toy.
I recently came across this Busy Board Backpack and immediately added it to my cart. It's certainly a great travel bag with everything you need to keep your child entertained. Throw in a few snacks and books, and you're good to go!
Do you think we're missing one of the best toddler toys for road trips? and does your family have travel toys we should know about for long trips? We're always on the market for great travel toys so send us an email to get in touch!