25 Fun Date Night Games to Play Next
Whether you're at the cottage, or at home, these date night games are the perfect way to spend some quality time together. Plus you'll probably get to know your significant other a little bit more after playing.
During the height of the pandemic, my husband and I discovered just how much we loved board games. During those long days of being safe at home, we purchased and borrowed more board games than I care to admit. In a way, discovering a new fun game became our love language and was the perfect way for us to connect as a couple.
Are you looking to reconnect with your partner and spend some quality time together at the cottage? Why not make your next date night a games night?
Over the past two years, we have played well over a hundred different board games. Date night games can come in many forms and styles so today I am going to share my favorite two-player games! To make things simple because we know every relationship is different, we've broken down our favorite thirteen games into four classic categories. Happy Game Night!
Keep reading to find out our favorite date night game to play at the cottage.
Board Games
While there are plenty of games on the market, not all games are created equal.
Scrabble
Chocolate bar marzipan jujubes jelly-o carrot cake caramels. Tootsie r
Scrabble, a tried and true classic, always remains at the top of our list. It's one of those games we reach for at least once a week. Scrabble is a word game in which two players can score points by placing tiles, each bearing a single letter, onto the game board that is divided into a 15×15 grid of squares. The tiles being placed must form words in a crossword fashion that read either left to right in rows or up and down in columns. The catch is that the words you used must be included in a standard dictionary (no slang allowed here!). Since we like to be 100% honest with our readers, I will admit that my husband is a secret genius and beats me nine times out of ten! We play this game so often we have a house board, garage board, cottage board, and travel board!
Sequence is the second board game that tops our list of the most reached game over the past two years. Fun for kids and adults, Sequence is challenging and exciting. The object of the game is to play a card from your hand and place a chip on the corresponding space on the game board. When you have five in a row, it's a sequence. While making your row, you also need to block your opponents and/or remove their chips with your Jack card which acts as a wild card! This game takes a little strategy and a little luck to be the winner! Sequence continues to be one of our favorite games for an at-home date night!
Scattergories is the game that started it all for us. This super easy and fun game is perfect for two people, takes up no space, and can be played virtually anywhere. The object of the game is to score points by uniquely naming objects within a set of categories, given an initial letter and a time limit. Because you roll the letter dice to choose the letter, the game and questions are never the same. The trick to this game is to use what you know about your partner or opponent against them to help you score the most points! For example, if the letter is P and the category is animals, don't choose Penguin if you know your partner loves them, because changes are that is what they wrote too! If you want to take things to an entirely new level, you can also come up with your own categories or suggestions.
More Board Games for Couples
Click the pictures above or any of the items to shop.
Other classic games that we often reach for include The Game of Life, Clue, Battleship, Trouble, Sorry, and Yahtzee! Just because the games are marketed towards children, does not mean adults can't also have fun playing.
Strategy Games
This category of date night games often requires you to make a lot of decisions to achieve a specific outcome. They range from a classic game of Chess to more modern style games such as Ticket to Ride, or Catan.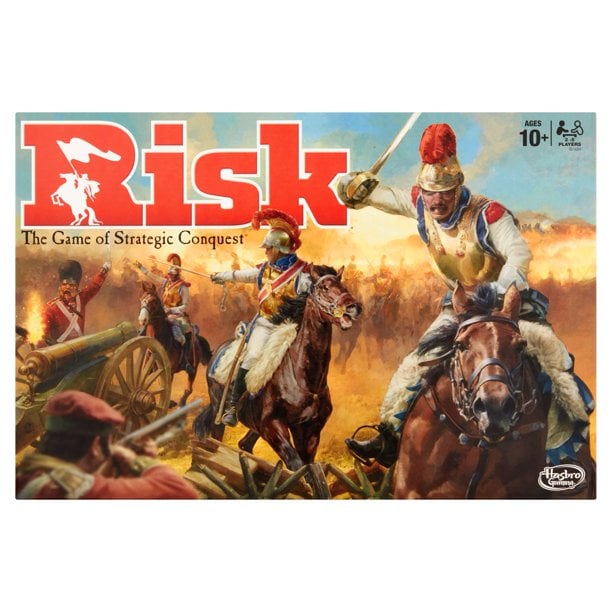 The Risk game might be the most classic strategy game on the market today. In Risk, the goal is simple. Players aim to conquer their enemy's territories by building an army, moving their troops in, and engaging in battle. Depending on the roll of the dice, a player can either defeat the enemy or be defeated. My father-in-law was the first person to ever show me how to play this game, and I have been a fan ever since. This board game is lengthy, which makes it a great board game for date night.
While considered a classic board game, Monopoly continues to top the charts as one of the best board games of all time. This beloved strategy game has many themed versions, and multiple expansion packs and teaches financial basics to those young and old. While we don't reach for this game as often as we used to, we still dust it off at least once a year for a quiet night in.
Catan, while somewhat new to the strategy game market, has taken the world by storm. They recently released a two-player game option, making this strategy-based game a fun date night activity. Catan was one of the first games to use negotiation in an innovative way and allows players to trade cleverly and use tactical skills. If you are not familiar with the game, picture yourself in the era of discoveries! After a long voyage of great deprivation, your ship has finally reached the cost of an uncharted island. Other fearless seafarers have also landed on the shores, and you are now in a race to settle the island! We think a bit of friendly competition from the comfort of your own home always makes for the perfect night in!
Other strategy games that we love to play include Ticket to Ride, Sushi Go, Rumnmikub, Blokus and Connect Four!
Adult Party Games
Looking to spice things up a bit and stray from the usual board games we've mentioned above? An adult party game might be exactly what you need to take your relationship to the next level! If you are looking to get out of your comfort zone, these games might just be for you!
How to Play Two Truths and a Lie
You'll need two or more players
Player one has to give 3 statements about themselves. Two will be true and one will be a lie.
After player one is done, everyone will take turns guessing which one is the lie.
Whoever guessed correctly goes next
Try not to say the lie last, and mix up the order of truths each time.
Use simple lies that seem believable
Examples of lies: My dad has a twin, I was in a movie when I was little, Yogurt makes me sick.
Two truths and a lie is the perfect get-to-each-other game. You can easily play anywhere as no physical game pieces are needed. The rules are simple and with a little creativity, you can take the game from naughty to nice in seconds. Each player must think of three statements about themselves. Two must be true statements, and one must be false. The more unique, flirty, or interesting the statement, the better! Chris and I played this game when we first started dating, and sometimes will still play on road trips or while waiting for dinner at a restaurant!
The Couples Game (that's actually fun) is the party game for real couples that we have been waiting for! It's an interactive game of fun questions meant to make you and your partner laugh together. It's not a get-to-know-you style game or overly mushy so it's perfect for either taking your relationship to the next level and still equally as fun if you've been married for a decade! It includes 150 questions with 3 categories and is a hilarious game for a couple's game night!
Talk Flirt Dare contains all the ingredients for the perfect romantic evening together. The rules are simple; pick a card and answer the question or complete a cool dare with your partner. The game will help refuel the connection in your relationship and includes so many questions to start fun conversations. The box contains three sets of cards; a conversation set, a flirtation set, and a sexy dare set to help your date night go in whichever direction you feel.
Out of the Box Games for Couples
Have you tried escape rooms? You know, where you go with friends and they lock you in a room for 60 minutes with only a few clues to get you started. Even with a large group of people, those 60 minutes go back quickly! My husband and I have done most of the escape rooms locally, so when we learned you could buy these one-time play games at home, we knew that would be a date night we would love!
What are Escape Rooms?
Escape rooms are meant for a group of people who get locked in a room. The room is created to look like a unique place, sometimes it's a castle, pirate ship,s or even a distant planet. The entire premise of the game is to work together with other participants, to investigate and solve the puzzles in a limited amount of time.
Over the past two years, we have tried multiple brands and kits, and I can safely say that the Exit brand games are the best! They have several different versions and scenarios to choose from and come in several different difficulty levels. We started with a hard level one and almost gave up, so don't be ashamed to start at the beginner-level ones and work your way up! Chris and I have played these with friends and family, but we have also played just the two of us. I personally think a little friendly competition is good in a relationship and even better when you have a common goal of winning!
This past Christmas, we tried our hands at solving a murder! If you are anything like us, chances are at some point in the relationship you've watched a show like Veronica Mars, True Detective, or Fargo. Unsolved Case Files is a new-to-the-market game idea where you and your partner, friends, or family are given all the clues needed to solve a murder! This one-time play game took us about 4 hours to solve and was the perfect night in over the holidays. The company has several other case files to choose from and we will definitely be doing one again! Think of it like a treasure hunt at home, where you have small clues and big goals!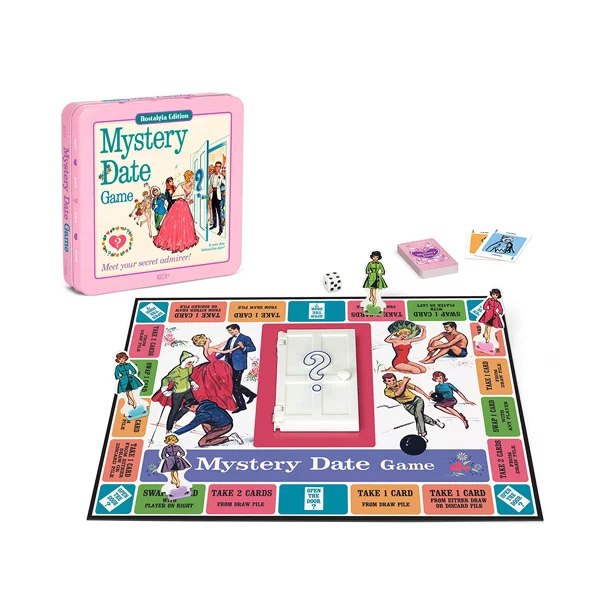 Looking to take your at-home date night one step further? Mystery Date, staying in edition is 52 date night ideas for couples who want to stay in and chill. These scratch-off date night ideas are easy to pull together ideas to ensure the best quality time together. They contain ideas you likely wouldn't normally do and come with conversation starters to go along with each date night topic. These cards guarantee to put spontaneity back into your relationship, all from the comfort of your own home. Each card has icons on it with clues about how much the date will cost, how long it will take, and any items you need to prep prior to starting. The dates range from silly to romantic and will surely help you embrace the unknown.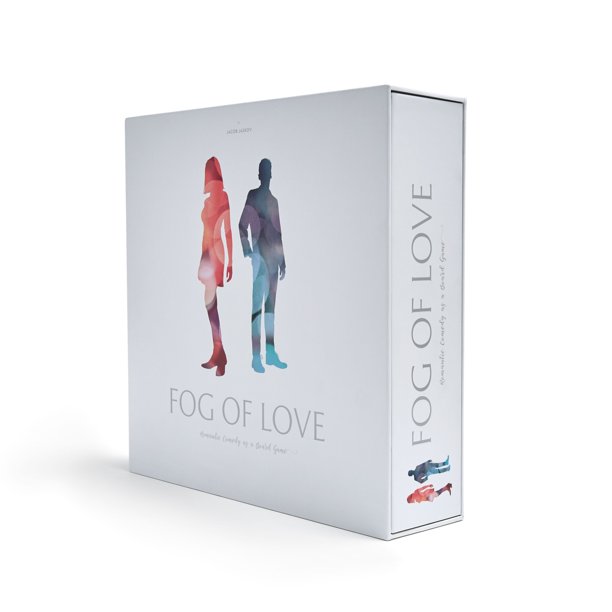 Fog of Love is another out-of-the-box date night game and is really the first of its kind. In this fun couples game, you will create and play two vivid characters who meet, fall in love, and face the challenge of making an unusual relationship work. Playing this game is like being in a romantic comedy, with lots of roller coaster rides, awkward situations to navigate, conversations to be had, and promises of lots of laughs along the way.
So what do you think? Could any of these games be a great option for your next date night? We hope these creative ideas will help you connect with your partner on a deeper level. If you are already a game night fanatic, reach out and let us know your go-to games!
Looking for more activities you can do with your significant other? or the rest of your family. Check out the rest of our articles below.