How to Create a Cottage Style Home on a Budget
In this guide, we will teach you all about cottage style, what exactly cottage decor is, and how to create a cottage-style home on a budget.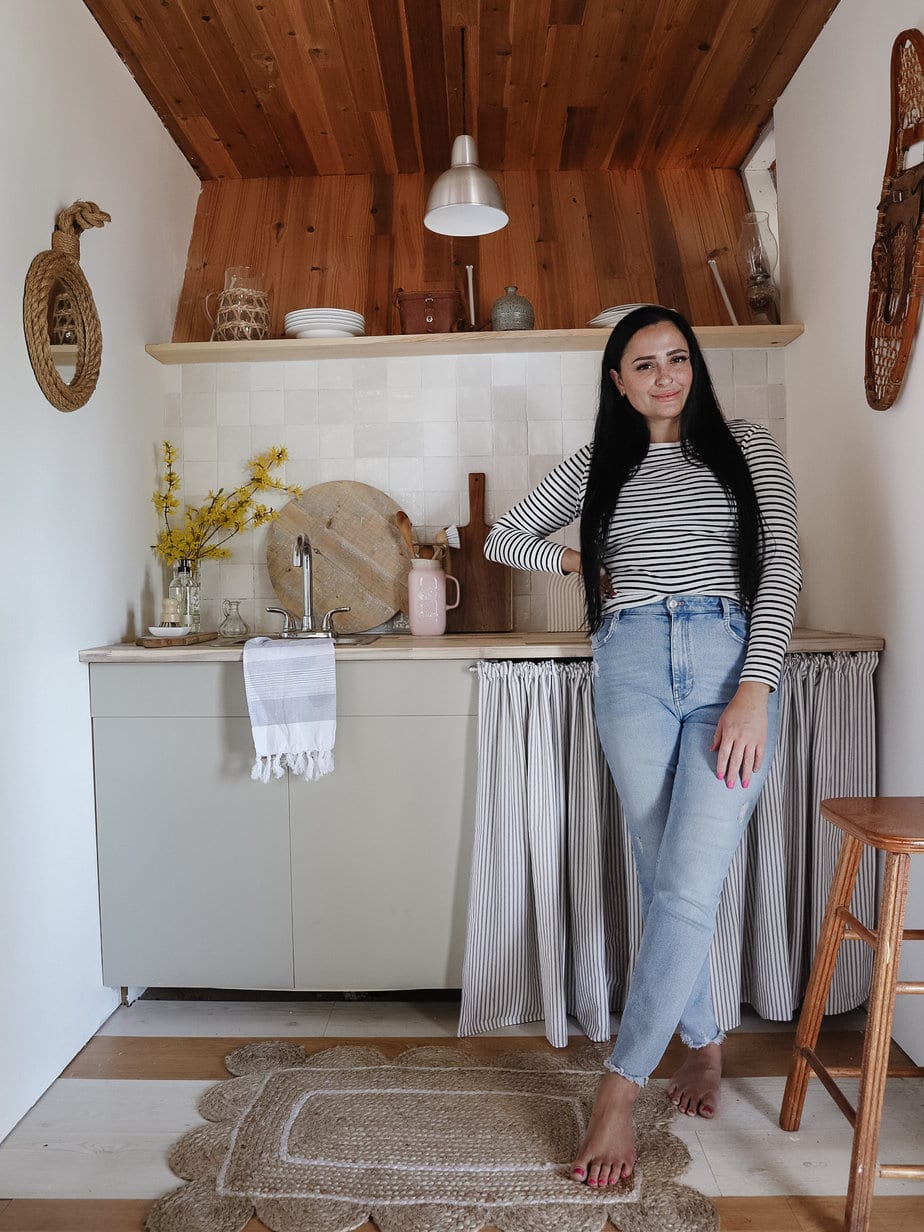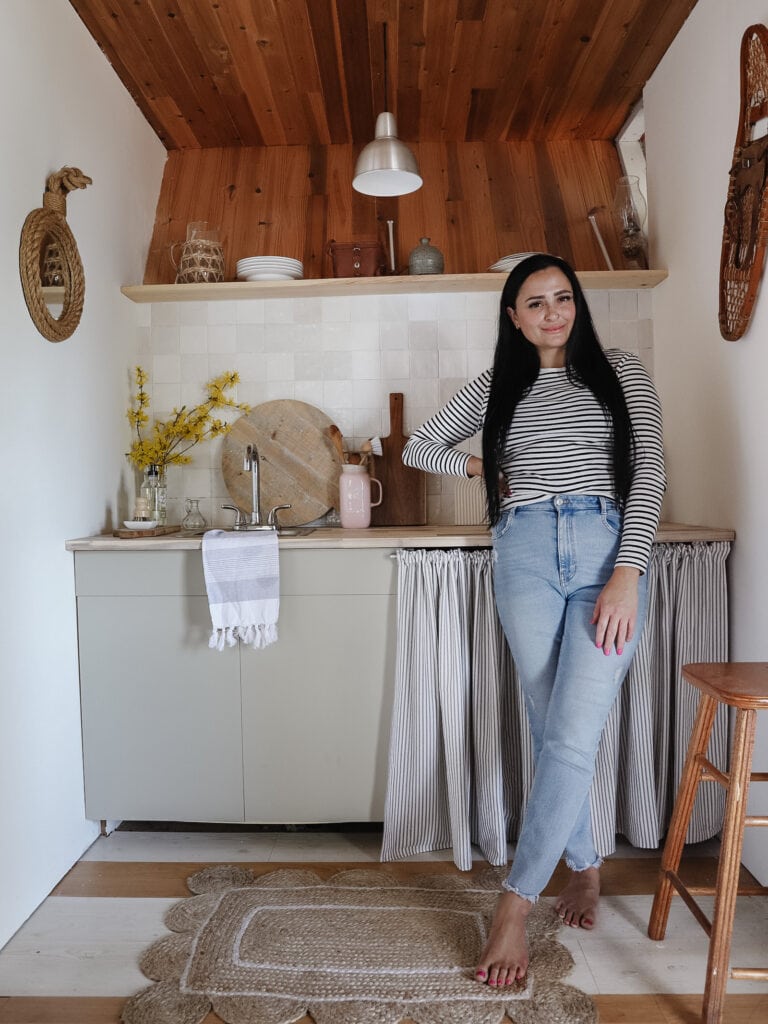 One of the questions our readers always ask us is "What are the BEST décor ideas or must-haves when revamping or starting fresh with a cottage renovation". Because the topic is so broad and subjective, we want to help you, our readers, find your own cottage style with ease.
I grew up in a cottage, and I learned early on that there are many different design types of cottage styles (I'll share them all in a second). This is why I think it is important to know what style you resonate with the most. We will be sharing the basics of cottage style, but where you go from there and the laying you do will depend on your specific style of cottage design. I hope that makes sense, but don't worry if it doesn't! We're breaking it all down in an easy-to-follow guide.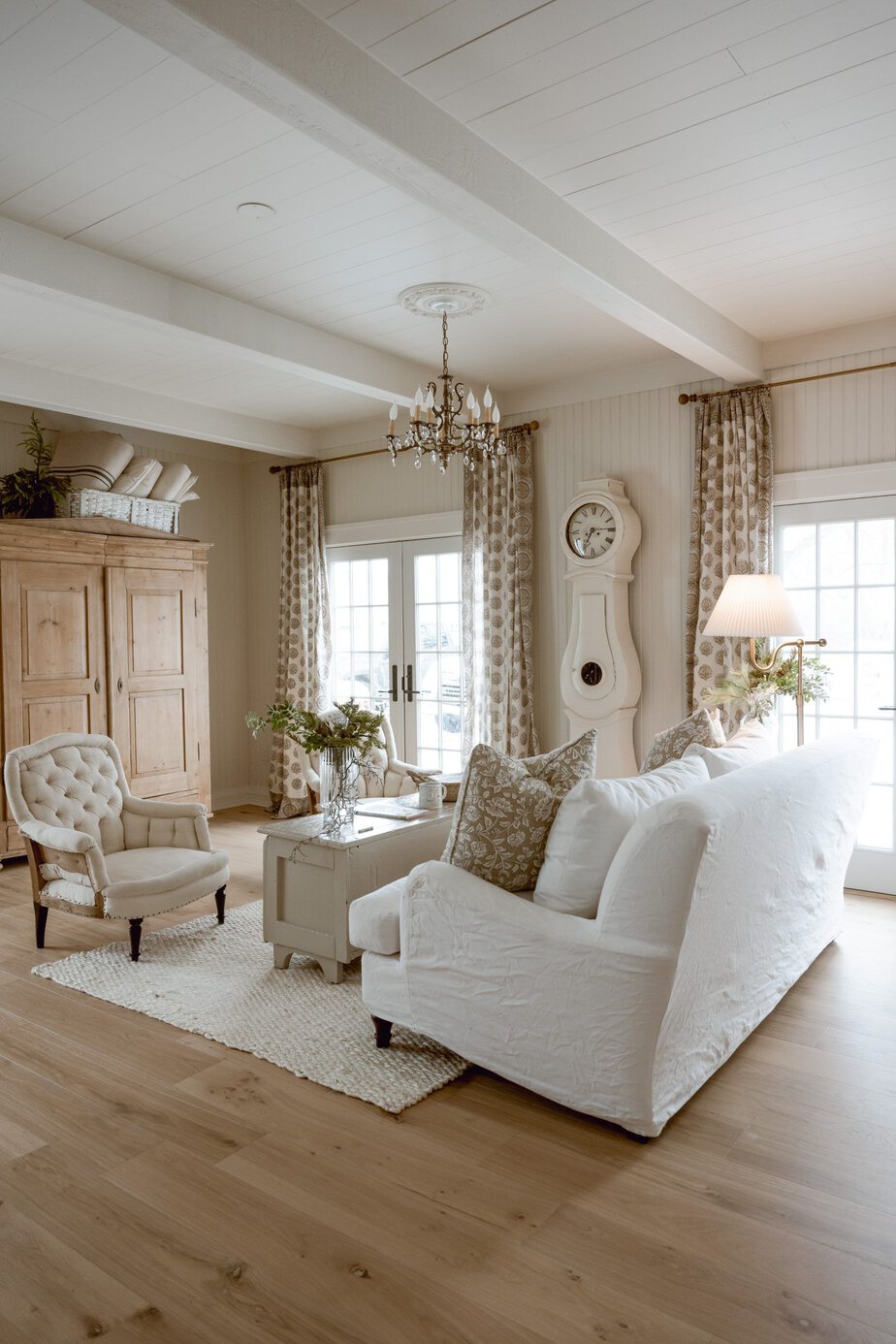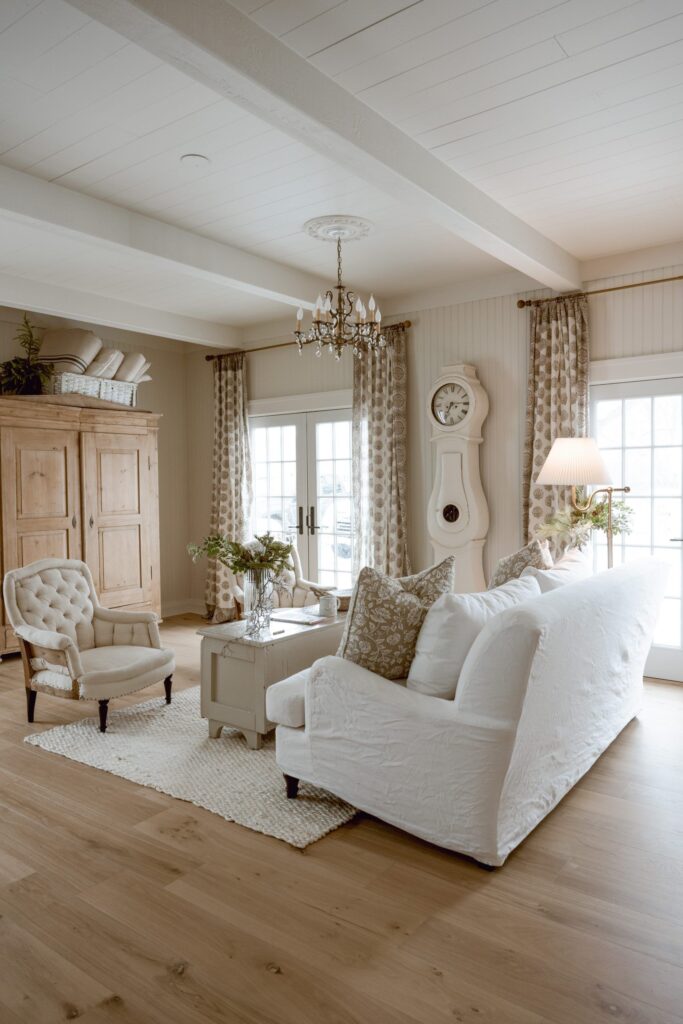 English Cottage
Perhaps the most popular design style, the English Cottage has a lot of rich tones, textures, antique furniture, and wallpaper. You'll see wood flooring, textured rugs, and linen. Liz Marie is one of our favorites when it comes to this style of home.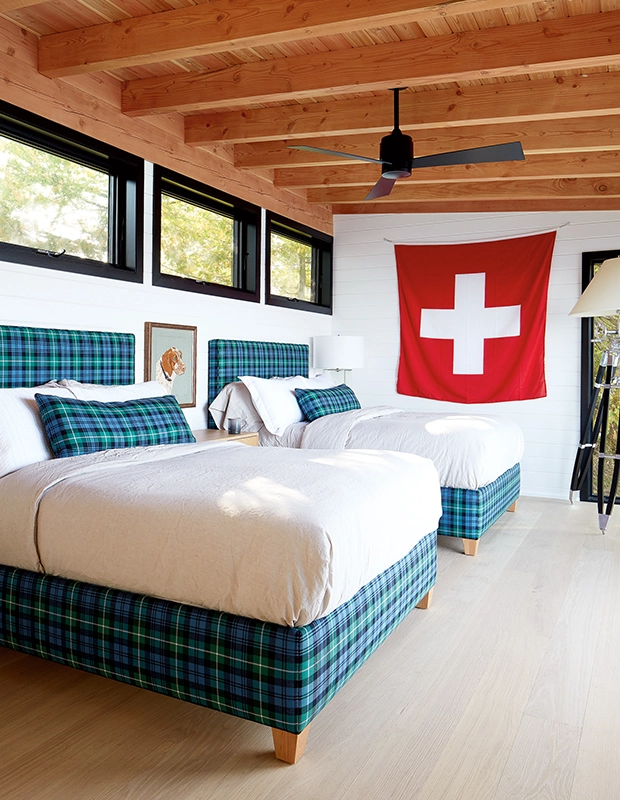 Canadian Cottage
A Canadian Cottage isn't afraid of color, and patterns, with classic wooden ceilings. Canadian Cottages will have a lot of windows and natural light, which is why you'll see more subtle colors on the wall. The art and decor can be more colorful.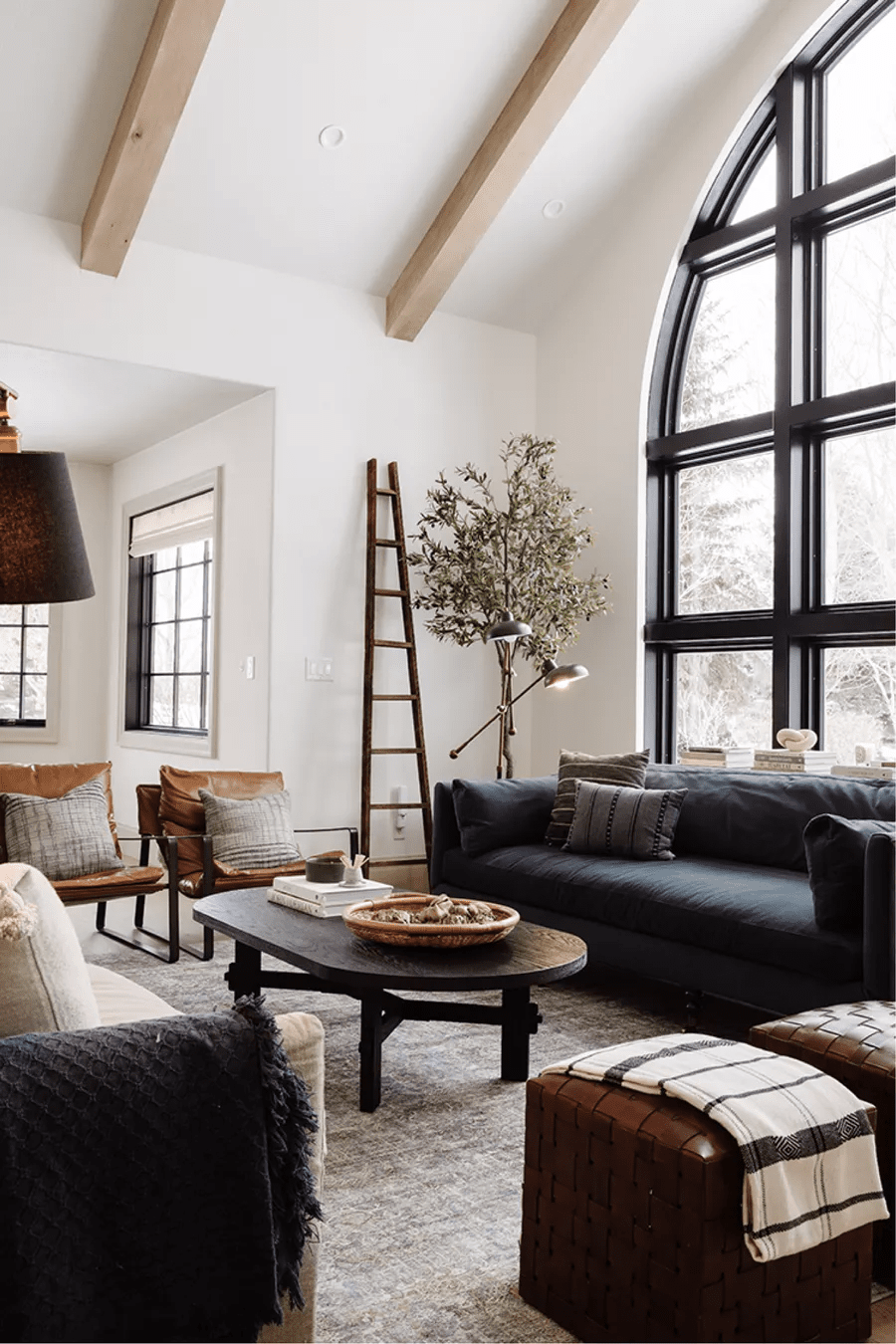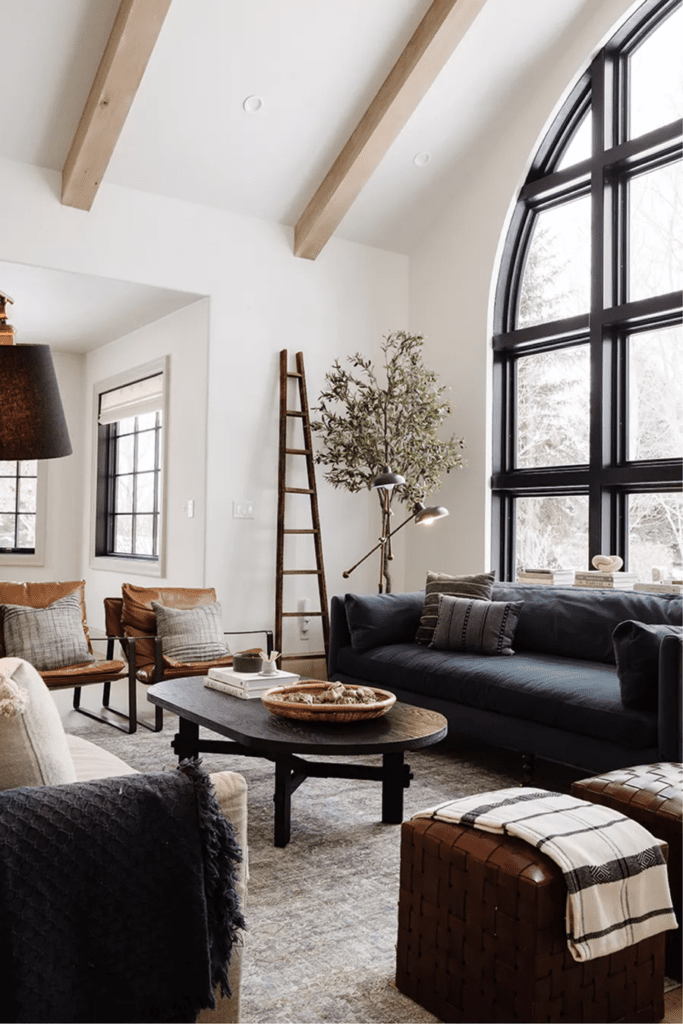 Modern Cottage
The modern cottage has a lot of clean lines, deep-toned furniture, rustic decor, and exposed beams. We see a lot of jewel-toned colors used on the walls, paired with beautiful wallpaper. Chris Loves Julia does this well in their modern cottage home.
Today's blog is all about getting the cottage-style look you crave, without breaking the bank. So keep reading to find out how to inject cottage-style into each room in your home.
How to Create a Cozy Home with Cottage Decor
Now that you've identified your design style, we're going to go over the basics of cottage decor. Starting with what exactly cottage style is, and how to use it in your home.
What is Cottage Style?
Cottage style can be defined as casual and comforting, charming or romantic using soft colors and natural finishes. Cottage decorating usually involves hand-me-downs, and vintage or thrifted finds (more on that later). It's making the most of small spaces and repurposed pieces you likely already have at home.
One of the things we love most about cottage style is the ability to use different textures and patterns to create cozy layers. Classic fabrics like plaid, stripes, prints, and linen are also all considered cottage style, and mixing several of these together is encouraged.
Pops of color and texture can also be achieved using flowers, plants, wallpaper, and real antique pieces for added charm.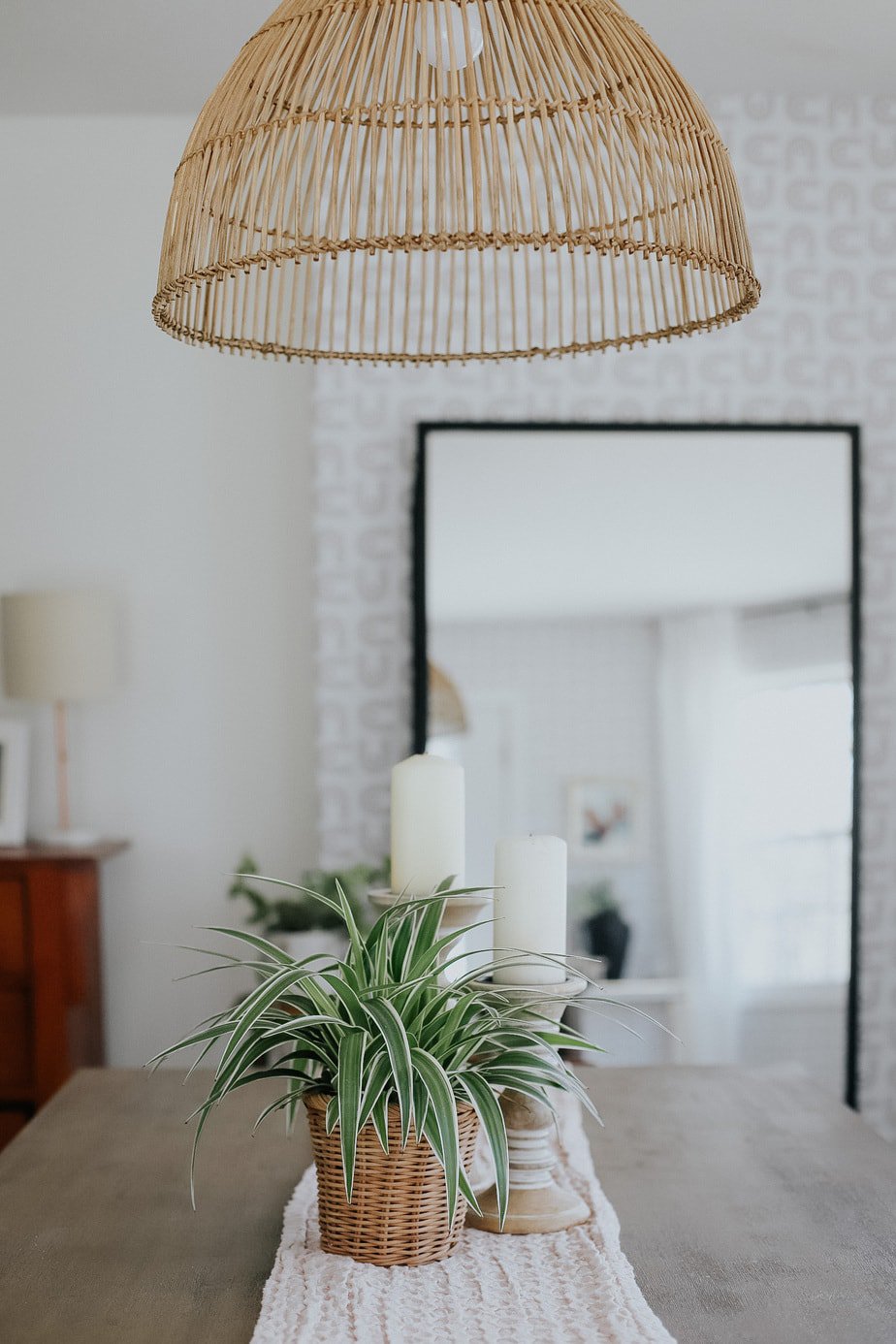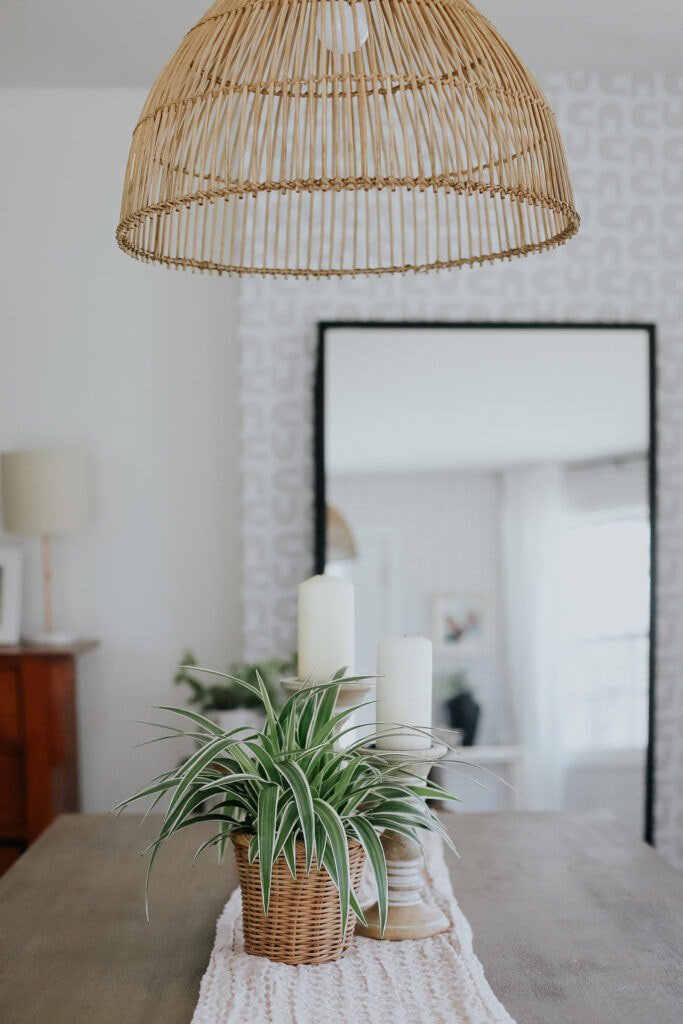 Exposed brick, wood, or ceiling beams are a cottage décor stylist's dream, as these textures help make the most of small spaces.
I can vividly remember growing up and visiting my grandparent's rural home on summer weekends. Their large beautiful yet simple home always smelled of fresh coffee and country air. Inside, most living spaces were adorned with classic wood paneling and other millwork. I can still picture the classic wainscoting that surrounded their rockers under the big front-picture window.
While styles of the past always seem to make their way back again, classics like those listed above will never really go out of style. They are classics for a reason.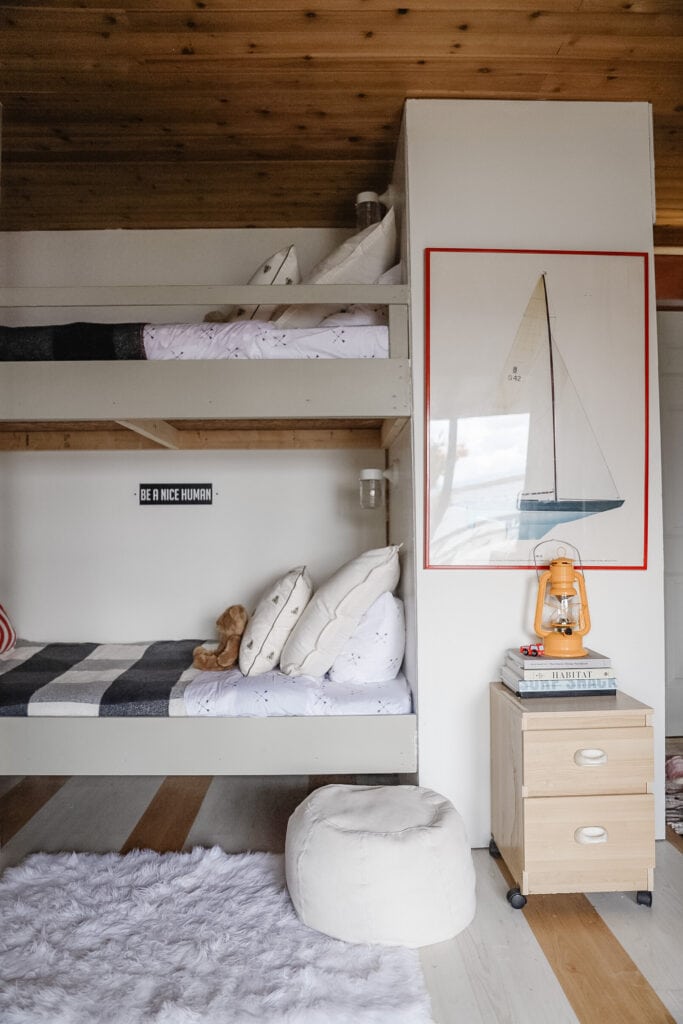 What is The Difference Between Farmhouse and Cottage-Style?
While both styles involve simplicity, farmhouse-style dwellings are often more practical than decorative. The cottage style is often more decorative, making small spaces appear larger and more charming. From the outside, it may be difficult to tell the difference.
While the exterior of a cottage can vary a great deal in terms of look, feel, and size; it's important to note that the inside of any home can be made to look and feel like a cottage.
What is Cottage Chic
Cottage Chic is often considered the cozier, soften and more decorative take on the rustic farmhouse style mentioned above. This look is achieved in the same way as cottage style, using vintage throws, pillows, colors, trinkets, and antique pieces to create a cohesive look. Cottage Chic and Cottage Décor have the same look, just with a different name.
Cottage Color Palette
A cottage color palette should invoke a clean, airy, and bright feeling. Often in cottages, furnishings, and paint will be in shades of white with bursts of watery blues, sunny yellows, crisp greys, natural beiges, and light pinks. Stained wood or natural wood furniture is also very popular in cottage décor.
But neutrals are also wonderful if color isn't your thing. Which is why we're sharing our favorite neutrals below.
Revere Pewter
HC-172
Benjamin Moore
Pale Oak
OC-20
Benjamin Moore
All White
No. 2005
Farrow and Ball
How to Achieve Cottage Cozy
One of the things that make a cottage space special is the level of coziness you feel on quiet mornings, sunny afternoons, and early evenings, year-round. Our family cottage, before it was renovated to be a full-time living space, had remnants of generations gone by within it. Wooden frames with old art hung from the walls, musty handmade quilts, weathered and faded from years of air drying on the clothes line were slung over the backs of the couches and mismatched coffee mugs lined the china cabinets.
Hand-me-downs and vintage pieces are one way to make your newly renovated or newly purchased cottage space feel like it's been a work in progress over many years.
Note: Hit up a local yard sale, vintage store, or thrift shop if you are on the hunt for quilts, mismatched pieces of furniture to paint, and. truly one-of-a-kind items with cottage vibes.
What Should Every Cottage Have?
The cottage décor is charming. Cottage style involves showcasing and preserving the unique qualities of your space while adding modern elements to create coziness and warmth. Let's summarize what we've discussed so far.
Use color pallets that are natural, earthy, and white. This includes walls, furniture, and accents.
Mix and match furniture, linens, and textures. This will create depth in your space.
Fill your home with flowers! Nothing says cottage décor or cottage chic more than fresh bouquets strategically placed around your space.
Vintage wallpaper patterns can be purchased new, without anyone being any wiser to your tricks! Heritage prints like floral and paisley are classic. Think romantic florals.
Upcycle vintage furniture, similar to how Stephanie recently painted her cherry wood China cabinet white using chalk paint to better fit her style and cottage look!
A traditional sofa, in a bright color or nontraditional shape, will add a pop of uniqueness to your space needs.
Use retro textiles! Linen curtains or patterned drapes will be both aesthetically pleasing and a conversation piece in any room!
How to Style Each Room of Your Cottage
Now that you have a general idea of what to thrift, purchase, and keep, let's go room by room to talk about some of the elements that can really make a big difference with cottage décor!
Porch
Your porch is often the first impression your home makes to residents and guests alike. Creating an entrance that matches the intimate, cozy, and beauty of your indoor space is also the goal for your outdoor space. While your porch may be tiny in size, it can still have a big impact. To make your inviting, add seating!
A few mismatched rocking chairs would look stunning! Ratan or wicker furniture is also an ideal choice for its longevity and ability to withstand the elements. Another great way to make your porch feel like an extension of the inside of the cottage is to thoughtful touches like potted plants, scones, or a decorative doormat! Lighting, if a power source is available, is another easy way to add a pop of style to bring the entire space together. Even if you don't have a power outlet, many beautiful solar lights are on the market today, like this one!
Entry Way
The tone of your hallway should also be an extension of the rest of your space. This is the first real inside space that you and your guests will see. Keep your space clutter-free with the right coat hooks, console table, and baskets to catch things that would normally end up splayed around. Because coats, boots, umbrellas, and rain boots are often worn in cottage country, displaying these items in a beautiful and functional way is the key. In terms of color scheme, this space should be similar to the other airy tones within your space.
We love adding a rug to our entryway because it helps add dimension, and style and catches all the dirt from shoes and boots! We love Ruggable because you can easily wash your rug at the first sight of dirt and grime! We love this print! Hendesi Heriz Abalone Rug.
The biggest point to remember for your entryway is to make it unique to you! A bright pop of color in a vase or frame will be the perfect accent piece.
Living Room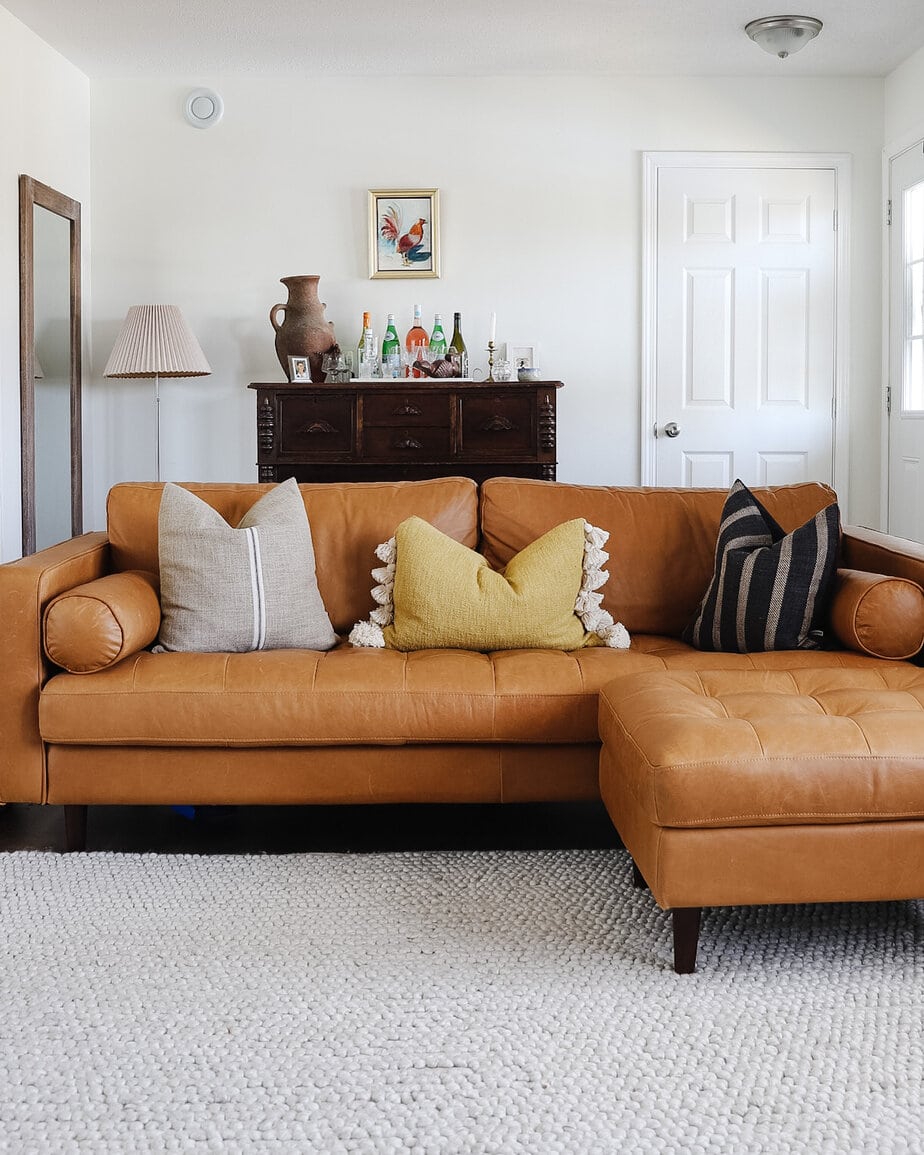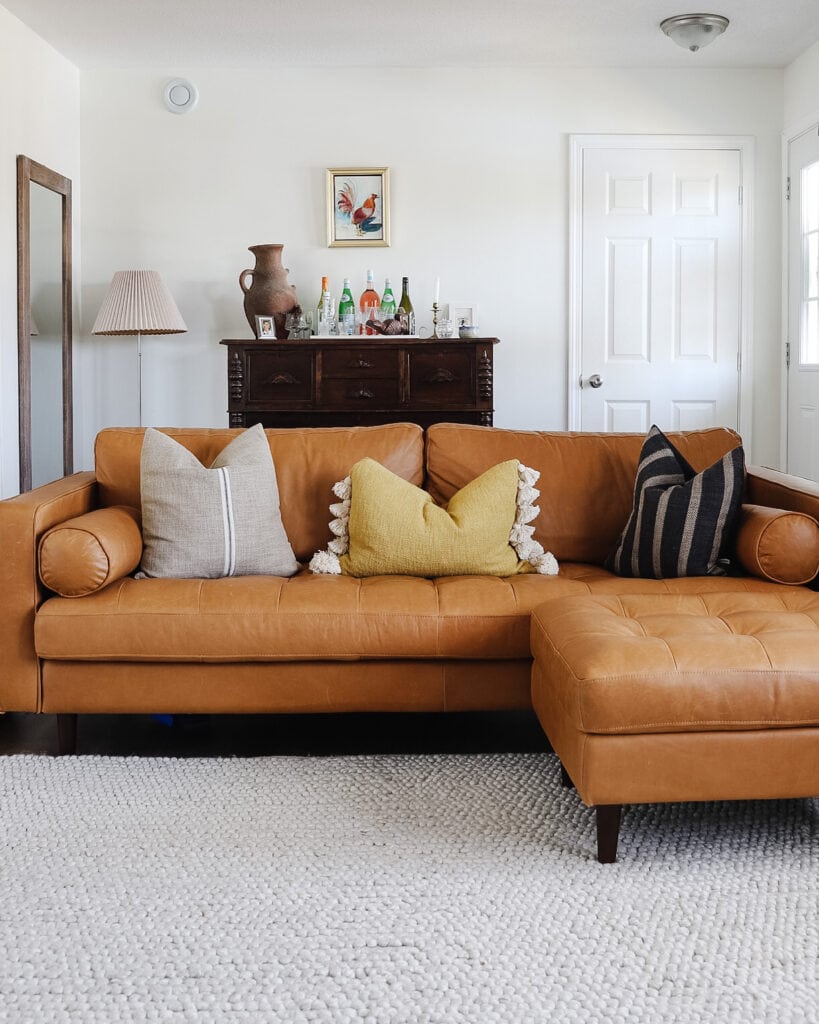 Your living room is likely one of the top two most frequently used spaces in your home. It's also usually the largest of spaces, giving you more freedom to make your décor mark. Your living room should be the coziest space inside the home, and if it's not, then it's not a cottage! Living rooms should be all about texture and pattern in complimentary colors with a hint or pop of color.
Using thrift store quilts, vintage-looking fabrics and neutral cushions in various sizes and patterns will tie your room together beautifully. If your space has an existing fireplace, wood paneling, wood beam ceilings, or natural elements already in place – do not even think about removing them! Living spaces are also meant for lazy days spent reading books or playing board games, so incorporating these items into visually appealing areas that are both pretty and functional will help set the mode for the space. Traditional cloth sofas will be the perfect place to unwind after a long day in the sun.
Don't forget the ceiling! Using cottage-style light fixtures will tie your room together from top to bottom. Existing antique light fixtures, if still electrically safe to use, likely just need a good clean or a quick spray of paint to breathe new into them for continued use.
Kitchen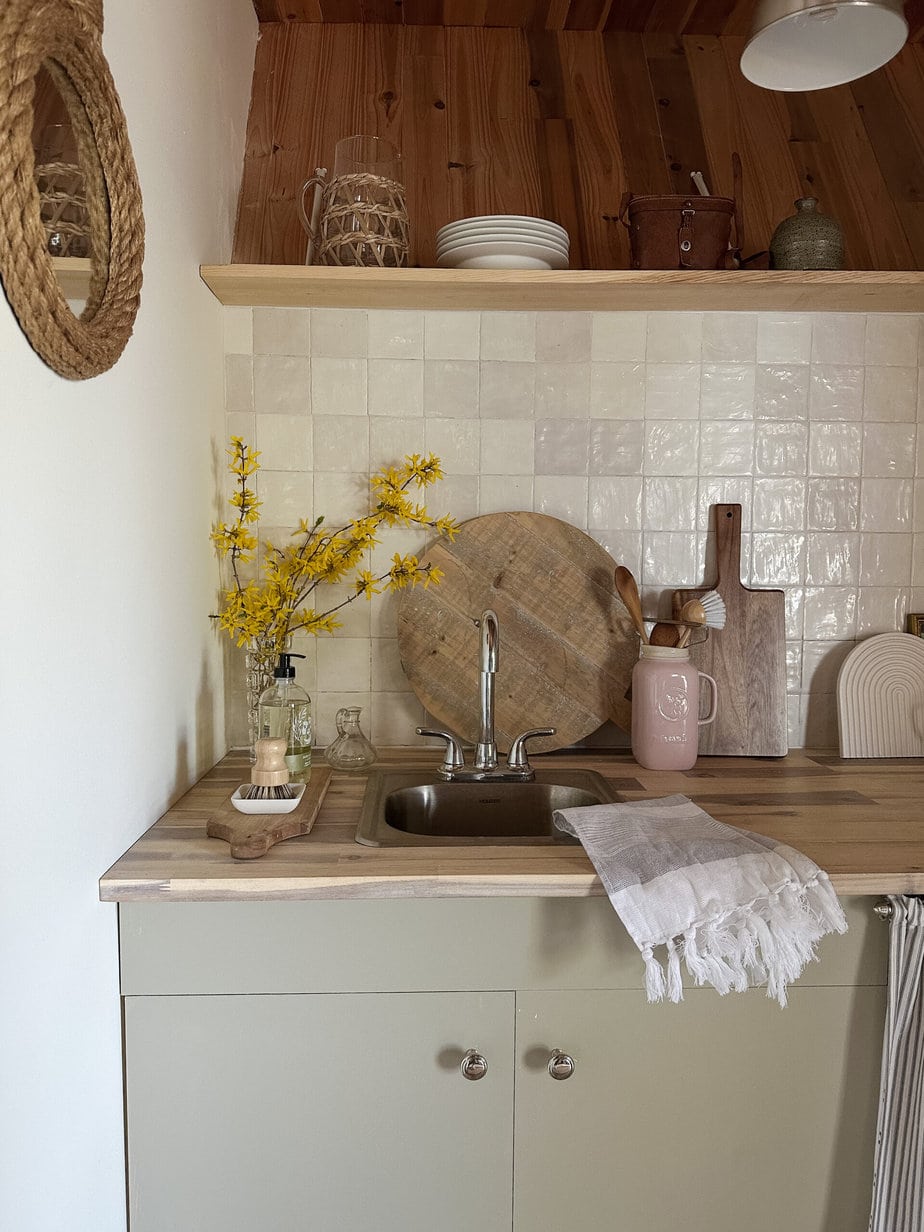 If you are like us, your kitchen is likely one of the most used spaces in your home, even if you are tight on space. It's where food is served, friends gather and stories are shared. Using an eclectic mix of new and old pieces in your kitchen is going to give you that perfect cottage look. Some items that can make your cottage décor aesthetically beautiful are using reclaimed metals, a vintage or statement refrigerator, adding a shelf above the main window, and using shaker-style cabinets for a timeless look and feel. Linens can be light and airy; think small pinstripes for the tablecloth and light lace or linen curtains.
Bedroom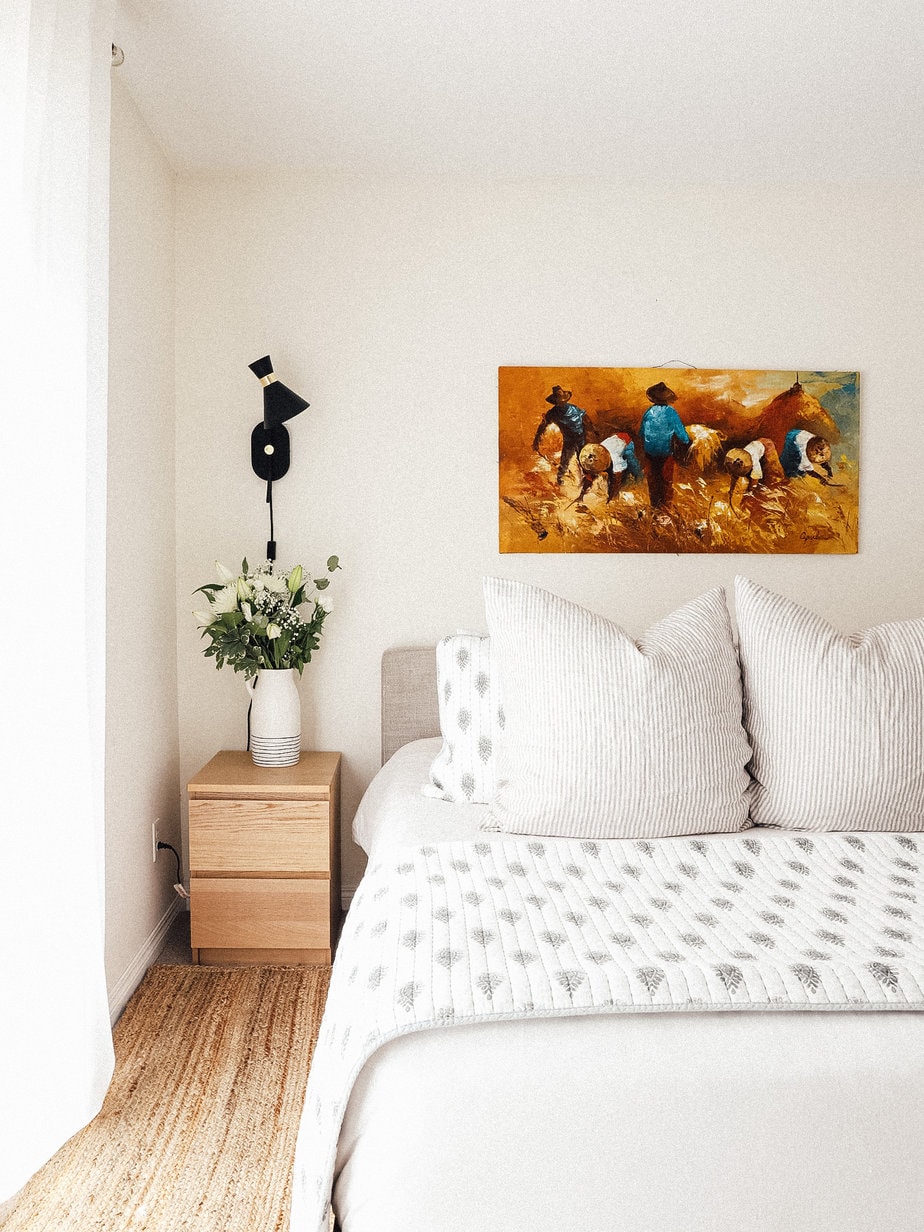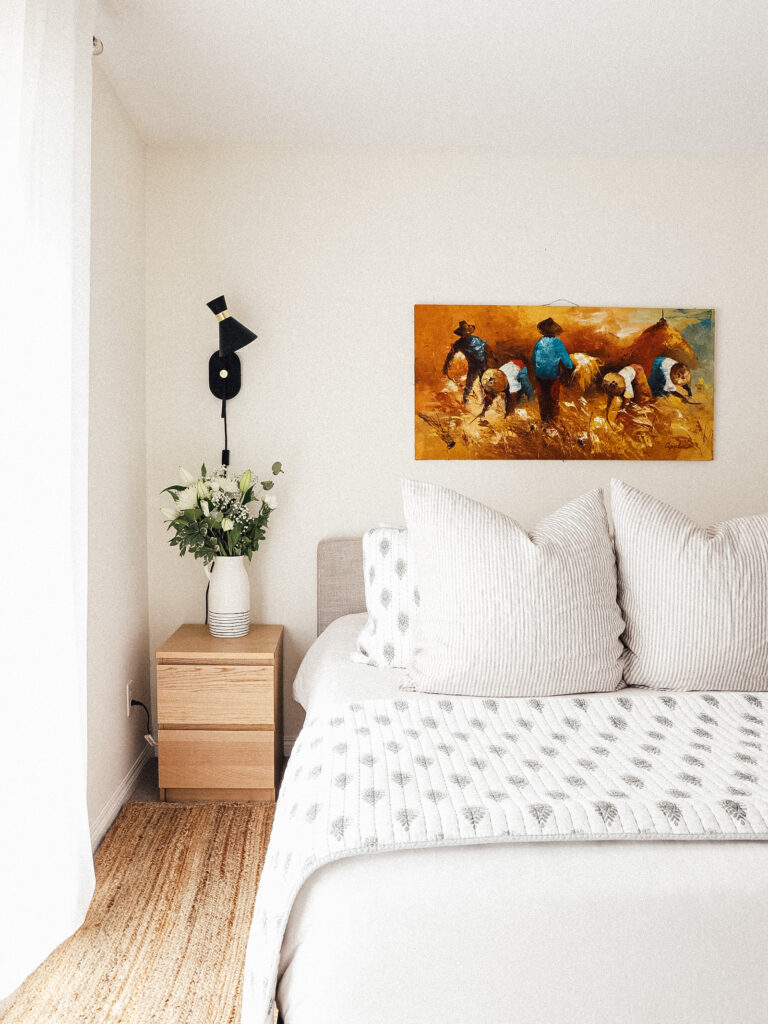 You don't need to own a cottage to have cottage décor in your bedroom. If this look interests you, don't be afraid to incorporate it into your apartment, city home, or townhouse! Floral wallpaper is an ideal way to add cottage flare to any space within your home. You can add onto all your walls or choose 1-2 as accents. Floral prints for bedding are also having a major moment. Think floral quilts, sheets, and pillowcases; bonus points if they are all slightly different shades or patterns. Don't be afraid to mix plaids and florals either. The combination actually complements each other beautifully. Mismatched bedside tables and lamps in light and airy colors will also help tie the room together. Bare walls? Why not add vintage frames and accessories? A trip to your local thrift store for some unique frame shapes will give you a fun afternoon outing and budget-friendly décor! A can of white spray paint or a bottle of chalk paint is two items we always have on hand as they change the look of any item in mere minutes.
Remember our fresh floral tip earlier. This also applies to any bedroom within your home. Flowers make any space feel bright, airy, and alive!
Bathroom
Growing up, our cottage bathroom was a tiny sink, a green-colored bathtub, and an ugly toilet. Today, with a few modern additions, cottage bathrooms can be beautiful and functional spaces. Not ready to replace the old green tub at your cottage? That's ok! Mixing in some new, modern elements will give your space the shabby chic cottage décor feels you're after! If your space has paneling, a fresh coat of paint will instantly change the feel of the room. No existing paneling? Why not add some in for a cottage-inspired look that is cost-effective with big stunning results? Neutral colors with pops of accent linens (curtains, bath mats, and hand towels) will keep your space clutter-free yet inviting.
Note: Adding an old mirror as the focal point behind the sink will instantly give your space an esthetically pleasing quality. If you have an old existing mirror that has seen better days; a good clean-up and some spray paint can completely change it for the better! 
Remember, a traditional cottage-style space can take years to perfect. The beauty of cottage style is that you can continually advance your décor progress as you find new items that suit your taste, space, and budget. We recommend starting with one space and completing the basics before moving on to the next to avoid getting overwhelmed. This process should be fun and happen naturally over time for that truly lived-in cottage chic look!
Cottage Decor Ideas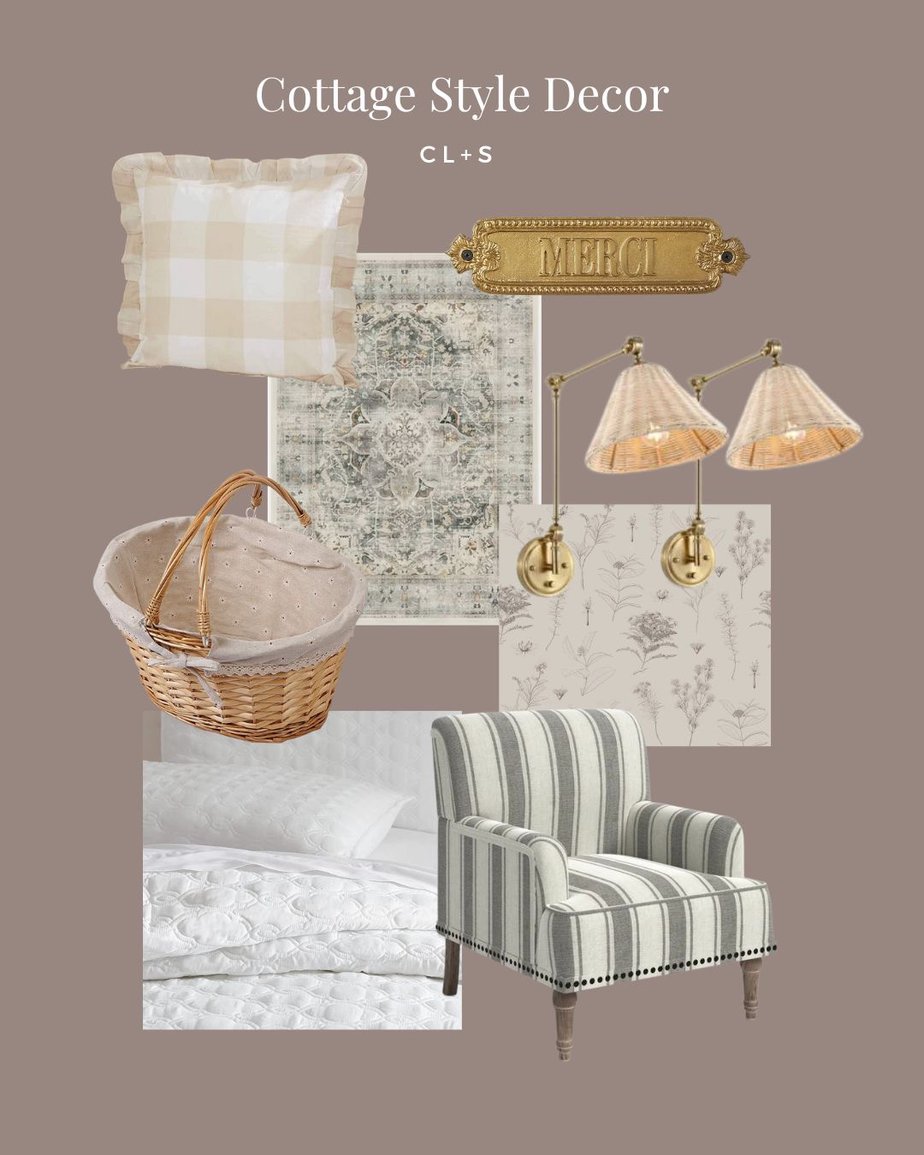 Accent pillow | cottage rug | cottage wall sconce | cottage wallpaper | basket | quilt | cottage chair | cottage sign
Just a reminder you can find more cottage decor on LTK.