Phase 1 Plans – Unfinished Basement Laundry Room
Today we're sharing plans to make the most of our unfinished basement laundry room, and what we plan on doing with the basement stairwell once we remove the existing laundry room floor.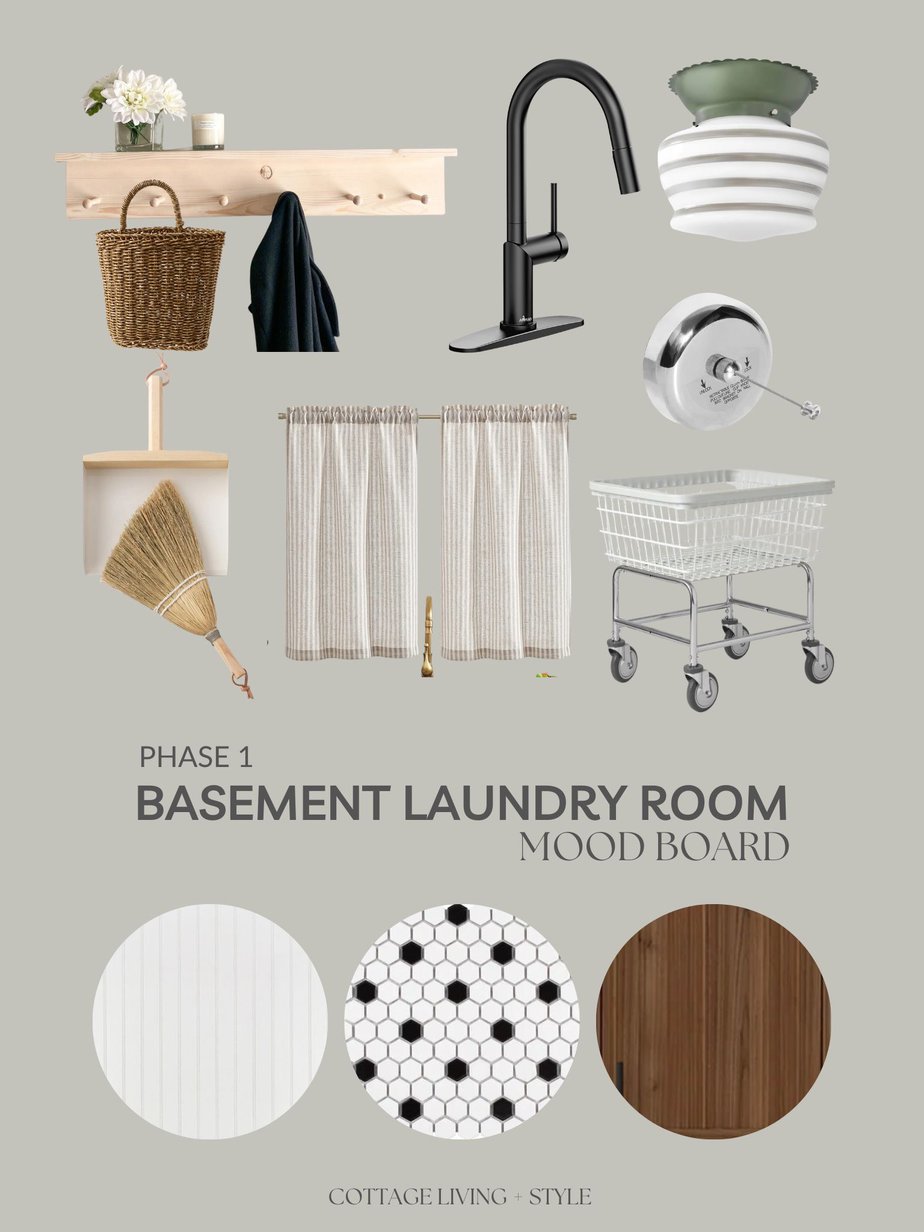 Peg Board | Hanging Basket | Black Faucet | Semi-Flush Mount Light | Retractable Clothes Line | Cafe Curtains | Dust Pan | Laundry Cart
I'll be the first to admit that winters are a little slow in terms of projects. But as we're back from our annual family vacation, we're usually eager to get started on our home projects for the year.
We're kicking it off our first project of the year with something I've wanted to do since we raised the house last summer.
We're going to move the washer and dryer downstairs and create a laundry room in the basement. But in the process, we'll completely remove the laundry closet, including the floor, and create a basement stairway.
While it should be pretty straightforward, even though you can probably tell already that we're going to have project creep. You know, when a project starts off as one thing, and then next thing you know you're redoing the entire basement. However, I do want to stress that it is going to be an unfinished basement laundry room. Meaning it won't be as pretty, as it will be once we have floors and walls installed. But it will be functional and allow us to remove the horrible trap door to the basement.
The idea is to create a space that I feel good about, while we wait for a bigger budget and a full basement remodel. In other words, I want to make the most of what we have, right now.
Plans for The Unfinished Basement Laundry Room
Now that we have that out of the way let's get into the details of the project and what we're hoping to accomplish.
Here's what our current laundry room closet looks like.
It's a small 11 x 3 ft room with a stacked washer and dryer. I did try to make the most of it and installed one of the wire shelves from another one of our closets. It gave me a bit of shelf space for storing things like cleaners, laundry soap, and paper towels. But it wasn't the easiest to navigate. We were constantly moving things around to make room to walk because sure enough, this laundry closet started collecting everything we didn't want out in the open. It's where you'd find the mops, vacuums, shop vacs, and whatever tools weren't in the shed.
By the end of last year, I finally had enough. We were going to create a laundry room in the basement. Not to mention, I was over lifting the heavy trap door every time we needed to go to the basement. It just wasn't practical anymore.
The Plan
The plan is to remove the stacked washer and dryer, repurposing both in the basement. They are great and only a few years old. So we figured that would why not save the money, and instead of purchasing a new washer and dryer and keeping these instead?
Next, we will of course take everything down, including the wire shelving, which we will NOT be reusing. It's only because I'm just not a fan of wire shelves, sure they have a purpose and aren't nearly as expensive as some oak shelving. But sometimes it's better to spend a little bit more and get something, your stuff won't fall between.
Removing The Trap Door
It's crazy to think but the entire floor that our laundry room sits on is the only basement access we have. This is another reason I want to get rid of this room. The trap door itself is very heavy, and sometimes I even have a little bit of trouble pulling it back over without Tony's help.
Here's a shot of the trap door which leads into the old crawl space-now full basement.
Obviously, a lot has changed since these pictures, and if you missed it, last year we raised our house 6 ft. Which gave us an entirely useable but unfinished basement. Hence the reason for this project.
I've considered getting a loan to finish the renovation, but we prefer to have minimal debt (i.e., debt free) and the freedom to do what we please, which is why these projects work so well for us. I get to put aside a budget for each room and hunt to find products that work with the designs and our budgets while DIYing as much as I can myself.
But back to the design of the laundry room.
Automatic Laundry Pump
A laundry tub is necessary, especially in a basement where we don't have another bathroom yet. But it also serves another purpose, since the washer is not strong enough to drain the water into the septic, we will need an automatic laundry pump.
The idea of a laundry pump is to help push the water from the washer to the drain pipe and into a septic or sewer. Because of where we are planning to move the laundry room, it now sits across from the septic connection. So in our case, we will need to push the water up the 9ft ceiling so it could connect to the drain.
The Laundry Sink
Since this is a phase 1 makeover, we will use a simple laundry tub. Maybe in the future, we'll opt for something a little nicer. But for now, I'm just excited to have somewhere I can handwash items I need. Which brings us to the rest of the details.
The Details
Let's chat about the fun stuff. Designing the details of the unfinished basement laundry room, for under $1000.
So we know we're moving the stacked washer and dryer to the basement, which is why I plan on building a countertop. I really want a space I can organize laundry soap containers, dryer balls, and all the essential laundry needs.
Stay tuned on Instagram Stories this week as we share the process of building a washer and dryer countertop.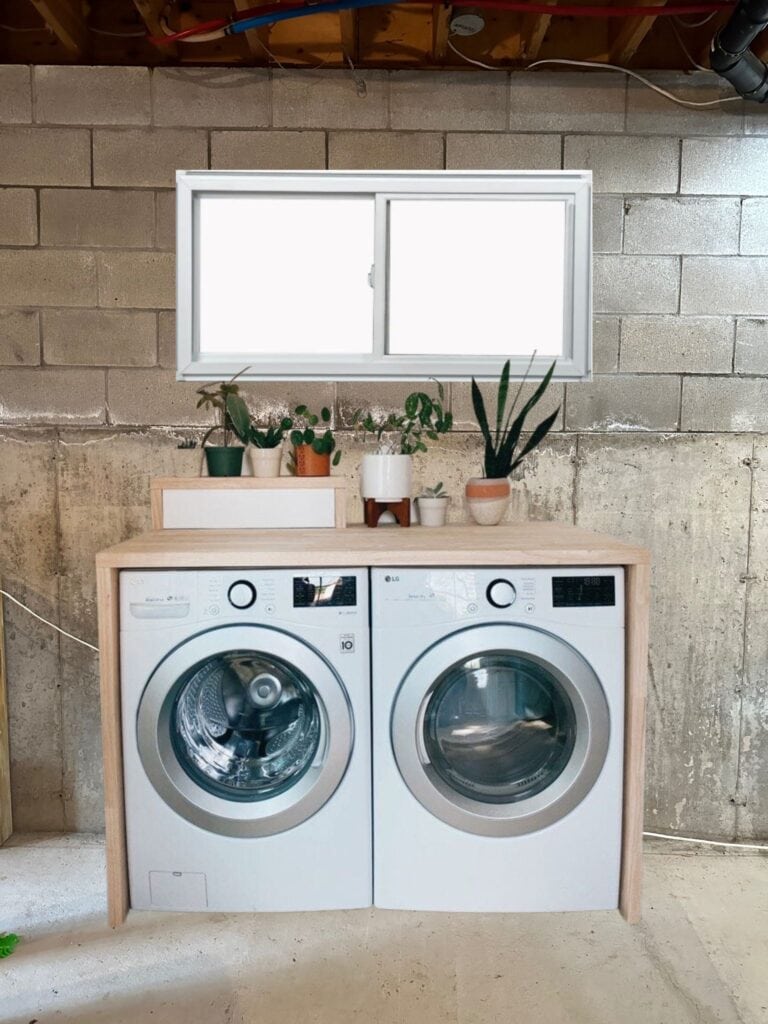 Creating Storage Space
Storage space is always an issue and something I'm always thinking about. Especially when we have two growing kids and there's an endless flow of laundry.
Which is why I'm considering two open shelves, for baskets, clothes pins, and other necessities. My hope is to find a vintage wardrobe or something that looks vintage. That will be where all our linens, extra bedding, and curtains will go. Freeing up our bathroom closet in the process.
More Colour!
I have had this craving lately to add more color to our home, and for a while, I was playing it safe. I always thought what if we sold, what would the potential buyer want? But that's not what I wanted. So with this laundry room, I am hoping to inject a bit more color, perhaps painted shiplap (see Jenna Sue's laundry room below), or painted pink walls (Thalita's is gorgeous). Either way, I know our cottage laundry room will look great.. eventually.
Penny Tile
As you can see from the first and second design boards, I went back and forth on the flooring. I know LVP is a great option, perhaps the safe option. But I've always wanted to use penny tile somewhere in our home. Since we lack an entryway, and we most likely won't be using it in our bathroom, why not use it in the laundry room instead? What do you think?
The Inspiration for our Laundry Room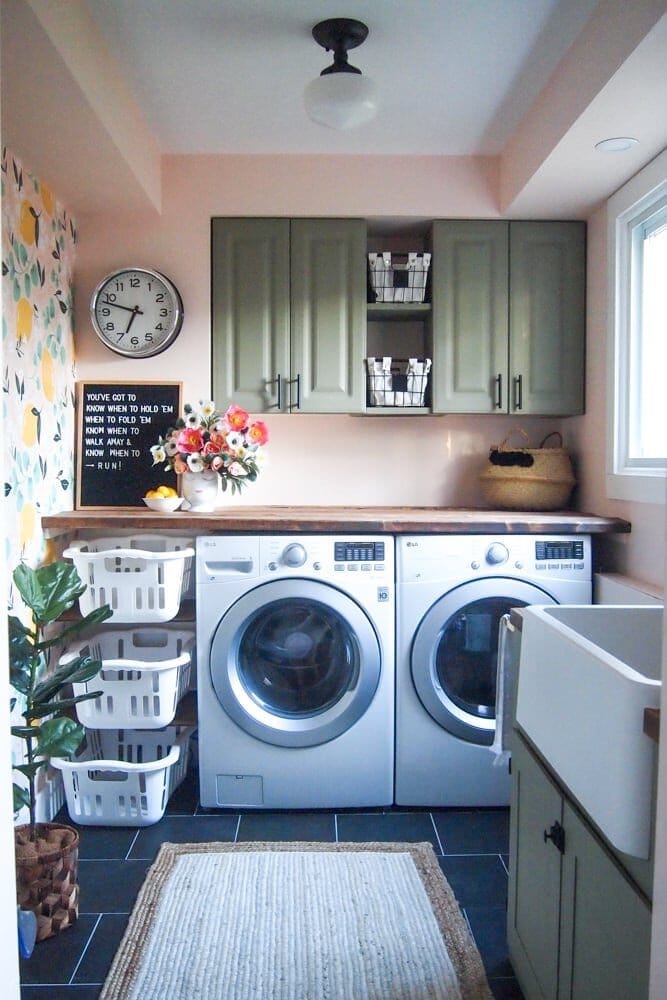 My IG friend Thalita Murray designed this beautiful laundry room a few years ago, and it's been on my Pinterest board ever since. I love the use of colour, wallpaper, black tile and the extra storage for landry baskets.
I'd love to incorporate the same design for the countertop, pink paint color and perhaps some beautiful wallpaper.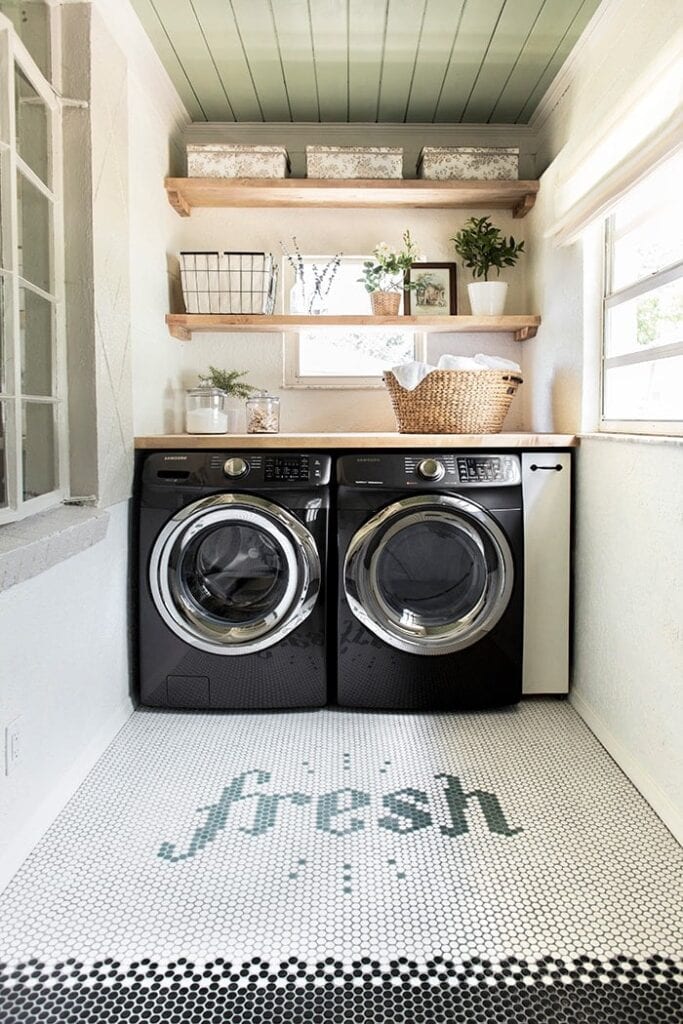 Jenna Sue Design is another wonderful designer, and like Thalita's laundry room, this too has been on my mood board for years. I love the penny tile, which is why I decided to incorporate it into the design. Natural wood tones and a shiplap ceiling are also going to be incorporated into our design.
The first phase of our unfinished basement laundry room plans is set to go live this week. But we all know from there it will continue into the rest of the basement, and who knows from there. There's still lots of work to be done at the cottage bungalow, having a second baby last year really took its toll on the projects we were finishing. But, now that Lake's not so dependent on me, I'm excited to get a few more projects started and hopefully finished this year.