Bold Wallpaper for Dining Rooms
Welcome back to Stephanie's Home Series. A series where the audience gets to take part in the design process and renovation stories. Turning a house into a home never felt so doable, and that's exactly what we want to accomplish with this series. We want you to feel like you can tackle any design challenge, and feel empowered to make your own home a beautiful space.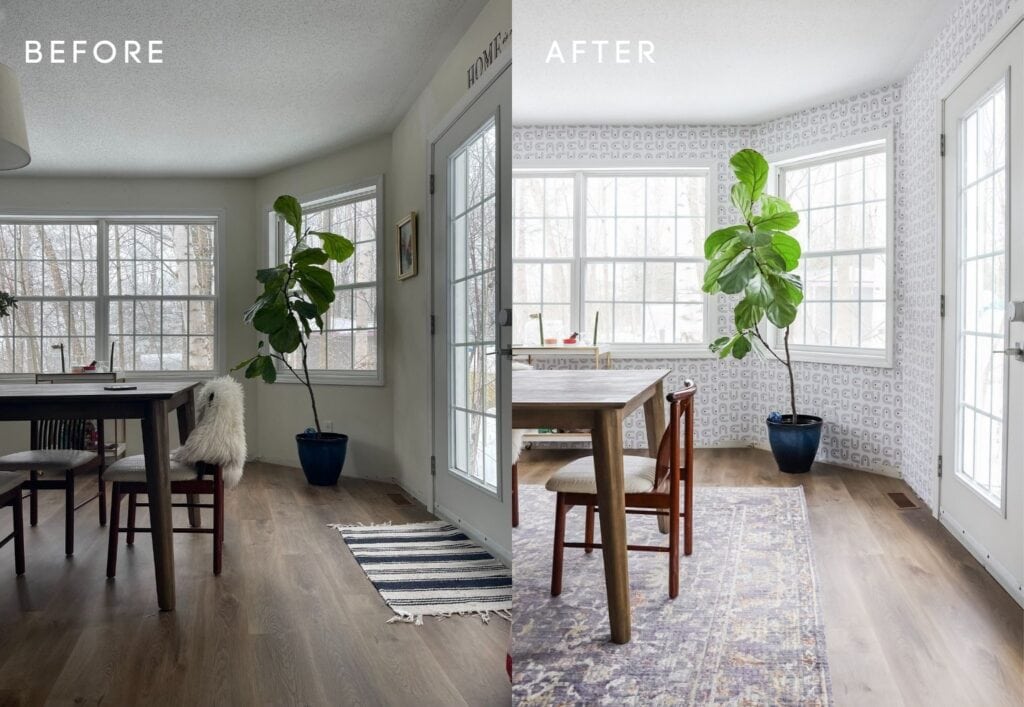 Catch up on the Dining Room plans here.
We are back with a big update! We finished installing our bold wallpaper choice in the dining room and it looks so freaking good. In this post, we talked about the design, and how we love the mid-century modern style for this space.
Of course, that is still the plan but I decided we would add a fun twist. The wallpaper would need to be a fun design, that had some geometric shape to it.
Bold Wallpaper from Form Paper co.
So when Form Paper co. reached out to see if we would be interested in collaborating we got really excited. The first thing we did was go through their amazing selection of wallpaper, checking out a few samples to see if they would work. Within a few short days we had our samples, and placed an order the next day.
Two weeks later the wallpaper showed up at our door (luckily I was able to re-route it to Florida). But as soon as I saw it, I knew this would be a fun project to share as soon as we got back.
Anyway I wanted to share a little bit more about the bold wallpaper choice, why we love it so much and 5 ways you can use bold wallpaper in your home.
3 Ways to use Bold Wallpaper in your Home!
Let's start with the 5 ways to use bold wallpaper in your home. And for starters it's so unique.
A Unique Option
I feel like we've been seeing the same ten or fifteen wallpapers over and over again on Instagram. So in typical Stephanie form, I had to be different (Tony says difficult but I beg to differ). Sometimes that's a win (in this case it 100% is), but in others, not so much.
But if you're like me, and you don't want your home to look like everyone else's. Than maybe give a bold wallpaper option a go instead.
Create Separation
Bold wallpaper can be the perfect option for those looking to create separation in an open concept space. In our case we have an open concept kitchen and dining room, and we needed to separate and create space for a dining room without renovating.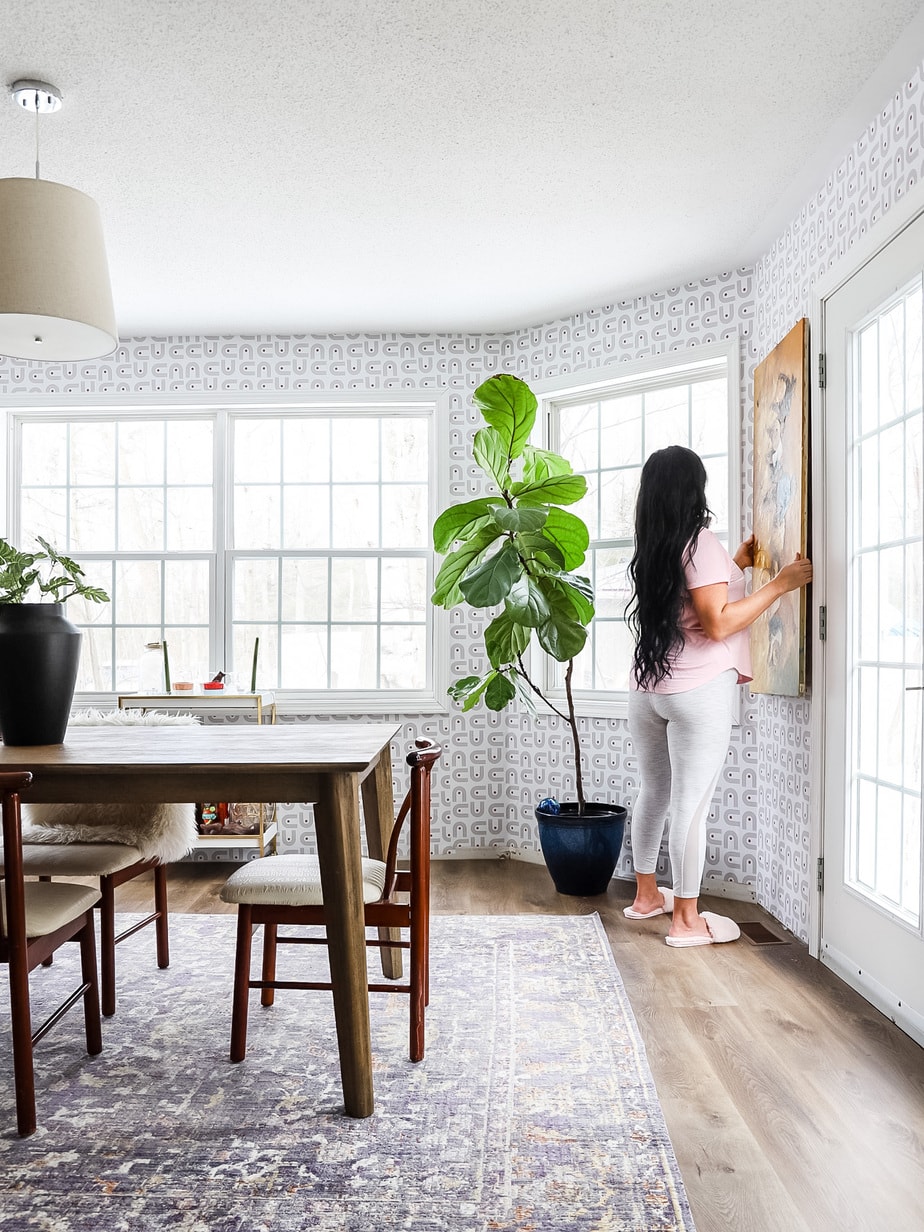 Create a Focal Point
Accent walls used to be a huge trend a few years ago, and even though many home owners got rid of their focal walls. I think its a trend that we will be seeing more of soon. I still think it's a great idea for small spaces. It's a great way to add dimension and character to an otherwise blank canvas. If you're looking for some ideas, Nesting with Grace is really talented at using bold wallpaper in a way that works really well.
Creating a Mood
We've been seeing a ton of designers use dark, bold wallpapers in their powder baths. It's another idea for a small space (like an office, powdered bath or kids room). It will give that other wise hard to decorate room instant character. So you'l rely less on decor and more on the wallpaper to enhance your style.
But I honestly think there is a bold wallpaper option for just about every style. For example this option from Form Paper co. (called The Secret Garden) would be perfect in an English Cottage. Or this option also from Form Paper co.(called Buffalo Check) would be so fun if you had more of a traditional style home.
Stephanie's Home Series: Dining Room Update and Progress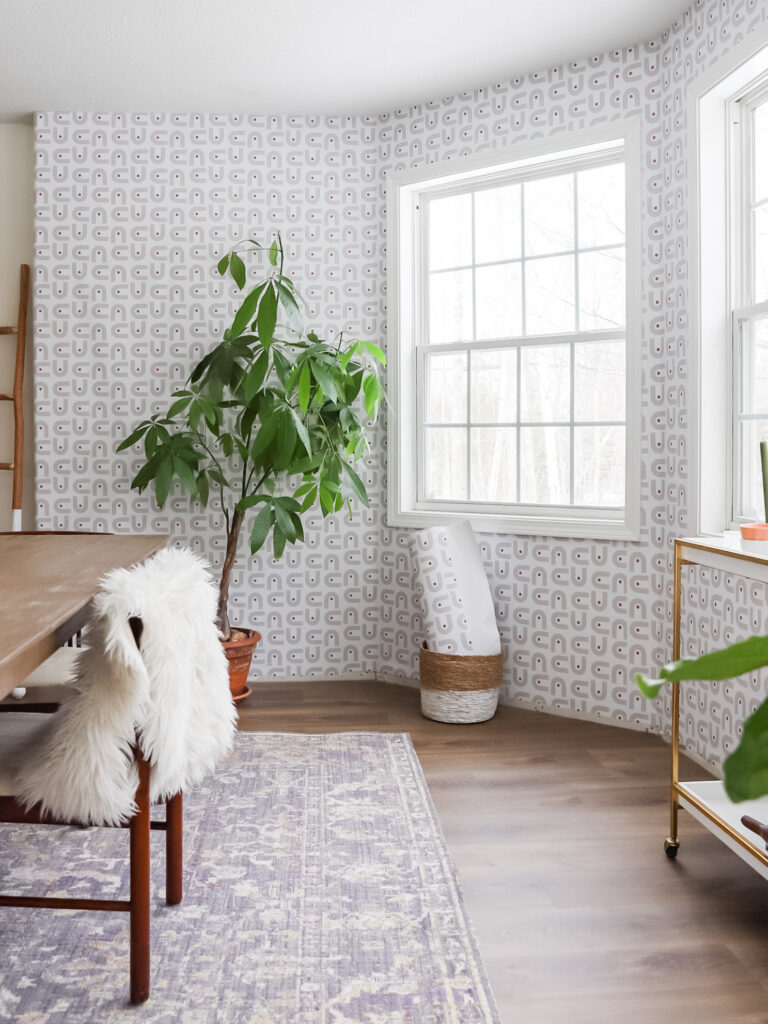 Okay, back to the dining room update, and what we have so far.
So a few things have changed since you last saw it, like we added a new rug, chairs and of course installed the wallpaper.
The New Rug
The rug is called from Chris and Julia's Rosemary Collection, and its a low pile rug that is perfect in my opinion for dining rooms. It's really easy to wipe up spills (we have a baby and toddler), and it looks much more expensive than it actually is. I will do a full round up on all our rugs soon.
Mid-Century Modern Chairs
You may have see these in our last post (in which we pretended we had proper before photos). But I didn't get the chance to properly introduce them. I am so proud of them, and absolutely in love with them. These are chairs I inherited from my fabulous grandmother, who had the most beautiful style and taste. Basically, these are my treasures.
Peel and Stick Wallpaper
One of the best parts of using peel and stick wallpaper is the ability to easily, and affordably change it whenever you want. It's a great option for renters, and anyone like myself who is constantly working on new design projects.
Finally, we still need to order the baseboards, order a pendant light, figure out a plan for the art and buy some plants before we can call this makeover complete. So join us next week on another episode of Stephanie's Home Series.
We'd love to know what you think of bold wallpaper? is it something you would use in your home? and if so, how and where?