Tour this Surf Inspired Airbnb in Cape Canaveral
Krista Samek and her husband Robert, know a thing or two about designing and renovating. They've renovated two Airbnb apartments in Cape Canaveral Florida, and are currently working on another house that's scheduled to be ready in March of this year.
Krista is a Toronto native, who designed each of the two 1970's style villas after California surf towns, expressly named Malibu and Laguna. Malibu fittingly has a pink theme and Laguna in blue. Everything from the decor to the hardware was meticulously chosen.
So while we were spending time in St. Augustine last month, we got the chance to visit the stunning Airbnb in person. We spent two days shooting content and we even got to watch a rocket launch from the Kennedy Space Centre. Here are some of the photos we took, plus a quick interview with Krista on her design process and the inspiration behind the Cali Villas.
Tour of the Surf Inspired Airbnb in Cape Canaveral
If you ever get the chance to stay in Cape Canaveral, I highly recommend booking a stay at either the Malibu or Laguna. Located in a quiet neighborhood, close to the beach. It's the perfect spot for a surf-side hideaway!
[affiliates_single_product number=1 ids="30245″ align="left"]
Quick Tour
Both villas have:
2 bedrooms, (2 twin beds and 1 king)
1 luxury bathroom with shower, including shampoo, conditioner and hand soap
3 piece kitchen with everything you need, including a dishwasher, fridge, sink, microwave and even a food dispenser
Utilities include a private washer and dryer for guests to use
Plus access to beach equipment, cooler, body board and yoga mats
The living room has a large tv, access to netflix, disney and hulu and more. Plus complimentary wifi, popcorn for a movie night perfect for kids or girlfriends.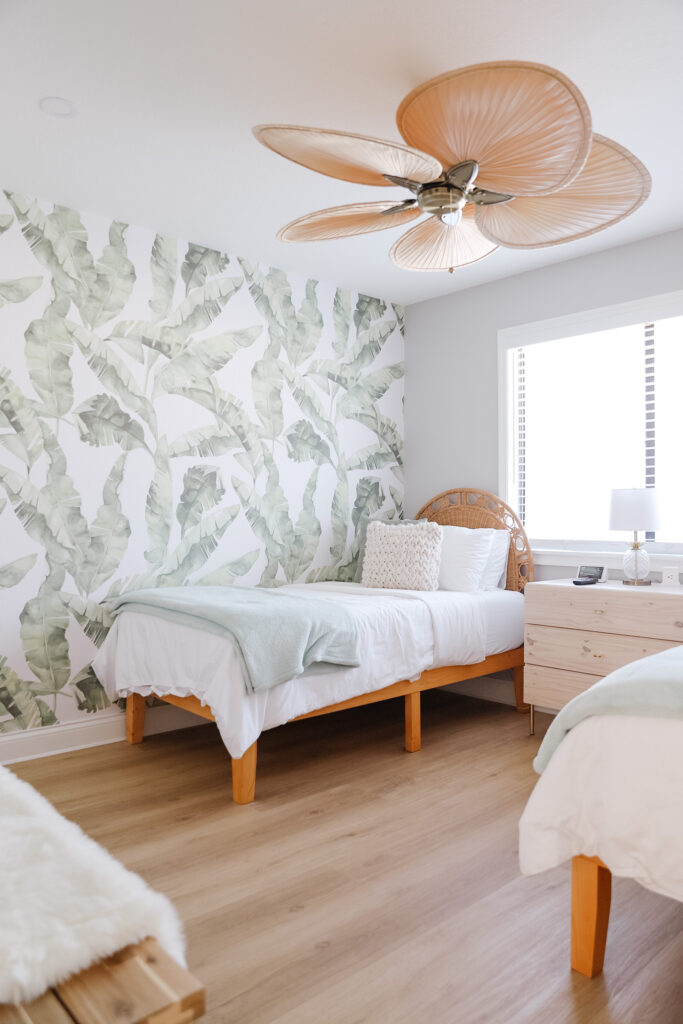 [affiliates_single_product number=1 ids="30249″ align="left"]
What to See, Eat and Do in Cape Canaveral?
While we were there I actually got a text from Krista, who let us know we could reach out if we needed any recommendations on things to do or places to eat. She also let us know that there was a scheduled rocket launch that evening and we could see it from the beach if we wanted.
So if you're stuck on what to do or need some help deciding, we highly recommend giving her a text while you're staying at either one of the two villas.
What to do in Cape Canaveral
Go Carts, Mini Put and
Beach Days
Visit Cape Canaveral and learn more about the space program
Where to eat in Cape Canaveral
If your looking for seafood, – and – are two favorites
Italian nights you need to check out -. It's always packed so we recommend calling ahead.
What to see in Cape Canaveral
Rocket launches of course! Usually its a 5 to 10 minute walk or drive from anywhere in the area to see the rocket launch. But visiting the local beach, a 5-minute walk from the airbnb will give you some of the best views.
[affiliates_single_product number=1 ids="30256″ align="left"]
Our Interview with Krista
Tell us about the inspiration behind the design? Who or what was your inspiration?
I really love the retro vibe – the June Motel in Ontario was my biggest inspiration!
I would also say that the vibe I feel from California was a huge inspiration, it is one of my favourite places and I wanted to bring the entire vibe of California to Florida I also wanted that comes through with each villa name The Malibu, The Laguna and The Santa Monica!
We loved visiting and I can't stop thinking about the use of color, what is your favorite spot in the Airbnb?
My favourite part in the Airbnb is a toss-up between the Laguna Bathroom, the retro fridge, and the backyard!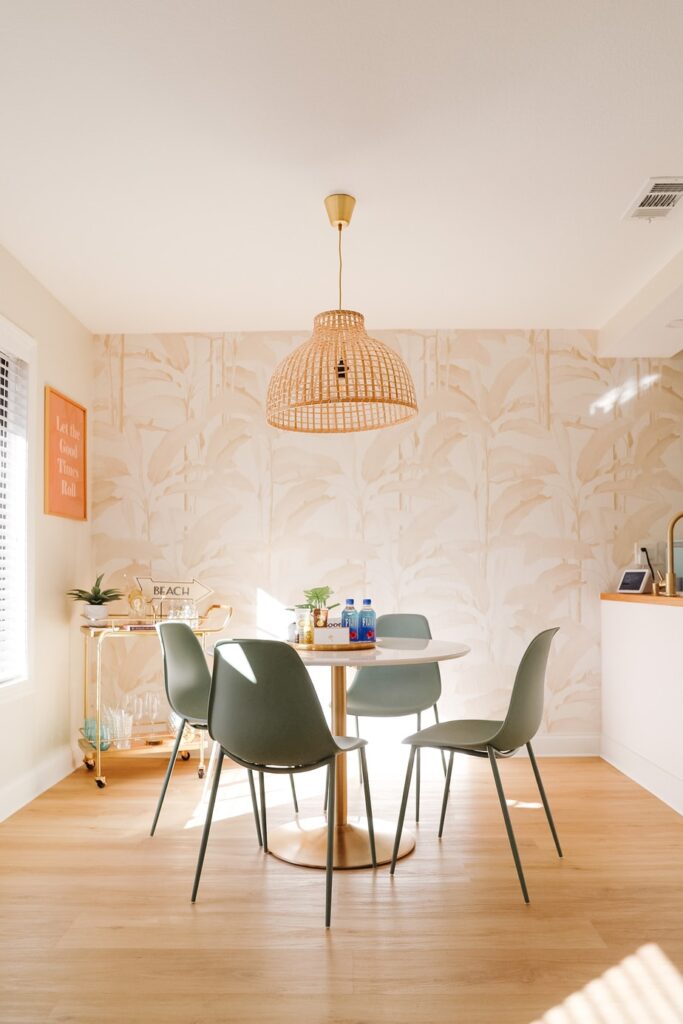 [affiliates_single_product number=1 ids="30254″ align="left"]
I feel like you had a clear vision of the design process, what's your number one interior design tip for someone about to start a similar project?
My number one tip would be to decide on your color palette early on, choose an item or two in your design to build off of for me it was the blue and pink Cloe tiles from Bedrosians.
For me, At Cali Villas, I really wanted to capture those pastel coastal colors, a retro vibe, and a luxe feel.
Cocoa Beach is famous for surfing so I knew I had to incorporate cute pink and blue surfboards in each villa to capture that. Choosing an item that is inspired by your location is also a great way to add layers to your overall design!
[affiliates_single_product number=1 ids="30252″ align="left"]
How would you describe your interior style?
I really love to mix styles, for example, the Malibu and Laguna are tropical/boho/retro with some traditional and Art Deco elements so I am not even sure I have just one interior style!
Finally, what are some of your favorite design resources? 
Pinterest and Instagram! When I am starting a new project I love building mood boards and saving anything that inspires me. 
Any other favorite places to shop for decor or furniture?
Homegoods
Houzz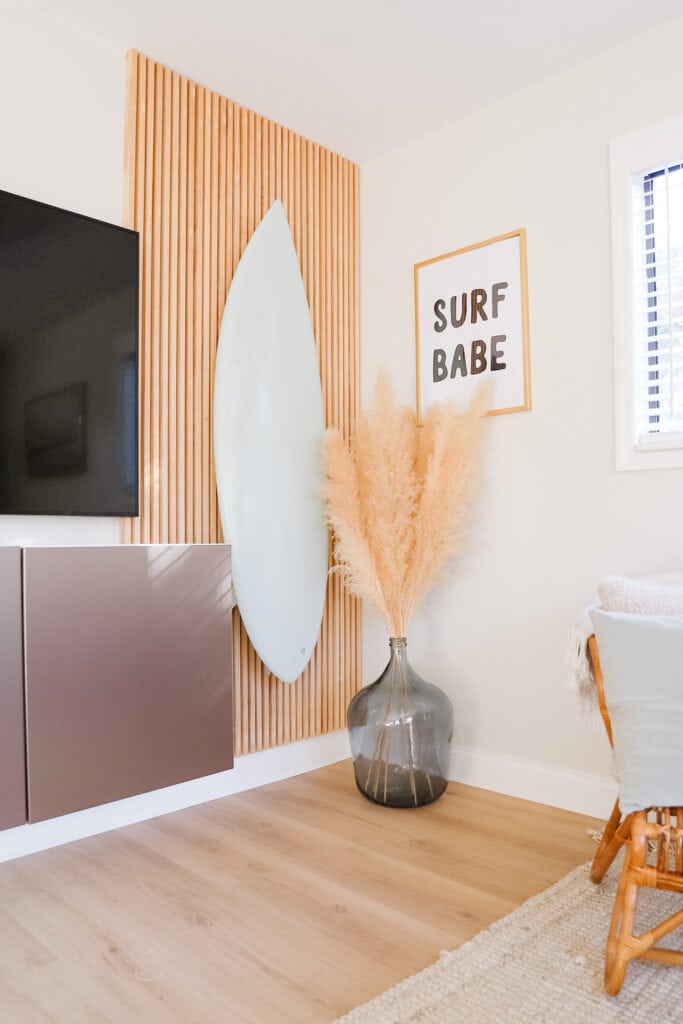 [affiliates_single_product number=1 ids="30258″ align="left"]
Find more information on how you can book a stay at any of Krista and Robert's properties here. Plus, check out and follow along on Krista's personal Instagram and the Cali Villas.