Tour of a Florida Vacation Rental – Tips for Renters
Let's take a tour of the Florida vacation rental, as I share some design tips for renters in each room.
Before we get into the tour, I wanted to wish you a Happy New Year from our team here at Cottage Living and Style. We are excited for 2022 and we know you're going to love what we have in store for you this year. It's the first time we've actually lined up several big projects and content in years, and it feels pretty darn good to stretch those design muscles again.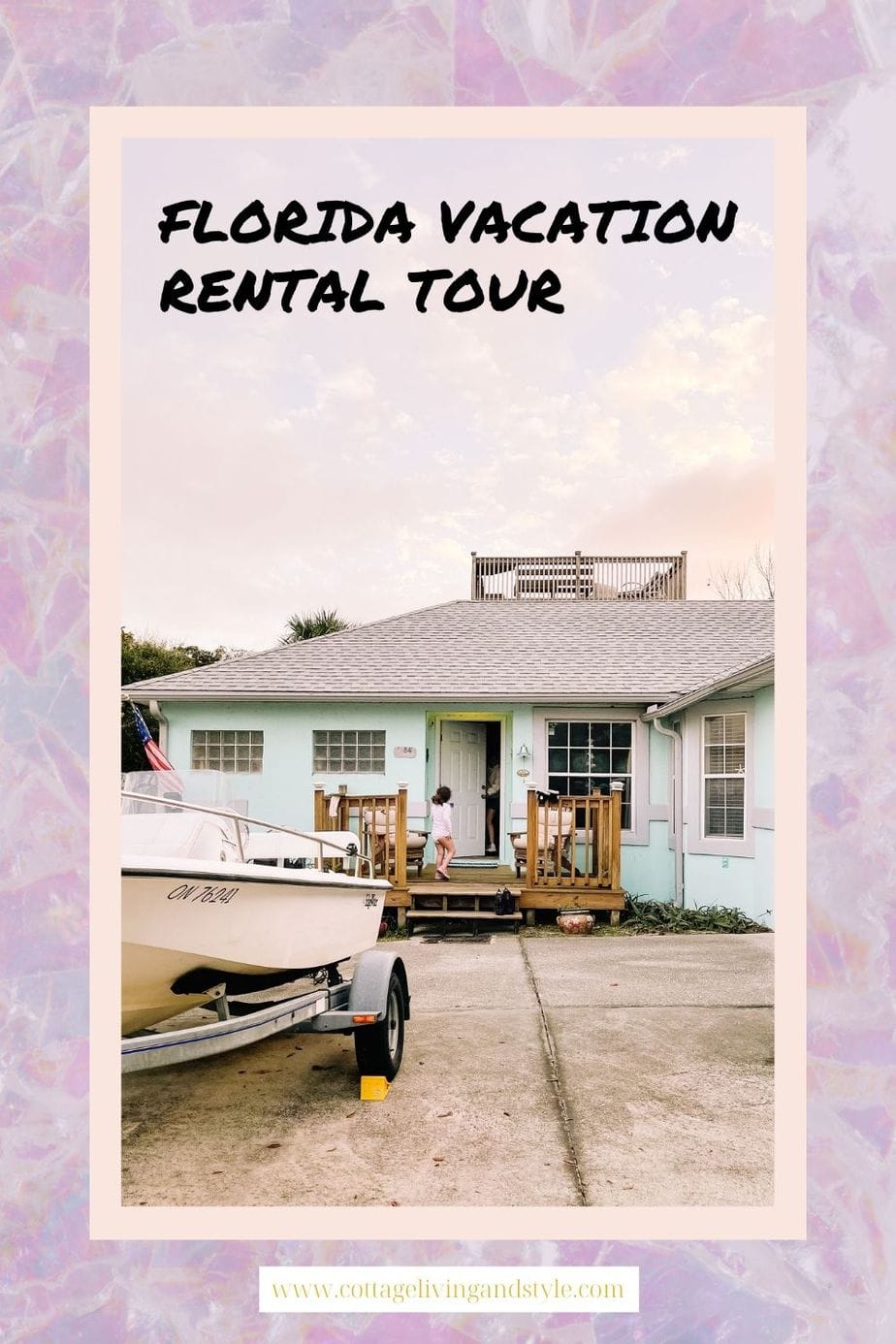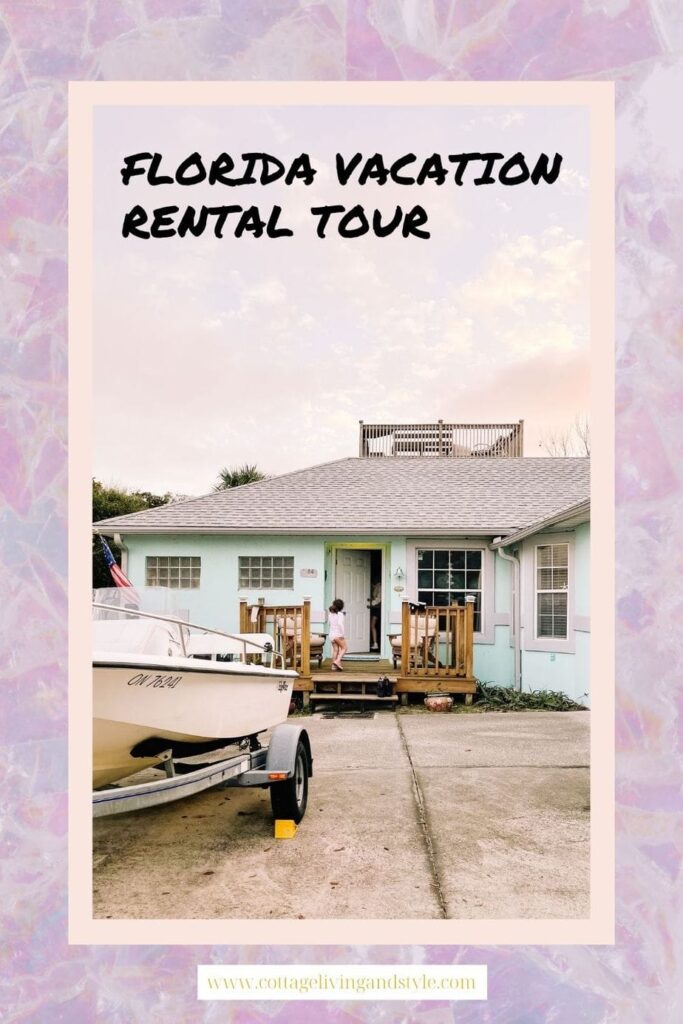 I actually debated sharing this, because I know travel isn't something everyone has the ability to do right now, nor is it on their agenda given the current climate. But I think we can give value to anyone who owns a vacation rental, has thought about owning a vacation rental, or even someone in a short-term rental who is having a hard time with the design.
Keep reading to find out tips on how to solve some relatable design issues we've encountered in our vacation rental. Plus we'll give you a tour of our home for the next four months.
The Florida Vacation Rental
Welcome to our Florida vacation rental, it's located in the beautiful historic city of Saint Augustine. We're only a quick 5-minute walk to Saint Augustine Beaches and a 5-minute drive to the inner coastal.
Which is perfect not only for early morning runs, afternoon boat trips but also to bring the kids to the beach. After over a decade of vacationing here, it's become one of our favorite neighborhoods to stay in, especially now with two young kids. It has tons of other young families with kids around the same age, plus everyone we've met is so nice.
I guess it's true what my dad says, location IS everything.
The Vacation Rental Entryway
Okay, let start at the front door. You walk in and there's a small shoe closet to the left. In the future, I'd probably add some storage options for shoes, and maybe a bin for hats. Something other vacation renters could use, and we would reuse when we return next year. There are lots of inexpensive options from Target or The Container Store that would be great for a vacation rental.
There's also a small half wall that turned into a place we put everything we need before walking out the door. Things like hats, sunglasses, and keys.
I know a lot of people have half walls in their rentals or even their homes and they usually aren't sure how to decorate them, so we'll definitely chat more about that topic soon. But I'd defiantly think about adding a small catch-all, or even a few plants to decorate that area.
The Living Room
One of my favorite things about the living room is the big piece of driftwood that's hung on the wall above the door to the master. It's beautiful and reminds me of something I've seen Lauren Liess do in one of her projects. I'm definitely taking notes for some upcoming makeovers.
In the living room, there are two dark blue couches that we think are from Interior Define, and they are a few years old but still in great shape. I really like how it adds some color to the space in a subdued way.
Design Tip:
Across from the couch, there is a large wardrobe that houses the television and media players. It's a great idea to get rid of the clutter that collects around media consoles and the living room in general. Especially if it's a family room that has kids' toys in it, you can get some straw bins to collect toys at the end of the day, and almost instantly your living room will be back to normal.
Renter Tip:
If we were staying longer I'd probably change some of the wall decorations. Specifically, I'd take down the medieval candles above the sofa, and the vintage glass windows around the house. I'd replace them with lights I could re-use or resell and of course store the original pieces in a safe place. That way we can put everything back to the way it was when we got here.
This specific vacation rental has over three different design styles. It's actually a perfect example of what happens when you either don't know what you like, are unsure of your style or didn't plan ahead. Which is why I always say it is so important to create a mood board and figure out what style you actually like regardless of whether you rent or own.
You can read more about creating mood boards here so that you don't make the same mistake or figure out how to correct it.
The Kitchen and Dinning Room
I really like the open concept, it's great for keeping an eye on the kids, and cooking while entertaining guests. Which is completely different than what we have back home, so it is a nice change for us.
The kitchen has black counters which have given me a whole new perspective on whether or not I actually want black stone in our kitchen. I was planning on installing honed soapstone along with the sink, but I now see there might be some issues with going dark. It's still something I'm exploring, but I still wanted to take note.
Renter tip for dining rooms:
The dining room has the world's tiniest dining table. It's not useable at all, and it's become a drop zone for all the papers and laptops in the house.
If we were staying longer I'd purchase a dining table that I know is my style and could either re-use it at a future house or buy second-hand and then resell it after.
Rentals and Rugs:
There were several rugs in the house, but we took them all out and put them in the garage. I'm not a fan of rugs when people don't take care of them, or clean it regularly. It's something to think about adding to the to-do list if you plan on owning a vacation rental. They can get really dirty really fast, and it's a shame because unless you plan on purchasing a rug it will feel incomplete in the space. It's like you are missing an arm and trying to swim, it just doesn't work.
The Kids Bedroom
This is the room I am most excited for because we're going to be doing a renter-friendly makeover. One where we can't put holes in the walls (any more than there is), and we can't paint.
Right now there are two twin beds, not enough bedding and that would be my only tip for people looking to own a vacation rental is to include more bedding than you think.
Also, laundry access is essential (ours is in the garage).
The Master and Second Bedroom
Two in one because I didn't want to write an entire story. This room is my favorite because of the ensuite. It has marble tile, along with the shower and a whirlpool. I'm working on designing our bathroom back home and I'm now interested in having a separate area for the sinks and toilet, bathroom, and shower in another.
Guest Bathroom
The guest bathroom is a small 3-piece bath, that works out perfectly for anyone staying in the two other bedrooms. It's on our list to makeover as well while we're here. So make sure you stay tuned for that soon!
So that's it for the inside of our Florida vacation Rental. Hopefully, this gave you some ideas for correcting or dealing with some design issues you have.