Modern Komfort Dining Table Review
This is an honest review of the Modern Komfort Dining Table, along with some pros and cons to help you make an easy, researched decision.
Modern Komfort is a Canadian furniture, decor, and lighting retailer with showrooms in New Brunswick, and most-recently Ottawa. It's also a family-run business with many Canadian-made furniture and decor lines. Their mission to find products made under ethical conditions from renewable resources was one of the first things that caught our attention.
In fact, we love sharing and supporting women-owned businesses. Especially one's like Anna and Helen have built that's been growing in popularity on the internet for the past few years. Their collection of beautiful, unique pieces is showcased in many beautiful homes across Instagram. It's no surprise that when we were designing our dining room makeover, we decided we wanted to include Modern Komfort furniture.
Modern Komfort Dining Table Review
After fangirling over most of Modern Komfort's beautiful furnishings this past year. I finally decided our first purchase would be investing in a new dining room table.
I've always dreamt of owning a beautiful harvest dining table that would look amazing styled for parties and family dinners! So when it came time to decide which one of Modern Komforts collection of dining tables, I carefully examined each of the options they could make within my timeline. Until I came across the Eastern Dining Table, with its perfect size, shape, and wood tone for our new dining room I knew it was the one for us.
For those who are interested, which I'm assuming you are if you are reading this.
The Eastern Dining Table measured:
70.87 W x 39.4 D x 29.92 H
The tabletop is 1″ thick.
Leg height is 29″, and the distance from the floor to the bottom of the table frame is 26.5″.
Mordern Komfort Dining Table Features
What kind of materials is the table made from?
The materials that were used to make the Eastern Dining Table are solid acacia wood, MDF, and plywood.
Is the table actually hand-made?
It is expertly handcrafted, specifically for sale at Modern Komfort.
Details of the Dining Table's Design?
It's hard to say what I love the most, between the beautiful greyish color wood or the design. The design of the table itself is beautiful, made with great attention to detail. It's a modern harvest table that works well with any style, from the mid-century modern, and farmhouse to cottage-style decor. I can't wait to style it and share more tablescapes soon.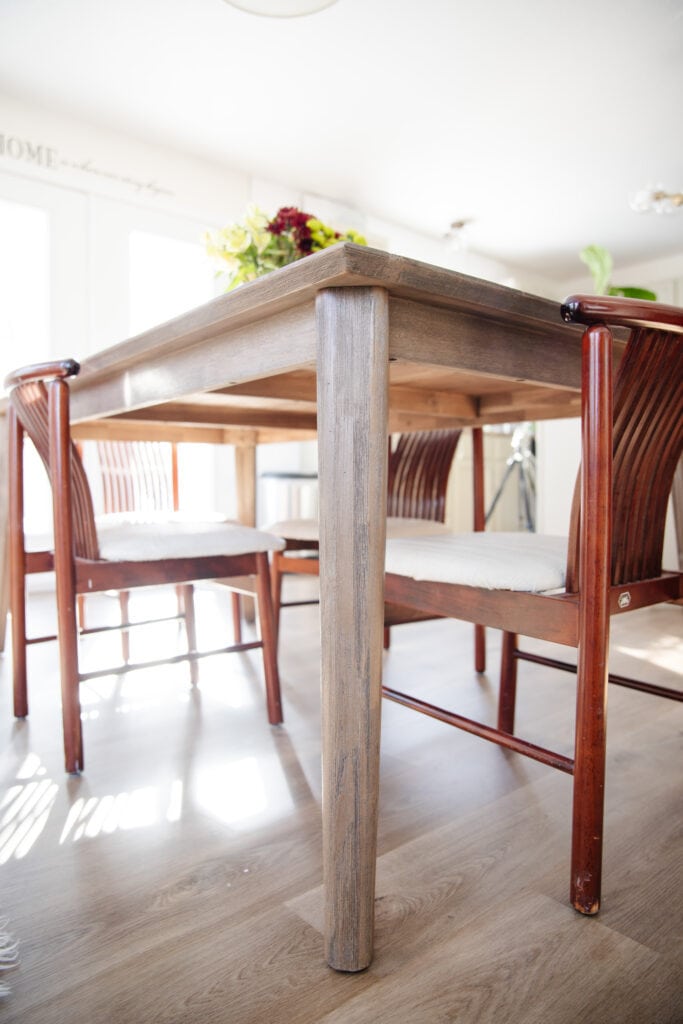 What is included with the table?
The table comes in a box with all four legs, the tabletop, nuts, screws, and Allen keys to easily put the legs together.
Which you won't have to worry about if you choose to do the white glove delivery (we share more about it below).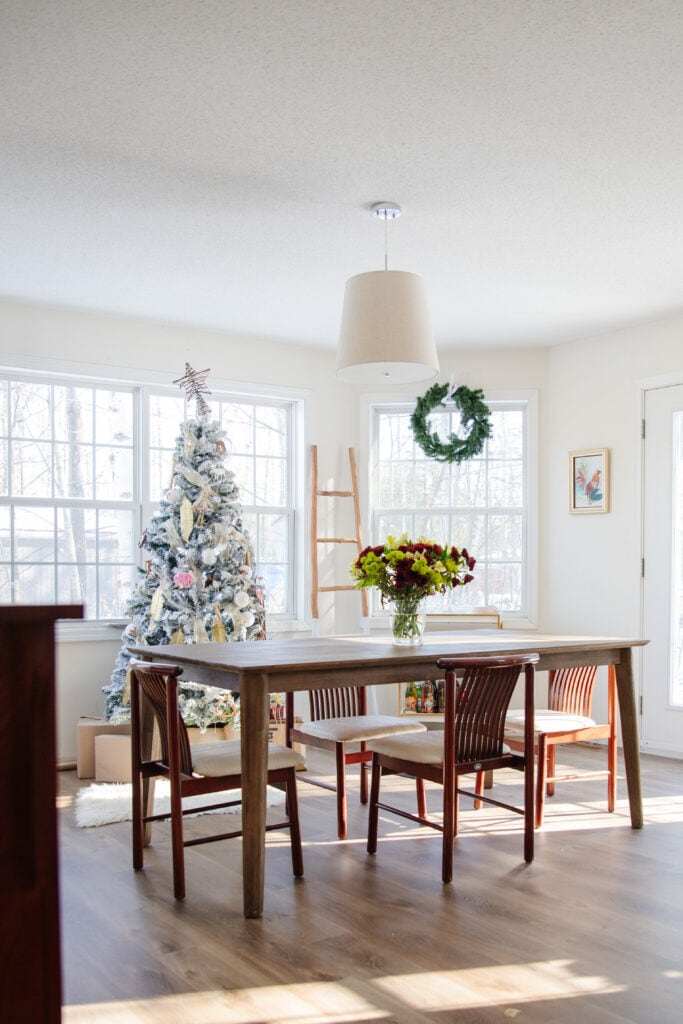 Should I be concerned for cracks or dents?
Since the Eastern dining table is made with real reclaimed wood, it means that each table has unique groves, chips, and dents in the wood. Which I personally like, because we see a lot of tables that are made to perfection but lack character and uniqueness.
However, if minor (hardly noticeable) imperfections will bother you, it might not be the table for you. I will note that there are only 2 tiny dents, and no cracks or scratches in the wood. Nothing that would make me wonder if it will crack later on or if those imperfections would cause structural issues.
I've had several high-end dining tables from well-known retailers that have cracked from being honed to the point of perfection, which I think made the wood weak. So far our table has held up amazing and we couldn't be happier.
Mordern Komfort Dining Table Pros and Cons
Pros
They are made to order
The dining table is hand-made
Manufacturing was extremly fast
Shipping was also extremly fast (We were told it would be 4 to 6 weeks and arrived in 3)
Modern Komfort offers white glove delivery and installation with a fee that we think is a great option for some homes, apartments or condo's.
The quality and craftmanship is great
It's durable and made with quality products
Every piece is unique since it is made from wood, there are noticable indents and chips but it enchances the beauty in my opinion.
The table does come with care instructions and advice on how to protect the wood, which I appreicated instead of googling different answers.
Cons
There isn't a ton of details or information listed on the website. Which made it dificult to know what the table would look like exactly.
The color of the table is listed as geige which again was difficult to know exactly what we were purchasing. Or how it would look with our decor and design.
It is really heavy, which is why I needed help putting it together. (This can be a pro as well, because we know it's made solid).
Is the Modern Komfort Dining Table Worth It?
I know you are all dying to know if I think the dining table from Modern Komfort is worth it? and my answer to your question is, yes. Not only do I love supporting a women-owned, Canadian-made brand, but I appreciate the quality, attention to detail, and of course the durability of this specific dining table.
I even had my dad stop by to help me put it together. And coming from someone who built a lot of furniture in his day. He was really happy with the quality, look and feel of the table.
We did not use the white glove delivery service they offer because of covid. But I do think it would be great to take advantage of. Especially if you are ordering furniture for an area in your home that isn't easily accessible, hard to get to, or you live in an apartment or condo.
I wanted to note before you go, that we are in the process of making over our dining room and there is still plenty of work we need to do. We will reshoot these photos once it is done, but we wanted to answer your questions about the Modern Komfort Dining Table as soon as possible. Since we know a lot of you are interested in purchasing dining tables and are looking for reviews.
You can find more information, as well as order the Eastern Dining Table from Modern Komfort here.