How to Decorate a Kid's Room for Halloween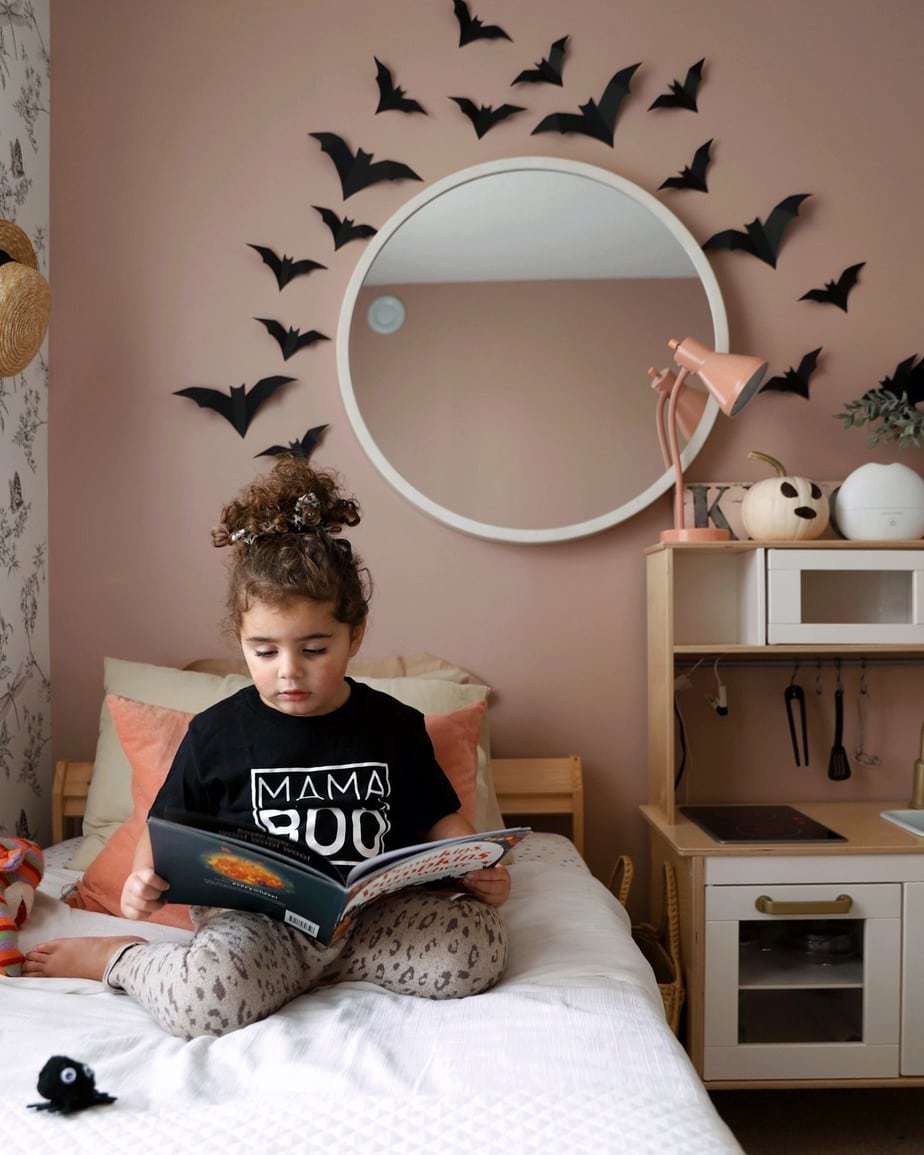 I've been thinking of how to decorate a kid's room for Halloween for weeks now. My plan this year is to make every holiday special, since we most likely won't be seeing the family and friends we usually do. Every year on Halloween night we head to the island, back to the community I grew up in and we participate in their community halloween party. They host a dance party for the kids, with food, candy and even prizes for the best costumes. It's always something we look forward to doing, sadly this years Halloween party is cancelled, so I searched for ways to make this year special in other ways.
How to Decorate a Kid's Room for Halloween
Starting with our Halloween Home Decor from the Dollarstore, we used the same dollar store decorations in the Toddler Room too. I wanted to make this Halloween decor affordable, fun, and special. I also thought it this bat cut out was a fun DIY to do with your kids, and a great way to get them involved in their Halloween kid's room makeover.
My favorite part of this whole room is all the bats around her mirror! I'll share my FREE bat cut out below, and a link to what I did to make them here. But I do recommend using sticky-tack over the tape so it doesn't wreck your walls.
I also added a few spiders around her Ikea kitchen, pumpkins, and even some blackbirds in her faux branches. I'll share my entire shopping list below.
One of the other things I did that I thought was really cool, was I added some inexpensive spider webs around her room. It was fun, and I also guarantee a few bats will get pulled down since she can reach them. But it was so fun seeing her reaction to our little project.
Quick Shopping List
(3) Black Bristol boards 
(1) Pack of Spider Webs 
(1) Black Permanent Marker  
(3) Black Birds 
(1) Spider Garland 
(1) pack of sticky tack
** Pumpkins that aren't from the Dollar Store 
Scissors, pencils, and wine.
Our Amazon Shopping List for Halloween Decor

I hope this inspires you and gave you some ideas on how to decorate a kid's room for Halloween! It's an inexpensive way to make it special and a great way to get your little ones excited, even if you staying home.