Halloween Home Decor from the Dollarstore: Under $20
Halloween is only a few short weeks away and since we're still unsure about trick-or-treating I wanted to make Halloween really special this year. Starting with a trip to our local Dollarstore I was excited to see I could get that was budget-friendly. I was really impressed because I was able to get our entire Halloween Home Decor from the Dollarstore! Everything I found was so inexpensive and I was able to keep our supplies under $20 with the help of a very fun DIY of course.
Halloween Home Decor from the Dollarstore
We started with some inspiration we found on Instagram because I never go shopping without a plan. I knew we needed some key elements to make this haunted Halloween project really special. So we found some great vignettes online and went to town.
Shopping list for Halloween Home Decor from the Dollarstore
(3) Black Bristol boards
(1) Pack of Spider Webs
(1) Black Permanent Marker
Dog Skeleton
(3) Black Birds
(1) Spider Garland
(1) pack of sticky tack
** Pumpkins that aren't from the Dollar Store
Scissors, pencils, and wine.
DIY Bats
Let's start with the one thing I was most excited to do this year, the DIY bat's. I originally saw these on Etsy and I planned on ordering them a few weeks ago but I completely forgot. It can take a while to ship depending on where you live, and for us, they wouldn't have got here in time to use them for Halloween. So I thought it would be really fun to do DIY bats with Penelope.
I did save the part of the process on my Instagram stories and also to my highlight so you can refer back to them.
STEPS FOR THE HALLOWEEN BAT DIY
Lets walk you through the process just in case you don't have Instagram.
BEWARE: I'm not going to lie, I had several glasses of wine and didn't finish the last bat until after Penelope went to bed.
I started by tracing a bat on card stock, and if you see below I have made you a free template as well. One of the questions I was asked on Instagram is how to get the different sized bats? All I did was use a template and just reduced the size before printing (I used 100% and 75% for these bats).
After I had two bats traced and cut out on the card stock, I used them as my templates to trace more bats on the black Bristol board I bought from the Dollarstore. It was so much easier than trying to trace the 20+ bats I wanted from the printer paper.
Once you have the bats traced and cut out, you can use a ruler to slightly bend the bats to give them that 3D effect.
We used sticky tack instead of tape to put them on the wall just because I found it held them up way better that way.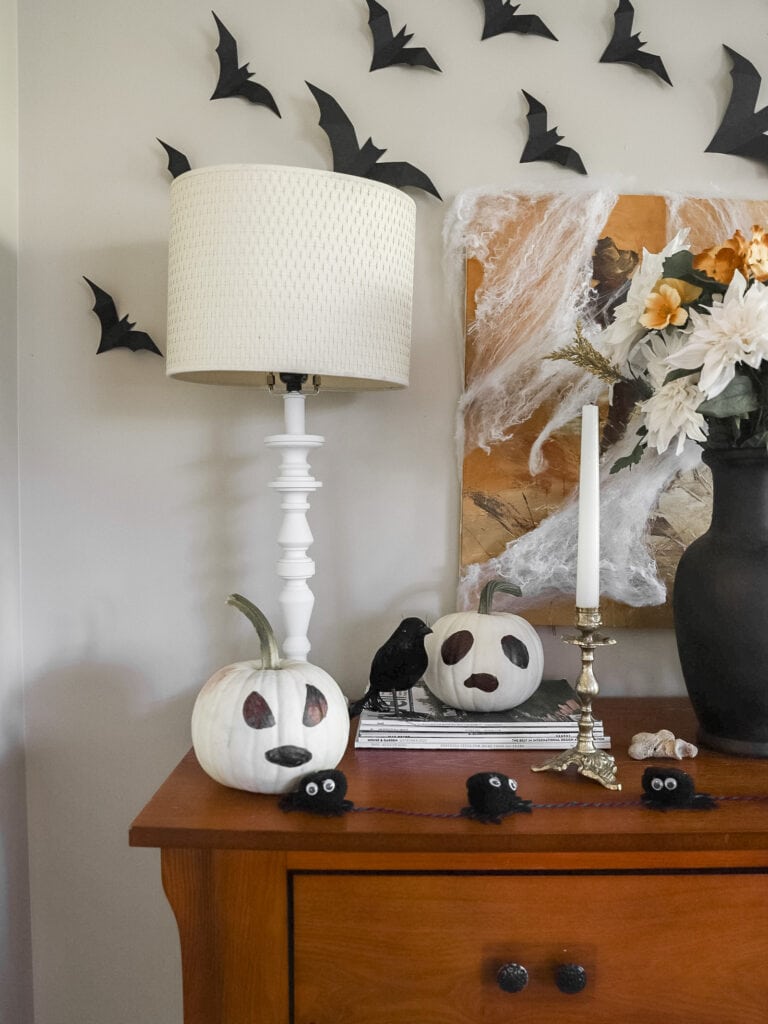 Finally, the fun part. I loved putting up the Halloween home decor from the Dollarstore. One thing I noticed this year, was a lot of people were using spider webs, and blackbirds for a minimal Halloween look, and I wanted to give it a try too. The best part about decorating is that it makes each season and holiday fun and all you really need is $20, a Dollarstore, and a few DIYs to make any holiday special this year.
I hope this inspired you and when you make the bats tag me or send me an email! because I love seeing you recreate the things I share on here. Oh, and we recently shared how to decorate a kid's room for Halloween using the same affordable things I used in this room. Definately check that out next!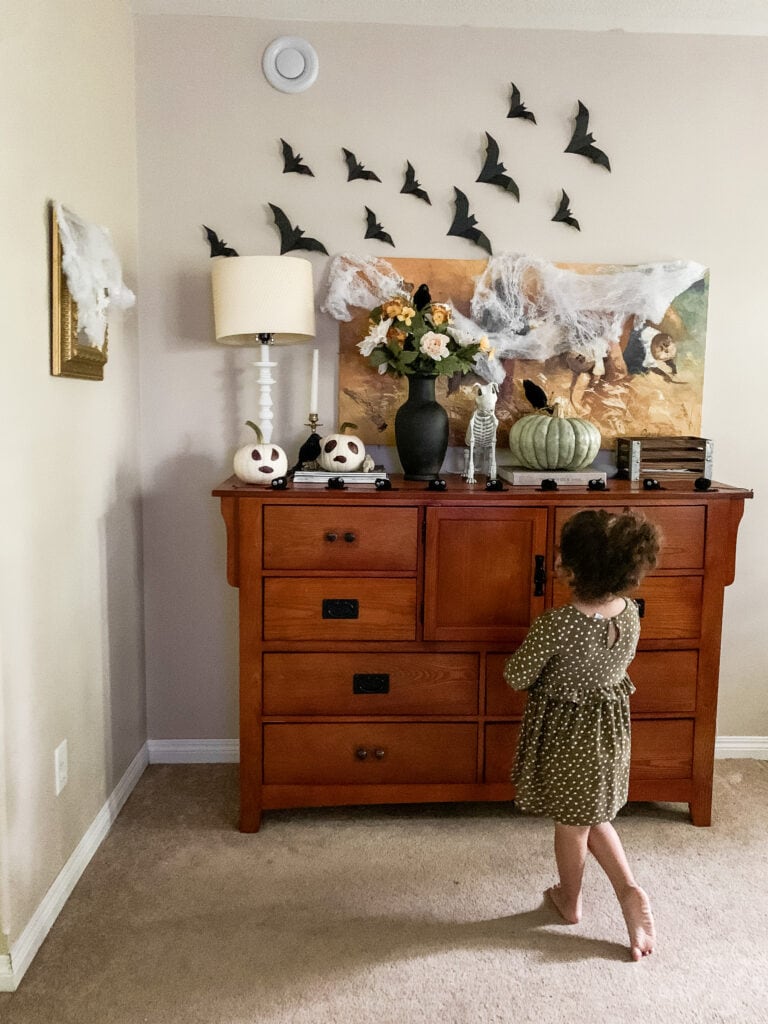 Find more Halloween Posts?
+ Last Minute Halloween Costumes from Amazon