Small Cabin Kitchen Ideas – Reveal!
We're sharing our cabin kitchen reveal today. So if your looking for small cabin kitchen ideas or cottage kitchen inspiration you've come to the right place.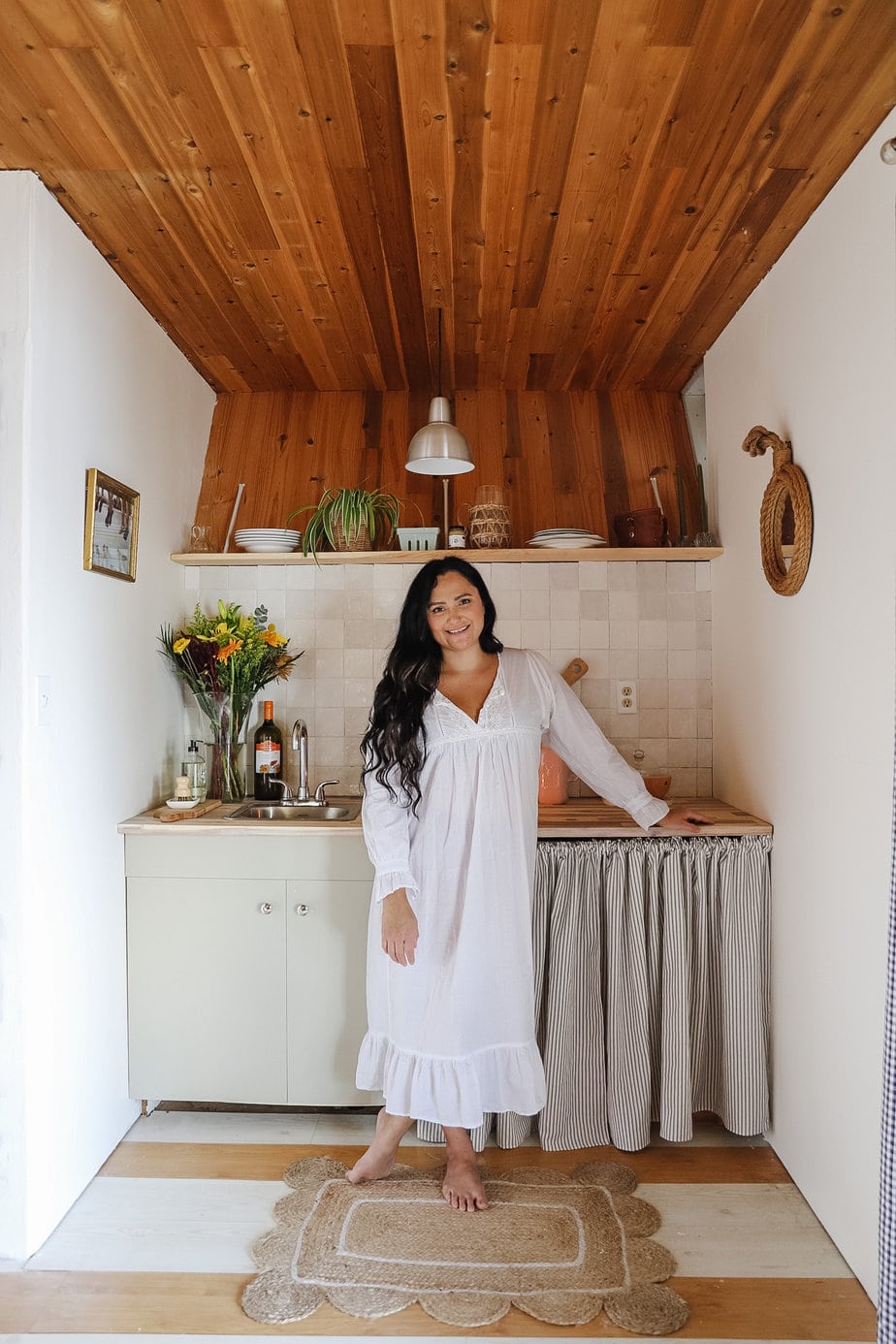 I'm so excited to finally share our cabin kitchen renovation with you. It's taken months to design and renovate, but totally worth all the late nights and early mornings. If you missed the announcement, we bought a 375 sq. ft cabin on an island.
The cabin means a lot to my family and me because it was built by my dad and grandparents. Its original design was meant to serve as a granny suit (often called a granny flat). It has one bedroom, one bathroom, and a tiny kitchen, which was perfect for my grandparents at the time.
However, like any tiny home, we needed to make some changes to the layout to make it fit our family better. It's a good thing that I love a good challenge. especially when it comes to updating and renovating rustic cabins and country homes. If you've been a reader here for a while, you'd also know how much we enjoy doing makeovers on a budget.
If you enjoy it too, you'll love this project. We set aside $1000 for the full renovation of the kitchen. That had to include everything from the drywall, tiles, and countertops.
The timeline for our project was originally three weeks. Since this cabin serves as a vacation home, our hope was to have the kitchen remodel complete in time for the cottage bungalow renovation. But that timeline didn't work out, mostly because we had to rely on ferry schedules for deliveries and material pickups.
Regardless of the delays, this is one of my all-time favorite renovations we've ever done. But before we go over all the details of our cabin kitchen, I wanted to remind you what it looked like before.
The "Before"
When we were planning the design, I wanted to make sure I was keeping the things that meant a lot to my grandmother. The cedar ceiling planks, her paintings, and some of her design ideas. I really just wanted to give it the update she would have wanted while staying true to our style of course.
Here's how the kitchen looked when we bought it.
Small Cabin Kitchen Ideas
You might be interested in ideas for your own tiny kitchen, and I wanted to share a breakdown of what we did in this makeover. Hopefully, we'll also give you some great cottage kitchen ideas and inspiration.
Wall Design
It's hard to tell from these photos, but the wood paneling was warped, not just in the kitchen but throughout the cabin. And because the cabin was unused for so long, it had a musty, damp smell to it. Which I'm pretty sure was because the cheap panels had collected a lot of moisture.
We decided to replace all of the panels, with drywall. Little did we know that there were a few structural changes that had to be made as well. Some of the walls were missing studs and others were missing vapor barriers. It was an easy fix, but something to be aware of when you're renovating a rustic cabin or cottage.
One-Wall Kitchen
I love one-wall kitchens, and it been really fun to design. But it also meant we lacked kitchen space and a kitchen island. I thought it would be a bigger deal, but it really hasn't made that much of a difference in how we use the space.
But I did want to make sure we had new kitchen counters. That's where the focal point would be in this open-concept kitchen, and using butcher block would give us the cottage vibe we love.
Butcher Block Countertop
My grandmother loved to shop at Ikea's return section, and they saved a lot of money by using an old Ikea countertop. But the dark blue granite countertops made the space look a lot darker than it was. So I wanted to either splurge on some honed marble or find a really beautiful butcher block. Luckily, I spotted this light-wash butcher block for under $80 at The Home Depot. It instantly made the space bright, along with the newly painted white kitchen walls.
Farmhouse Sink
Once we finished installing the new countertops, I knew we had to replace the old double sink and faucet. The plan was to buy a farmhouse sink and a beautiful french country bridge faucet. However, I quickly realized I made a mistake measuring the sink. It was too wide and too heavy.
Bar Sink
I quickly started researching bar sinks and to my surprise, there weren't a lot of rustic-style sinks to choose from. If I had more time I would have spent some time searching local vintage dealers for an old sink. But I found a stainless steel option from Amazon and it honestly looks great.
We also installed a new Delta faucet and called it done.
Neutral Colored Tiles
After we installed the new countertops, we started tiling. This is what pulled together the entire design, and I'm so glad we ended up choosing the white Chole Tile in 5×5 from Bedrosians. This tile also comes in several shapes and colors. At first, we were looking at going with a bright color for the backsplash, but I was worried about how that would look with all the wood tones.
If you are interested in knowing more, I wrote an entire post on sourcing tile for our small kitchen HERE.
Even though I loved the white uneven shaped tile, I didn't want to highlight the shape too much. So we used Bright White grout instead of dark grey or black.
Open Shelving
Since we were looking to inject a little rustic charm into the design, we opted for using natural materials as much as possible. Including, the open shelves, which is a 2×8 oak board that we secured with three brackets. I recently ordered two pot racks to sit under the open shelves, that I feel will complete the cabin kitchen.
Cedar Ceiling Planks and Ceiling Beams
The angled wall made it difficult to install, but it was important for us to protect the cedar planks. The planks line the single wall, connecting seamlessly to the ceiling. It's a design element that screams rustic cabin.
Counter Cafe Curtains
The cafe curtains are quite possibly my favorite part of the entire space. My mom helped sew them from the material I found. I was inspired by Chris and Julia's skirted cabinet in their kitchen.
This cost us less than $14 to make and it's been a great way to conceal the clutter and hid the kitchen appliances. Regardless if you make your own cafe curtain or buy it. This element instantly gave our cabin kitchen a much cleaner, cottage-style aesthetic.
You can find some options for cottage-style cafe curtains HERE and HERE.
White Walls
I should have included this first, but since this is a tiny house kitchen the paint color had to work with the rest of the cabin. Like any open-concept space, we decided to go with a neutral paint color like Simply White by Benjamin Moore.
You can read my rules for choosing a white paint color HERE.
Painted Kitchen Cabinets
One of my favorite ways to update a kitchen on a budget is to paint the lower and upper cabinets. There is so much power in paint, and many chalk paints don't require any sanding or too much prep work. Making it a really fast and simple DIY.
Which is why we painted the lower cabinets with Fusion Mineral Paint in Bedford. It's a beautiful finish and only required two coats.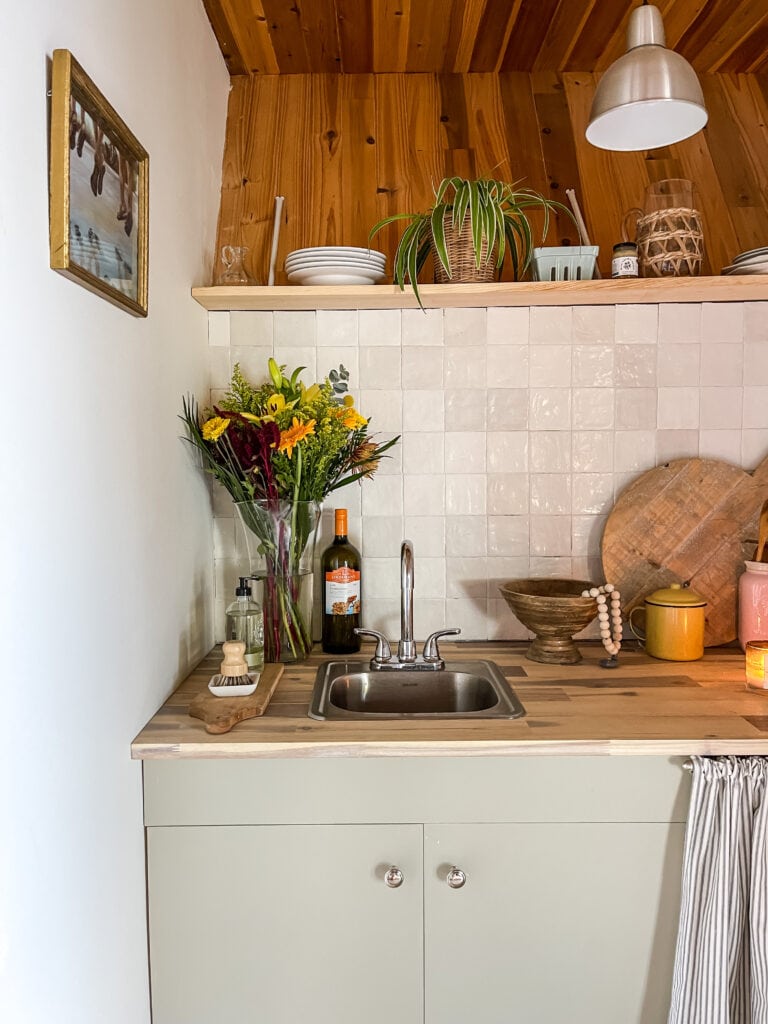 An interior design trick for open-concept spaces is to use cohesive colors throughout. Which is why you'll notice we used the same paint color in the bunk room.
Rejuvenation Hardware Cabinet Knobs
Lastly, I updated the cabinets with new hardware. Since this is a cabin I wanted hardware that looked like it came from an old English cottage. Rejuvenation Hardware has some of my favorite styles, and I found these Medium Oval Cabinet Knob.
Mini Appliances
You also might be wondering where all our appliances went. We have a mini fridge coming soon, which will go behind the cafe curtains. There's also a double burner that we stash under the counter since we also lack a lot of storage space. But it's perfect for us, and we love being here on weekends and during the summer months.
Double Duty Furniture
While we don't have a lot of square footage for a dining room, I'd like to find a dining table that can double as extra counter space and a place to eat when we need. It's so important if you're designing a smaller kitchen that you choose furniture that can work double duty. So if you have ideas or suggestions for a dining table that could work let us know.