Minimalist Built-in Bunk Bed in 9 Easy Steps (with pictures)
Bunk beds are a great option for small spaces, and can also be really simple to make yourself. So today we're sharing how we DIY'd a minimalist bunk bed (built-in) and how you can too!
Once I found out we'd be moving into The Cabin for a few weeks, I knew we'd need to figure out a better sleeping arrangement. Among a few other things, like renovating the kitchen, adding new walls, and of course, redecorating.
But with two small kids, and only one queen-sized bed. Our sleep would be in jeopardy if I didn't think fast and get creative.
That's when I saw the opportunity to create built-in bunk beds in place of an old sofa. Bunk beds are a great space-saving solution and they can be quite simple to make. This is why, today we're sharing a tutorial for a minimalist bunk bed, including all the materials you might need and a few tips along the way.
Minimalist Bunk Bed (Built-in) Tutorial
While this is how we built our minimalist bunk bed, and all the materials we used. I wanted to note that we took into consideration our children's abilities and all the safety concerns before we worked out the bunk bed design. Your's might look different but I hope this works more as a guide for you.
Our cabin is only 375 sq. ft. so every nook and cranny has a purpose. When it came to redesigning the living room area, the built-in sofa became the perfect space for a minimalist bunk bed (see the photo below).
Which is actually perfect because stacking beds on top of each other, frees up a whole lot of floor space. And since we have small rooms, we can use all the extra space we can get. Including room for storage space under the bunk beds.
A few more reasons I wanted bunks is because when the kids get older it would give them a bit of privacy they wouldn't otherwise get in a shared kid's bedroom. And we could also use the space as a guest room if needed.
What is a Minimalist Bunk Bed Design?
As I mentioned, we chose to DIY a bunk bed for a few reasons. First, we had a smaller budget for this project, and building your own beds can save a lot of money. Second, you could build a much higher quality bed than you could buy. Third, I wanted to reuse several pieces from the sofa my grandfather built.
So I guess you could also call this an eco-friendly bunk bed since we are reusing old boards. But a minimalist bunk bed design uses fewer materials, colors, or extras. It's a simple design and we'll share how we did it below.
Inspiration for the design
I love the idea of using raw materials in the cabin, but I worried adding more than three different wood tones would be too overwhelming. So the solution is to paint the bunks, which I plan on sharing in the reveal post (later this week).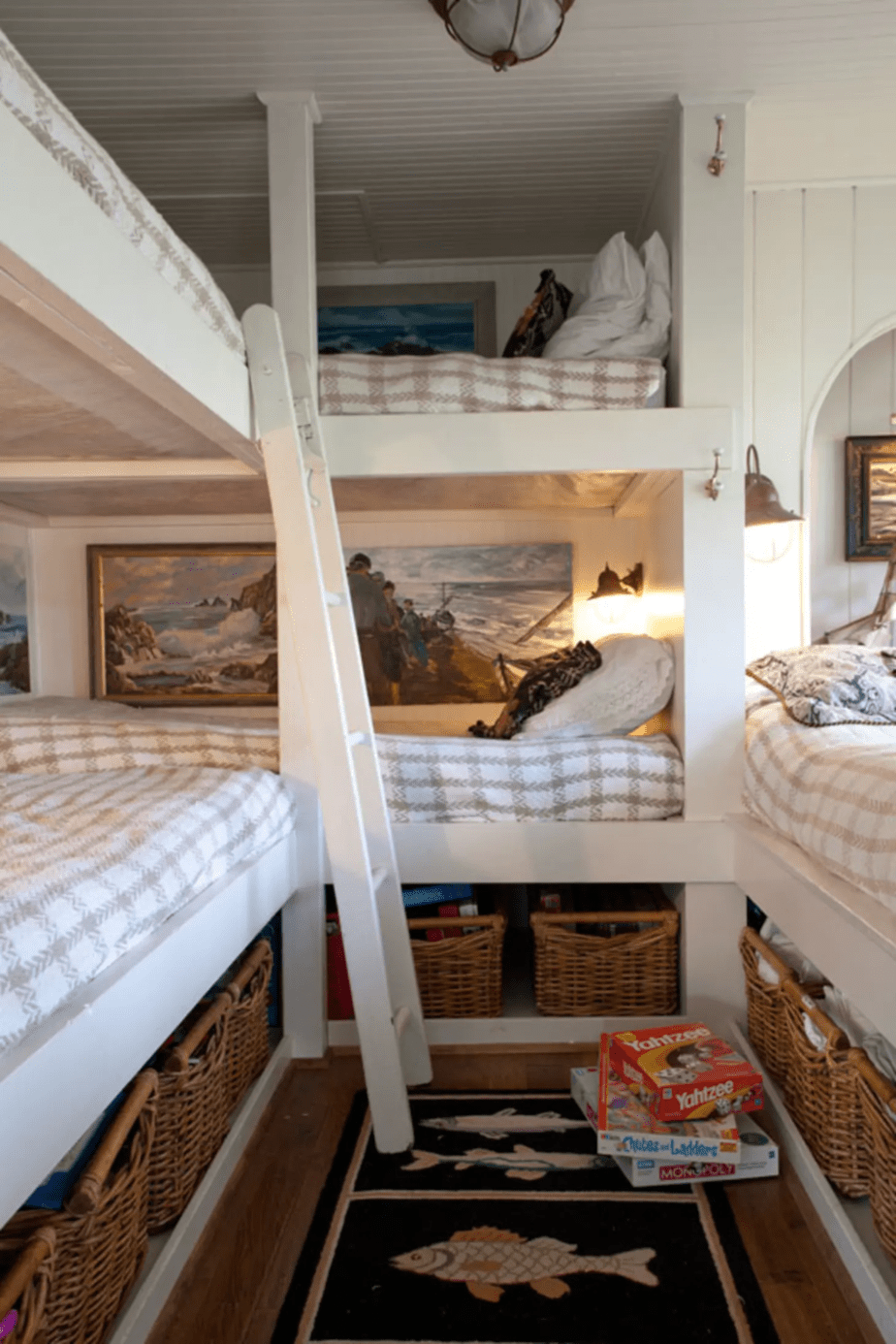 But let's chat more about the design because I like the idea of simple wooden bunks which don't have to be boring. You can easily show your personality by adding fun decor. Things like a climbing wall, or even a light that gives off nautical vibes in a kid's room (see the photo on the right which is from Nesting with Grace). I was also thinking a lot about modern bunk beds when I was designing this space, I've seen interior designers add triple bunk beds in a tiny room, which is perfect for a growing family (similar to the photo above from The Shoebox Inn), convertible bunk beds (great for small spaces and tiny homes) and so many other cool bunk bed ideas like using a queen bed on the bottom and a twin on the top.
My point is that options are truly endless, especially if you can DIY your own bunk beds. Which is what made this project so fun to design and dream up. I hope you can use these plans and get creative with your own designs to help suit your home and lifestyle.
Materials
Four 2x4x8's Premium Boards (eco-friendly option HERE)
Two 4ft x 8ft Sheathing Panels or Plywood Panels (eco-friendly option HERE)
Two 2×6 Pine Whitewood Stud (this is what we swapped out for the two boards from my grandfather's bed)
1x2x8 pine lumber for the guardrail
2x4x8 Premium Board for the steps
Instructions
I just wanted to preface this by saying that we just finished this DIY project, and it turned out amazing for our small space. Which is why I wanted to share the full plan for our new bunk bed. We didn't have any plans to go off, but I hope by sharing our free bunk bed plan you'll love them as much as I do. Also, we added a guardrail last minute which I didn't include in the plans. However, you can easily use a 1×2 (like we did) and build a simple rail along the top bunk.
Step One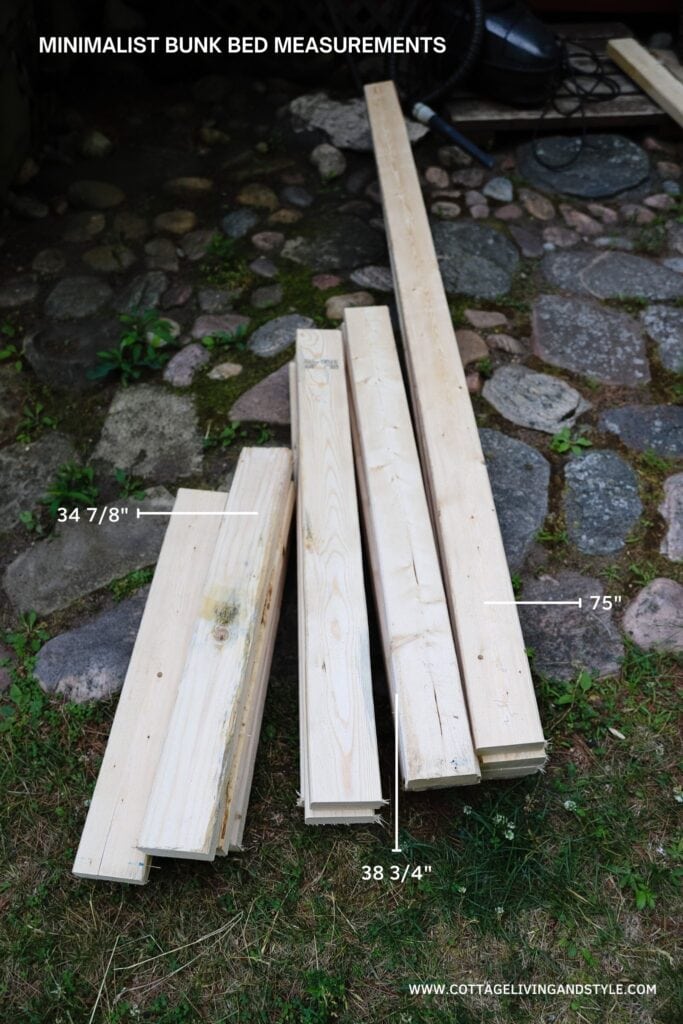 The first step is to make your cuts. Using the 2×4's and the measurements for a twin bed, make the following cuts:
2 x 34 7/8″
4 x 38 3/4″
4 x 75″
Step Two
Since we won't need leg pieces, it's important to find the studs and mark them. That way we can be certain that the bunks will last for many years and hold all the weight you need.
Step Three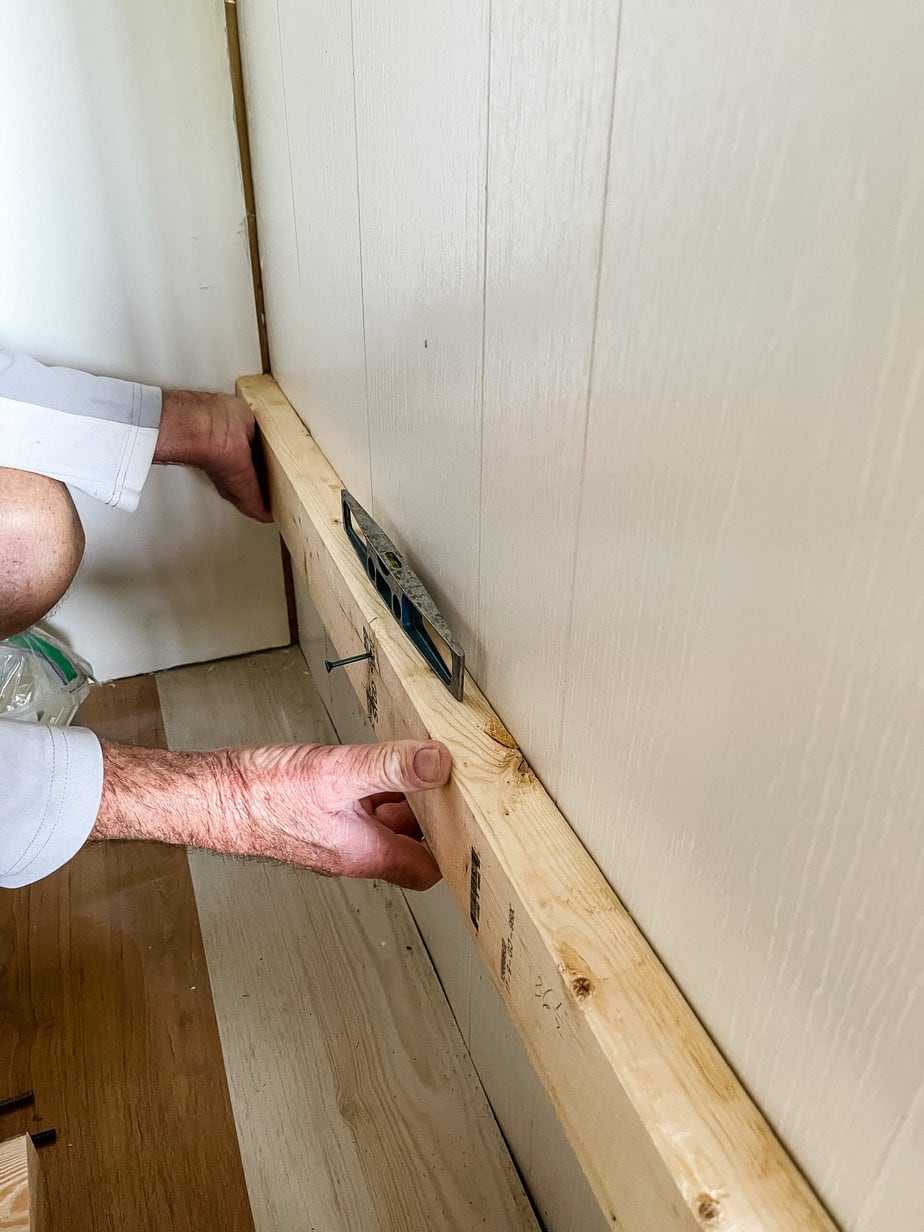 In order to build the lower bunk, you will need to use the 1 x 38 3/4″ board you precut. Making sure you are meeting the studs, start to drill two 3.5″ deck screws through the 2x4s and into the right wall.
We choose to use 3 1/2" and 4" deck screws because they were the longest screws we had at the time.
Step Four
From there you have the start of the box for the bottom bunk. Follow steps two and three for the 1 x 75″ backboard, and the 1 x 38 3/4 board on the opposite wall in step three.
Step Five
The last two things you need to do is add the middle support (1 x 34 7/8), making sure the support is level. The way you do this is by using a right angle on both sides. Anchor the support beam by screwing on an angle.
A quick tip or note is that it's okay if your middle support is not level (horizontal) at first. Wait until you attach your last piece of board (1 x 75″), because once you screw in the support beam into the fourth board it will become level.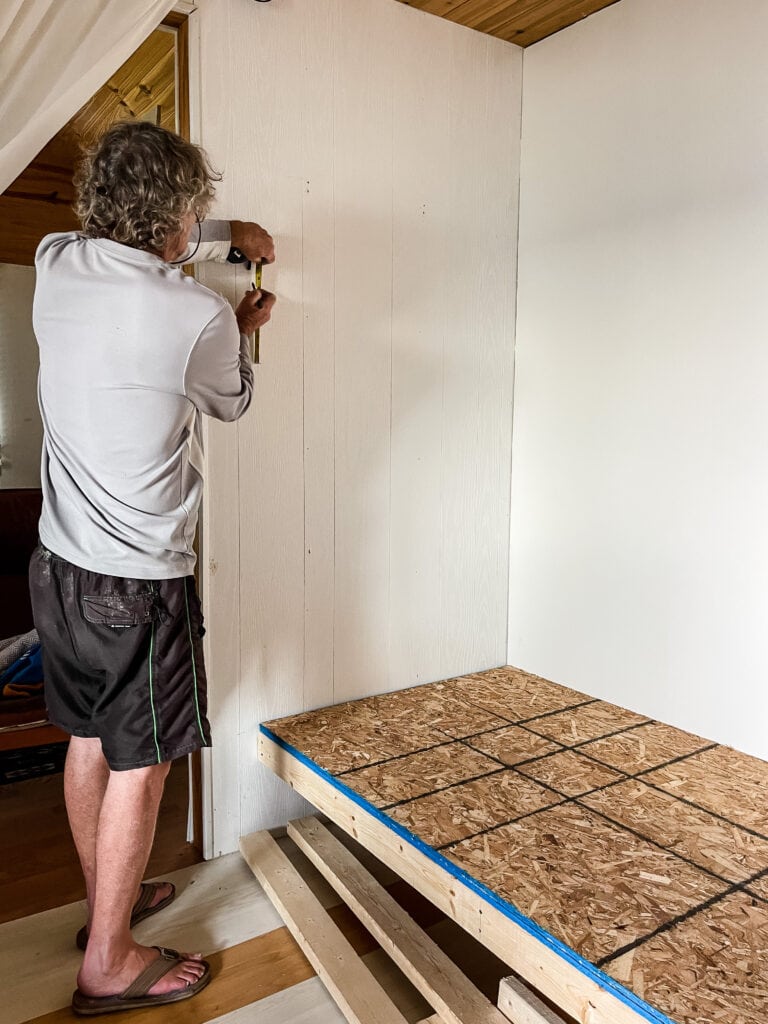 Step Six
Use the 4×8 plywood panel and lay it on top of the box you just built. We did not screw or secure this piece. I wasn't sure I wanted to use it because I didn't like the look of the sheathing panels. But if you are comfortable with them, continue by either gluing or screwing the panel to the box.
Step Seven
Since we are making a built-in, you do need to decide on the distance between the bottom and top bunk. The standard bunk bed clearance is 33″, which can sit an adult comfortably. However, you might want to play around with a bigger number if it suits your space. You also want to take into consideration who is sleeping on the top.
Step Eight
Repeat steps one to six.
Step Nine
We wanted to use a face piece from an older bed my grandfather made. I'll share more on that below. But in this step, you want to determine if you want to have a face piece, the style of steps, and the guardrail you want.
How to Re-Use Boards for a Bunk Bed
This project meant a lot to me because it was my grandparent's cabin, and the old sofa you saw in the photo above was one he built. He was so handy and loved to build his own furniture (I wish I could). Anyway, I felt bad that the sofa would just go to waste, so I came up with a fun way to reuse pieces of the sofa he built.
So my dad and I took apart the bed, which was glued and built solid of course. I sanded the two end pieces, and we decided to use those boards as the "face" piece of the bunk beds. That way I could not only support the mattress but kind of hide it as well. The only issue was I didn't like the yellow/orange stain. Which is why I plan on painting it next week, so make sure you stay tuned.