We Scoured the Internet – These are the Best Beach Bags for Moms in 2023!
We know going to the beach with kids takes preparation, packing, and a lot of patience. But we hope this list of the best beach bags for moms, will help you find the perfect bag with ease!
As moms, we know that taking the kids to the beach is a whole thing. Some days, it takes more time to prep and pack than we actually spend at the beach.
This is precisely what happened the other day. Turns out my oldest isn't a fan of sand, "She loves the beach but hates the sand".
But I was prepared regardless.
I had everything we could possibly need in my oversized beach bag, which is exactly why it's my favorite. But even so, we
We scoured the internet – and asked the moms on our editorial team what their favorite beach bags are. Keep reading and find out which are the best beach bags for moms.
The Best Beach Bags for Moms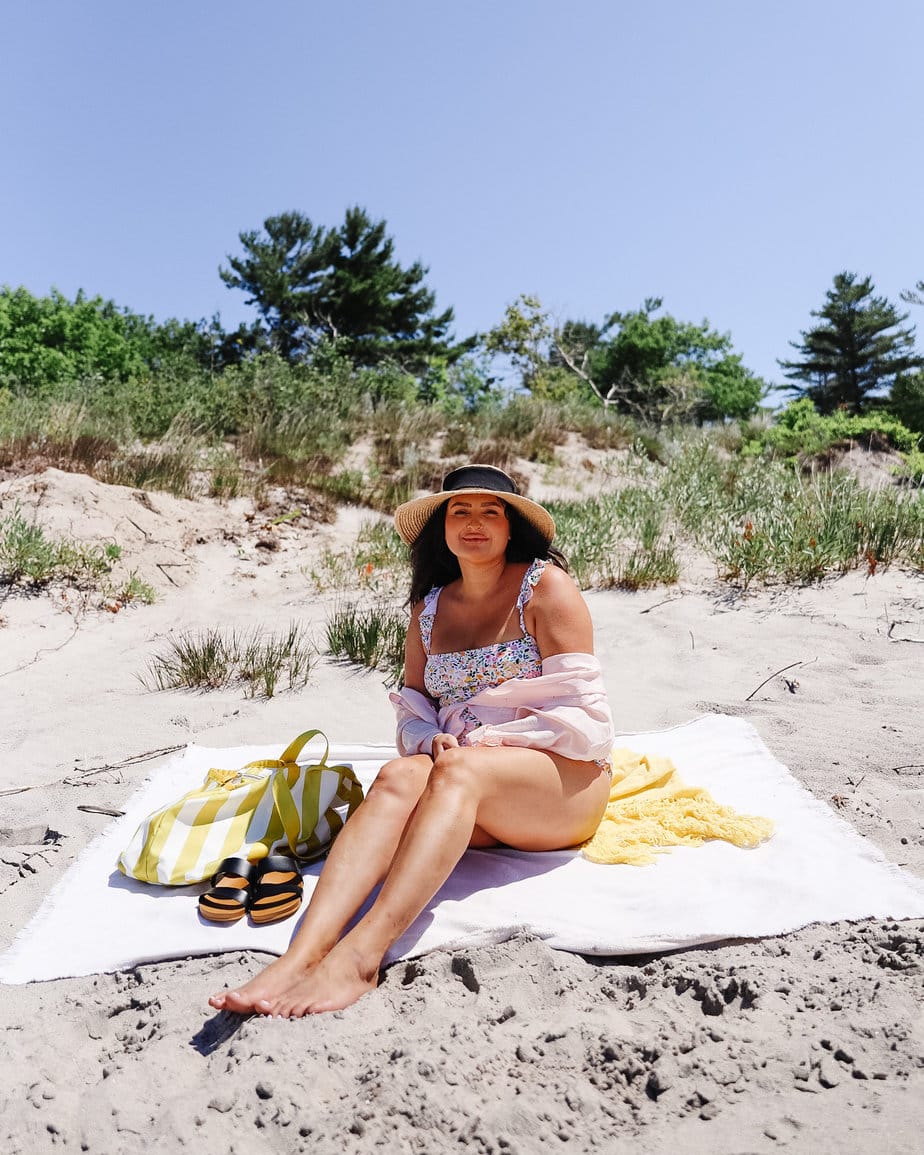 What exactly makes a beach bag perfect for a mom? Well, a few things.
As moms, we're always looking for the ultimate beach bag. Maybe that means it's cute but still functional, or it's a waterproof bag that will fit everything except the things you don't (i.e sand and water).
Regardless of what stage of motherhood you're in, we guarantee you'll find the best beach bag.
Best Overall Beach Bag for Moms
I definitely know the number of things you need to bring in order to have a successful beach day with kids. Gone are the days when you can throw a towel, and tanning oil in your small but chic bag. Nowadays you're packing snacks, beach toys, sunblock, hats, and beach towels, and then you only have 15 other things to find before you leave the house.
Which is why I love this large utility tote bag from Amazon. It's waterproof, sand proof, sturdy, and has a ton of room. It's perfect for our family of four's trip to the beach.
Here are a few reasons why I think you'll enjoy it as well:
It has reinforced straps
Interior pockets for smaller items
Folds flat
Water-resistant
The sturdy bottom that is "burst proof"
Easy to clean
Lightweight but still very strong
Extra Large to fit everything you need (21″ x17″ x11″)
Large Utility Tote Bag
If you're looking for an extra large, durable, water-resistant beach bag then this is the best one for you.
Lightweight Beach Bag for Moms
It can be a pain carrying a big heavy bag to the beach, and if you're kids a little older or you have just one little. Then this lightweight beach bag is perfect.
Here's why we think you'll like it too:
Waterproof (comes with a waterproof phone case)
Zipper closure
Zipper pocket
Side pocket for water bottles
Durable material
Machine washable
Extra large bag
Double Waterproof and Oilproof material (which is verified to last 5 years longer than other ordinary beach bags)
Soft straps
Waterproof, Lightweight Beach Bag from Amazon
Another great find! This Amazon bag is not only lightweight, but it's durable and waterproof.
The Perfect Family Beach Bag
If you've ever been to the beach with a bag that isn't working, you know how horrible the trip can become. Well, our overall pick for the best family beach bag goes to Poppy and Peonies Traveller. I wanted to mention that the close runner-up was also a Poppy and Peonies bag, the Beach Bound Reversible Tote (I brought it with me as a carry-on to Florida because of its versatility, and you bet I took it with me on the boat and to the beach).
Here's why we think you'll like it too:
4 Exterior pockets
Removable base
Easy-to-clean material
Vegan leather
Nylon exterior and interior
Collapsible design
Easy to carry
lightweight
Large bag (20″ x 10″ x 12″)
Poppy and Peonies Traveller
I'm actually friends with the owner and creator of Poppy and Peonies and can attest to the quality and workmanship of the bags. I own two and use them for everything from the beach, and grocery shopping to soccer.
Use discount code: COTTAGELIVINGANDSTYLE10%
Most Luxurious Beach Bag
I promised myself when I had kids that I wouldn't completely change my home or my style. And for you moms who still want a luxury beach bag that will hold up at the beach with kids, I have you covered. Not only is the Loewe used as a beach bag by many women, but it's easy to clean interior and quality materials will do everything you need it to do and more.
Here's why we think you'll love it.
An unlined interior makes it easy to clean and keep clean
It can hold most things you need for the beach
Made with quality materials
Looks very chic!
Loewe Large Basket Bag
The Loewe is a classic choice when it comes to luxury beach bags. It's built with quality in mind and comes unlined which makes it easy to clean the sand out.
Quick Drying Beach Bag
Quick-drying beach bags should be a prerequisite to any bag. But we managed to track down a very good mesh bag that we think is probably one of the quickest-drying beach bags out there.
Here are a few other reasons that will make you love the bag:
Mesh
Zipper close
Machine washable
Sand-proof bottom
Large bag (21″ x 16″ x 7″)
9 Pockets
Durable
Has 1 secure pocket for your keys or bank card
Vulken 42L Extra-Large Beach Bag from Amazon
There is nothing quicker than drying a mesh bag at the beach. You don't have to worry about wrecking it if it gets wet, or spending days trying to dry it properly.
Mesh Bag with Cooler Attached
Whoever thought to invent a mesh bag with a cooler attached was a genius. As a mom with a toddler and a one-year-old snacks, bottles, and drinks are essentials for the beach. So when I came across this multi-function beach bag I had to include it in the list.
Here's why I think you'll love it too:
Multi-functional 3-in-1 bag (comes with a zipper bag, cooler, and one outer bag)
Leak-proof cooler
The cooler can fit 10 cans
Large Mesh Bag Tote from Amazon
Chocolate bar marzipan jujubes jelly-o carrot cake caramels. Tootsie roll cookie jujubes powder icing lemon drops. Pastry brownie topping oat cake chocolate cake jelly candy
Best Affordable Straw Tote
This straw bag from Amazon had a lot of positive reviews. We loved how it looked way more expensive than it actually is, while still being extremely super affordable. I will say that I don't think it's necessarily one of the more durable options for carrying a lot of stuff. But it is convenient and looks very chic without the price tag of a luxury beach bag.
Here are a few other things that you'll love about the bag:
High-quality natural jute fiber
Eco-friendly and natural
Versatile
Good service from the seller (will replace it within one year if there are any quality issues)
Good size bag (18″ x 14.5″ x 9.5″)
Waterproof lining (makes it easy to clean)
Hibala Woven Large Straw Beach Bag
We read a lot of reviews and researched a ton of different affordable straw bags. So far this was one of the best in our opinion.
Water Proof Beach Bag
For this bag, we choose the Yeti Soft Cooler. I wanted something that could do double duty, like keep dad's beer cool, while making sure our phones are safe from water, and still easy to clean.
Here are a few reasons why I think you'll love this waterproof beach bag too:
Waterproof (which is great to keep your electronics and phones safe at the beach)
30L capacity or 28lbs of ice
Dry exterior shell with "HydroShield" closure for watertight storage
Durable handles and detachable strap
Variety of extra attachments are available
"ColdCell" insulation makes sure your food and drink stay cold longer.
Yeti Soft Cooler
Probably not what you were expecting, but stick with us! I promise the Yeti Soft Cooler is actually the perfect waterproof beach bag.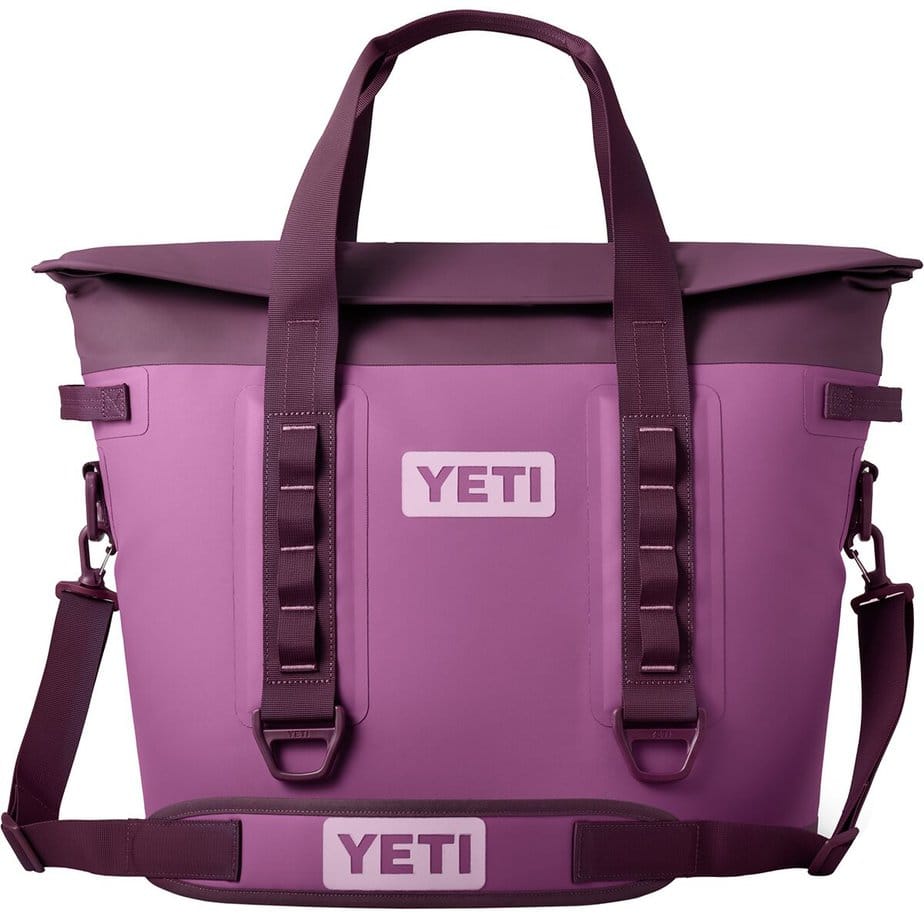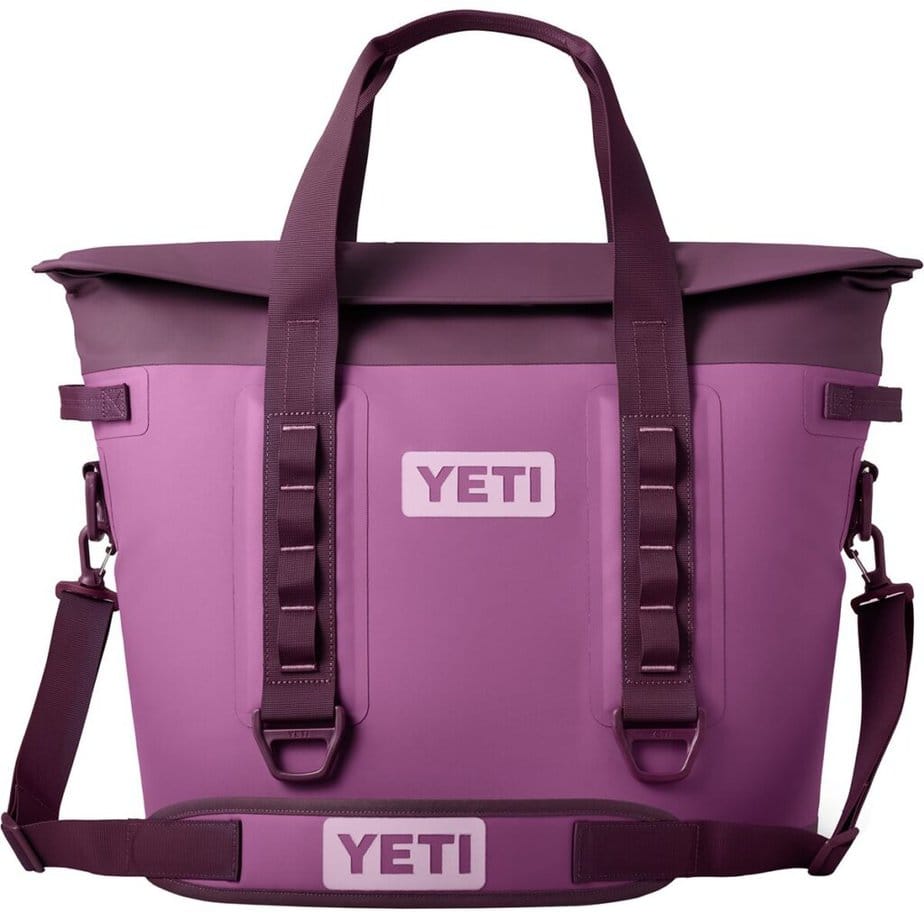 Best Canvas Tote
The JCrew Canvas tote is large enough to fit everything we need, from beach towels, toys, snacks and so much more. I've used it as a carry-on, grocery bag, and of course as a beach bag. I found it easy to spot clean marks, and it's just really a beautiful bag.
Here are a few other reasons that will make you love the bag:
Easy to spot clean
Made with high-quality material
Exterior pockets are large enough to fit shoes in
Reinforced handles
Timeless classic style
Extra Large (16″ x23″ x7″)
Jcrew Large Canvas Tote
After testing a lot of canvas totes, we loved the ease and durability of the JCrew Canvas Tote.
Mesh Beach Bag for Toys
Hauling toys to and from the beach is never easy, which is why we loved this mesh bag with an easy-to-use drawstring.
Here are a few reasons we think you'll love this bag as well:
Drawstring closure
Large bag (21″ x 11″ x 7″)
Holds up to 66lbs
Heavy-duty materials
Reusable bag
Adjustable shoulder straps
Large Mesh Beach Bag from Amazon
This easy tie-up mesh bag is perfect for collecting all the sandy beach toys. Having a drawstring was a major plus because we hated how easily the toys fell out of other bags.
Best Overall Large Beach Bag
It was hard to choose the best overall large beach bag. I wanted something that was solid, water-proof, and lightweight.
Here are a few reasons that I think you'll like the BOGG Bag:
Non-slip bottom
Zipper pockets inside the bag
Sturdy sides
Light-weight
Versatile
East to clean
Durable
Extra Large BOGG Bag
The infamous BOGG Bags are popular for a reason. Not only are they super durable, and easy to clean but they are great for just about everything. Including a trip to the beach with your kids!
Hopefully, this list helped you find the beach bag you were looking for. We will be adding more bags to this list over time because we know there are lots of bags out there and lots of moms who want the best one!
Pin The Best Beach Bags for moms to your pinterest to save for later!