How to Take Your Toddler to Disney World.
We took Penelope to Disney World for the first time just over a week ago. I read so many blogs to prepare for Disney and I created a toddler-friendly plan. Now I'm going to be completely honest with you as always, and tell you that you should expect to have a few meltdowns. Especially when your toddler is overstimulated from everything around them, tired and probably too hot. But that shouldn't stop you from enjoying the magic of Disney! I've create a guide perfect for parents of young children, who want to go to Disney World.
Plan Naps
Our first mistake was waking up at 5:30 that morning and not being able to go back to bed. By the time we got to the park, our daughter was overtired and we had a hard time getting her back down for a nap. I would strongly recommend getting a good night's sleep before going to Disney. If you are staying at a Disney Resort, I would recommend going back to the room at nap time, where it's air-conditioned and dark. Then go back out when it's not as hot and your little one is well-rested. I found the best time to enjoy the rides was early in the morning or around dinner time because it was a lot cooler and there was less of a crowd.
Make a Game Plan!
I did a ton of research before we went so I could find which park, rides and places to eat were toddler-friendly. From my experience, The Magic Kingdom was the best park for small children.
Toddler-friendly rides at the Magic Kindgom
The Magic Kingdom has the most options for small children, only a few have height requirements and you can find exactly which ones here.
My two-year-old daughter loved the following rides:
Under the Sea – Little Mermaid Adventure
Dumbo the Flying Elephant
The Many Adventures of Winnie The Pooh
Peter Pan's Flight
Casey Jr's Splash and Soak Station (Really loved this in the afternoon heat & I'd recommend bringing a change of clothes or bathing suit).
Buzz Lightyears Space Rangers Spin
Mad Tea Party
Enchanted Tales with Belle
"It's a Small World"
Astro Orbitor
Prince Charming Regal Carrousel
Cinderella Castle (I've heard the Character Lunch is good here!)
Rides Adults Enjoyed
Pirates of the Carribean
Big Thunder Mountain Rollercoaster
Haunted Mansion (might be a little scary for some children)
Space Mountain (I'd recommend getting Fast Passes for this one)
Monsters Inc. Laugh Floor (good to sit down in an air-conditioned room)
note
Some of the rides have "waiting for centers" like the Dumbo ride, which is fun activities for small ones to do while they wait for their turn on the ride, the parents are given a timer for their turn and its the best idea ever! Winnie the Pooh has a similar one, but other rides like the Little Mermaid does not.
Where to eat (gluten-free options)
Most of the restaurants at the park will cater to any food intolerance or restriction (you can plan ahead using the My Disney Experience App. Personally, we found Cosmic Rays Starlight Cafe was the best becasue they had a ton of gluten-free options we enjoyed as well as some fun entertainment. Other places to eat at the Magic Kingdom that are gluten-free were the Columbia Harbour House and Pinocchio Village Haus.
Find Disney World's best gluten-free options guide here.
Where to stay
I wanted to share this as well because I was asked a ton of questions about where to stay at Disney. So far I've only stayed at Disney's Grand Floridian and the Polynesian Village Resort and both were really amazing. Both have access to the Magic Kingdom, tons of activities for small kids, pools to swim in, on-site dining and even a minivan service by Lyft to take you where ever you need.
Be Prepared for Everything
Last week I shared our Disney World Guide to packing for a Toddler and created a FREE printable to make packing more fun. I included everything we brought, what I wish I would have packed and things I didn't need. It's filled with necessities so make sure you check it out!
Let me know in the comments if there was anything you'd like to add to that list.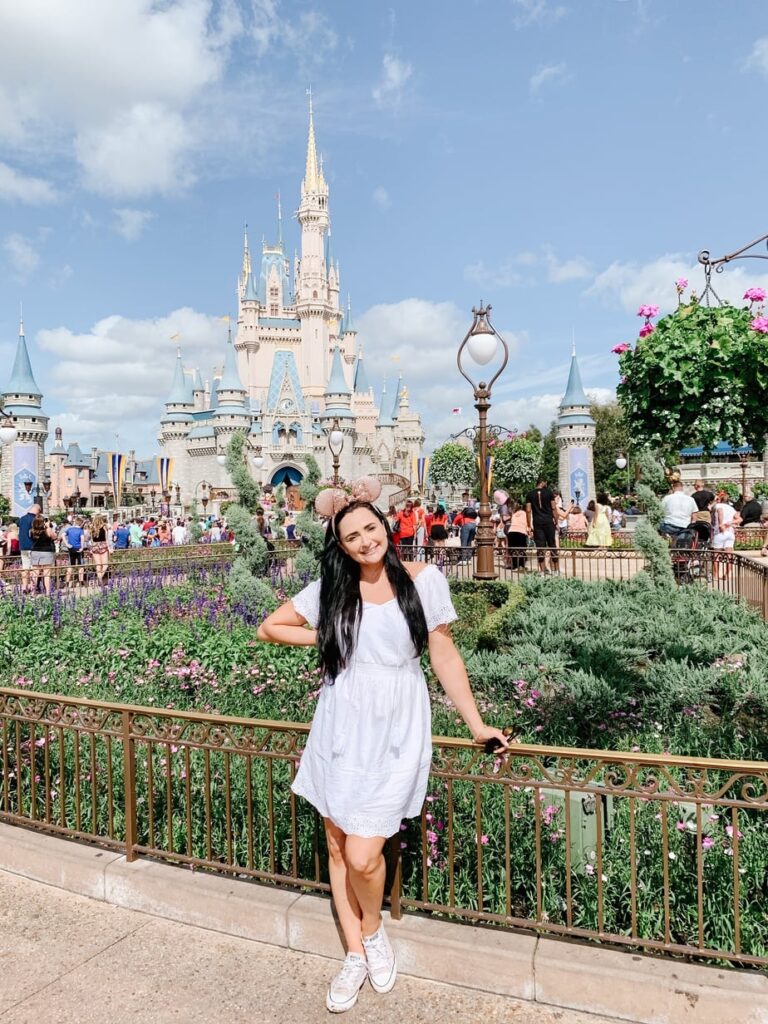 Take Advantage of Baby Centres
These are a life savior for any parent who visits Disney! Not only are they an airconditioned place to change or feed your child, but they also have everything you need. They are fully stocked with diapers, wipes, formula and have microwaves and televisions to keep children entertained. This saved our butts when we were in the park having a toddler meltdown because I was able to take her to a cool place for water and a diaper change.
Find out where the nearest Disney's Baby Centre's are and make sure you take advantage because they are there to help you!
Download My Disney Experience Mobile App
This is relatively new and I used it the entire time we were at Disney. Its an interactive map of the park that shows you wait times, restaurant menus, ability to place orders, find characters, showtimes and so much more. It was an essential part of planning our day there.
You can download it here and happy planning!
Let me know if you plan on going to Disney and if you found any of these tips helpful! Also, I wanted to thank Disney for gifting us free tickets to visit the park and create this blog post for our readers. We had an amazing time and I can't wait to go back again next year.