How to Fly with a Toddler + What to Bring
Todays article we're sharing how to fly with a toddler and what exactly to bring on your flight.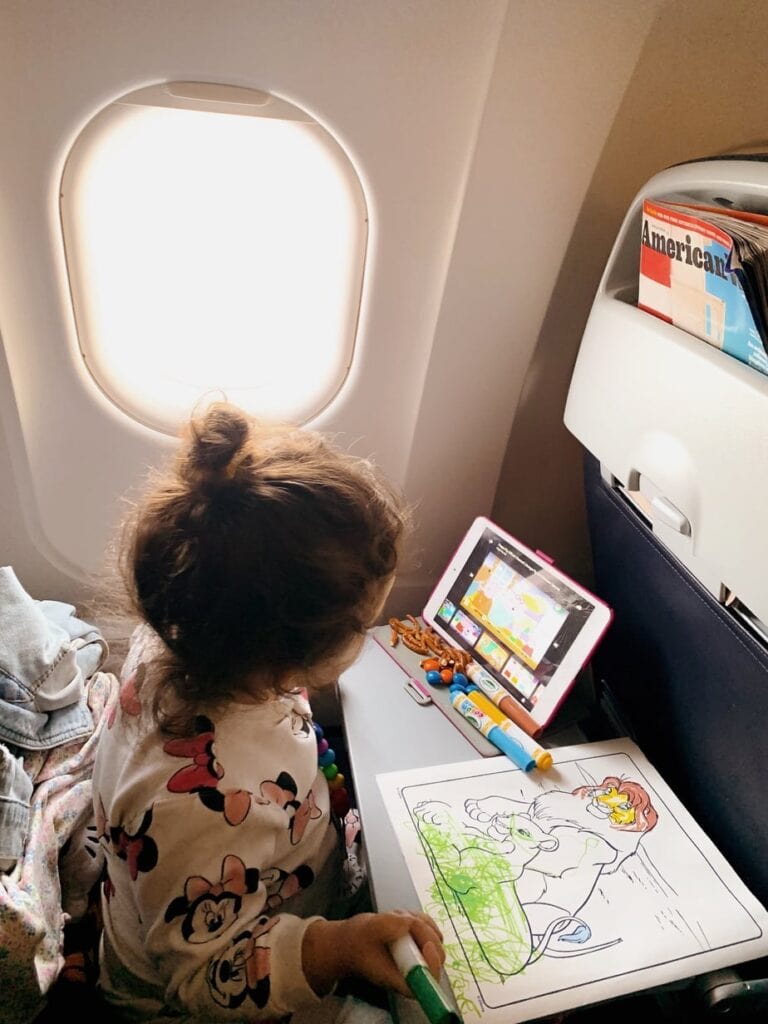 We arrived at my parent's Florida home sometime around midnight on Friday. Two flights later, a three-hour layover, 3 bags, and a 23-month-old. Did I mention I flew by myself!? To my surprise, it was probably one of the easiest flights I've ever had (ever) and I'm going to tell you all my tips for flying with a toddler (if your flying solo or not).
Tip One: Plan a flight around nap time
Our trip was a bit last minute, and the only flight that made sense for us departed at 3:59 pm. Which usually means our daughter has already napped and is ready for the day. Of course, the excitement of travel always interferes with daily routines and we skipped nap time. We made it through security easily which was the opposite of what I was expecting considering all the stuff we had. After customs I wanted her to run around as much as possible before the flight, and letting her walk through the seating areas was perfect to get her tired. By the time we were called to board her eyes were heavy, and just before we reached our seats she was sleeping soundly.
Tip Two: Buy your Toddler their own seat
The first flight was an easy one, even though she woke up an hour later. Luckily I only had to entertain her for a few minutes before we started preparing to land. Even though she was legally allowed to sit on my lap during the flight (under 2 gets to fly for free) my parents gifted her a seat. This was the best gift ever because she was able to get comfortable, look out the window and I could use the space under her seat for our diaper bag. To be honest, I wasn't planning on spending money on an extra seat for her. But now I see why people do and if you can afford it I highly suggest you do.
Did you know you can sign your child up for their own frequent flyer rewards!
Tip Three: Bring a Bag of Tricks
Before I left home and I knew I was going to be flying solo with our toddler. I talked to other moms who have braved flights with their little ones, I wanted their advice. Everyone told me the same thing when it comes to entertaining your child on the plane. Get a bag of tricks! Find inexpensive ways to entertain them, like my personal favorite the Mess-Free Coloring Pages. I also grabbed Crayola's Sticker Book, Magnetic Blocks and her favorite Minnie Mouse doll. My advice is to hide the activities as long as possible until the last possible second of them being restless.
The Toddler Travel Activity Bag is another great idea! It's already filled with all the things you need like coloring pages, playdough, cars and even though this particular one is meant for boys I think Penelope would love it anyway.
Tip Four: Edit your Carry-on Necessities
Even thou I tried to pack as light as possible, even managing to bring just a carry-on. I still checked my bags when they offered during pre-boarding at no additional cost. The less you carry the better. We organized my big purse with all the things we would need for our day of travel using this organizer I found on Amazon. Some things I could have done without thou, like bringing a small package of wipes and only a few diapers and sending a new pack to your destination.
I also packed a change of clothes for both me and Penelope, since you never know if there will be an accident. I carried both our medications (some homeopathic stuff I use for colds, Vicks ect.), hand sanitizer, bottles, activities, and snacks. Plus I carry a travel wallet for passports, birth certificates and cards.
Also just to note that normally I would suggest carrying a backpack diaper bag instead. But I was using my backpack for my camera equipment and my laptop.
The goal is to be hands-free so that you can tend to your child, instead of carrying a bunch of bags.
Tip Five: Bring Bottles or Breastfeed.
I've heard of mothers who would breastfeed their babies during ascent and descent to prevent ear pain. While some kids ears pop and others don't I still wanted to make sure Penelope had a lot of water and was hydrated. I packed two bottles for her because I knew drinking milk would relax her when she needed it. The third bottle I brought was her water bottle which I filled with bottled water once we were through security. She did start tugging at her ears a few times and I encouraged her to drink her water and it definitely helped her ears pop. Don't forget thou to drink lots of water, because sometimes we mama's can forget to take care of ourselves.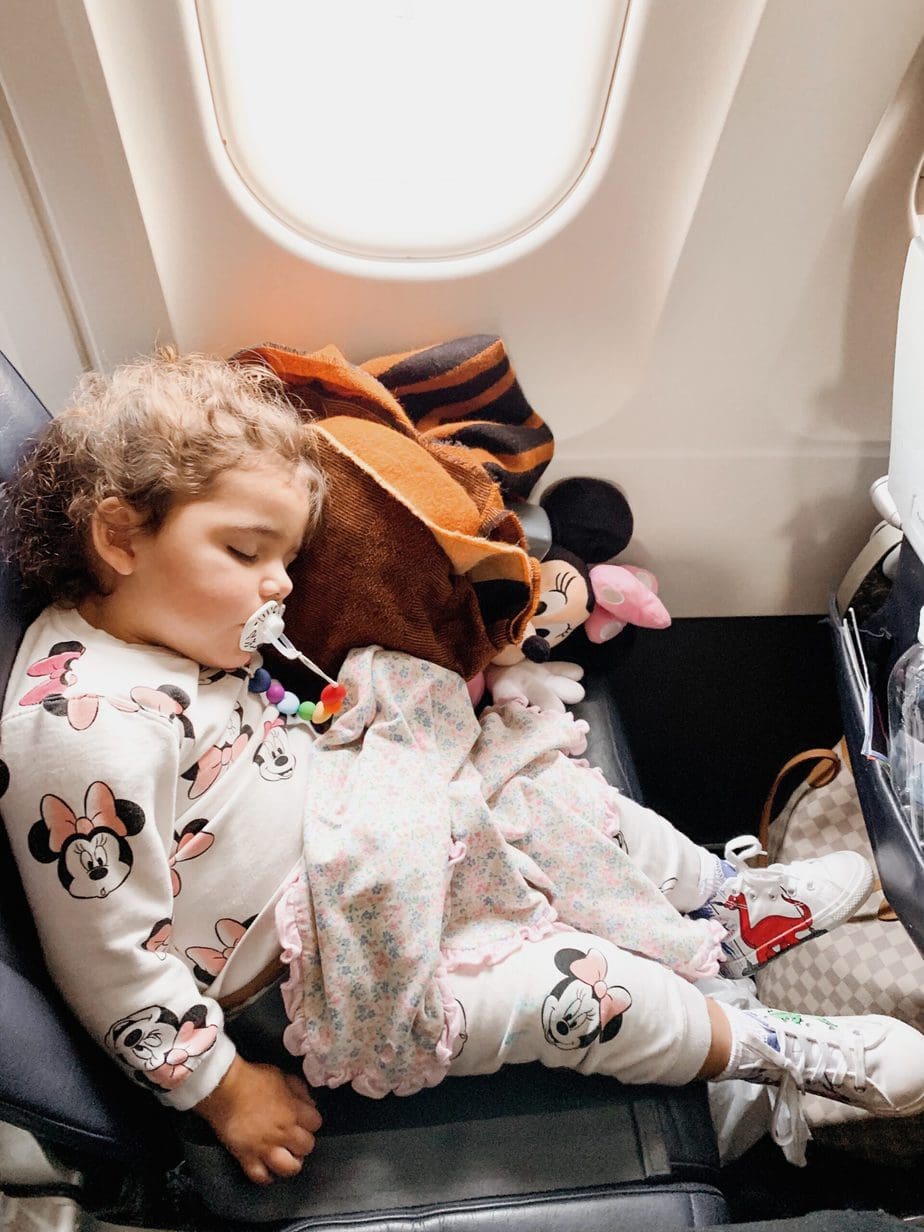 Tip Six: Pack Snacks
Since airport food is usually brutal, I didn't want to take the chance of landing at an airport that had no food for her. Thankfully I went shopping the night before and got her the little packs of goldfish, packaged apples and a special treat (something they will be excited about) like Smart Sweets.
Tip Seven: Download new movies and shows
Screen time goes out of the window at a time like these. Honestly, I wanted her to watch as many shows as she wanted. Some of our favorites to watch are anything on Disney +, Kids Youtube and I purchased Frozen because I knew it was something she would sit and watch.
Tip Eight: Bring a travel Stroller
The thing that was the biggest life savior as a parent was the travel stroller I brought! We own the Evenflo Pivot Modular Travel System and we love it. The stroller breaks apart into two pieces, converts from sitting position to a bassinet and comes with a car seat. Penelope hates getting her diaper changed on the bathroom change tables, she screams and won't lay still. So I started changing her right in the stroller since I was able to convert it easily into a bassinet and voila baby is changed.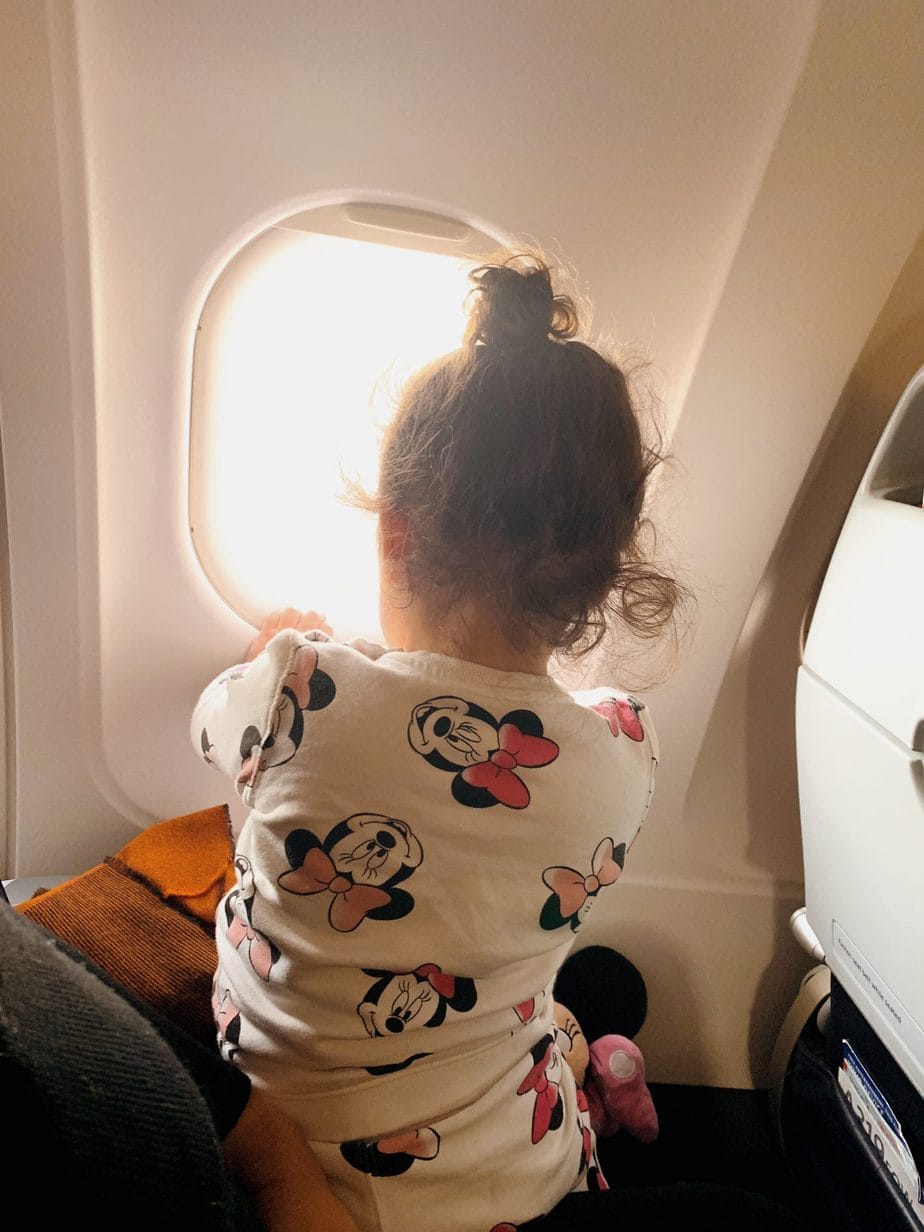 Tip Nine: Your attitude
My friend Danielle and I were talking about bringing children on flights and she gave me the best advice. Your attitude will determine your child's attitude, meaning if your nervous or anxious you will pass that tension and stress on to your kids. Set your self up for success and a fun adventure. Talk to your child about airplanes, read books or watch shows about the upcoming flight and make it as stress-free as possible.
Shop the Post

Don't forget to follow me on Instagram & Twitter for daily content.
+ The resort we took our daughter too that was close to home here.
+ Girls weekend at One King West in Toronto here & what I packed here.