Inside this Cozy Kelowna Airbnb with a Stunning View
Take a tour of this cozy Kelowna Airbnb with an incredible view, cozy decor, and awesome amenities. Did we also mention it's also within walking distance to everything downtown?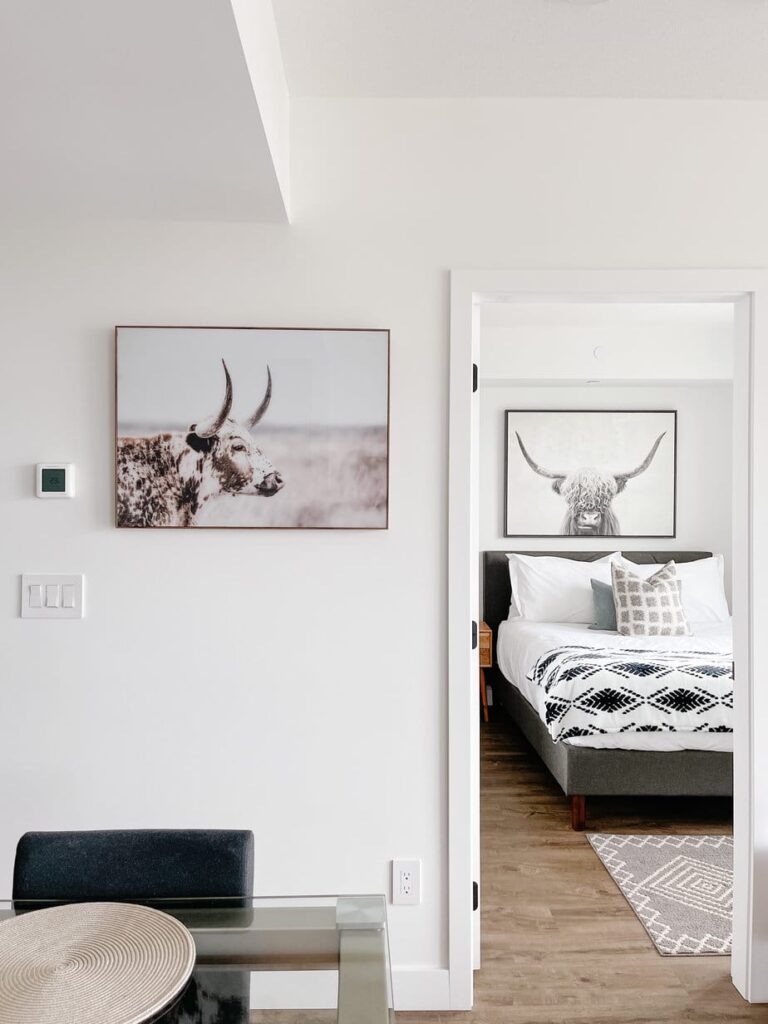 Last week I flew out to Kelowna BC, for The Academy at the Farm. A retreat for women in a consumer-facing business, like social media, blogging, or small shops. I'll be sharing more on the details and behind-the-scenes of the retreat later this week.
But today, I'm sharing a tour of the Kelowna Airbnb I spent four wonderful days at. Not only was it cozy, clean, and had an incredible view, but it was located close to downtown. Almost every night I went out with the girls and explored downtown Kelowna. In the mornings we woke up and headed out on a hike, and in the afternoon we had lunch at a winery. It was pretty amazing.
Check out this beautiful Surf Inspired Airbnb in Cape Canaveral
The Longhorn – Kewlona Airbnb
Whenever I travel I like to be cozy, whether that means the outfit I'm wearing or the place I'm staying. I like to feel comfortable.
Which is exactly how I felt staying at The Longhorn, one of the apartments managed by How to Host. The management and design company that oversees rental properties and Airbnbs in and around Kelowna BC.
You can read more about their services, and the properties they manage HERE.
Cozy Kitchen
I was very impressed with the kitchen, not only did it look great but it had everything I needed to cook meals (if I wanted). To be honest, most nights we went out for dinner with new friends, but I did bring home leftovers to warm up.
The fridge had plenty of room if you're looking at booking a stay long-term.
The kitchen also had the following appliances:
Dishwasher
Sink
Stove
Fridge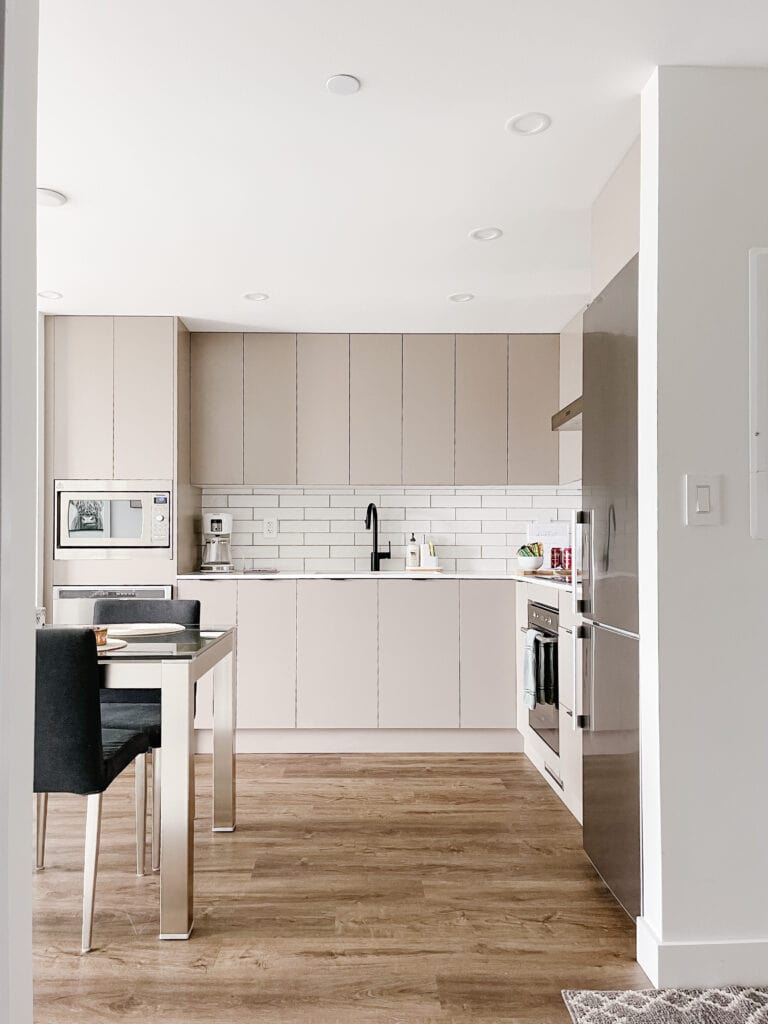 Design-wise, I loved the neutral kitchen and stainless steel appliances. Oh, and I loved the welcome package. It was wonderful to see what local restaurants we were close to and plan fun activities to do while I was there.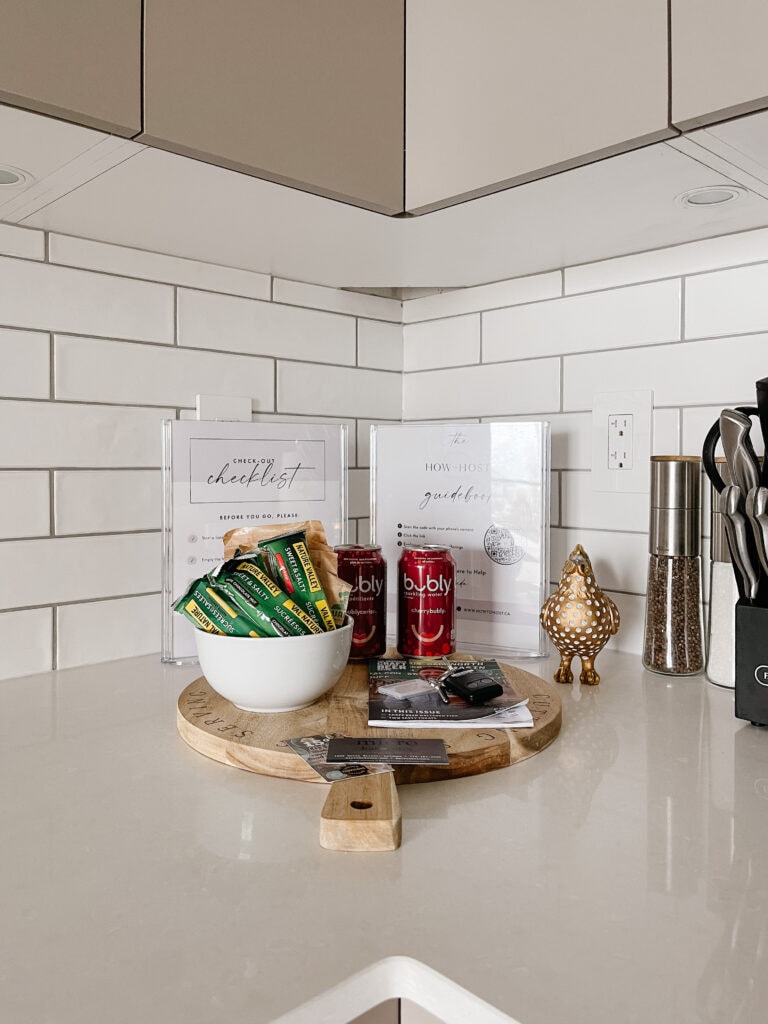 The Bedroom
Like you, I am very picky when it comes to where I stay. I like nice decor and clean spaces. And of course comfy beds! If I'm going to be away from home, I'd preferably like to sleep in a comfortable bed. And to no surprise, The Longhorn was very comfortable.
The apartment has one bedroom, and I believe a pull-out couch. The sheets were cozy and of course, the extra blanket was great in the evenings. Even though the time difference from Ontario to BC messed with my sleep, it was still wonderful to crawl into bed at night.
The rental also has a pack-in-play in the closet.
The Bathroom
The bathroom was big for an apartment, clean, and had everything you might need. I especially loved that there were cotton rounds and makeup wipes. I hate when I'm staying in places and I forget to pack extra makeup wipes. The last thing I want to do is have my mascara stain the white washcloths.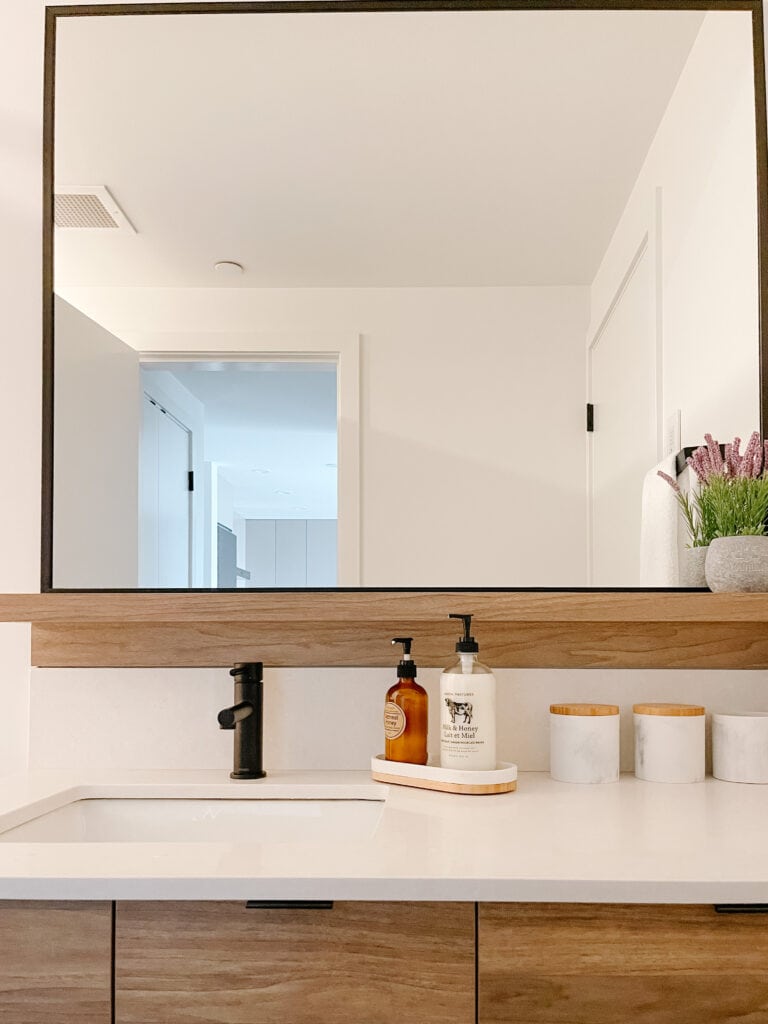 Another thing I wanted to note was the deep bathtub, which I thought was perfect for families with small kids. I know it's become a necessity for us whenever we travel.
Living Room
Somehow, I magically spent two nights watching Netflix on this couch. I had my laptop out working and in all honesty that made me feel so comfortable. The couch I believe pulls out, and the host has extra sheets and blankets in the ottoman, which is located in the bedroom.
I had to point out this decor piece. This side table was my favorite, and in case you'll want one too. So I've linked a similar option HERE.
Patio
In the mornings I would have my cup of coffee out on the patio. The September air was a bit chilly but so worth it for the views of beautiful Kelowna. The mountains are a sight, especially as the sun is either rising or setting.
Before you go, I wanted to thank How to Host for providing us with a discount to stay at this cozy Kelowna Airbnb. If you'd like more information on this property or any others, contact Amanda HERE.