Here's Exactly How to Visit Disney World on a Budget
Want to know how to visit Disney on a budget? We've got all the tips for Disney World, like where to eat, sleep and even buy souvenirs on a budget.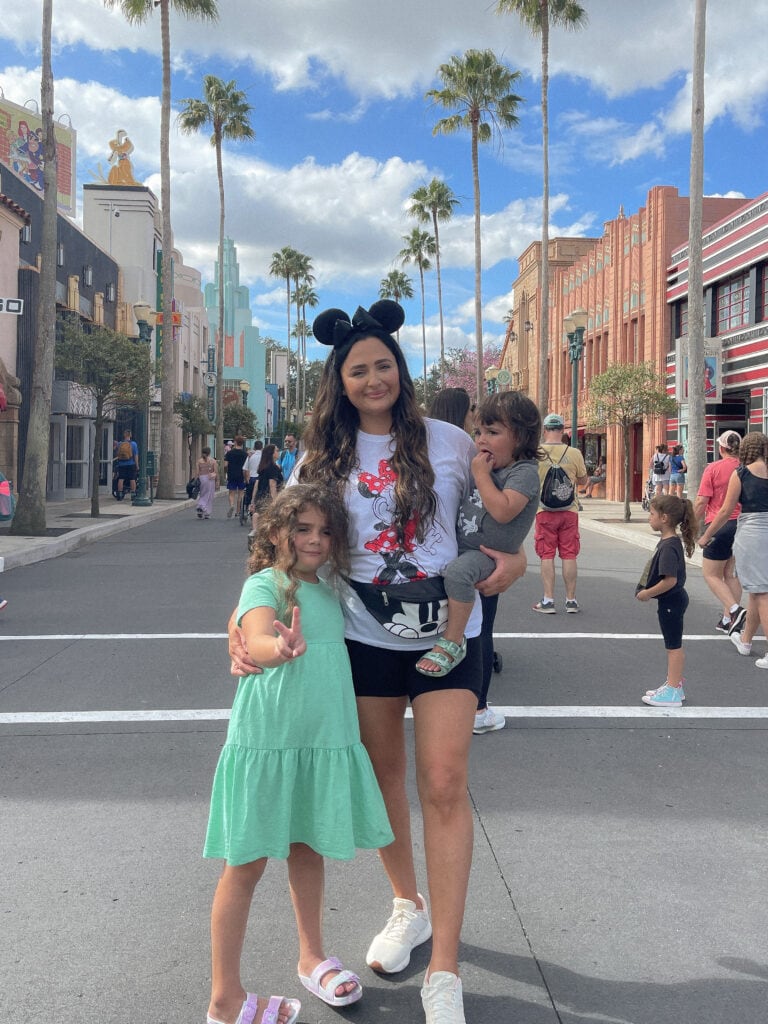 After our Disney trip last week, I asked everyone on Instagram if they had any questions about Disney. The overall consensus was the same, everyone wanted to know how to make Disney more affordable.
And I get it! It can easily cost $1500 US for a family of four, for one day. That's not an exaggeration either, that's what my sister paid for her kids last year.
It's a real privilege to be able to bring out kids to Disney World, let alone year after year. But I'll tell you a secret, we've been able to keep the cost down considerably, following these 10 tips.
I compiled it all in a list and included everything from where to stay, what activities to do, what to eat, and even what Disney souvenirs you can find on a budget.
10 Ways to Visit Disney on a Budget
Go for the Standard Theme Park Ticket with Exceptions
We've always done the Standard Theme Park Ticket for $109.00/day, and the reason is that it's not only the cheapest option but it made the most sense. If you have never been before or you have small kids in the group, one day at the Magic Kingdom (or any other park) is more than enough. In fact, you won't be able to see the whole park in a day, and probably only get to go on 4-5 rides if you're lucky.
So save the add-on fees, and Park Hopper Tickets for longer stays (3 days or more) or if you've done Disney several times and know exactly what rides you want to do.
Planning a Longer Stay?
Did you know, the price of your ticket significantly drops after day 5? You can also expect to save even more if you purchase tickets online, vs at the ticket window.
Pack a Lunch + Bring Water
I spent over $500 on snacks, water, and food over two days. With two small kids, it was still expensive, and I wish I would have packed lunch like we did every other year. Some quick ideas for lunches are sandwiches, wraps, salads, and quick snacks.
Here are some other Disney essentials you might want to bring.
Disney Essentials
Click the pictures or items to shop directly.
Buy Disney Ears before you go
It is WAY less expensive to order a pair of Disney ears on Etsy than to buy them at Disney World.
Get Disney Shirts ahead of time
Skip the Disney World t-shirts and order one from Etsy instead.
Snacks? Get a Bucket of Popcorn
By now we know how expensive snacks are, but if you really want to buy something I suggest a popcorn bucket. For $13.99 plus tax, you can enjoy a large collectors bucket of popcorn, and get refills for $2.99.
The only catch is it's only good for your entire stay.
Here's Where to Buy Discounted Disney Souvenirs
My kids are now at the age where they want actually ask for toys, which can be both a plus and a negative when it comes to visiting the parks. But I did notice on our way into Disney that there is a Walmart Supercentre in Orlando that has a massive section of Disney souvenirs.
You'll find Mickey, Minnie, and other Disney friends for nearly half of what you'd pay in the park. Plus they have t-shirts, backpacks, and other Disney items.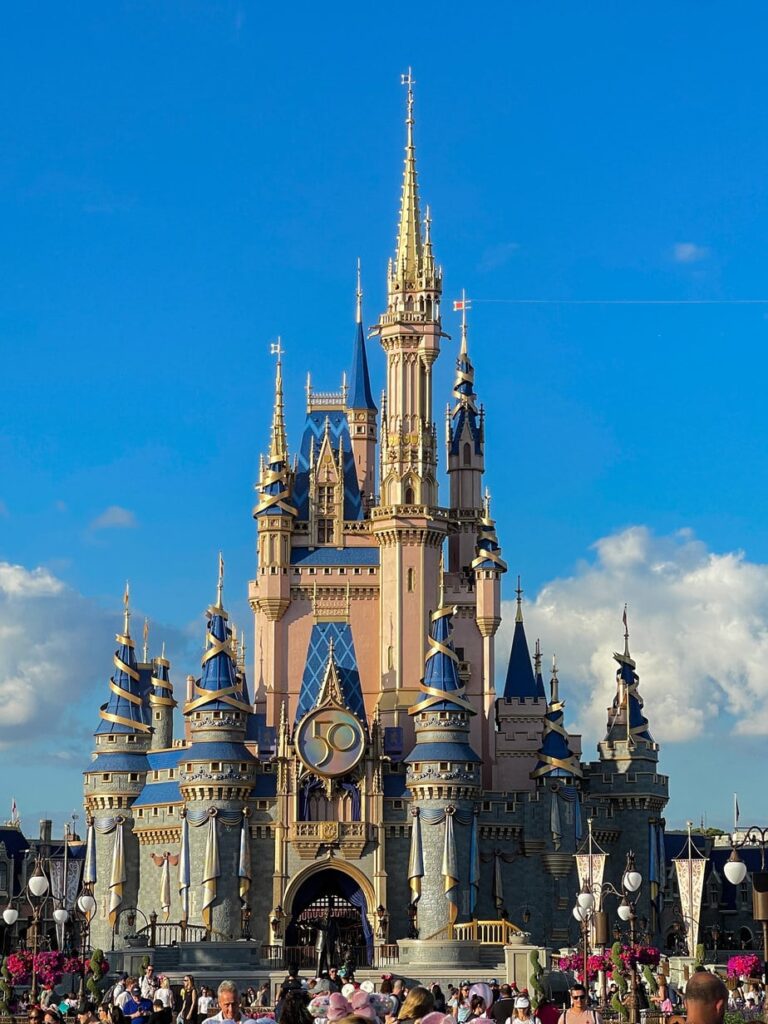 Use a Disney Travel Agent
A Disney travel agent will save you time planning your stay, help you build an itinerary, and make sure you get everything you want from your stay.
While it doesn't cost anything to get a Disney travel agent, however, you do need to be staying for a minimum of a day or buy a package (usually starting at $1500+) to get access to their services. They do earn a commission from Disney, which is why it's a good service to take advantage of.
Bring a Refillable Water Bottle
Did you know you can get free water at Disney? You can't get water bottles for free, but if you go to any Disney restaurant you can ask for a cup of water. Most likely you'll get a cup to use at the fountain machine, which means you can also refill your water bottles as well.
Refillable Water Bottles
I loved this foldable water bottle. It took up little space and I could fit it in my belt bag or backpack. We brought one for each of our family members.
Stay at a Value Resort Hotel
I always thought it would be cheaper to stay out of the park, and while it may seem that way initially, it isn't. I highly recommend booking a stay at one of the Value Resorts. We stayed at Disney's All-Star Sports Resort which was $139.00 a night when we went last week.
Not only will you get free transportation into the park, but you'll also save on parking as well.
Note: The prices do fluctuate depending on when you go, if it's off-season the price is significantly cheaper.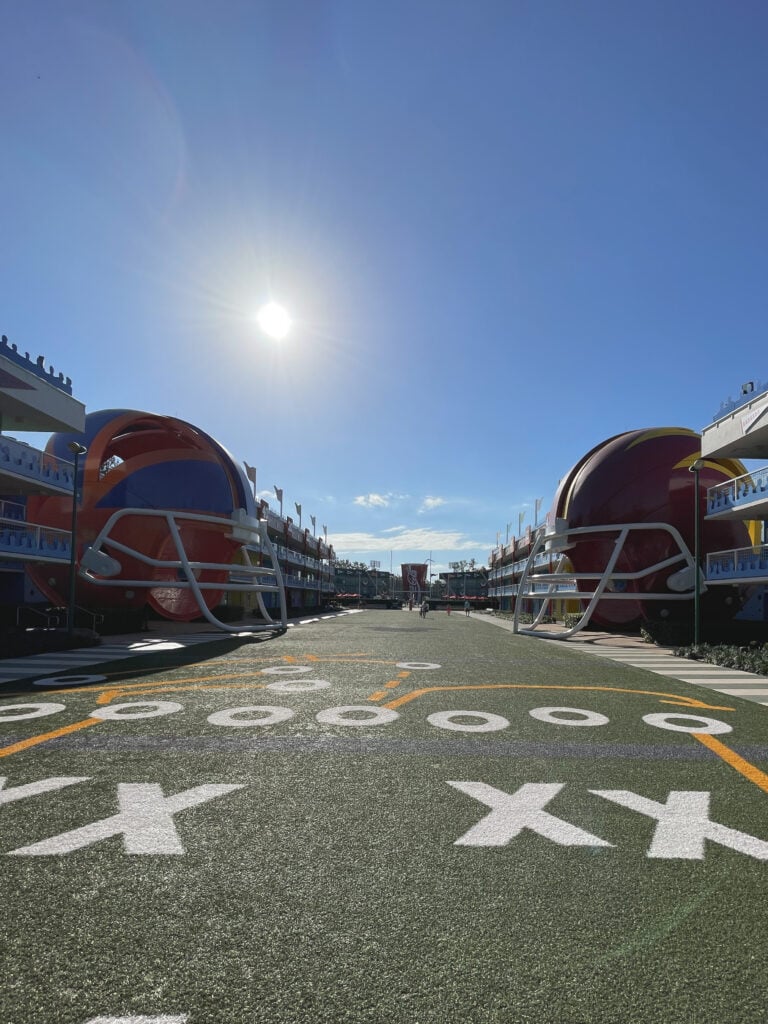 Visit Disney Off-Season
This brings me to my next tip, which is to visit Disney World during their off-season. The reason why is that you'll usually get ticket and hotel stays at a cheaper price than in their busy seasons.
Are you still looking for a hotel? Here's a list of affordable, resorts and hotels close to Disney World.
Read this before you get Genie+
We also did Genie+ and I didn't realize that you had to book rides. This meant when I bought Genie+ on our last day at the park, I thought I would be able to avoid some of the lines and get my daughter on a few more rides that day. But because you had to book time slots, all the good rides were already taken or you needed to pay more to get access to the "fast pass" for those rides.
If you do want to spend the extra $17 on Genie+ to fast-track you, expect wait times to be at least 30 minutes shorter. Which gave us at least 1 or 2 more rides at the end of the day.
My biggest tip would be to book those rides ahead of time or have your Disney planner figure it all out for you.
Free PhotoPass Photos
Did you know that you can save yourself $199, by asking the PhotoPass photographers to take photos using your camera or phone for free? Be prepared because they will still take your photo with their professional camera, but you don't have to buy it.
Free Disney Budget Planner
Maybe you're planning a Disney World budget for 2, or you want to plan Disney on a budget for a family of 6. Whatever the case may be, we put together this free Disney Budget Planner pdf. You can print it out and track your expenses so you know exactly what you'll spend and how much to save for your upcoming Disney adventure.
That's all the tips I have for doing Disney on a budget, and I seriously hope this list was helpful. Also, let us know if you have any questions in the comments below!