The Ultimate List of Things to Pack for a Weekend at a Cabin
As with anything else practice makes perfect, which is why our resident cabin expert shares the ultimate cabin trip packing list. She's been packing her bags for a family cabin for over ten years, so she knows a thing or two about what to bring.
Cottage Living and Styles product selections are curated by the editorial team. If you buy something through our links, we may earn an affiliate commission, at no cost to you. We only recommend products we genuinely love.
This summer was filled with long overdue trips to our favorite beaches, small towns, and rustic cabins. Recently, as I was packing for an upcoming trip to my family's cabin, I wrote a quick list of everything I needed to bring.
On it, are the essentials, like bug spray, water bottles, and toilet paper. But that got me thinking, instead of keeping this list to myself. Why not write the ultimate cabin trip packing list? So that you can rest easy knowing you have everything you need for your next cabin vacation.
Cabin Trip Packing List
In true cabin form, our family cabin is rather secluded. It sits on an island in the middle of Georgian Bay, Ontario.
So whenever we plan a little cabin retreat I know it's a good idea to make sure we have all the groceries we need (don't worry we'll include our grocery list too). We also make sure we have fresh linens, clean bath towels, and even a few outdoor activities for the kids.
Because planning a cabin stay is all about being in nature and enjoying outdoor adventures. The last thing you want to worry about is forgetting your rain jacket or first aid kit at home.
It's time to enjoy yourself and focus more on being in the moment instead of backtracking to the nearest store. So let's get into it, and we'll go over the packing list.
Grocery List for the Cabin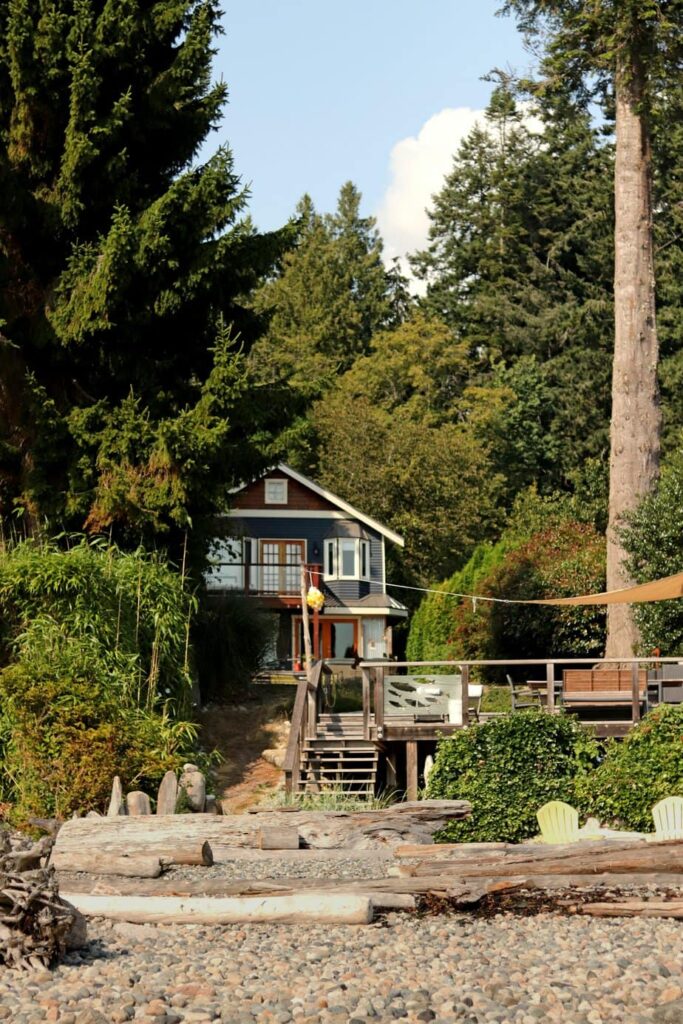 While we're currently remodeling our cabin's small kitchen, we have very little room for food so our grocery list looks a little different. However, I'm sure your cabin rental or new cabin will have enough cupboard space for you and your family to stock up on all the groceries you need.
So here's our weekly grocery list for the cabin:
Fresh Produce
lettuce
broccoli
carrots
peppers
Brussel sprouts
tomatoes
Meat and Dairy
salmon (if you can catch your own even better)
eggs (for the best-fried salmon recipe)
whole milk or almond milk
cream for coffee
chicken breasts
choice of red meat
Greek yogurt
ice cream
hot dogs
Grains and Other Foods
granola
oatmeal
kids snacks
bread crumbs
chicken
basmati rice
hummus
artisan bread
coffee/tea/juice
water
soda
condiments
Toiletries to Pack for the Cabin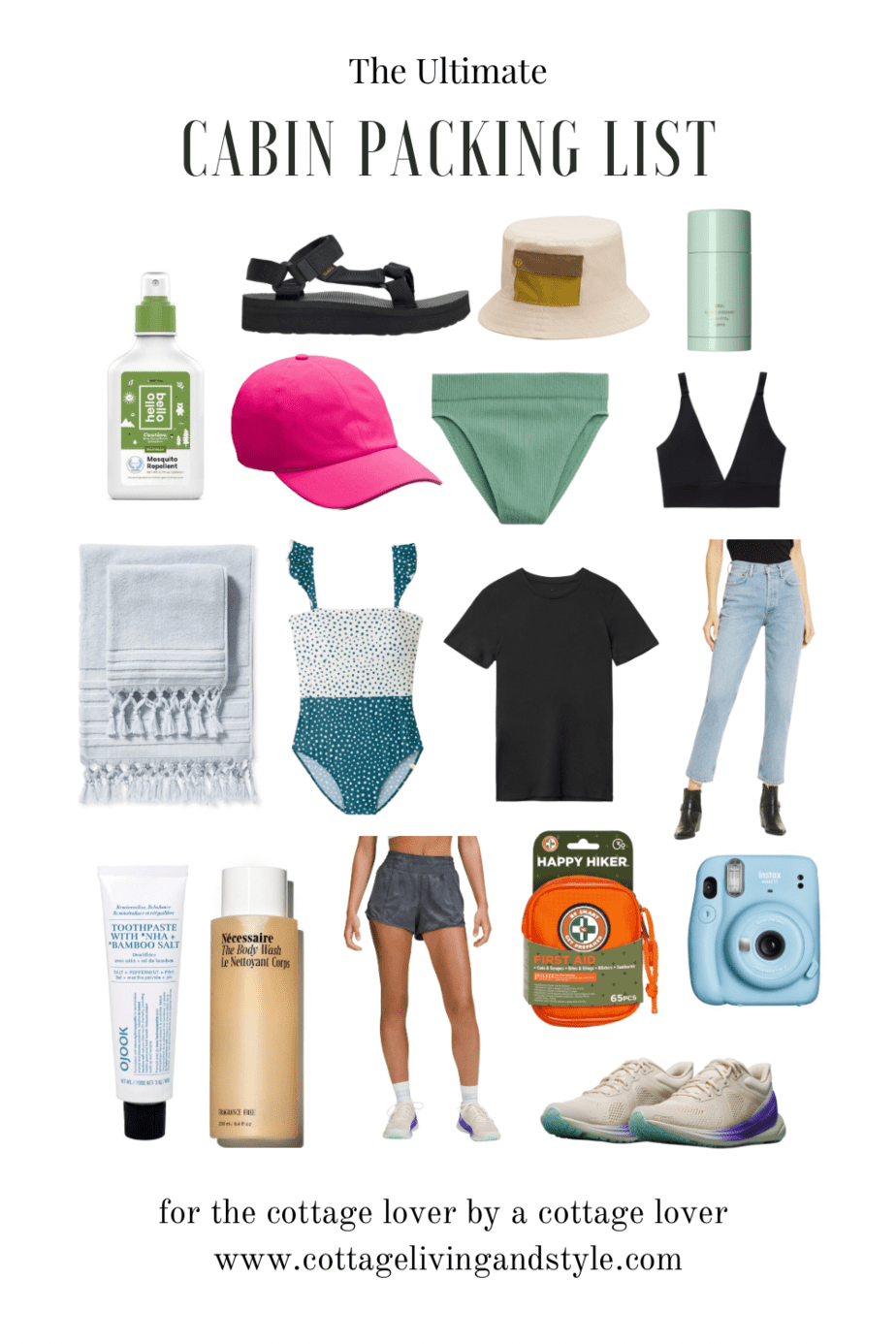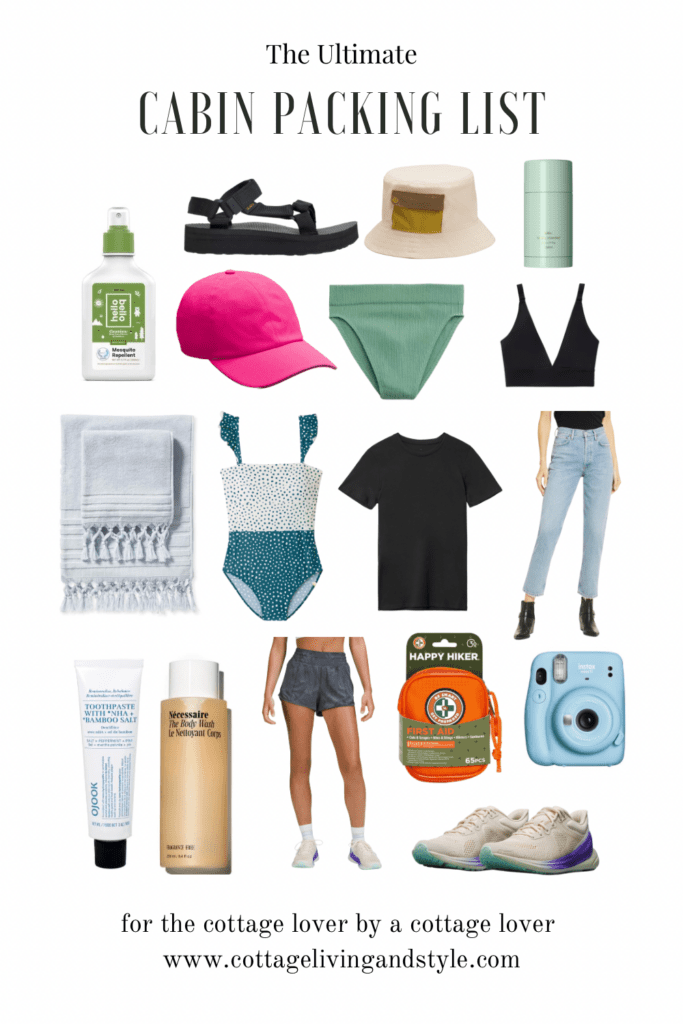 Our favorite toothbrushes for traveling, in general, are made from bamboo because they do less damage to the environment.
There are toothpaste tablets that are pretty darn amazing.
Regardless of the time of year, you'll be visiting the cabin, deodorant is a must.
Even without makeup, I still need to wash the day's hike off.
Our editors love finding biodegradable options for a body wash that won't hurt the environment.
Toilet Paper
While most cabins come with everything you need, I never leave to a cabin without bringing our own.
You never know when you might need to touch up your armpits.
Just because you're in the middle of nowhere doesn't mean you have to look like you belong in a forest.
It's not like there's going to be a lot of need to wear makeup, but some women love putting on a little light makeup.
Again, regardless if it's a winter cabin trip or in the summer. You'll need some sunscreen.
Trust us, bring some bug spray!
Indoor Must-Haves to Pack
Always make sure to check with your rental to see if they have bath towels so you're not overpacking.
I recently started carrying one in my car just in case we need one. There are some compact kits you can easily fit into your purse that will do the trick.
After a long day, there is nothing better than spending some time reading a good book. I just bought this one, and I think it's fitting for a cabin trip.
Depending on the cabin, you may want to bring a case of water or Britta water bottles for extra drinking water.
Again, it's a great idea to check in to see if the cabin has fresh sheets or a washer and dryer on site.
There will be moments you won't want to forget
Grab a charger for both your camera and your cellphone. Plus I suggest bringing a fully charged portable charger in case the electricity goes out or your somewhere you can't plug your phone in.
Some cabins don't have phones and it's important to bring your cellphone. Hoping you have cell reception in case of emergencies.
I have so many memories as a child playing board games in the evenings with family and friends. It's also a great way to entertain your kids or guests when it's raining.
Clothing and Accessories for the Cabin
I swear it rains every time we visit. So be prepared and pack a raincoat.
Don't forget about the hot tubs or lake swims!
Althesuire wear is pretty much all I wear at the cabin because we're always busy with outdoor activities.
Cabins and hats go hand in hand. I usually pack a beach hat and a baseball cap.
Pack one pair of really good sandals, because trust me you'll want a comfortable shoe that is perfect for the hot weather.
Light-weight, short sleeves are always welcomed, especially on hot summer days.
Grab a few pairs, because shorts that are easy to slip on and look cute are a win.
I usually only bring one pair of jeans. To be honest they rarely get worn but it's great to have that option if you want.
Most summers you'll find me wearing dresses, just something light I can throw over my swimsuit and go.
When it comes to appropriate sleepwear for a cabin, I love long pants and long sleeves. You never know what the weather is like.
You can't forget the essentials, meaning don't forget your knickers.
Other Fun Things to Bring to the Cabin
When it comes to packing for your cabin retreat you also have to prepare for how much time it takes to get there. Will you need to pack road trip essentials for the kids? or will there be an extra cost for travel? In this case, I always make sure we have all our family health cards, ID, information, and extra cash.
Regardless if you're going to a cabin for a weekend or a few weeks, I hope this cabin trip packing list is helpful. Do you think there's anything else we forgot to include? let us know in the comments!