Newfoundland by ATV – A Once-in-a-Lifetime Adventure
This is the ultimate Newfoundland ATV Tour, filled with adventure and plenty of photographable moments. We're sharing our 7-day itinerary including all the places to eat, sleep, and more.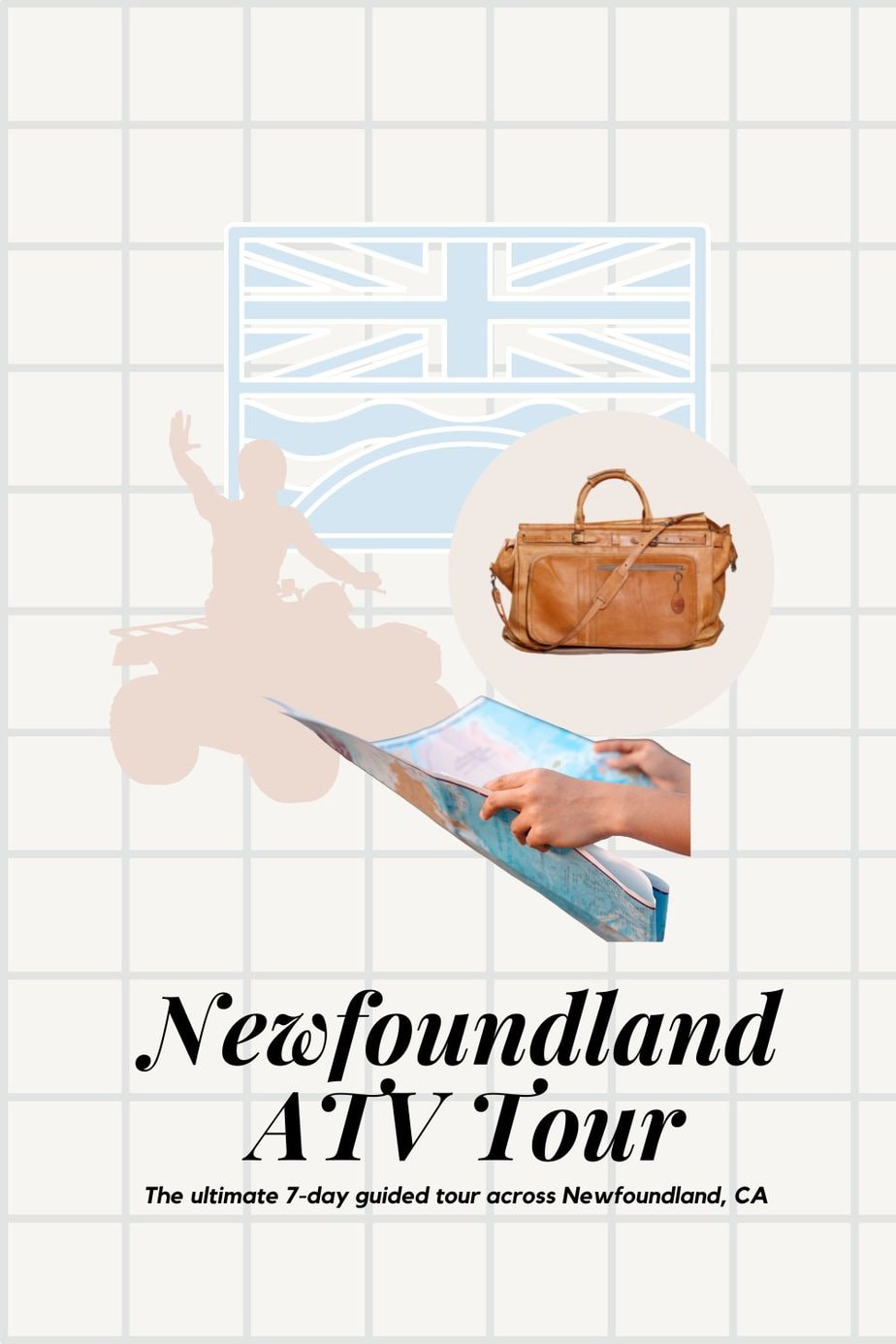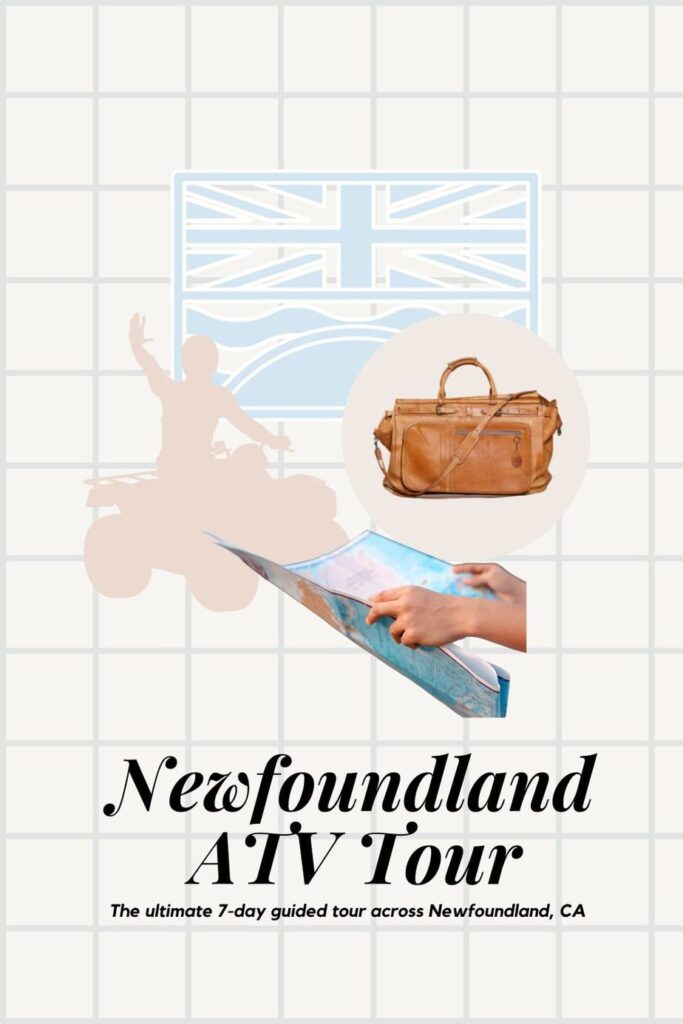 Last fall, my husband Chris and I had the opportunity to visit Newfoundland for a once-in-a-lifetime opportunity. This trip was years in the making (silly Covid kept delaying our travel plans) but once we finally made it to Cape Breton on the eve of our trip, we knew we were embarking on a trip of a lifetime.
Chris and I both love being outdoors. Since our early together days, we've always enjoyed packing up for four-wheelers or side-by-side day trips with friends and family. We know our own local trails like the back of our hands and can usually be found trail bound on sunny weekends, year-round.
Years ago, my husband heard about this style of the trip from a colleague who had done it. After a couple of years of asking around and some serious research, he stumbled across the Crossing Newfoundland by ATV website that another local Nova Scotia resident had put together.
The website was so robust with information on how to successfully complete the trip, Chris and I decided we were not going to hire a guide and do it ourselves. The site contains downloadable maps, hotel recommendations, and day-by-day guides, like what I have recapped below.
His website, like many others who have successfully completed the trip, will recommend that you go east to west instead of what we did, going west to east. The reason for this is that the scenery only continues to get better from east to west and your ferry home is the short one when you are exhausted and missing your own bed! We did the opposite only because of the ferry crossing tickets left available during the week in which we decided to go.
The Ultimate 7-Day Newfoundland ATV Tour
This site was our main resource when it came to planning out our Newfoundland ATV adventure. One of the main reasons why we decided to take this trip was because of the laws surrounding ATV use in Newfoundland.
In Nova Scotia, like most parts of the world, driving an ATV on the road is considered illegal. Newfoundland however has special off-road vehicle permits that allow you to drive on certain parts of the road, legally (roads will be marked by the "ATV Shared Route" signage). The only items necessary for driving on these shared roads are a helmet, a standard class 5 driver's license, and ATV insurance (all things you need to have anyway).
Where are Newfoundland and Labrador located?
But first, a little geography lesson for those that may not be familiar with where Newfoundland is on the map.
Newfound and Labrador is a large island off the east coast of the North American mainland. At this time, it is only accessible by ferry or plane (or car if you are a resident of Quebec and want to enter via Labrador from the mainland). Newfoundland has a roughly triangular shape and is expansive in untouched natural beauty. The population of Newfoundland and Labrador is around 521,000 people, with 40% of residents living within the capital city, St. Johns.
Ok, now do you feel ready to embark on our adventure with us?
The Marine Atlantic Ferry
For our initial crossing, we will be taking the Marine Atlantic ferry in North Sydney, Cape Breton, Nova Scotia! This will allow us to take our ATVs directly onto the boat and leave our truck/trailer parked in Cape Breton. We are traveling light for this trip as space is very limited.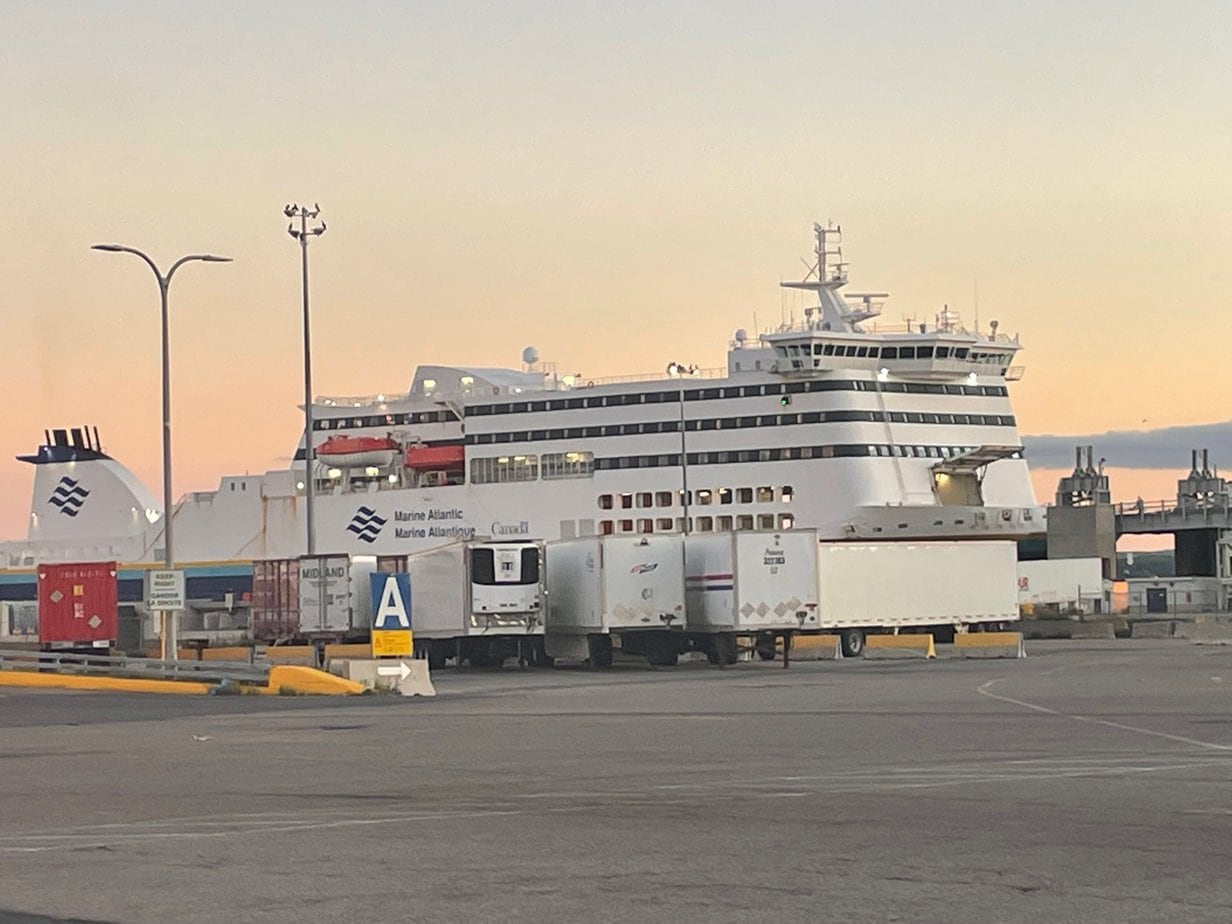 Marine Atlantic is the company responsible for the ferry crossing from Cape Breton, Nova Scotia to Newfoundland. For our trip, we are taking the Cape Brenton to Port Aux Basque ferry to cross over (approximately 7 hours) and the Argentia to Sydney ferry (approximately 16 hours) to come home.
Because we are touring the entire island over the course of the week, we will be starting in one town and leaving from another, on the other end of the island.
How much does it take to go on the ferry?
Pricing to take the ferry depends on the size of your vehicle, the number of passengers, and if you wish to book accommodations while on board. We were lucky enough to be able to get a cabin which is highly recommended as we were able to get some sleep before our 6 AM adventure began the following day. For our accommodations, passenger fees, and vehicle charges, we spent approximately $850.00 combined to get to and from the island.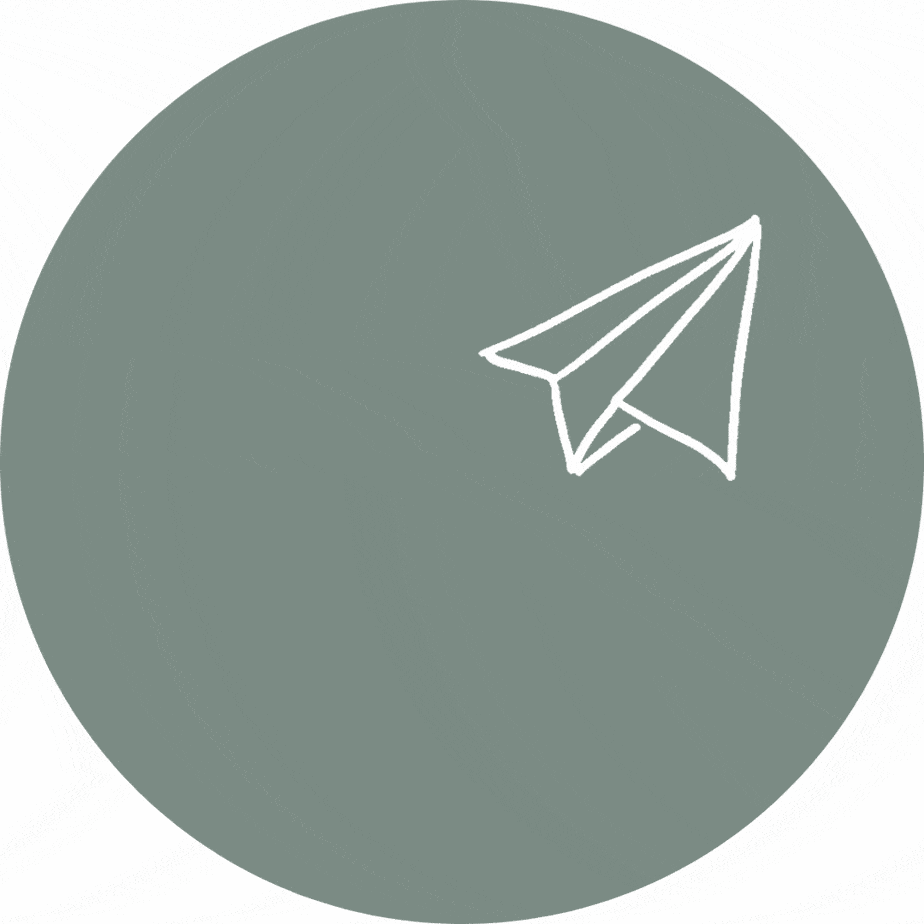 Note: If you are interested in booking accommodations, please keep in mind that the cabins are tiny and tight. For our next adventure, we will definitely splurge for the deluxe cabin, especially for the 16-hour crossing, to give us a bit more space inside the room.
On board the ferry, you will find a full-service restaurant, gift shop, lounge area, game room, and pet zone because the ferry is pet friendly!
When my husband first told me about the ferry experience, I was a little worried about how I would make out since I had never taken a cruise or ferry before. While the crossing was smooth, I still experienced a bit of motion sickness so packing gravel was a good call. Once I fell asleep, I slept great!
For more information on pricing, services, and crossing times you can check them out here. Marine Atlantic | Ferries to Nova Scotia & Newfoundland
Ok, back to our trip!
7-Day Newfoundland ATV Tour Itinerary
Day 1 of the Tour
On the morning of our departure, we left our home in the Halifax Regional Municipality around 12PM. Our ferry to Newfoundland was set to debark at 11 PM, with check-in at 9 PM. Even though we only had about four hours to drive, we wanted to ensure we didn't hit any unexpected delays along the way. We also were meeting up with the other five members traveling with us along the way, so we had to account for their delays as well.
When we arrived in Cape Breton, we had pre-arranged parking for our truck and trailer with A&L Parking. This family-run business is directly across the street from the Marine Atlantic loading terminal. Because we were not taking the truck or trailer onto the ferry, we needed to ensure we had a safe space to park for the week while we were touring the island. The cost to store our vehicles here was approximately $75 cash for the week, per truck/trailer combo.
After unloading all our gear and equipment from the truck onto the side-by-side, we were officially ready to head to the terminal for check-in. This process was quick and smooth. The attendant confirmed our travel plans, checked IDs, confirmed our sleeping arrangements, and then off we went.
Fun Fact – when loading onto the ferry, each vehicle type lines up in its own lane. ATVs are usually one of the first to load! Because we were there quite early from the day running as planned, we were able to leave our side by sides in the loading terminal while we went outside of the terminal gates to grab a quick bite at a nearby Subway. You are allowed to leave the boarding area, but be sure to have your tickets with you or you won't be allowed back in. Don't worry, you will be reminded of this multiple times when traveling with Marine Atlantic.
After a quick bite, it was finally time to board! Check out this cool video I took of us driving under the belly of the ferry to where our side-by-side would stay for the crossing! If I am being honest, driving onto the ferry felt like a surreal moment for us, especially after so many delays and cancelations from the pandemic. We were FINALLY embarking on a dream vacation!
Day 1 Recap:
Left Halifax, 12 PM
Arrived North Sydney, Cape Breton, 5 PM
Parked and unloaded, A&L Parking
Entered terminal, 7 PM
Left terminal for food, 8 PM
Boarded Ferry at 9:45 PM
Day 2 of the Tour
Around 7 AM, we arrived in Port Aux Basques! Marine Atlantic has these fun radios in each cabin that would alert you when you were close to landing so you could begin to prepare for debarking. Similar to how you were loaded, each vehicle zone was called to its deck for departure. At this point, we were all a little sleepy but the adrenaline from being so excited about arriving was fueling us. The day was sunny and bright and the views from the ferry were spectacular!
Once we debarked, we stopped for a quick Tim Horton's breakfast and coffee before officially setting off on our tour. Because we were staying in a new town each night, we had specific distances we needed to travel each day to stay on schedule. Today, we were traveling from Port Aux Basques to Robinsons and had to travel approximately 105km via the railway system.
Because Newfoundland has such a rich and vibrant ATV culture, the trails were immaculately kept. While we frequently checked into the downloaded map provided by Crossing Newfound by ATV, we also never felt like we were lost or traveling without direction once we entered the trails.
I will never forget that first moment of driving through the open peninsula. We saw water and hills and cliffs within the first few minutes and instantly knew it was about to be a breathtakingly beautiful week. Along the route to our first overnight stay on the island, we stopped for a BBQ lunch (one of our crew packed a small stove and BBQ essentials). We also stopped at this beautiful lake and took in the fresh September air.
After driving approximately 105km, we made it to Pirates Haven Chalets, the cabins we would be staying at for the night. The Chalets are newly built, spacious, and overlook the Robinson River. After a quick bite at the Chalet cabin restaurant, we all settled in for an early evening and a good night's sleep.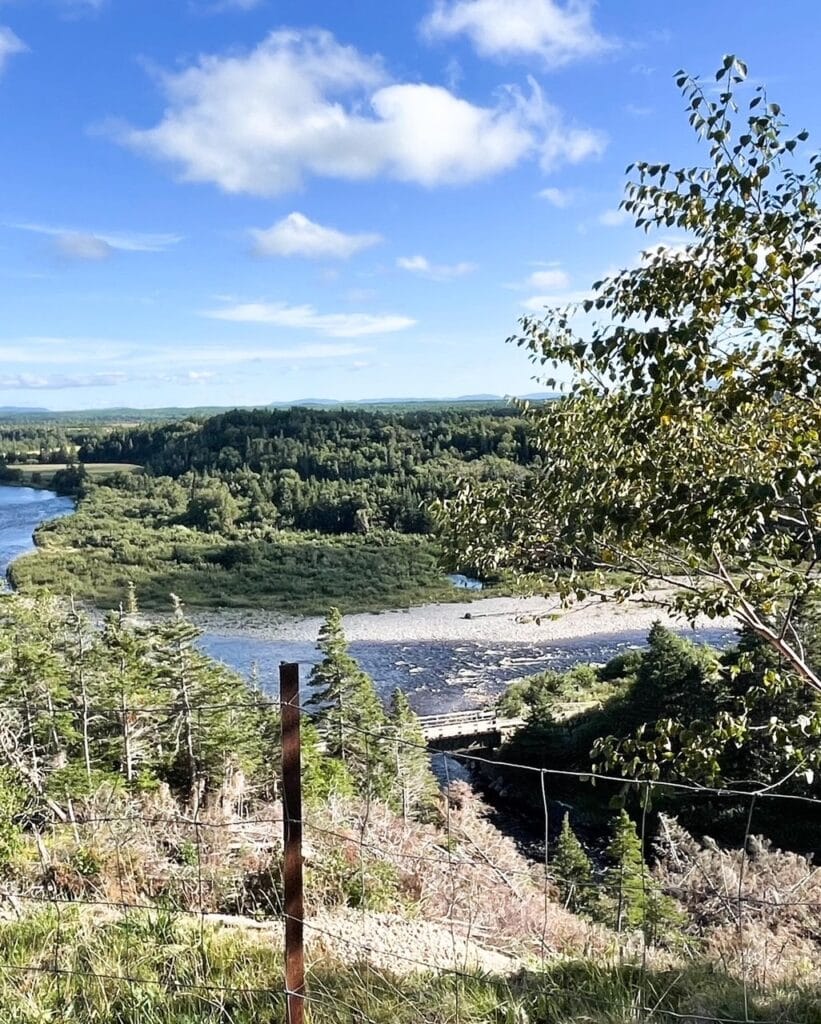 Day 2 Recap:
Disembarked Marine Atlantic Ferry in Port Aux Basques, 7 AM
Traveled via old railway to Pirates Haven Chalets, stopping for BBQ lunch and taking in the scenery.
We traveled approximately 105KM
Day 3 of the Tour
The next morning, we were up bright and early! Everyone felt relaxed after an early-to-bed evening and we were ready to hit the road for the day ahead. Today we would be traveling from Robinson's to Corner Brook, with about 105 km ahead of us. Each morning, after packing up the ATVs, we would always stop at a local corner store or gas station to fuel up and grab snacks for the day. One thing I will mention is that because this is a rugged, outdoor adventure, fine dining is something you should not expect. We ate mostly from gas stations, fast food restaurants, and local diners. For our next trip, I need to figure out how to safely and successfully pack some healthier alternatives to snack on. Most mornings, when we picked up breakfast from Tim Horton's or something similar, we would also grab and sandwich and snack for lunch as restaurants along the trail were few and far between.
Along the way to our destination, we stopped at this beautiful beach for lunch (Old Man's Pond).
In Corner Brook, we stayed at Greenwood Inn & Suites, on the main street in Corner Brook. Because we had been mostly driving along the old railway lines, it was so cool to actually drive on the main roads within the town, alongside actual cars and trucks, without fear of getting a ticket.
Once checked in, we showered up for a group dinner at the hotel's restaurant, Crown & Moose. Since dining in a real restaurant felt like a treat, most of us had a hearty serving of vegetables along with our meals. The Greenwood Inn & Suites also has a laundry facility with a lock and key available from the front desk, so each of us was able to get some much-needed laundry done while we enjoyed our dinner. Early to bed for all of us as tomorrow was an early-to-rise day.
Day 3 Recap:
Traveled from Robinsons to Corner Brook
Stopped for several picture-perfect photo opportunities
Stayed at Greenwood Inn & Suites
Dinner at Crown & Moose
Traveled approximately 105KM
Day 4 of the Tour
Another sunny day to kick off day four! Today we traveled about 121km in total as we headed from Corner Brook to Deer Lake. Our original itinerary had us staying at the Driftwood Inn, however, once I found out that the Holiday Inn Express Deer Lake had a hotel doggo named Winston, it was game over for everyone and that is where we stayed.
Today was a top trip day for me and here's why. Not only did we see a bear and a moose, but we also stopped for lunch at this beautiful waterfall in the middle of nowhere. While exploring, we were even more entertained by this local bird species that would take food right out of your hands! They were so gentle, and we spent quite a bit of time feeding them snacks from our ATVs. Check out this silly video of me feeding them.
Day 4 Recap:
Traveled from Corner Brook to Deer Lake
Traveled approximately 121km
Stayed at Holiday Inn Express Deer Lake
Stopped at a beautiful, secluded waterfall
Day 5 of the Tour
Day 5 already! Our trip was really starting to fly by at this point. Today once we packed up and had a quick road breakfast, we were off to Grand Falls Windsor. Today, overall, was tied for me as the most exciting day for me of the entire trip. Today was also our shortest driving day of the entire trip, allowing us to take our time and explore. In the first half of the morning, we stopped along this large dam and took photos with the crew.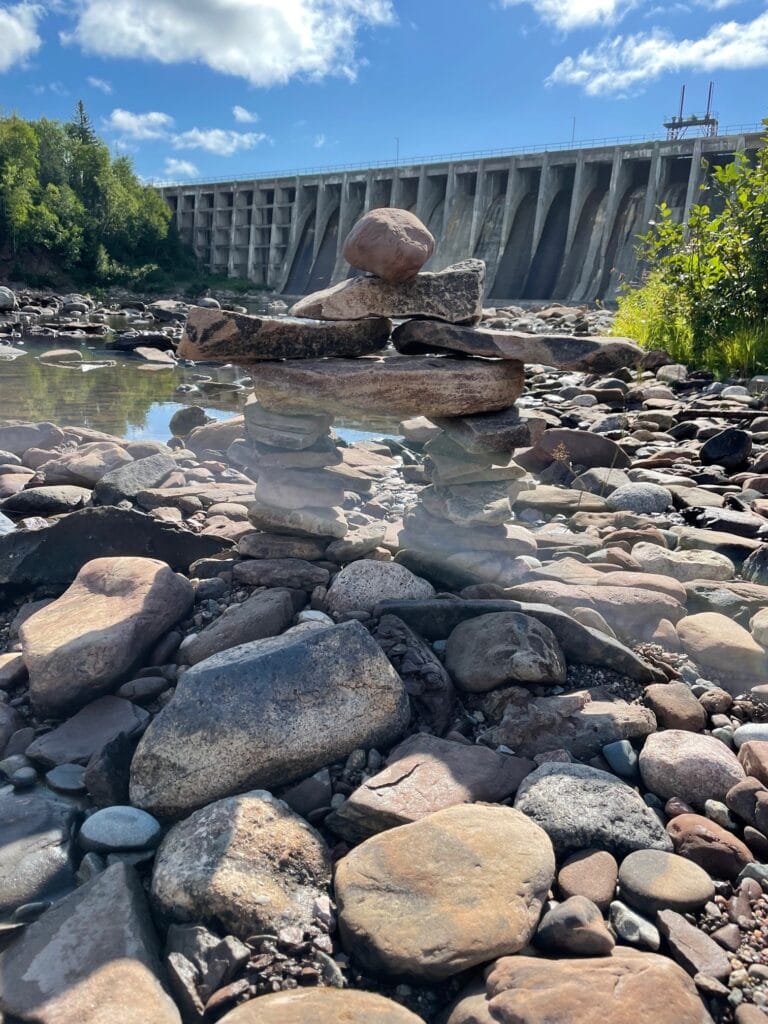 The sun was so warm for a September day, and it almost felt like summer. A few hours into our journey, we just happened to stumble across this beautiful white sand beach within view of the trail path. It really did feel like being somewhere tropical. We spent quite a bit of time playing here, doing donuts in the sand, and soaking in the warm air and sand between our toes.
Today's scenery seemed extra beautiful, with streams, bridges, waterfalls, and rock walls galore.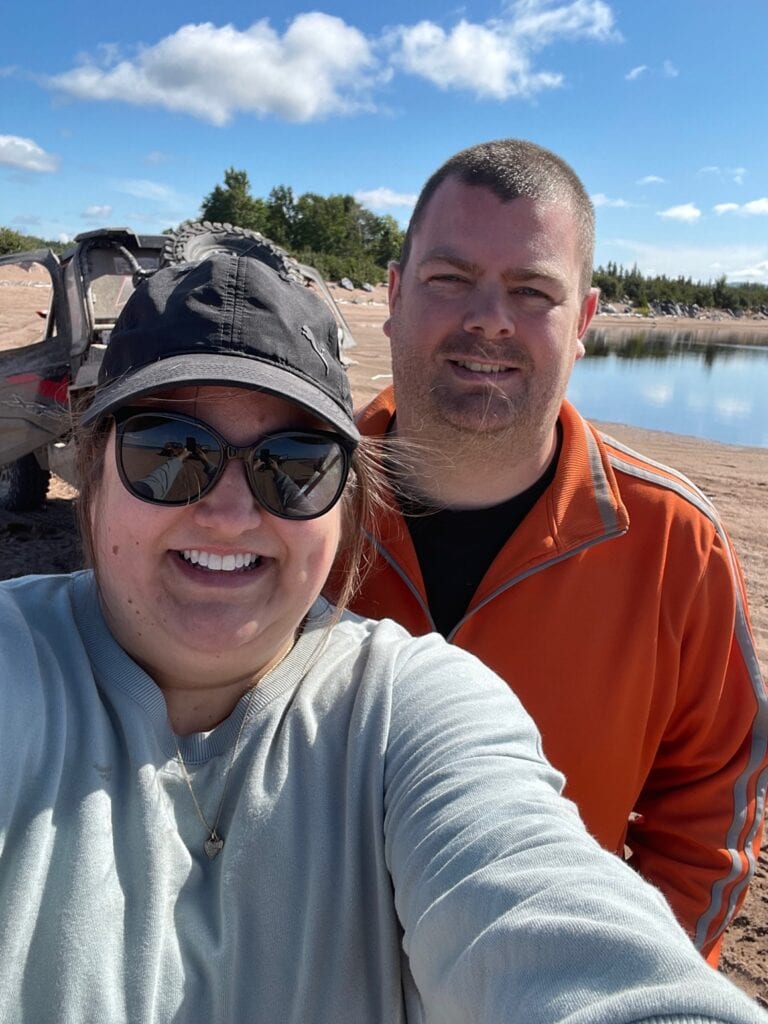 After a quick trailside lunch, we continued our journey on the way to Grand Falls Windsor. On the way, we took a detour as recommended by Patrick Ryan of Crossing Newfoundland by ATV, to visit the Gaff Topsail! This tiny and very steep lookout was worth the drive up, offering amazing views of nature below. Truly worth the entire tip in my opinion!
We stayed the night at the Robin Hood Inn and received spectacular hospitality. This stop has a continental breakfast included which was welcomed after several mornings of eating on the road. Before hitting the hay for the evening, we also enjoyed our most fabulous meal of the entire trip, takeout from Juniper Kitchen & Bistro. The food tasted home-cooked (very welcomed after almost a week on the road already) and was absolutely delicious. Having not eaten a vegetable in a couple of days, the house green salad hit all the spots! Juniper Kitchen & Bistro | Grand Falls NL (facebook.com)
Day 5 Recap:
Traveled from Deer Lake to Grand Falls
Stopped at the Gaff Topsail
Had lunch on a white sand beach
Traveled approximately 90KM
Day 6 of the Tour
Day 6! Almost at the end of our trip but so much left to see and do. Today we journeyed to Gander from Grand Falls. With our longest run of the tip happening today (150km to Gander), we were a bit more cognizant of time so we could make it to the next destination before dark. Our goal of the day was to make it to the Sabena Plane Crash site. In 1946, a Sabena Airlines Douglas DC-4 left Shannon Airport, Ireland, en route to Gander, Newfoundland. The plane, carrying 44 people crashed 35km south of gander on September 18, 1946. 27 people were killed in the crash, and 16 passengers and one crew member survived. Those who perished in the crash were buried in an onsite cemetery. Today, the wreckage of the plane remains in a small clearing south of Gander, and the area is now protected by the Historic Resource Act. Accessing the site is not possible by regular road vehicle, however, those traveling by ATV are able to easily access the location. It's important to note that a 2km uphill hike by foot is required past the landing area where your ATV will park to see the monument so proper footwear is recommended! While this area is generally considered somber, it was great to be able to experience it and pay our respects. Sabena Airliner Crash (hiddennewfoundland.ca)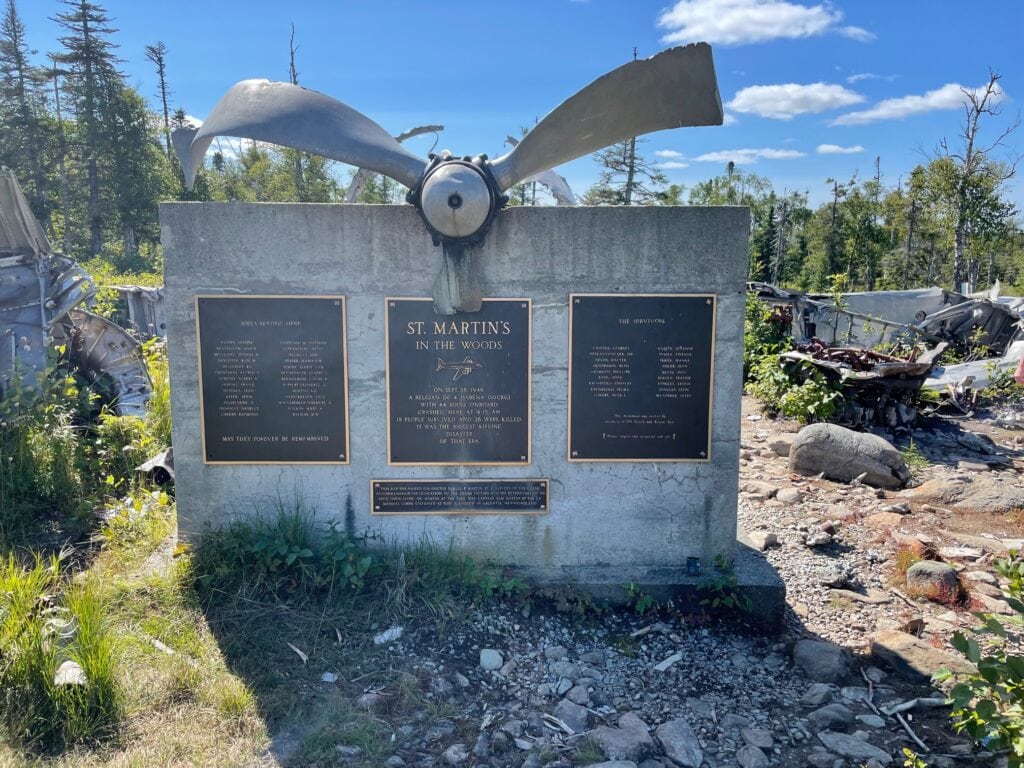 When we arrived in Gander, we stayed overnight at the Comfort Inn. The Tourist Information center across the street also had the cutest little gift shop with local products! This was the first and only opportunity I had on the trip to pick up a little souvenir to take home with me. Tourist Information Centre – Gander and Area Chamber of Commerce (ganderareachamber.ca)
Day 6 Recap:
Traveled from Grand Falls Windsor to Gander
Stayed at Comfort Inn Gander
Traveled approximately 142km
Visited the Tourist Information Centre Gifts Shop (a must-stop!)
Day 7 of the Tour
Day 7, our last full day on the island! Today we headed from Gander to Clarenville with approximately 140km to travel before reaching our final hotel of the trip, the Quality Hotel. Traveling on this leg of the trip was relatively uneventful (we did see one silly Cariboo though!). We stopped several times for photos and snacks along the way. One of my favorite stops of the day was at this little pond where all these logging logs had washed up on shore. It was so naturally beautiful. My husband didn't understand why I loved it so much, but it was just so peaceful, almost like this little forgotten place in the middle of nowhere. I also took this video of this running brook to show how truly beautiful and unfiltered it was there.
Once we arrived in Clarenville, we needed to fuel our ATVs and bodies because tomorrow we had an early (5 AM departure) from the hotel to make it to the ferry on time. Because we had to travel about 144km and be at the ferry for a 5 PM departure and 3 PM check-in, we didn't want to take any chances of having stalls or delays on the trail along the way.
Day-7 Recap:
Traveled from Gander to Clarenville
Stay at the Quality Hotel
Traveled approximately 140km
Day 8 – Heading Home
Day 8 and we are heading home! As mentioned above, our day started bright and early at 5 AM. This was also our first time driving in the dark for the entire trip. It was also the first morning of Moose season, so we knew the trails would be busy. Because it was raining (the first time we had rain), and the fact that we were in a hurry to our destination (The Marine Atlantic Argentia Ferry) we stopped very infrequently on route back to the ferry.
Once we arrived, we followed all the same protocols as when we arrived. We checked in, waited to board, and then showered up and settled into our rooms for a long passing home. Because this trip was approximately 16 hours in length, we dined on board the ferry restaurant as a group before all falling asleep early in our cabins after a long and amazing week.
This trip was truly a one and a lifetime trip for us, even though we are already planning to do it again in 2024! Traveling the island by ATV allowed us to see parts of the province we would never have been able to see if traveling by car. The province is truly expansive and natural, with not a lot of development, wild animals galore, and breathtaking landscapes.
Now that I've taken you on our weeklong adventure, let's recap some important information!
The Budget, and Packing Essentials for a Newfoundland ATV Tour
What We Packed:
You might be wondering how a true city girl like me was able to rough it for an entire week with only one small duffle bag. Smart packing!
Our Budget for the Trip:
So how much did we really spend on our adventure? This is an estimate, not down to the dollar but it will help give you an idea of the cost. **The prices below are costs for two adults, combined.
Gas + Parking – $500.00
Food – $1,000.00
Hotels – $1,200.00
Ferry – $850.00
Total Cost for a Newfoundland ATV Tour
So what do you think? Have I convinced you to take the leap and book your once-in-a-lifetime adventure? We'd love to do the Newfoundland ATV tour again.