How to Hang Plants from Ceiling without Drilling
Post Summary: Whether you're a renter, or you really don't want holes in your ceiling, today's post is for you! We're sharing all the ideas for how to hang plants from the ceiling without drilling a hole.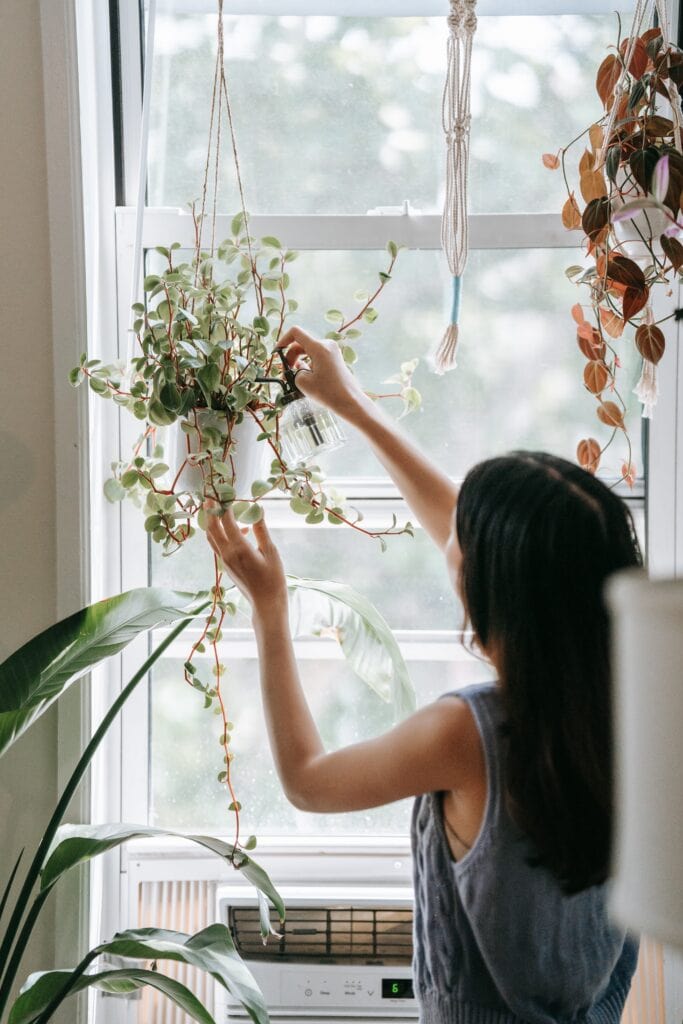 If you are like us, your plant obsession has likely gotten a bit out of control ever since the start of the pandemic. All of our bookshelves, ledges, and mantles currently display our precious plant babies with pride. Ashley's husband has even initiated a 2023 rule that if a new pair of shoes or a plant comes into the house, then an old one has to go.
Don't let lack of shelf space be the reason to stop your plant collecting from growing. Look up. Your beautiful ceiling space is valuable real estate when it comes to displaying plants and foliage inside your home thanks to modern technology like tension rods, suction cups, and even a magnetic hook!
Toss the drill bit and get ready to hang your new plants, no help from your husband is required! This is what we call utilizing every bit of small space without taking up any more valuable floor space.
Keep reading to find out how to hang plants from the ceiling without drilling any unnecessary holes.
Hanging Plants From Ceiling Without Drilling Holes
A hanging plant, or plant that is placed inside a hanging pot, is both easy to install and visually pleasing. Did you know that almost all plant pots can actually be hung with a little work and creativity? Macrame plant holders can be found online or in-store at most big box retailers, but our recent favorites are actually from Dollarama!
You would never know that these hangers rang up at $4 each! Macrame hangers have also blown up at local artisan fairs and on Etsy, so you can definitely find a color, length, and style that works for your particular space.
All you need to do is place whatever plant and pot you are currently loving inside the hanger and voila, a hanging plant! Remember, different plants like different conditions, so choosing the location of your hanging planter is very important for the specific plant you are looking to hang.
Some plants prefer low-light locations, some don't like to live by an air vent while others won't thrive without enough sunlight. The first step to hanging your plant is to check your plant tag to choose the most favorable location in your home.
Having beautiful spaces with beautiful plants is possible without the use of a drill, stud finder, or any tools for that matter! Today we're dishing about how to hang plants from ceiling without drilling in mere seconds thanks to some of the unique ways below.
Adhesive Ceiling Hooks
This ceiling hook from Amazon is a great way to hang plants from virtually any surface. We have been using these in our home for the last two years, successfully. This 10-pack of clear/transparent hooks holds up to 44 pounds each (a very sturdy hook if you ask us) and is barely visible once in place.
After two years of hanging in direct sunlight, they are still perfectly stuck to our ceiling and hold even the heaviest of plants and pots with ease. If you are only going to purchase one recommendation from the list, this should be it.
10-Pack Sticky Wall Hooks
These transparent and thick hooks can hang up to 44 lbs/20kg. They are also waterproof, oilproof, and seamless, which makes them perfect for kitchens, washrooms, bathrooms, and everywhere else.
Command Hooks
Command Hooks are the perfect solution to hang lightweight plants from the ceiling or from a wall. Because most Command Hooks have a weight limit of 5 pounds, you need to ensure the plant and pot you choose are under this limit.
We actually love the look of hanging plants on a bare wall using Command Hooks! Because they come in a variety of sizes, shapes, and colors, you can also customize the hook that best matches your space.
Command Hooks are popular because they are safe on walls thanks to the removable adhesive hooks and are perfect for those who frequently change their minds. We always have a pack of command strips in the junk drawer because you never know when inspiration will strike! These brushed Nickle ones are both practical and stylish.
Command Wall Hooks
This set includes four hooks, that can hold up to 5 lbs each hook. Command strips are easy to remove, no residue is left behind and they are strong and versatile.
Magnet Hook
If you are lucky enough to live in an apartment or condo with an urban feel, you might have uncovered metal beams available to use to hang your plants! Similar in style to the ceiling hooks mentioned above, these magnetic s hooks are the best way to hang your new plants!
If you don't have exposed beams, we still recommend checking for magnetic properties in your ceiling by running the heavy magnet over the surface. This three-pack will hold various weights from 11 to 27 pounds so even your heavy plants can be hung with ease.
Magnetic Wall Hooks
These magnetic wall hooks will hold 27+ lbs and come in a variety of colors to suit your style and home.
Tension Rod
A spring tension rod or spring curtain rod is a renter's best friend when it comes to hanging plants! The spring-operated rod comes with an internal spring that all you have to do is compress and then place in its new location. On the end of the rod, are rubber caps so you can breathe a sigh of relief that no damage will be done to the walls supporting it.
This simple gadget can actually hold the weight of several plants. For a larger opening, we would recommend a screw tension rod, instead of a spring tension rod. This type of rod can actually be customized to the specific length of your opening. If you are worried about dropping or sagging in the middle, a simple Command Hook like this one can go in the middle for added support.
Tension Rods from Amazon
Click on any of the items above to shop directly. Cottage Living and Style may earn a small commission through affiliate links at no extra cost to you.
Suction Cups
While this process will not work for hanging plants from the ceiling (unless your ceilings are a beautiful glass skylight!), suction cups are a great option for hanging plants in your windows.
These beautiful suction cup plant shelves come in a set of two and have a built-in suction cup attached! Perfect for holding your little succulents in a spot they are guaranteed to get the sun the love.
Suction Cup Plant Shelf
These suction cup plant shelves are strong, and durable, and come in a set of two. Perfect for holding little succulents on the window.
If you are interested in doing them yourself, remove the metal portion/hook of the suction cup carefully, using pliers then glue the non-suction side of a heavy-duty suction cup onto your lightweight planter of choice.
Be sure you chose your suction cup hangers with an appropriate weight limit for this to be successful! Most commercial products hold 5 pounds or less! Suction cups are widely available from your local hardware store.
Heavy Duty Suction Cup Hangers
Not only are these suction cup hangers durable and stable, but they are great for hanging plants on windows. They come with a stainless steel hook and easily hold up to 3 kg.
Suction cups are a great solution for those who rent!
Door Hooks
Like your ceiling, your door or railing (check this railing hook) is another prime space for plants and is so simple to do. A single over-the-door hook like this one is a good option for indoor plants and the easiest way to display them.
It will hold a significant amount of weight and can be used with any existing hanging planter you have on hand. Might say it's the perfect solution when space is limited?
Over-The-Door Hangers
These over-the-door hangers come in a set of four and are offered in several different colors that are guaranteed to suit your home and style.
The following plant species will thrive in hanging planters!
Plant Species that Thrive in Hanging Plants
Are you looking for more plants to add to your home? specifically, hanging plants? We've got the best plant species that specifically thrive in hanging plants.
String of Pearls
Spider Plants
Vining Plant
Air Plants (great for lightweight hooks)
English Ivy
Boston Fern
Do you have another creative idea for how to hang plants from ceiling without drilling holes we should know about? We know there are plenty of ways to get the job done and we would love to share other different options with our readers!