Budget Tips to Organize your Kid's Room
If you've ever wanted to organize your kids room but didn't know where to start, this post is about everything you need.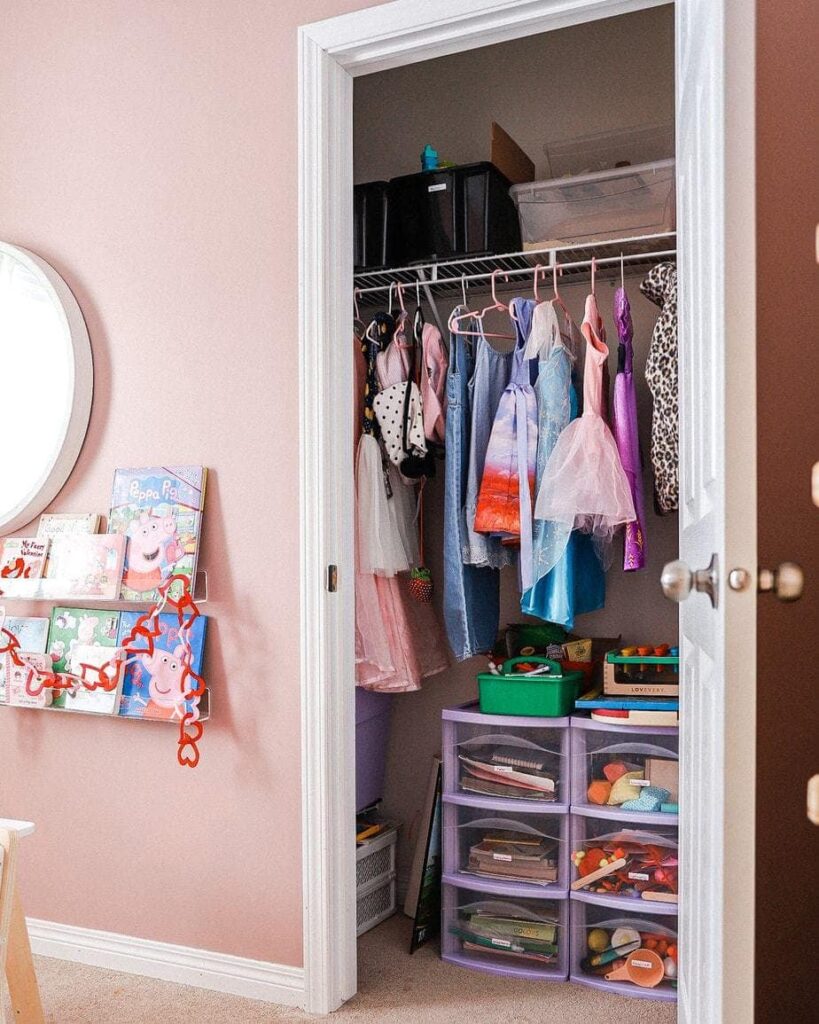 Usually just after Christmas I start organizing, sorting, and purging everything in our home. This year I started with our daughters bedroom closet. It was a disaster to say the least. Every time someone opened the door you had to dig through a pile of toys and books.
It was one of the things on my to-do list that stayed there every single week. I knew it was going to be a mission but it needed to get done.
Hopefully, you'll find some value in these simple tips to organize your kid's room, and do it on a budget.
This post is all about easy ways to organize your kids room for budget conscious parents.
Budget Tips to Organize your Kid's Room
1. Where to buy Inexpensive Storage Options
There are tons of storage options out there. I found the best deals for organizing toys on a budget are usually from Walmart or Amazon.
2. How to Organize and Storing Crafts

We needed a system to organize all of our daughter's crafts and art supplies. Before this, we were finding them everywhere in our house, until I finally spotted the perfect solution. In my opinion buying this drawer system was such a great idea. Now I can organize all her crafts into tupperware and plastic containers with labels. It makes more sense to have everything organized by type rather than shoving them into the bins.
3. What do you do with Loose papers, Paintings, and Art?

Our house is usually full of Penelope's artwork. I actually had a hard time getting rid of any of them. Instead, what I started doing was putting the date and her age on the back of her papers, and stuffing them in a section of this filing container. Then the container would go back into her closet usually higher where she couldn't reach. NOTE: I don't save everything, just the things that have some meaning behind them.
4. How do you Organize all the Kid's Books?

If your child is anything like mine, then they probably love books. We are overflowing with them at this point and I was starting to lose control of the amount we own. We did put up an acrylic bookshelf and we love it for displaying seasonal or themed books. But I was stashing the rest in her closet, and that was taking up way too much space. I also didn't want to put them in the basement just because I knew they would end up staying down there forever. So I found the perfect under-the-bed storage for all the books she isn't reading right now. That way I can organize all the children's books by seasons or themes.
5. How to Organize Stuffed Animals, Toys, and everything else?

Every evening before I go to bed I'll make sure I quickly clean our toddler's bedroom. Usually, I'll find a ton of stuffed animals, fire trucks, or (pretend, sometimes real) food. But I found it pointless to stuff them all in the closet because they would just come right back out with more things, the next day. Instead, I got these bins and I started rotating them every other week or every month. This way she was playing with different toys, and it's been a great way to keep her engaged.
TIP: Toy rotation is used in classrooms so kids don't get bored with the toys as easily. It helps them stay engaged longer without being overwhelmed with too many choices.
6. How to Store Kinetic sand, play-doh, and other activities

Obviously you can't just pack away sand into the craft drawers, but you can put kinetic sand, play-doh and all the other pieces into clear bins with labels. That way you can clearly see the type of activity in each bin, and everything has a place to go. It's actually been the best solution to our home school activities.
For example, in the mornings Penelope will get to choose an activity of her choice. All I need to do is take out the bin and it's so much easier and cleaner.
7. How to Store Puzzles, Game Boards, and Blocks.

Figuring out how to organize your kids room is like a never ending battle, especially when Christmas or Birthdays come around. But I found the biggest issue was thinking of toy storage ideas for small spaces. The closet was a disaster, and we were constantly loosing puzzle pieces and parts from certain games. So I found the open bins to be the best, which I put on the top shelf in her closet.
It's also worth noting I thought this bin and play mat would be a good idea to use for blocks!
8. Other Organizing and Storage Ideas for your Kid's Room

No matter is you need toy storage
ideas for small
spaces, or if you were looking for organizing toys on a budget. I hope you found this helpful and easy to shop for everything you need in one place.
This post was all about how to organize your kids room
Other posts you might like