A tiny cabin gets an eco-friendly bunk bed, perfect for making the most of small spaces. Here's how it all came together on a budget.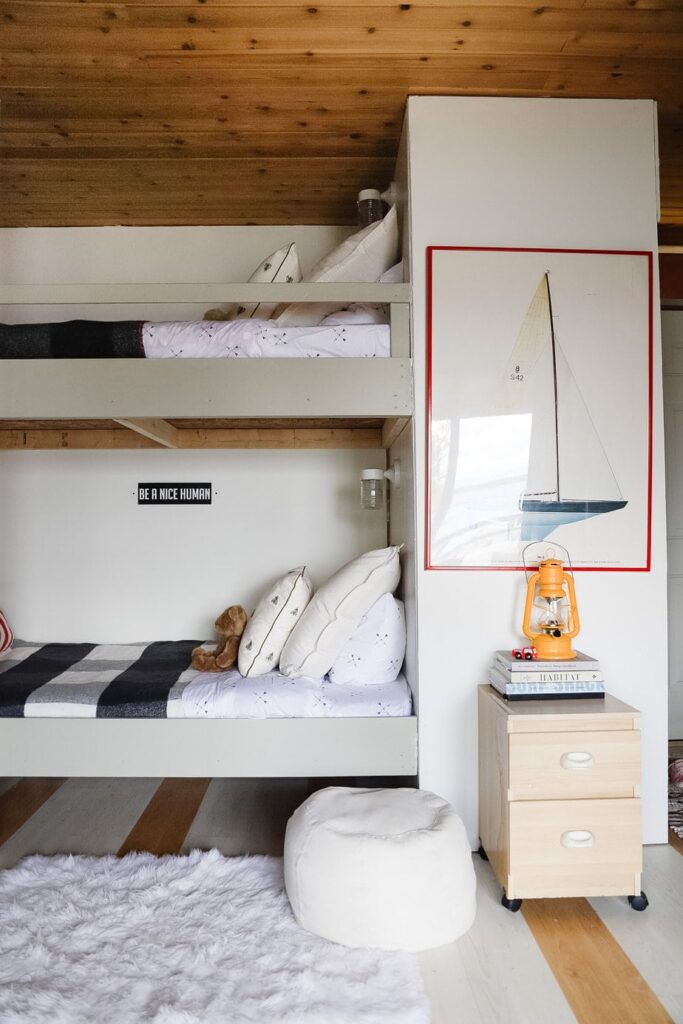 This is one of the most popular posts and we totally get why! So we wanted to update it and make sure all the links are working. This has been updated on February 17, 2023.
Its cabin reveal week, and we're kicking it off with the kid's built-in bunk bed. If you missed it, we bought a tiny, one-bedroom cabin on an island. The cabin is actually right next door to my parent's cottage, and it used to be owned by my grandparents. So needless to say, this project means a lot to me.
Not to mention, designing a cabin has been on my bucket list for a very long time. Which is why I've spent so many hours watching disovery+ and magnolia network lately. Gathering all the inspiration for this magical space.
Anyway, without further ado here's how we designed an eco-friendly bunk bed, styled it, and got it ready for our two children.
All about our Eco-Friendly Bunk Bed
I've been planning this eco-friendly bunk bed since we found out we were going to be remodeling the cabin.
Not only did I want a wooden bunk bed, but that was also made from solid wood. But because this would be where our two young children will be spending a lot of their time, and hopefully their childhood. I also wanted to make sure we used a sustainable material, preferably without a lot of harmful chemicals.
Lately, I've been growing more and more interested in eco-friendly, sustainable products. Maybe it's because I now have two children, and being a mother has put life into perspective. Or maybe it's the current climate in the world today. Whatever it is, I'm glad we have the opportunity to create something we can all benefit from for years and years.
Sourcing Sustainable Products and Materials
I knew it would be hard to source non-toxic building materials. But I kind of figured there would be more options to choose from and more sustainable products. Turns out if you're looking specifically for non-toxic lumber or wood, there are really only a handful of options.
We learned that Baltic birch plywood has no added formaldehyde, but sadly we couldn't order the sizes we needed in time.
However, if your looking for non-toxic lumber, cedar or redwood is a great option. It's better than buying pressure-treated lumber which can lead to lung and bladder issues after long-term exposure. Which really freaked me out.
But cedar and redwood are both naturally insect, and rot-resistant wood, making them perfect to use indoors.
You can read how to DIY a bunk bed in this easy-to-follow guide.
I wanted to be conscious of our environmental impact and our budget. So when it came time to remove the existing furniture, I realized that I could incorporate the sofa bed my grandfather made into the design. I wasn't exactly sure how, but I thought we could either use it as the bottom bunk or strip it apart and reuse the material. Which is exactly what we did! So not only do I have something from my grandfather, but I know it's a safe bunk bed that's relatively eco-friendly.
Non-Toxic Paint
Okay now, let's chat about paint! Again, we wanted to do our best to make sure we were building non-toxic bunk beds. Which meant we needed to find non-toxic paint.
Fusion Mineral Paint is certified as non-toxic, lead-free, almost odorless, and has no volatile organic compounds.
I've used Fusion Mineral Paint many times, usually for painting over dressers or kitchen cabinets. But I've never painted a bed with it, and I couldn't be happier with how well it turned out.
Fusion Mineral Paint in Bedford
We choose the color Bedford for our eco-friendly bunk beds. I prefer to use mineral paint because it goes on so much smoother, especially when we're using leftover pieces of furniture.
Storage and Making the Most of Small Spaces
I plan on adding a trundle bed under the lower bunk, so we could hide an extra twin bed for future guests. I think it's important to make the most of this small space, and what better way to do so than using the empty space under the bed?
At this point, we have storage drawers on wheels, which I will share below. It's where we store extra bedding and linens for the bunks.
We've also made the most of the wall space, by installing two mountable storage baskets. I wanted to make sure the kids could store their books, or personal belongings in it.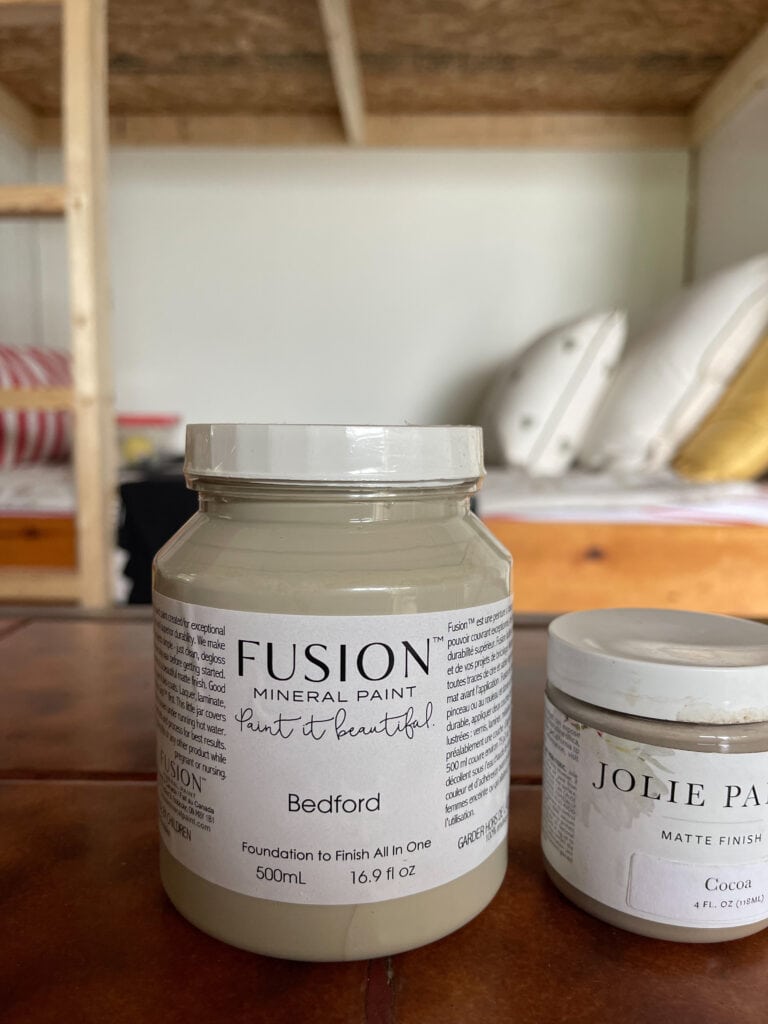 The Mattress and Bedding
Each bunk has an organic mattress that was purchased second hand, however, we've done a lot of research. We're really interested in the Kiwi Bunk Bed Mattress, but I'd love to know if you have any suggestions or ideas.
As you can imagine, I sourced organic cotton sheets and they are so soft. The throws are from Wayfair and were the finishing touch I needed for the cabin. I wish I could have found buffalo plaid print in organic wool but nothing was in our budget.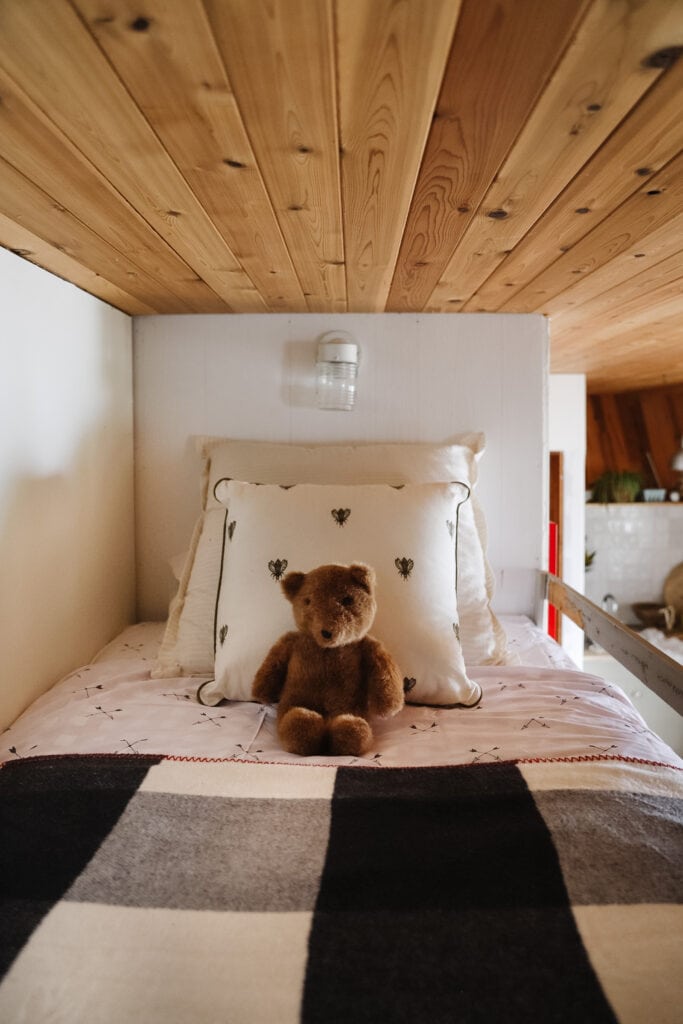 Cabin Bunk Bed Lighting
I've been obsessing over marine bulkhead lighting for weeks. Sadly, I ordered two and I only got one. But I did find these white lantern sconces for only $12!
These worked out really well for a temporary solution. I needed lights that the kids who are still really young, wouldn't hit their heads or accidentally rip out of the wall.
All-in-all I hope our cabin bunk room inspires you to make the most of your space, regardless of the size. And that DIYing your own bunk beds is great because they are usually built with a sturdy film and will last years. Which is so much better than other store-bought options that cost way more.
This project was perfect for our family, and it's made coming up to the cabin so much better. Before we would either all share one bed, or I'd sleep with the kids at my parents. But now with the bunk beds, each child has their own bed. Next, I'll probably add a new rug and some more fun cabin decor to the beds, like these pendant flags.
Let is know in the comments if you had bunk beds as a kid and if you plan on making these in your home, cottage, or cabin.