Our Family's Small Cabin Plans for a Remodel
Welcome to an inside look at our 380-square-foot cabin, and all the small cabin plans we have for a slow remodel.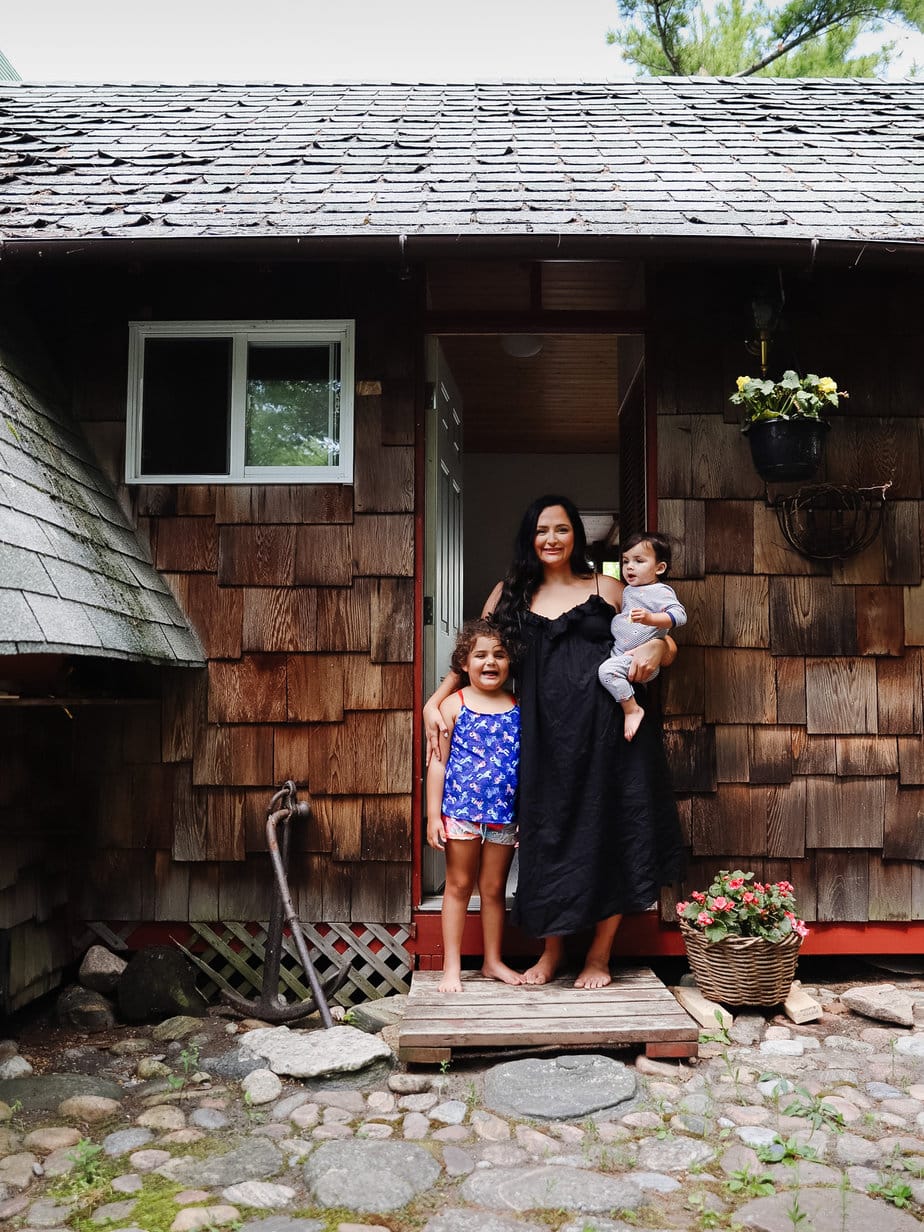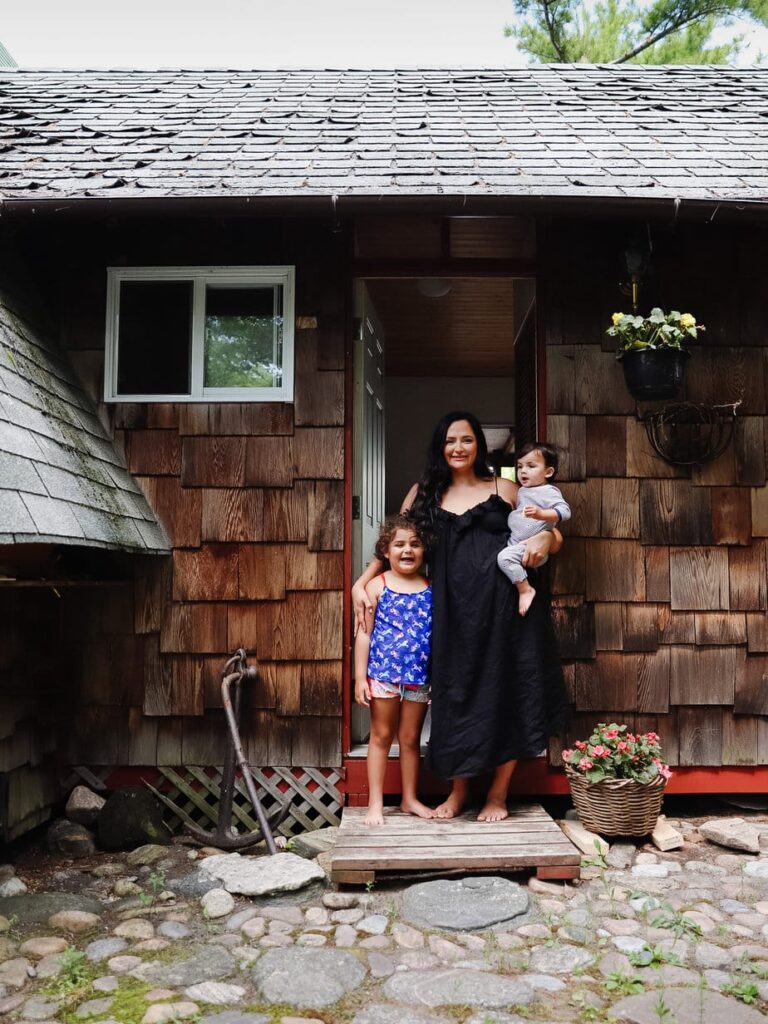 I figured it was time that I finally sit down to write this post, it's been a long time coming. So without further ado, WELCOME TO THE OFFICIAL TINY ISLAND CABIN INTRO POST. A project we'll be documenting here over the next several years.
It's a project that I hold very near and dear to my heart.
This was my family's cabin, which I inherited after my grandparents passed. We've shared a bit of it here and there, but never actually with intent or a plan.
But things are finally happening, and I thought it now was the time to introduce it to readers who are new or readers who never knew we owned a small cabin!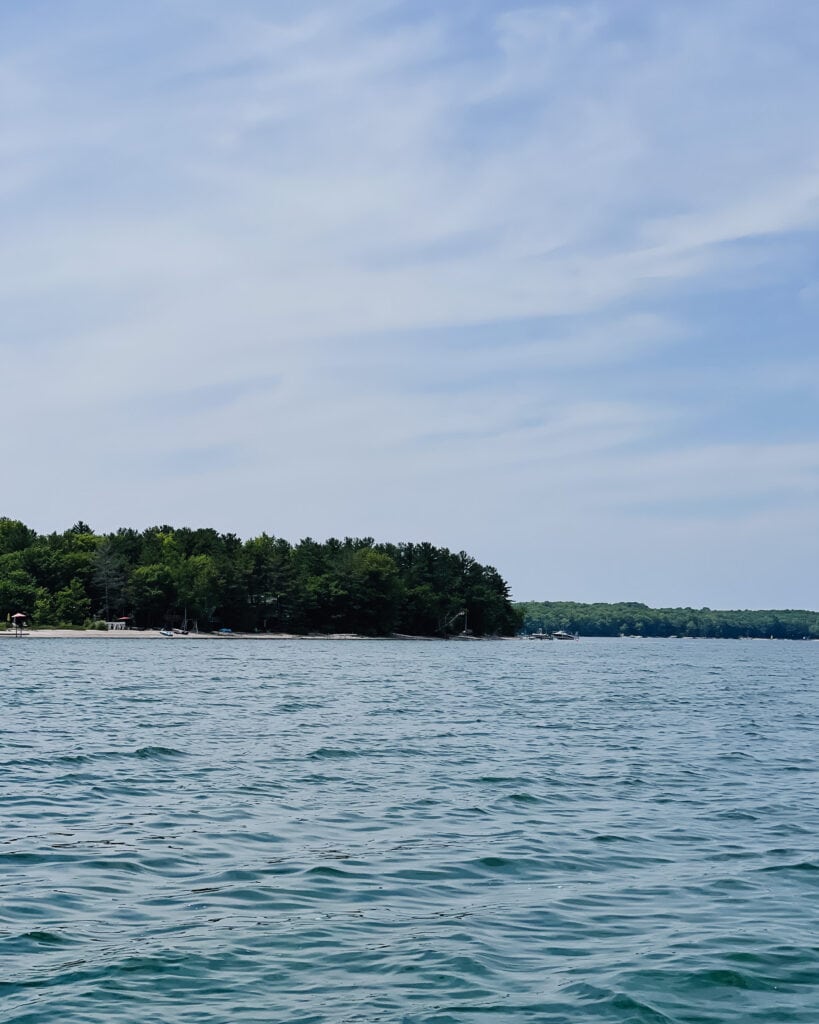 Like I said, I've always had plans for the cabin but for almost two years it sat untouched. The island where its located was either shut down or highly restricted during covid. So any remodels or design plans were put on hold, until now.
Before Photos of our 380-square-foot Small Cabin in Ontario
This property is extremely special because my grandpa and my dad built it. The original purpose of this cabin was to give my grandparents their own space. It's self-contained and has everything you need.
There's a bathroom, kitchen, living room, and even a bedroom. So let me walk you through the before photos and what our plans are for the remodel.
The Cabin Exterior
We are lucky enough to have a lakefront property and a beautiful view of Georgian Bay. There's a beautiful patio/deck that gives us enough space for a few Muskoka chairs and small tables.
The Plan:
It is painted dark red and over time the sun has bleached it, leaving chipping paint and green moss growing on it. So it needs a refresh.
The plan is to pressure wash it, sand it down, and re-stain.
Project Timeline:
Next summer!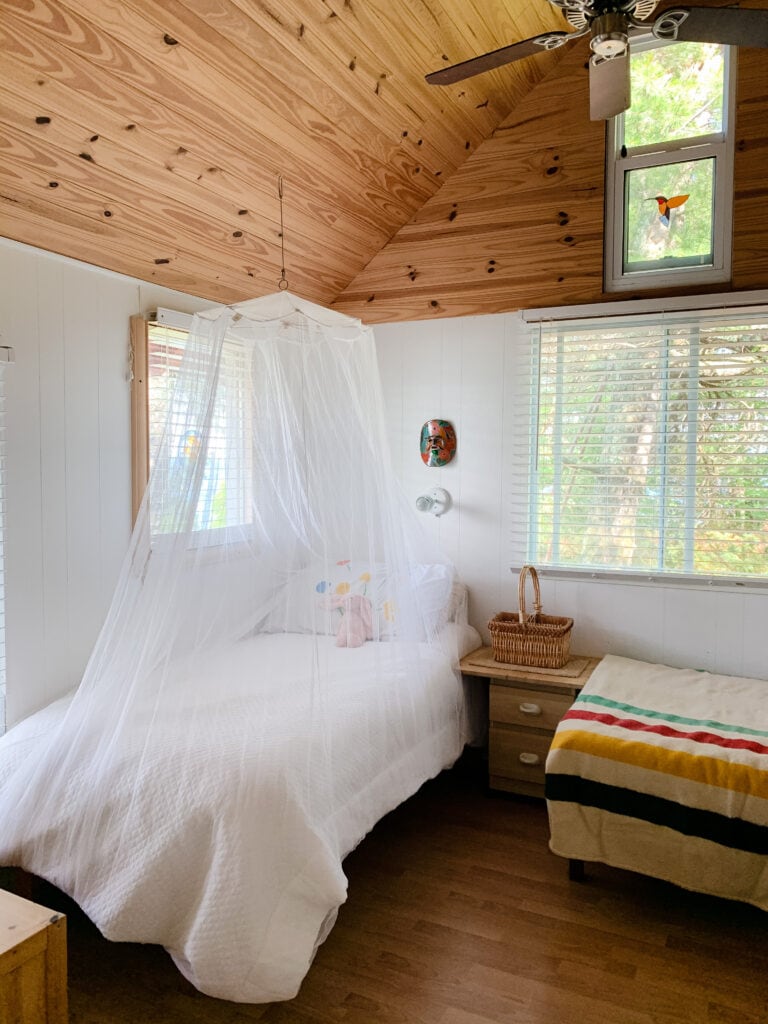 The Cabin Bedroom:
We did a mini refresh last year on the bedroom. At first, there were two single beds, and that did not work for our family of four. So we made our own queen bed by upcycling what we had.
Which by the way is a great idea since we are on an island, and it's not the easiest to go get a new bed or even an Amazon order here.
The Plan:
The plan for the bedroom is to replace the mattress, and possibly take out the closet so we have more space. Then we want to replace the old fan that's there with something more modern.
The Timeline:
If not by the end of this summer, then early next year.
The Cabin Kitchen
I am so excited about this project! So as you can see in the photos above, the layout of the kitchen doesn't work. The mini fridge cuts off almost half the counter space. The panels need to be replaced, with drywall and so do the countertops.
The Plan
Like I said, we'll be replacing the countertop with something like a butcher block. I want the cabin aesthetic to stay. We're tearing out the wood paneling and replacing it with drywall. The fridge will be replaced with something smaller and more compact. We will also be replacing the sink and adding tile to the backsplash.
The Timeline
We have a post coming next on this project!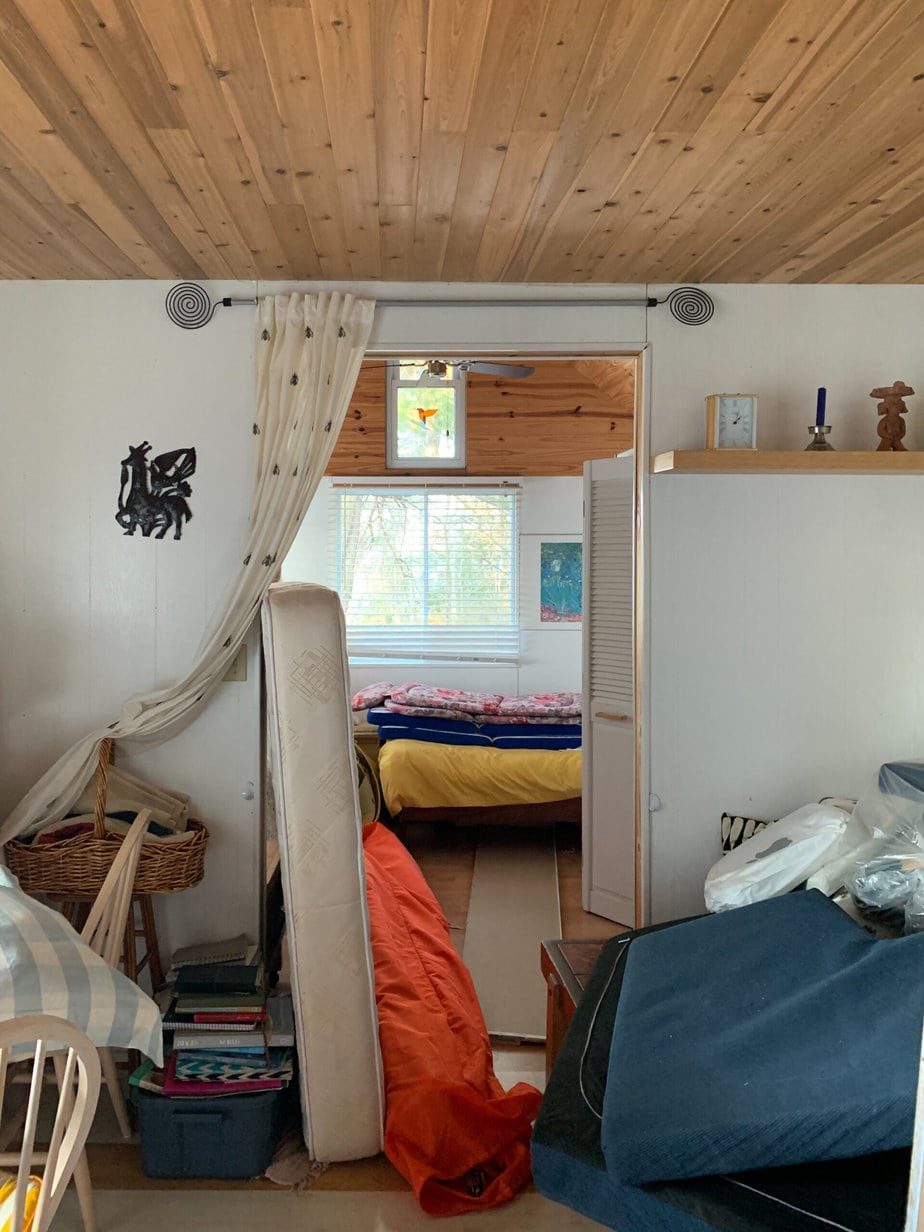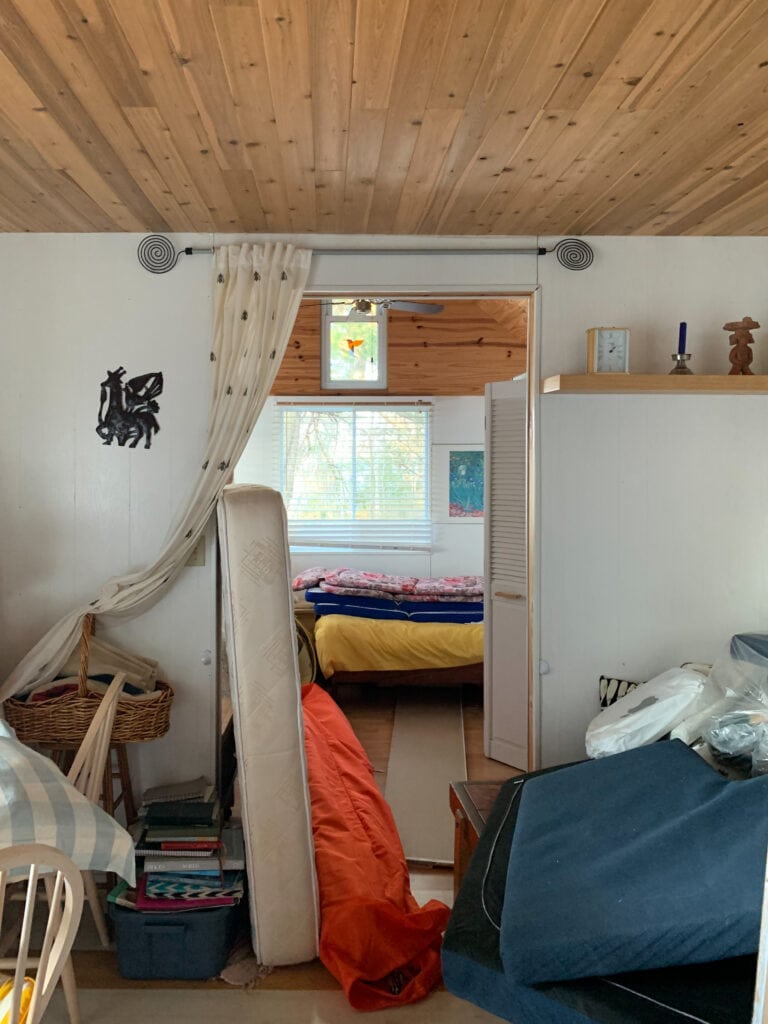 The Bunk Room
Formally the living room. My grandfather made the bed/sofa that's there. They also had a tv that sat across from them.
The Plan
I love the furniture my grandfather made because each piece was handmade. Which is why we want to re-use them as much as possible.
This is going to be a bunk room for the kids. They will have their own bed, complete with all the fun things you'll find in a cabin bunk bed.
The Timeline
We are just about to start on this project, so stay tuned.
The Cabin Bathroom
The bathroom needed a good clean, which I did. And it's fine, totally works for us right now. They did have plans for an outdoor shower. But we just use my parent's bath and shower next door at the moment. There might be plans for adding a little extension!
The Plan
The plan for this space is going to be to tear out the walls and replacing with drywall. The old panels smell musty and it's time we took care of that.
Other than that right now there would just be little things like replacing the mirror, painting, and maybe even adding wallpaper!
The Timeline
This project will be happening next year.
If you didn't know, the reason why we've gone full steam ahead on this project is that we're about to be moving out of our home, aka, the little cottage in the woods. We are raising the house, to put it in a basement so that (you've guessed it) will fit our family of four (plus Scout).
Again, you'll know more about it once we get the permits.
The Small Cabin Floor Plans
To put this more into perspective, here's a quick look at our floor plans for the kitchen.
All Our Small Cabin Ideas
When it comes to the inspiration for the small cabin, we put together a little inspiration board.
onekindesign, (If you know the source please share), found HERE.