Growing up my mom would always make my grandmother's Easter peach cake, an old Czech recipe that was always a hit with our family. This year is a little different and since we are celebrating Easter with just our immediate family, I thought it was the perfect time to bake my grandmother's famous recipe.
The cake itself is a simple one, but what makes it unique is the sliced peaches and crystallized sugar that sits on top. It's perfectly plain just the way I like it with hints of sweetness.
I hope this cake will inspire a new tradition in your family or at the very least make this strange time a little more special.
Please tag me in your stories, or send me a picture of the finished product.
Easter Peach Cake Recipe
Makes 1 cake that serves 6 -8.
Ingredients
1/2 tsp of salt
1 1/2 cups of all-purpose flour
1 1/2 teaspoons baking powder
4 peaches
6 tablespoons unsalted butter, at room temperature (plus additional for pan)
1 egg
1/2 cup of buttermilk
1 cup of sugar
2 teaspoons pure vanilla extract
1 tablespoon sparkling sugar, for topping
Instructions
Peel the peaches and slice, lying them on a paper towel to get rid of the moisture.
Butter deep dish 9 inch pan, preheat oven to 350 degrees.
In a medium-large bowl whisk together baking soda, salt and flour and set aside.
Whisk butter until it's creamy, then add buttermilk, egg and vanilla.
Gradually add the flour mixture while continuously stirring.
Scrape the mixture into the cake pan and add the peach slices equally.
(optional) sprinkle brown or white sugar.
For 10 minutes bake at 350 degrees. Then at 325 degrees for 50 – 60 minutes until cooked thoroughly.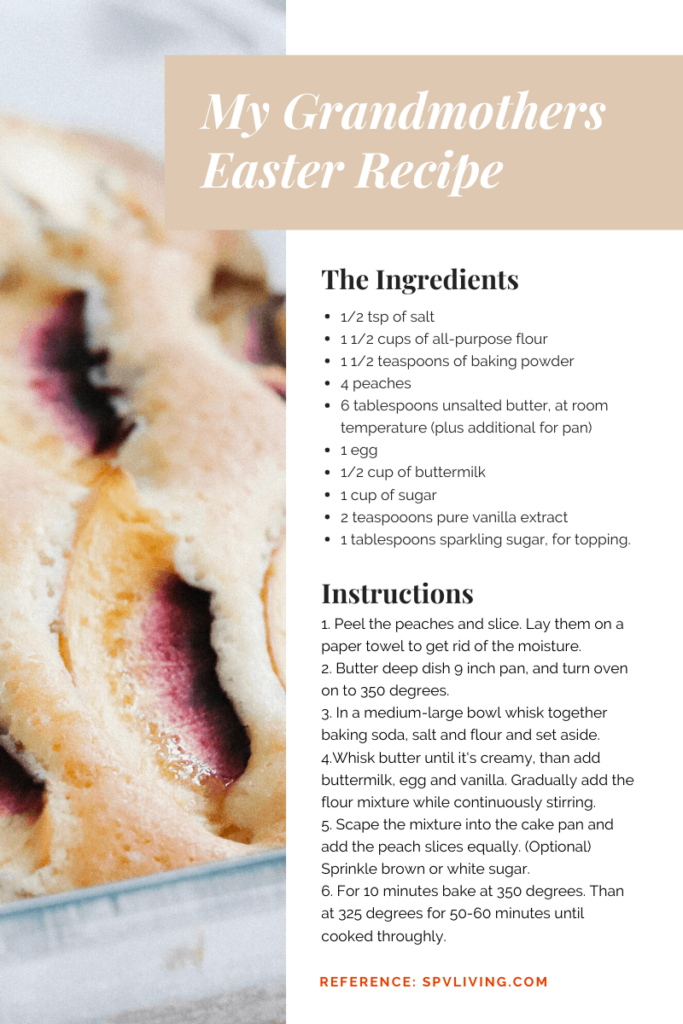 P.S More recipes, including a toddler-friendly smoothie and my go-to pasta recipe.