Inspiration for Cottage Wall Panelling
We finished phase 1 of the cottage bedroom project, and we can now begin phase 2 which is updating the old wall panelling. You're probably thinking why don't you just take them down? Well, it's the cottage, and we didn't want to increase the budget. I wanted this to be an inexpensive makeover because I love the idea of keeping a small budget and working within it. I get excited by finding items we already own and restyling them, or even when we use paint to instantly update a space. I enjoy teaching people how to love their home, or cottage, right now.
Thinking back to my childhood there, almost every memory I have includes the wood-panelled walls in some capacity. Whether it was DIYing a makeup studio in my room, or painting the panelled walls purple (I still don't know why I choose that colour). But my point is when we were talking about our plans for the makeover, I knew we had to keep some of that cottage charm.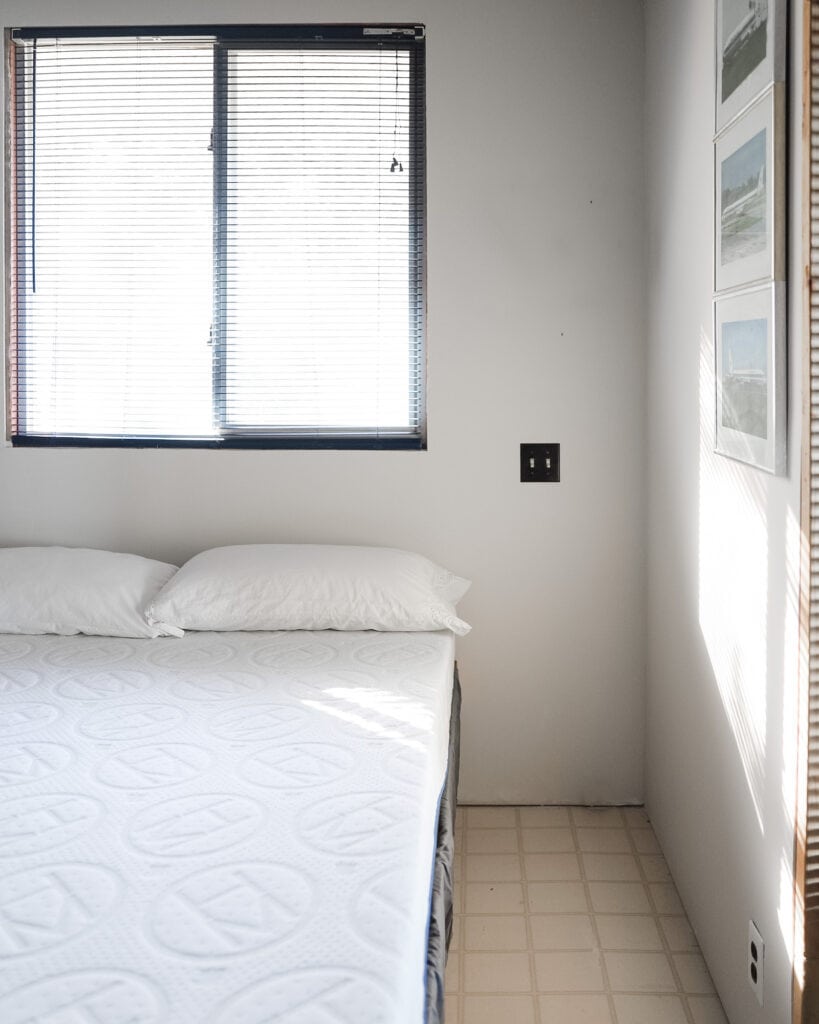 But there is a practical reason for keeping the panelling in the bedroom. My parents need to access some pipes and electrical stuff that sits behind that wall. Since it is a cottage, and most years it involves winterizing we decided to leave it accessible by adding hinges to the panels. That way its easy to get at and we don't have to worry about adding drywall and having to cut a hole later on.
So we have now have to update the wall panelling on the closet doors, and the one accent wall. To be honest, I wanted to replace the closet doors with the Ikea Pax wardrobe but my parents wanted to keep them. So we're going to find another way to update the space and give their bedroom an amazing makeover.
The cottage bedroom project updates
Before we get into the inspiration for updating the old paneled walls, I owe you an update on the project. As I'm sure you can tell, a lot has happened here. We had just ripped down two of the three walls, cut and installed six sheets of drywall, sanded and mudded.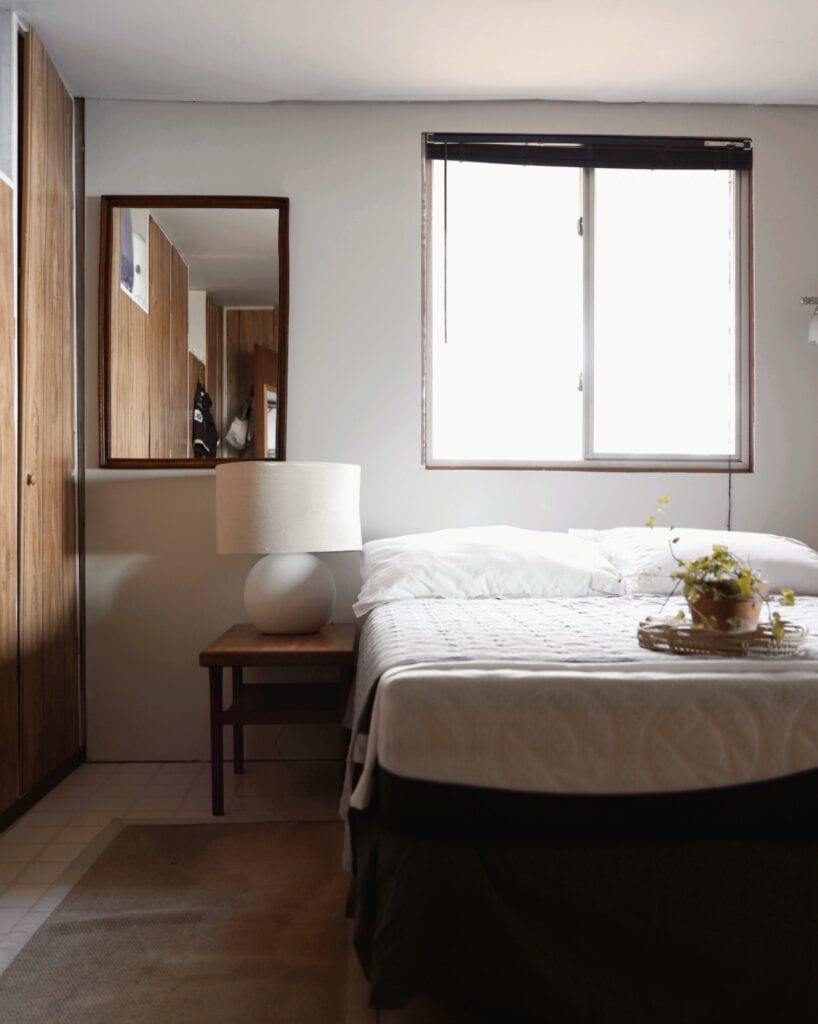 Since then we have finished sanding and mudding three more times, primed and then we painted. Although there was a mix-up with the paint color it still looks fine (but I'm planning on repainting in the spring).
The inspiration to update old wall panelling
I've been pinning inspiration photos like a crazy person and you'll see why below.
So far I think we are leaning towards grey panelling for the closet doors. While keeping the accent wall the same colour as the other two walls, but the panelling serves as the added interest without looking like half the room is one colour. The key to finding the perfect "greige" paint is sticking to a cool tone because if it's too warm it can look muddy.
However, I really like the color Humphry Munson choose for their project below. The paint colour they choose is balanced with the cool-toned flooring and the creamy white door.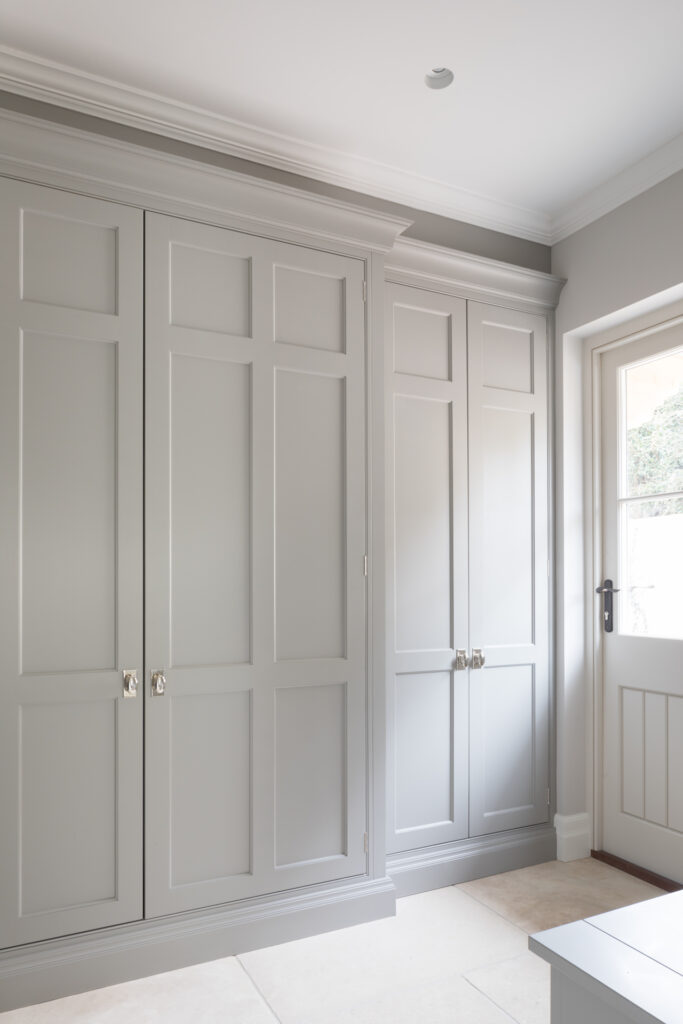 Studio Mcgee also used a cool grey on their closet doors. I love the gold hardware, which we also plan on changing on my parent's closet doors. Sometimes the biggest change comes when you update the hardware on closet doors, and we plan on spending a little bit more on it for that reason.
One more because I love the color. This polished grey closet is a beautiful color that also includes the gold hardware I want. Anneli Bush did a great job with the trim that lines the ceiling and adding interest to the entire look.
With our deadline for this project quickly approaching we still have a big to-do list. Like finishing the trim, planning for the flooring, installing a new door, and decorating. But I hope this helps the curious and inspired minds who have a cottage renovation planned and want to update it on a budget.
My question is, what colour would you paint the accent wall?