How to Choose the Perfect Paint Color for Your French Cottage Bathroom + Inspiration
This article shares 4 paint colors ideas we think would be perfect for a french cottage bathroom.
We're finally ready to start the design process for our bathroom renovation! Our style has matured since sharing the original design. I truly believe it's because I started "listening to our home". This can be especially important if you live in a fixer-upper or if you're currently renting. As easy as it is to buy things you like, more than often I'll bring it home only to realize it doesn't fit with the look and feel of our space. It's happened way too many times to even explain at this point, but it taught us how to hone in on a specific style.
How to Learn Your Home's Style
Our three-bedroom bungalow was built in 2011, just seven years before we bought it. We moved in with standard, builder-grade finishes, and unpainted walls. But we also became the owners of a beautiful mature garden that surrounds the home. I knew instantly that nature would play an integral role in future designs. Luckily the house itself wasn't in bad shape, and we could focus most of our energy on the things I loved the most, like paint, tiles, and decor.
Over time our home has slowly revealed what it likes and what it doesn't. Most recently I ditched heavy curtains for white linen that now flank our bedroom's french patio doors. I've added more natural elements like unfinished wood, stone, and beautiful indoor plants.
Gradually, I've seen a style emerge from paying attention to those things.
I've also really enjoyed seeing the harmony between our home and the nature that surrounds it. Some days it feels as if we're living in a greenhouse or even a small cottage in the woods. It's inspired our french cottage bathroom design and I can't wait to bring it to life.
Paint Colours for French Cottage Bathrooms
Now that we've narrowed down the design style, it's time to explore paint colors. It's one of my favorite things to do because paint can change the look and feel of a space almost instantly. Here are the three options, Sandy by Sico Paints, Canyon Beige by Premier Paints, and of course Revere Pewter by Benjamin Moore.
Check out our Office Makeover in Revere Pewter!
You'll also notice I've added Night Flight by Behr to our mood board (above). The reason is that we painted our bathroom cabinets this dark blue/green color that I'm absolutely obsessed with. I thought about changing the color, painting it lighter, or even sanding it down to restaining the cabinets. The idea isn't completely off the table just yet, but we will be adding a new countertop regardless of that decision.
Read more about the 9 Steps I took to Paint our Bathroom Cabinets without Sanding them!

I've been searching for stone options that are both unique and affordable. Not necessarily the easiest to find, so I promise to write a post on it soon. For now, we can focus on the colors of the countertop since it's something we can assume. So I've added Night Flight for our cabinets, and marble for the countertops to our mood board. That will make our decision a bit easier, now that we can see the relationship between each color. Will it bring out the blue? green? or will it make other colors look too bright? are all questions we need to ask ourselves before deciding on a color.
So far, I like Canyon Beige (right) but I think it's a little too close to the original wall color. I want a moodier color to fit the french cottage design I have in mind. Which leaves us with Sandy (middle), and Revere Pewter (left). I did test out Revere Pewter on the wall (you can see in my story highlights titled Bathroom) and I don't like it as much as I thought I would have.

Oh and I'm in love with checkered tiles for our bathroom! It's another aspect I need to think about that as well which is why I've included some of the inspiration pictures you'll see below.
I'd really love to know what color you like the most? and which one do you think we should use?
French Cottage Bathroom Inspiration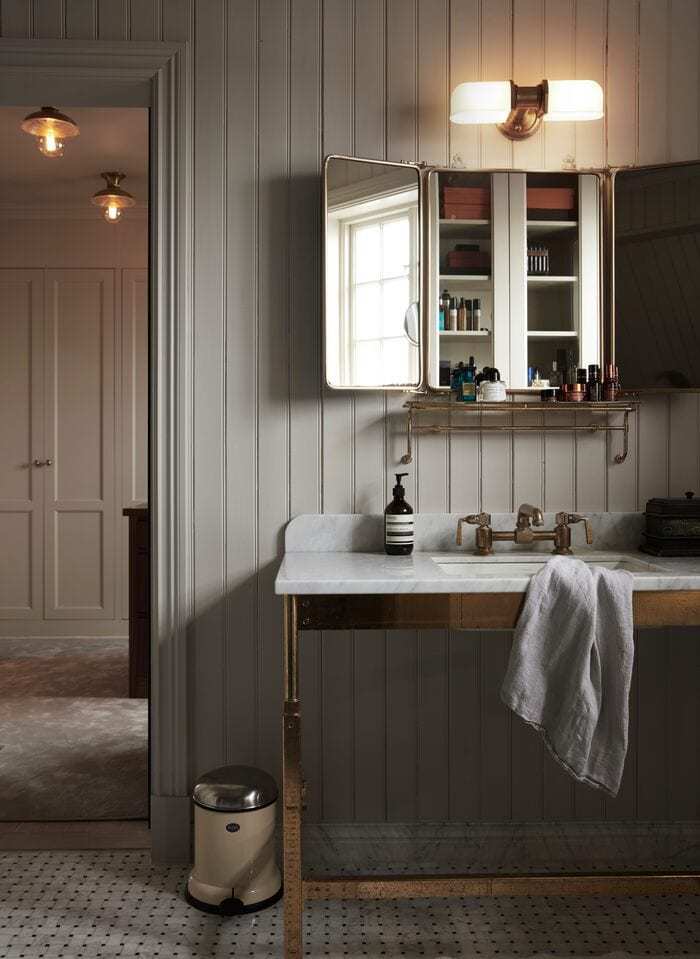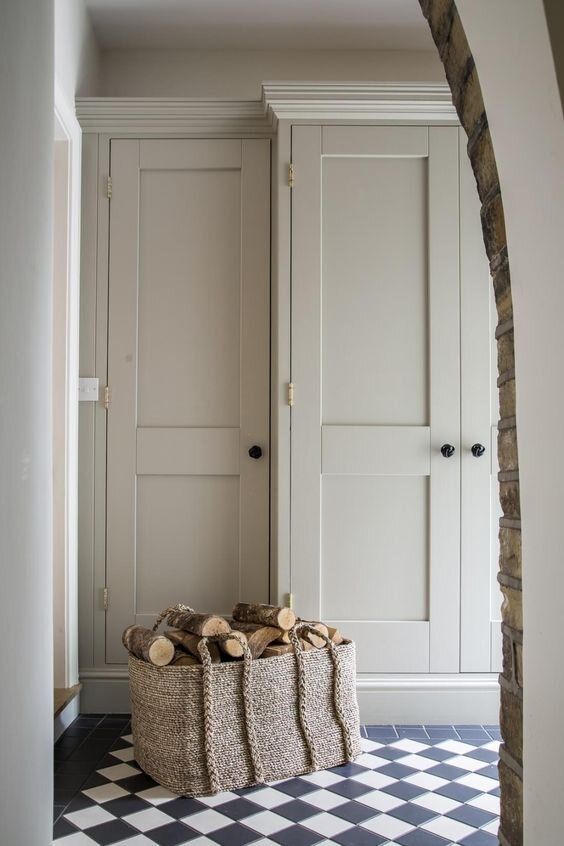 This article is about learning how to choose a paint colour option for your french cottage bathroom.
Looking for more French Cottage design advice?
9 Easy Steps to Paint Cabinets without Sanding them
Cottage Wall Panelling on a Budget + Inspiration
The Cutest Granny Suite Cottage Tour