11 Simple Bathroom Updates from Amazon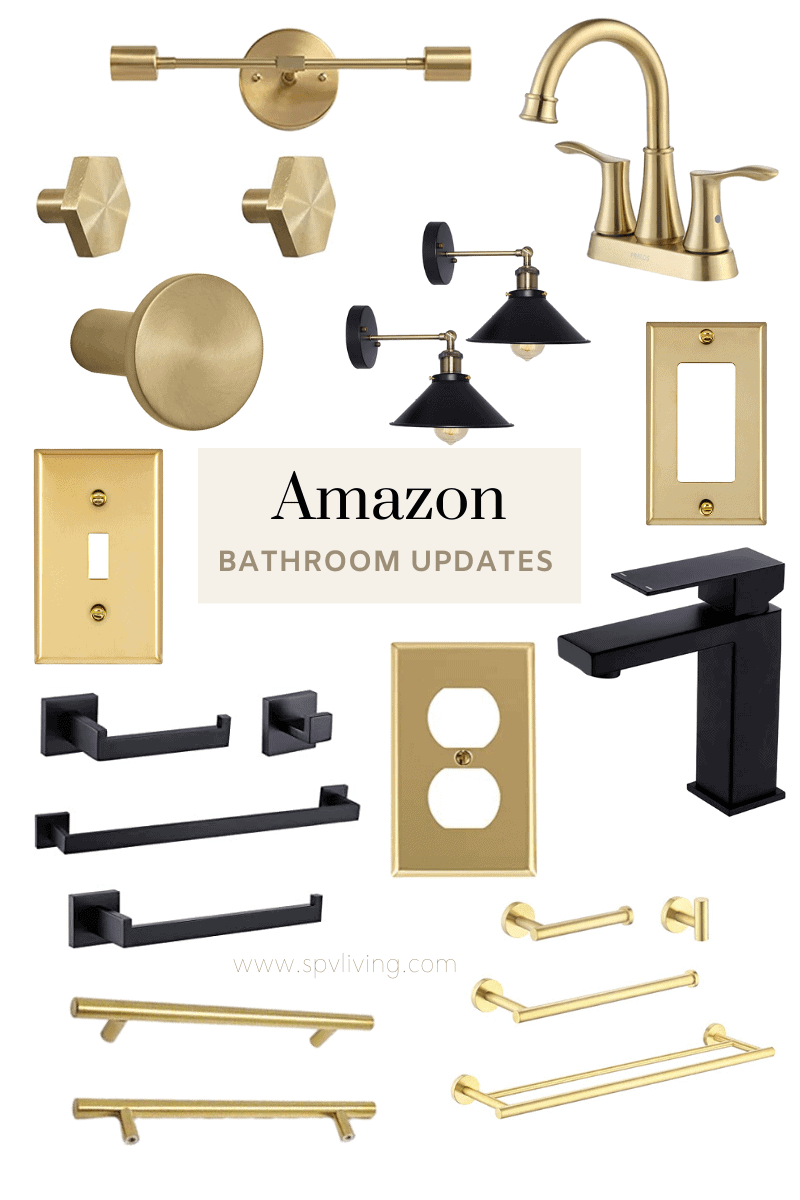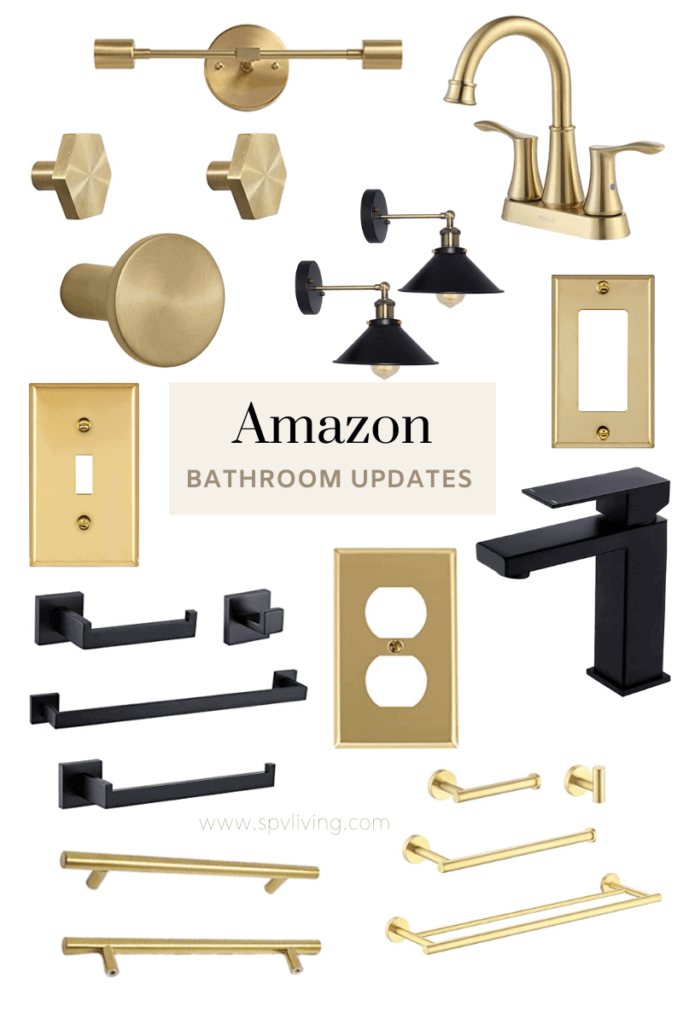 Our bathroom vanity is officially painted! It's one of the projects that has been on my to-do list for months (or maybe even years). But as soon as I finished painting it I knew there was still plenty of work that needed to get done. Specifically some simple bathroom updates from Amazon that was going to allow me to keep my style but stay with in a budget.
As I mentioned in my Instagram stories I am trying to spend as little as I possibly can for our bathroom renovation. This means doing things by myself and buying from places like Amazon.
Luckily, there are a ton of simple updates you can do to change the look of your bathroom without spending a ton of money. Changing things like light fixtures, switch covers, and even swapping your old faucets for new ones. All the little things can make the biggest difference especially if you are on a tight budget like I am.
11 Simple Bathroom Updates from Amazon
The gold light fixture I found on Amazon is so pretty that I've been trying to think of a place I could use it. I have seen other bloggers put one directly in the middle of their vanity, or two above each mirror in their bathroom. Either way, it's a simple update that will look amazing and spruce up your bathroom almost instantly.

As you can see I've been loving gold lately, like this brushed gold faucet. Which is the exact one I ordered for our bathroom but I'm going, to be honest, I was having a hard time choosing between the gold and the black stainless steel faucet. Which would also look perfect in a farmhouse bathroom.

My absolute favorite item out of this whole list of simple bathroom updates from amazon are of course these retro wall sconces. I can't get over how gorgeous they are and I mean the price is great. I'm going to order these and I'll worry about finding a spot for them when they get here.

Let's talk a little about bathroom cabinet knobs and the two from Amazon that I really like right now. I think changing knobs are a fabulous way to update any bathroom. If you are looking for something to fit into your budget I think these inexpensive round bushed brass knobs are stunning. But if you want something that looks expensive without the cost then this hexagon knob set is exactly what you want.

As for handles or pulls as people like to call them. I came across a ton of different kinds that you can explore more of here. But I really love this brushed brass pulls and these slightly longer ones for our newly dark vanity.

Another simple update for your bathroom from Amazon, are these light switch covers that you can get for any type of switch. Just don't forget to grab a pack of the plug covers to match.

Lastly, I just ordered a set of towel bars, toilet paper holder, and a towel rack. It comes in a set of 4 according to the size you're looking for and obviously this gold set caught my eye first. But I also think the matte black (which will also look really good with your farmhouse faucet) would look so classy in any style bathroom.
P.S. I just went to look at another hardware store and I could not believe how expensive these towel bar and toilet paper sets were everywhere other than Amazon! So if you're looking for some definitely check out Amazon first.

So I hope this list of 11 Simple Bathroom Updates from Amazon really helps you find the inspiration to either start or complete your bathroom renovation. I want to share these posts with you becasue I want you to know that you do not have to compromise style on any budget. You can still find things that look expensive and feel expensive without spending a ton of money. Trust me I've done it.
Don't Forget to Pin this for Later!
Looking for more affordable DIY content?
Moody French Cottage Bathroom Paint Colours
9 Easy Steps to Paint Bathroom Cabinets without Sanding Them