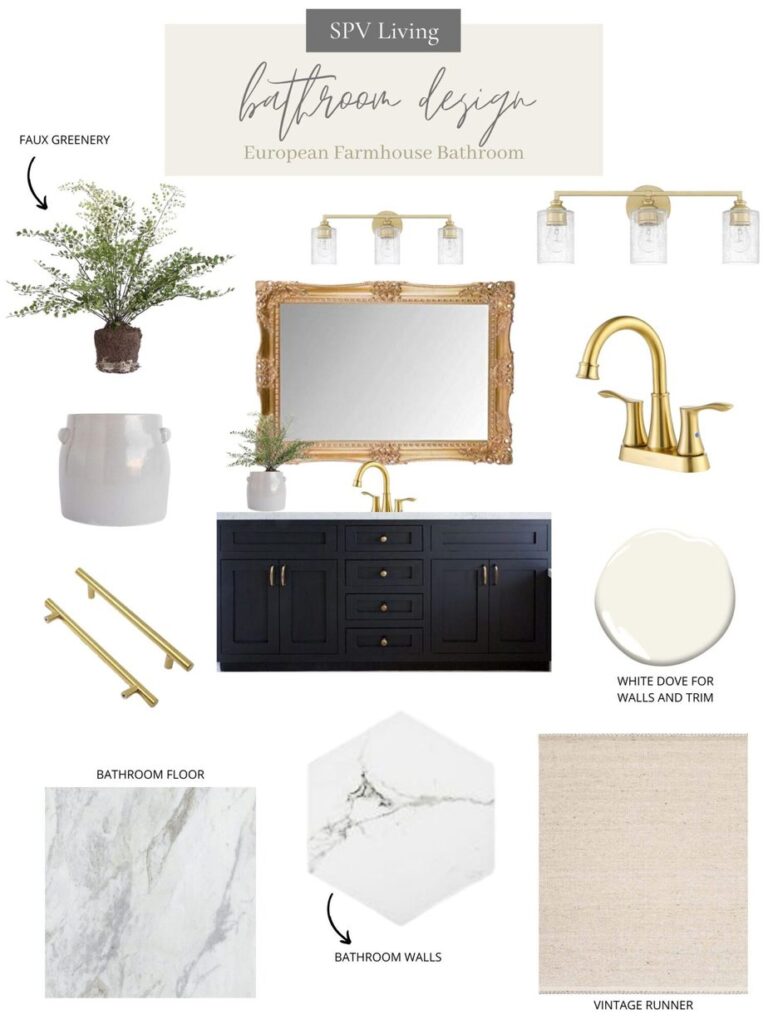 If you ever go on Pinterest and google European Farmhouse Bathroom I promise you will fall in love instantly! clearly I did. But I've always loved contemporary European, and it wasn't until we bought our ranch style home that I really started loving the modern farmhouse as well.
So when we were thinking about modernizing and redesigning our home, I knew I wanted to find a way to bring together the contemporary European furniture we own and modern farmhouse designs I love.

Creating a European Farmhouse Bathroom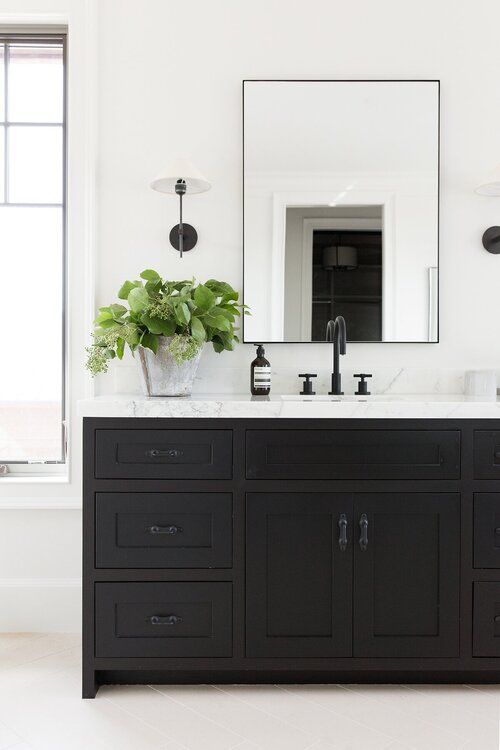 I always think changing the color of your vanity goes a long way, this time we choose to go with dark cabinets. I can just imagine how beautiful it will look when we tile the floors and new counter. Replacing the bathroom counter is another thing I'm kind of frustrated with since our current vanity was custom cut meaning its completely off-center. Which is making it hard to find a counter within my budget.
The other details I'd like to add to this space:

Just remember that creating a room that flows together does not happen overnight, a lot of work goes into creating a space you love. That being said, I like to pull inspiration when I can and my process is always the same. I start by saving every photo I like on Pinterest, and then I go through and pick exactly what I like and don't like about each design. For example the photo above, I love the vintage rug with the gold sconce which is exactly what I've added to our bathroom design.
Usually, at the end of this process which can take several weeks, I will have a collection of items and designs I really love. I've learned over the years that I can't just through a room together and hope the best. It just doesnt work that way.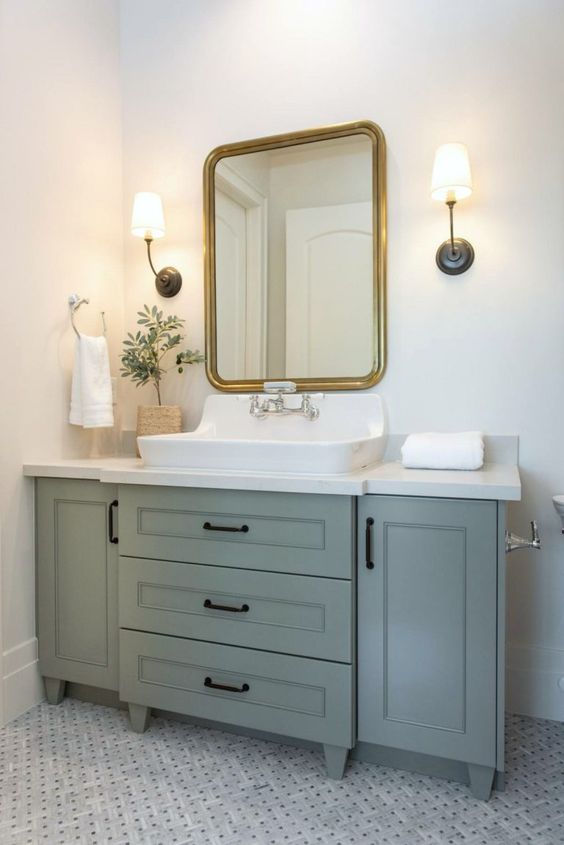 In this picture I love the dark cabinets that add contrast to the white creamy walls. I'm also adding bright floor tiles, but I want the character and imperfections similar to marble. When I eventually find the perfect tile I will include it back into this post. But for the meantime I'll be searching for something that fits that description and my budget.
As for the tub, ours is huge and I love it. I do not want to change that or the toilet. Those are both staying however they do pull a lot of yellow. Which is why I am planning to do something more grey-white rather than creamy. I found a paint that does look true white with hints of grey called white dove. So I will be testing a few white paints this week to see how it will look.
I am planning to find matching floor tiles to the wall tiles to help the room flow better. I wish I was including the shower in this but it's just not in the budget right now. One day I want to add a glass shower with those same tiles. It will eventually tie everything together, with matching gold hardware of course.
PS. If you love this don't forget to sign up for my newsletter at the top of this post!