Design Inspiration: European Farmhouse Bathroom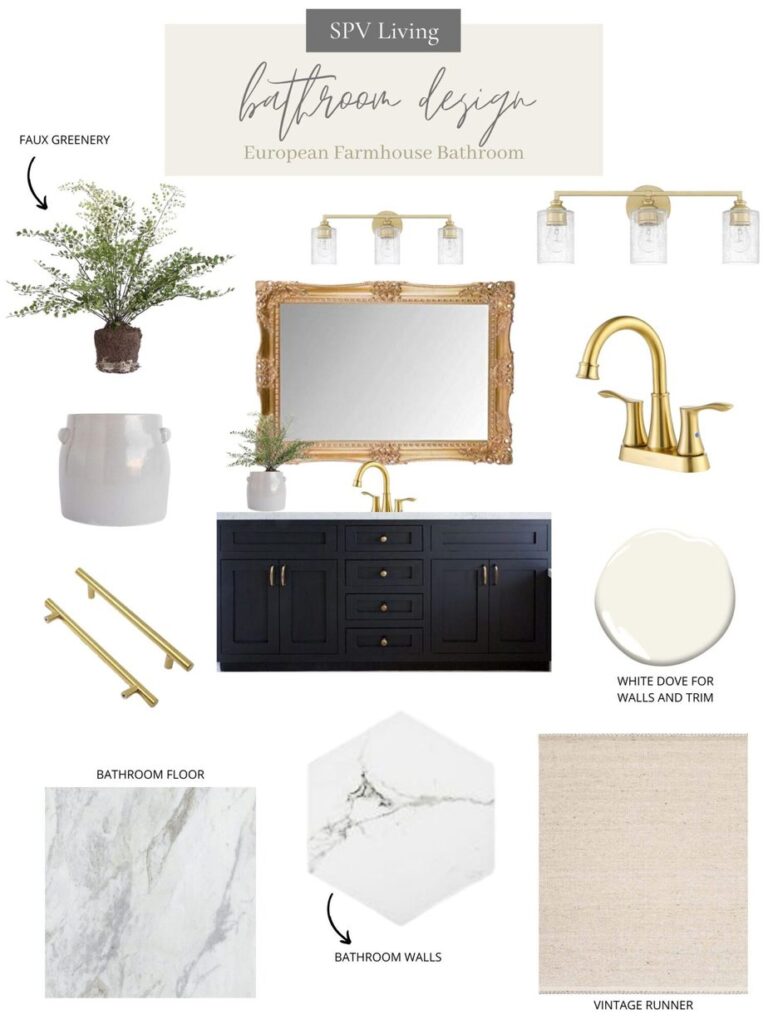 If you ever go on Pinterest and google European Farmhouse Bathroom I promise you will fall in love instantly! clearly, I did. But I've always loved contemporary European, and it wasn't until we bought our ranch-style home that I really started loving the modern farmhouse as well.
So when we were thinking about modernizing and redesigning our home, I knew I wanted to find a way to bring together the contemporary European furniture we own and modern farmhouse designs I love.

Step-by-Step Guide to Creating a European Farmhouse Bathroom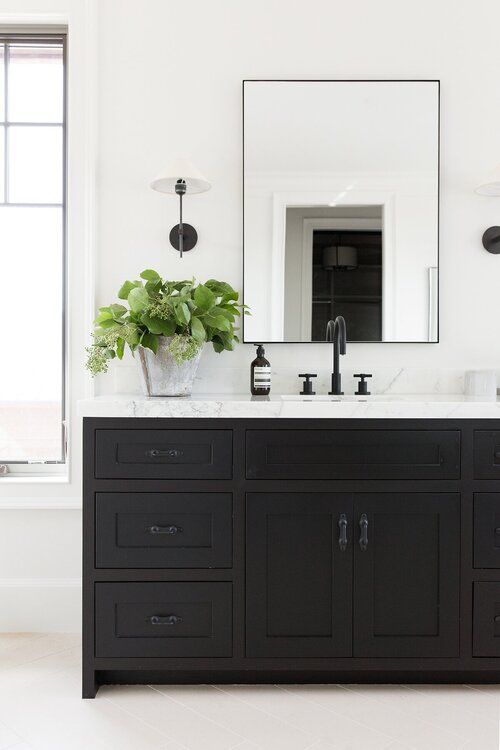 I always think changing the color of your vanity goes a long way, but this time we choose to go with dark cabinets. I can just imagine how beautiful it will look when we tile the floors and new counter.
European Farmhouse Essentials
Click the items above to shop directly.
Just remember that creating a room that flows together does not happen overnight, a lot of work goes into creating a space you love. That being said, I like to pull inspiration when I can and my process is always the same. I start by saving every photo I like on Pinterest, and then I go through and pick exactly what I like and don't like about each design. For example the photo above, I love the vintage rug with the gold sconce which is exactly what I've added to our bathroom design.
Usually, at the end of this process which can take several weeks, I will have a collection of items and designs I really love. I've learned over the years that I can't just through a room together and hope for the best. It just doesn't work that way.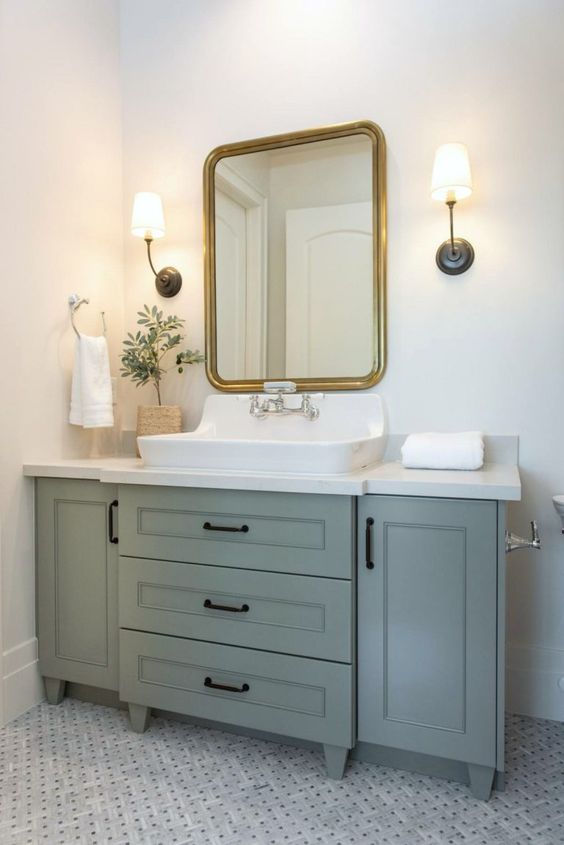 The European farmhouse style has gained immense popularity for its timeless charm and rustic elegance. One area where this aesthetic truly shines is in the bathroom. A European farmhouse bathroom combines rustic elements with a touch of elegance, creating a cozy and inviting space. In this guide, we'll take you through the steps to create your very own European farmhouse bathroom oasis.
Step 1: Choose a Neutral Color Palette
When we think of a European Farmhouse I think of the neutral color palette that embodies the rustic and cozy feel. Think soft whites, muted grays, and earthy tones like sage green or dusty blue. These colors are a great way to start designing your new bathroom.
Step 2: Opt for Natural Materials
Embrace the natural feel of a European farmhouse by incorporating materials like wood, stone, and metal. Choose a weathered wood vanity with a distressed finish to serve as the focal point of the bathroom. If that's not in your budget, you can also add wood stools or distressed wood shelves. Stone countertops and tiles, along with metal fixtures, add authenticity and durability to the space.
Step 3: Vintage-Inspired Fixtures
European farmhouse style often includes vintage-inspired fixtures that exude charm. Look for faucets, showerheads, and hardware with an antique brass or oil-rubbed bronze finish. These details are the key to creating a sense of nostalgia and enhancing the overall aesthetic. We love to shop at vintage stores, either online or in our local area. The trick is to bring along some material samples and measurements to make sure you're choosing the right fixture.
Step 4: Freestanding Bathtub
A freestanding bathtub is a hallmark of the European farmhouse bathroom. Opt for a classic clawfoot tub or a deep soaking tub with elegant lines. This luxurious addition not only serves as a functional piece but instantly updates your design style. Again, shopping local vintage stores or even used stores like Habitat for Humanity, is often a good place to start.
Step 5: Weathered and Distressed Elements
You're European Farmhouse bathroom isn't complete without some weathered and distressed elements to capture the rustic elegance. Consider installing a reclaimed wood accent wall, complete with visible knots and textures. A vintage mirror with an aged patina can also add character and depth to the room.
Step 6: Textiles and Soft Furnishings
Soften the space by introducing textiles that provide warmth and comfort. Hang linen curtains in soft, muted tones to maintain the airy feel of the room. Or if linen curtains aren't for you, perhaps a Roman shade is a better fit. Add plush towels and a cozy rug in neutral colors to enhance the overall inviting atmosphere.
Step 7: Vintage Accessories
Accessorize with vintage-inspired pieces to complete the look. Consider adding wall-mounted shelves to display antique jars, toiletries, and woven baskets for storage. Incorporate a few ceramic or porcelain decorative items for a touch of elegance. This is where the fun comes in, and you get to hunt for special pieces.
Step 8: Ambient Lighting
Choose lighting fixtures that enhance the ambiance of the room. Install wall sconces with gentle lighting on either side of the vanity mirror for an even, flattering glow. Consider a wrought iron chandelier or pendant light to add a touch of romance to the space. We specifically chose to go with brass vanity lighting and a pendant for the overhead light.
Step 9: Greenery and Natural Touches
My number one tip to finish any bathroom regardless of style is to add greenery and infuse life into your bathroom. A potted plant on the windowsill or a small bouquet of fresh flowers can bring a natural touch and a pop of color to the neutral palette.
Step 10: Thoughtful Details
Again, pay attention to the small details that tie the room together. Install vintage-style towel hooks, robe hangers, and a matching toilet paper holder. Arrange scented candles or essential oil diffusers to create a relaxing and spa-like atmosphere.
Creating a European farmhouse bathroom is all about combining rustic charm, vintage elegance, and natural elements to achieve a space that is both functional and aesthetically pleasing. By following these steps and infusing your personal style, you'll transform your bathroom into a serene oasis reminiscent of a charming countryside retreat. Embrace the warmth and timelessness of the European farmhouse style to craft a bathroom that is a true sanctuary within your home.
I'm excited to share more as we renovate our bathroom. You can follow along on our journey and sign up for our weekly newsletters full of helpful tips.