Backyard and Patio Design Ideas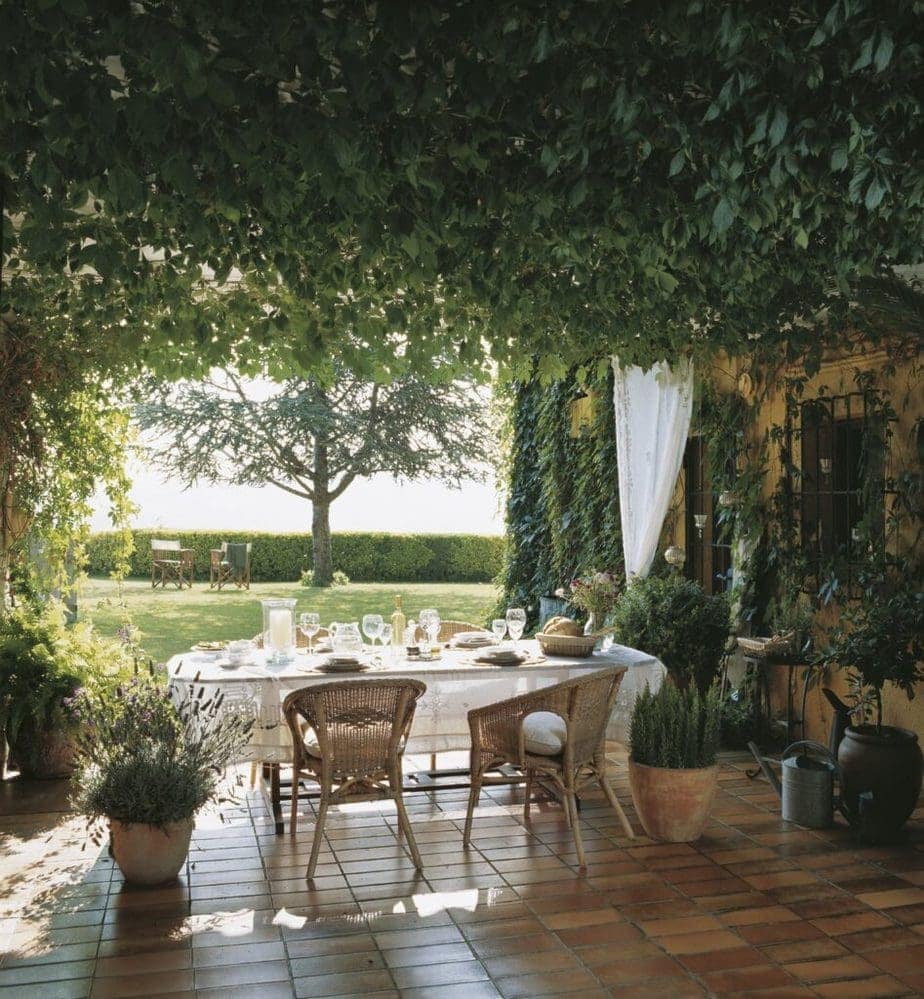 'Small home updates' is a series on the blog where I share four or five minimal changes that have big impacts on certain spaces in your home. While we're all adjusting to our new normal its more important than ever that we create a sanctuary by adding design elements that amplify your aesthetic and make you proud of your home.
I've been looking forward to refreshing our backyard and patio design for months. It feels like this past Winter was never going to end as it's continued to snow even a few days ago. I've been waiting patiently for those beginning signs of Spring when the birds are chirping, the trees start budding and the bulbs are blooming. We are welcoming the new season and with hints of normalcy during this time at home.
Picnic table
When it comes to designing your outdoor space, no matter the size of the yard or limited space the biggest change is in the table. I've always preferred using real wood and in this case, the more weathered the table the better it will look. My design for this sits somewhere between a Swedish garden and a Muskoka lake house. Lately, I've been loving imperfect natural wood with modern glass for an elevated look on patios or backyards. I think the most appealing thing to me right now is having a large picnic table that I don't have to worry about covering up or being too careful with. I want something that will not only hold up but also be inexpensive so I can invest more in the other details. I've sourced new wood tables below but you can find also trying to find a used picnic table or outdoor set from Facebook Marketplace or Kijiji.

Rattan Chairs
My love of rattan has been in existence since I was little. I think my earliest encounter with the style was my grandmother's European chairs at our Dominican Condo. A cool story that my grandfather used to custom make rattan chairs but sadly we only have one left from his creations and it's currently being cherished at our family cottage. Anyway, I love seeing this style in-particular making a comeback the last few years. You can find a rattan chair's just about anywhere and for a decent price. I've curated a few of my favorite styles below with a budget in mind.

Pottery
When I think of designing a patio space or any backyard for that matter I always like to include large pots. I love greenery and all the plants in my home are an ode to my obsession. My backyard design was inspired by the timeless aesthetic of Mediterranean gardens and Italian wineries, with low maintenance and drought-tolerant plants. If you're looking for plants and gardening tips and tricks you check out this post I wrote. I've included several planters and pots I just purchased for this Spring and Summer below.

Glassware
My latest obsession is buying unique glass cups, pitchers and vases. I love anything that's ribbed and I find it brings a modern twist to any backyard tablescape. It's a simple way to elevate the design of your patio set up and conversation starter that your friends will be asking where you found them by the way friends share their blog favorites with their friends.

As I reflect on this small refresh of our backyard and patio design. I'm reminded of the simple the materials needed to truly inspire and create your own sanctuary. What part of your home is your sanctuary?