How we Made Over our Small Living Room with a Hand-me-down Sofa and a Thrifted Fireplace
I know a lot of you wanted to see more makeovers, thrifted decor tips, and ideas for styling on a budget. We hope to bring you more of those topics and for this to be a relatable resource in a sea of mega-budget makeovers and new builds. We want to inspire the first-time homebuyer, the renter in the apartment, or whatever the situation may be.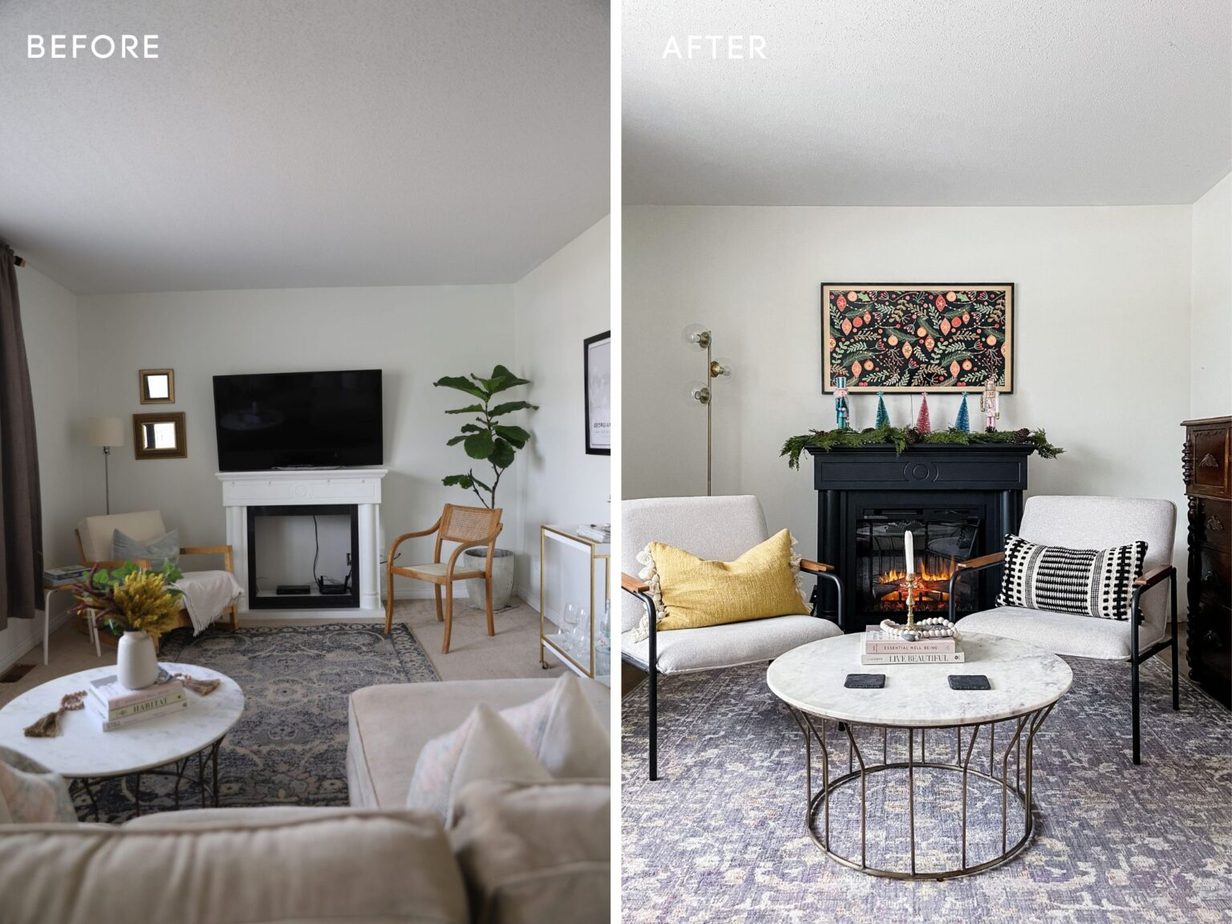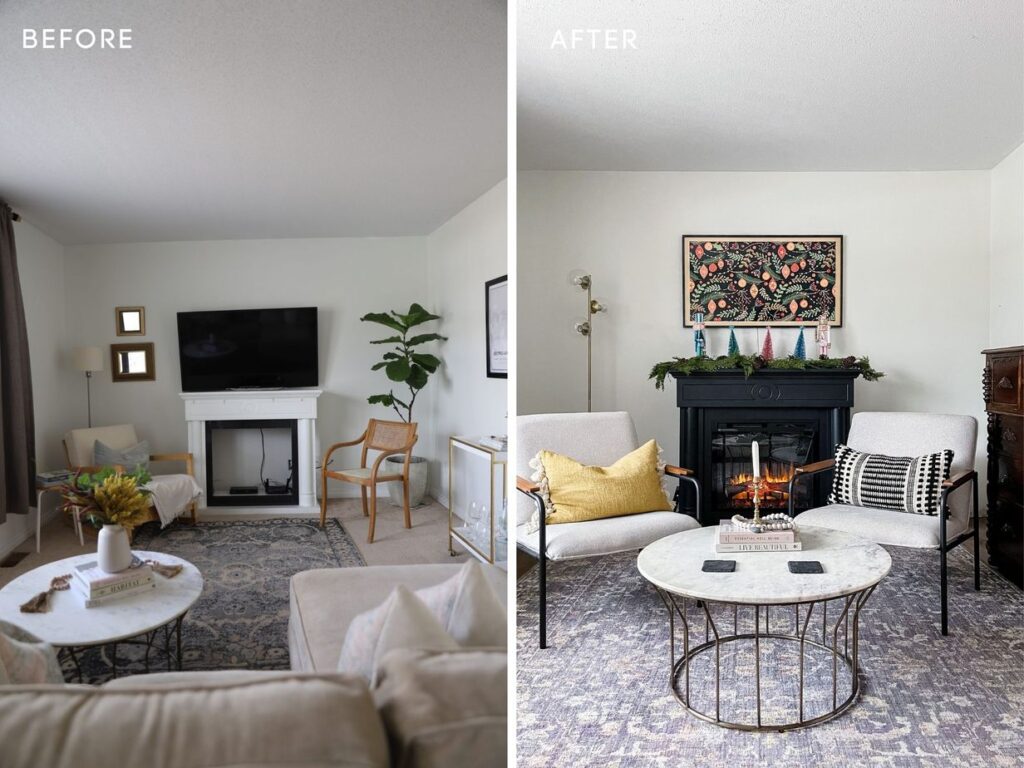 Before we moved into our home, we lived in a small apartment. I, of course, decorated our small apartment-sized living room. So when it comes to decorating small living rooms in general, I've picked up a few tips and tricks over the years.
In fact, we will also be decorating our small living room at the cottage next year, so make sure you stay tuned! We share new blog posts three times a week and we also share a lot of easy design tips on Instagram.
For context, we are a family of four, and we all live in a three-bedroom, 1200 square foot bungalow. It is by far my favorite home I have ever lived in, and it's been a fun challenge to work on and makeover one room at a time.
Today I'm finally revealing our small living room makeover and I'm sharing tips on how to decorate around a hand-me-down sofa and my advice for finding a great deal on Facebook Marketplace.
How to Decorate Small Living Room
How our Small Living Room looked Before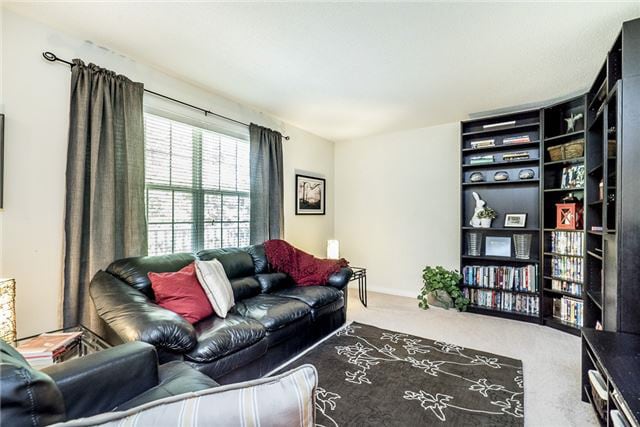 This was how the living room looked the first day we visited the house, and the day we put an offer down. The only thing I regret was not negotiating the bookshelves in the deal. I think I could have done something great with those. One thing I will say is at the time I didn't notice how stained the carpets were until we actually moved in.
Let's just say the sofa and rug were strategically put in this layout for a reason.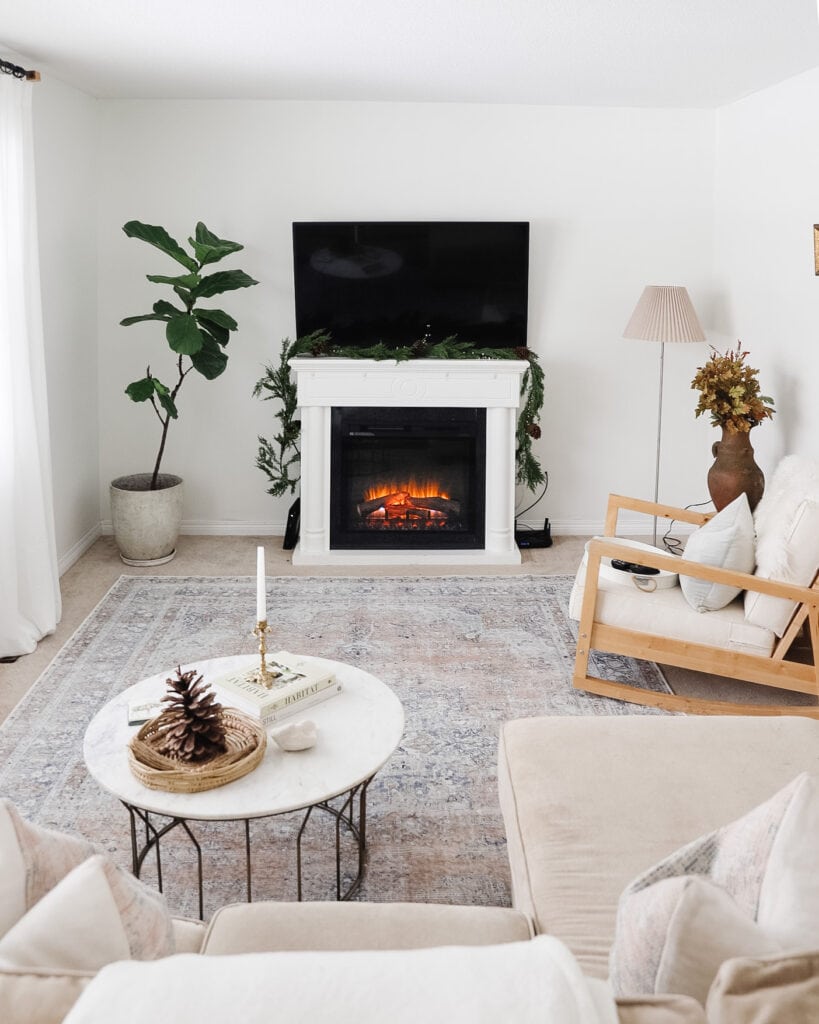 And this was the layout of our living room after we moved in. It did go through many transitions to get to this point.
One of the biggest things that held me back at first was using certain furniture as placeholders and hanging on to decor that was gifted to us. However, that's an entirely different subject but the moral of the story is I had to come to terms with what I actually wanted to keep and what I didn't.
The Furniture
We gave the sofa from our old apartment to my sister for her new apartment. In its place, we were given a hand-me-down sofa from my late grandmother, whose style I completely adored.
I can be honest and tell you that it's not my dream sofa, but it's what we have right now and I wanted to be real about that.
Maybe you can relate, and I wanted to share some easy tips I picked up from styling a hand-me-down sofa.
How to Style a Hand-me-down Sofa
Hand-me-down sofas can come in a variety of shapes, sizes, and colors and none of which you are in control of choosing. Sometimes we take hand-me-down items as placeholders until we can save up to buy that sofa or furniture piece we want. But I also wanted to share a message that I came across that I felt very fitting to our situation (and maybe also yours).
"Don't wait to love your home"
We are visual creatures and with the introduction of social media, we are constantly bombarded with the newest, most expensive options. So it's even more important to learn how to love the things you already have.
Things like sofas, and these are simple styling tips that I've picked up when styling our own hand-me-down sofa.
Pillows are a great way to add style and inject your vibe or aesthetic into your sofa. Depending on your style, you can choose accent colors that will enhance the color of the sofa. Or help blend it into your surrounding furniture.
Try a slipcover if possible. Wayfair has a great selection, but I've also hired a seamstress to fit our sofa with a slipcover.
Be concious of the size of your sofa, espcially in a small living room.
It's always a good idea to create a mood board, and try different layouts. But the size of a sofa is a non-negotable for me.
Lastly, use throws and blankets to style your sofa.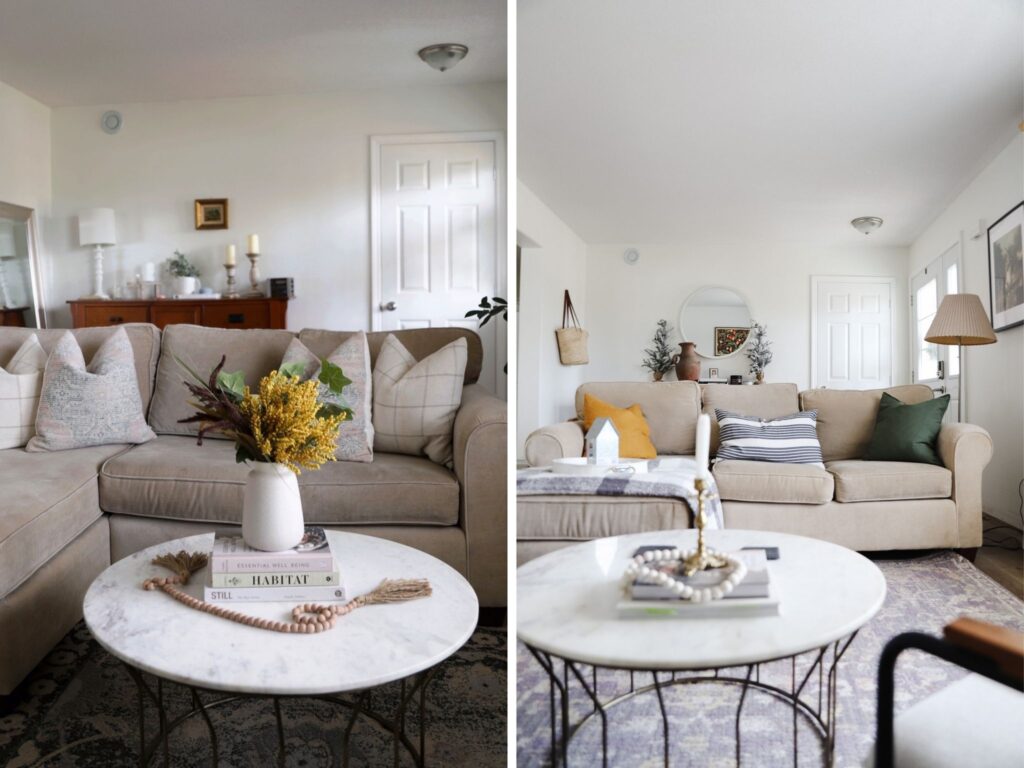 When it came to styling our beige sofa, I knew the beige color would be an issue. But I was also having a hard time letting go of it because I know my grandmother cherished it. She was proud of it, and don't get me wrong it looked amazing in her space. It fit her vibe and aesthetic perfectly.
We decided to make a few changes as you can see. The lighter pillows were blending in so instead, I opted for something with a little more color. I enjoyed adding in the yellow, green, and striped pillows. The colorful pillows are all linked below by the way.
Also if you notice, we didn't replace the light in the entryway. I'm waiting for a makeover of that space this spring and we have an upcoming collaboration that we are excited to share.
Details about the Thrifted Fireplace
Believe it or not, the fireplace was trifted! I actually found it on Facebook Marketplace after searching for a mantel for weeks. The seller messaged me and asked if I could come to get it right away because he was willing to just give it to me for free to take it off his hands. I took one look at it and knew I could definitely DIY it to perfection.
Read more about our DIY Black Fireplace Makeover.
Other Details about our Small Living Room Makeover
As you can see the biggest change we made was ripping up the old stained carpets and replacing them with this beautiful LVP from Fuzion Flooring.
It's made the biggest difference in the way our living room looks, and we couldn't be happier. Not to mention we also got rid of the old rug that was way too small for our space and replaced it with this new Loloi rug. It's an inexpensive option for the living room and with a rug pad, you couldn't tell the difference between more luxury items.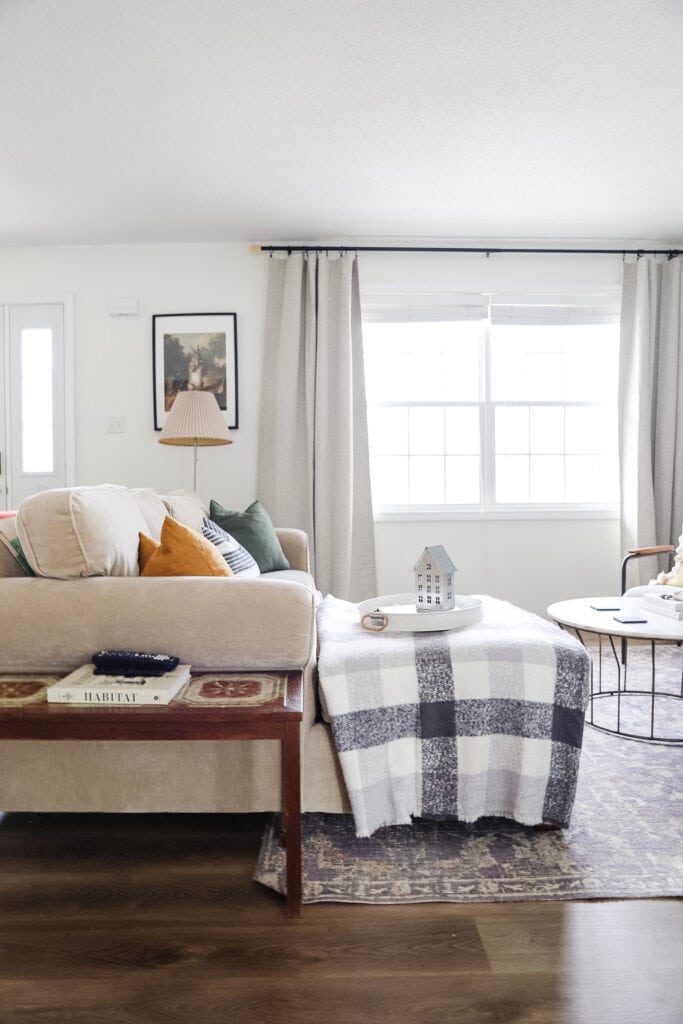 Sources
Find all the details to makeover the thrifted fireplace here.
Find a similar Fireplace Mantel
Boucle Fabric Chairs here, here, here, and here.
Loloi x CLJ Rosemary Rug in Graphite
Yellow Pillow from Ikea (similar one found here)
Green Pillow from Ikea (similar one found here)
Striped Pillow from Ikea (similar one found here)
Mustard Yellow Pillow (in pink here) here, and here.
Fireplace Insert (budget option here)