Christmas Home Decor in our Small Space
I am so excited because a group of us bloggers got together to share either our Holiday decor or a Holiday DIY with you today!
If you are new here, welcome! I am the founder of Cottage Living & Style, a blog that shares my love of design, entertaining, and cottage living. You can find everything from room makeovers of our small 1200 ft. bungalow, that our family of four currently lives in. To design details of our island cottage and upcoming vacation rental. Along with our contributors who also love writing articles about entertaining, organizing, and easy home updates.
Our mission is to be a relatable resource for homeowners, renters, and everyone in between who wants to create a safe and cozy home. Regardless of budget, location, or even the know-how. We break down the tips and tricks to loving where you live right now
Christmas Home Decor in our Small Space
It only seems fitting to start at our Christmas tree first. Actually, my daughter was the one who decorated 90% of it this year. I used to be a perfectionist when it came to decorating our Christmas tree, but I've come to realize that the most important thing is creating those memories with our children.
And you know what?
I actually love our tree even more, now that I know she put a lot of love into decorating it.
The moral of this story is to enjoy those moments and let go of perfection when it comes to your home.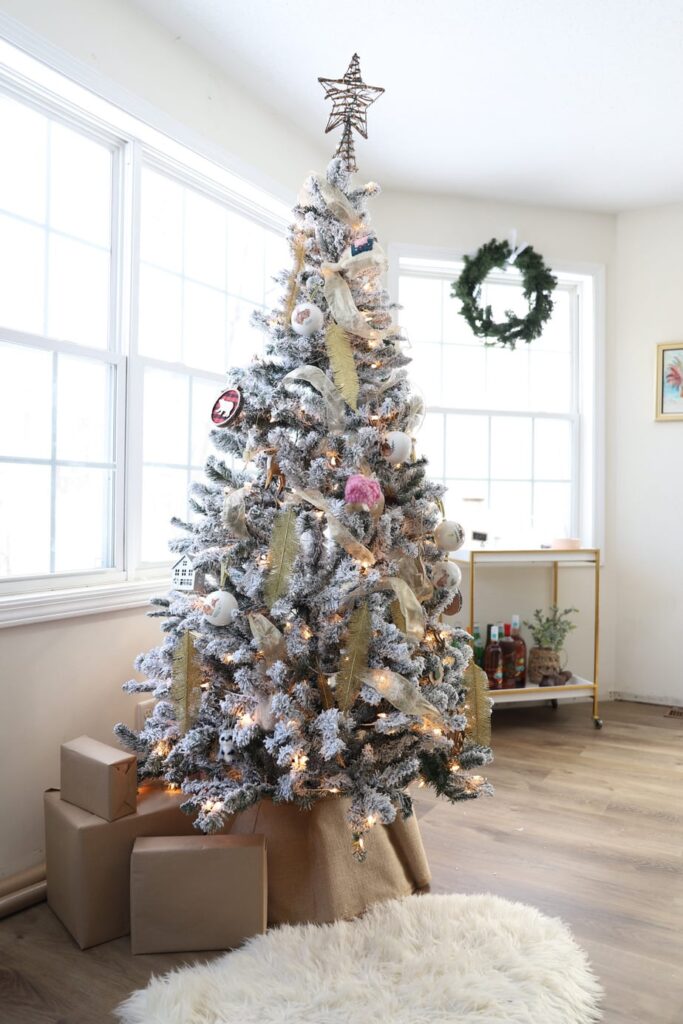 You can also check out our Christmas Home Decor I shared a few weeks back. We focused on creating the prettiest Christmas decor on a budget, and this is what we came up with.
We'll start with our Walmart Christmas flocked tree, that came prelit. I also love collecting small ornaments from small shops and from makers whenever we travel places. In my eyes, I want them to tell a story and somehow the collected look ends up meaning more to me than a perfect-looking Christmas tree.
Some places I have found really pretty ornaments are:
Decorating a Fireplace Mantel in a Small Space
Next is our living room, specifically our black mantel. This year I wanted more color over years before, and I'm so happy we did because it's perfect.
The bottle brush trees come in a variety of colors and sizes. We choose to add three of the larger ones to add some color to our black fireplace. I also used two candy-colored nutcrackers, and a large pine garland to complete the look.
I think sometimes decorating for Christmas can be really overwhelming but I like to keep things simple, add a few colors (or neutrals if that's your aesthetic), and don't overthink it.
One of the biggest tips I've learned from decorating for Christmas in a small home is to simplify our decor. But I think a lot of people get confused that it means they can't inject color or keep things that they love.
Instead of three bottle brush trees that look the same, try switching up the color, size, or texture.
Decorating a Christmas Ladder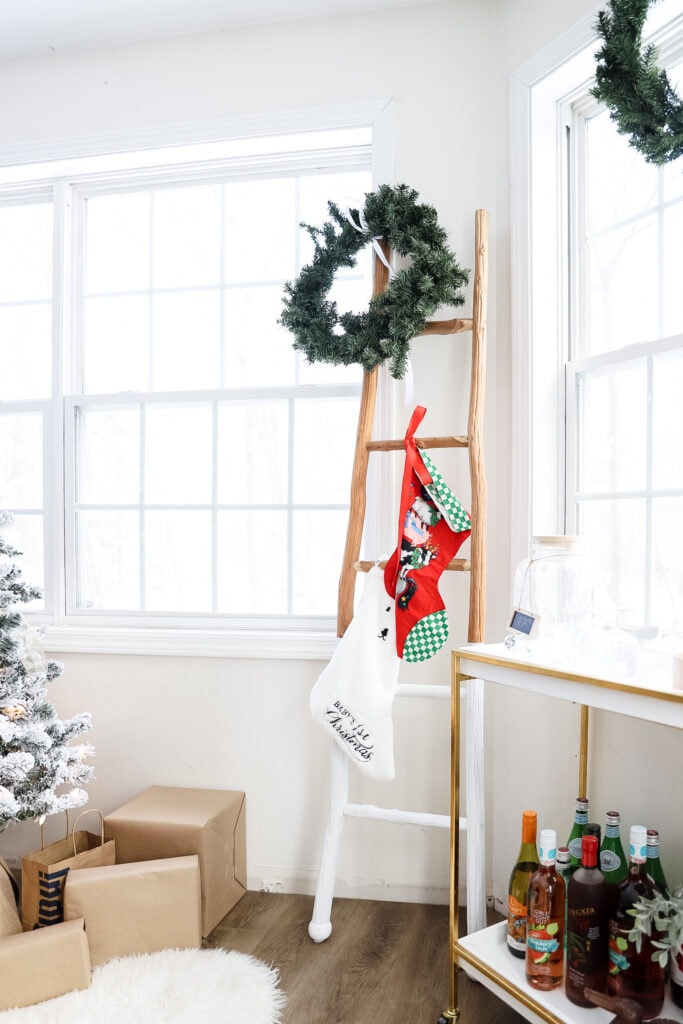 If you don't have a fireplace to hang stockings from, a great idea is to get one of these blanket ladders.
I hung a wreath at the top of our ladder, and you can use wire to secure it.
The stockings were tied on with a ribbon, and so far it has worked out really well.
You can find our white "baby's first Christmas" stocking here, and the other one my mom made when I was small.
How to Decorate a Cradenza for Christmas
Again I like to keep our decor simple, especially when it comes to our credenza.
I will say that I wish we would have changed the picture above it, and it bugs me a bit but changing out prints is another great way to add some holiday cheer to your home without it taking up space.
Another thing we do that doesn't take up much space but spreads Christmas cheer is adding Christmas scents to your home.
We do this by diffusing essential oils, like Christmas Spirit, Valor, or Thieves. It literally smells like Christmas and there are lots of benefits to diffusing oils, more of which you can read about here.
We also added a few decorations to our kid's bedroom. I wanted to add some festive decor to their play kitchen, and I did this by adding one of my Christmas dish towels, a mini tree, and of course, diffused some Christmas scents in their Owl Diffuser.
I hope you enjoyed our Christmas Home Tour and that you'll come back again soon! We post new blogs three to fives times a week, share daily content on Instagram.
We are also giving away one gift worth over $500 to one lucky subscriber and all you have to do is sign up for our weekly newsletter!
Make sure you check our everyone else in the Holiday Home Hop!