Cottage Christmas Decorating Ideas
A room-by-room guide to all your cottage Christmas decorating ideas, from bathrooms to bedrooms. We've even got some tips for decorating Christmas trees.
A cottage style home is cozy and inviting. It's a mix of hygge and eclectic, with thrifted and vintage decor. It's unique from other interior design styles because it's all about indulging in the cozy joys of indoor living and creating a welcoming vibe. Which makes it the perfect canvas for Christmas decorating.
I'm always asked when the best time to decorate for Christmas is. And my answer is whenever you want! A lot of people I know like to decorate sometime between Thanksgiving and December. While others like myself will start pulling out the Holiday decor the day after Halloween!
It's also one of my favorite things about the holidays. But I want you to know that Christmas decorating doesn't have to be complicated or stressful. There are plenty of easy ideas that you can incorporate into making your cottage-style home more festive and ready for the Christmas season.
12 Christmas Decorating Ideas for Cottage Style Homes
Last week we shared our Christmas home tour on the blog, and this week I wanted to share some of the decorating ideas we used. So to make it easy I've shared each room of our home (and the home of other cottage lovers) whose decor I absolutely love. We also walk you through each look to give you some ideas on how to decorate yours without spending a ton of money.
Decorating Ideas for the Entryway
Let's start at the entryway since it is the first place people see when they enter your home. It's also one of the first places we decorate each year.
The credenza that sits at the front of our home serves as a console table but with extra storage. Last year I decorated it with a tabletop tree, styled without any ornaments because I didn't want to overwhelm the space.
I also hung a thrifted wreath on the mirror. I was able to string a ribbon through the back and attach it to the mirror with some sticky tape. Easy and cheap!
The wooden candlesticks were one of my favorite purchases last year, and I wasn't sure how they would look with the redwood of the credenza. But it turned out amazing!
Finally, I just layered on a long garland and called it a day!
Decorating ideas for the Front Door & Porch
When it comes to decorating the front door and porch we like to keep things simple. I also like to embrace nature and use real pine or cedar clippings (if possible). Paired with some thrifted finds, it can make decorating your front door and porch completely budget-friendly.
How to hang the garland over your door:
To make a garland that hangs over your door, you can use wire from the craft store to secure each of the branches together.
Once you have enough branches to fill the garland, you can think about how you will hang the garland over the door.
The two options are to use nails (which can be hidden under the wood) or removable adhesive hooks. (these are the best hooks to use)
Place 12 inches apart giving the garland enough support to stay up. Then use more wire to secure it to the nails or the hooks.
After you finish hanging the garland, it's time to add bells. They are always great to decorate your cottage-style home with. Not to mention I love the way it sounds when you open or close the door.
To complete the look, add some chopped wood, a lantern, a doormat, and even a stool to finish the look.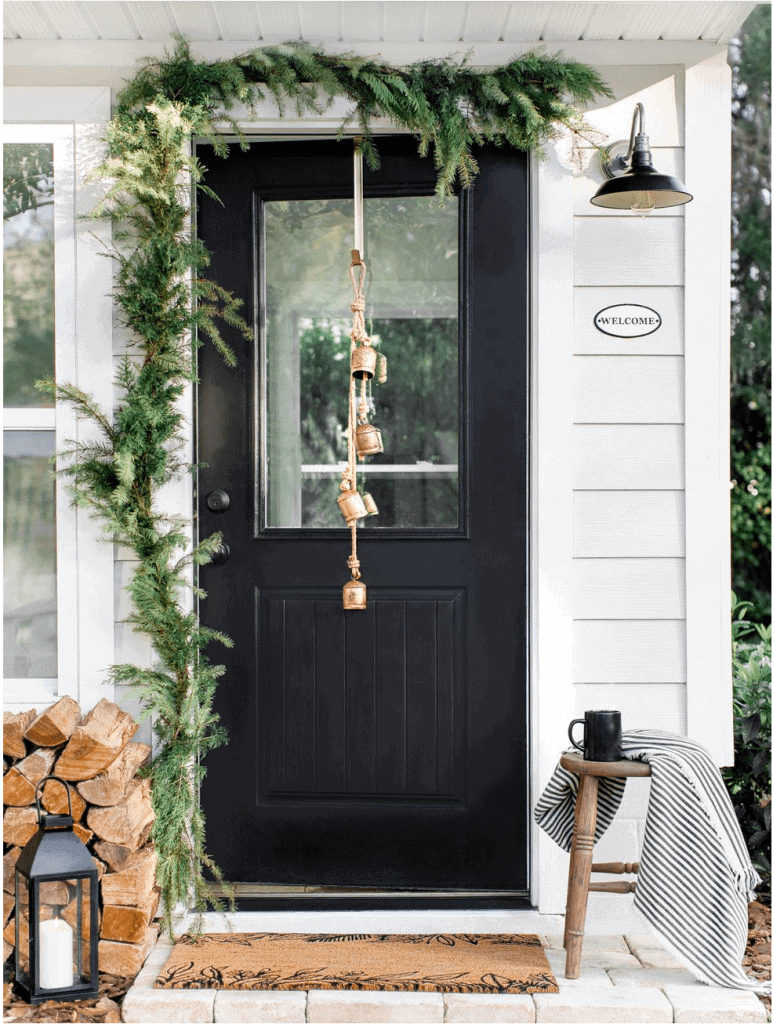 Decorating ideas for the Mantel
We recently did a DIY on our white mantel and painted it black. It's made decorating this year even more fun, especially when we use bright colors that contrast the black. But regardless of the color of your fireplace or your style, you can still have fun decorating it for Christmas.
Some ways I love adding Christmas Decor to the Mantel:
A Christmas print, or artwork on the tv.
We also drape a garland
Another tip is to use dried oranges and ribbon just like Liz did on her mantel in her cottage Christmas below.
I love the idea of using what you already have to decorate with. I prefer to build my Christmas decor over time.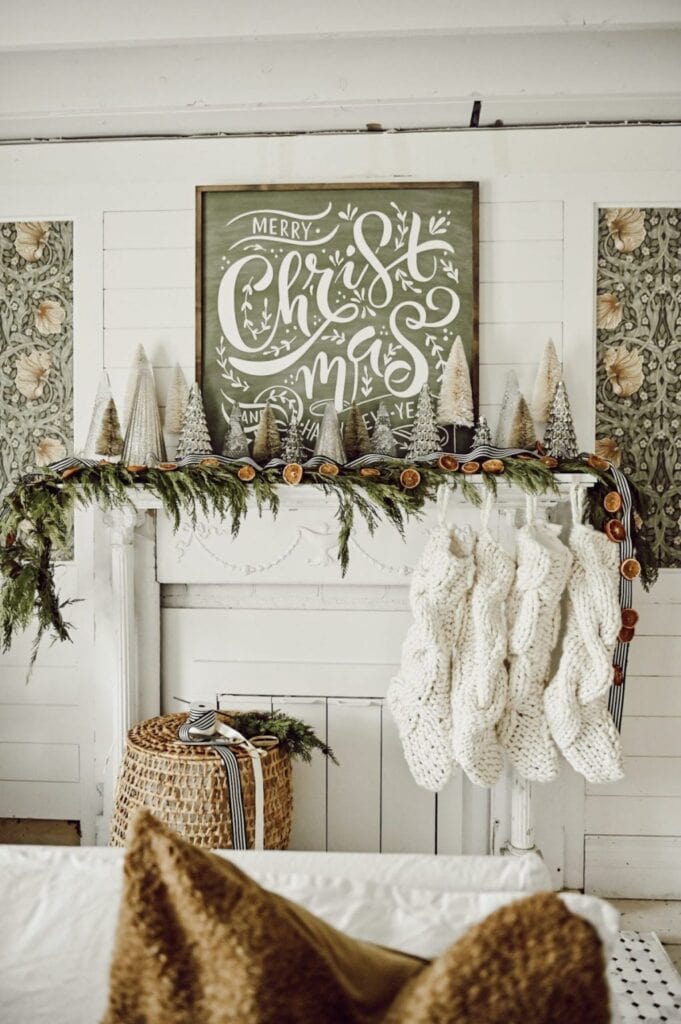 Decorating ideas for the kid's bedroom
My favorite room to decorate for Christmas is our kid's bedroom. I love filling their room with some Christmas spirit, and I hope it's something they remember when they're older.
Here are a few ways you can add some Christmas decorations to the kid's rooms: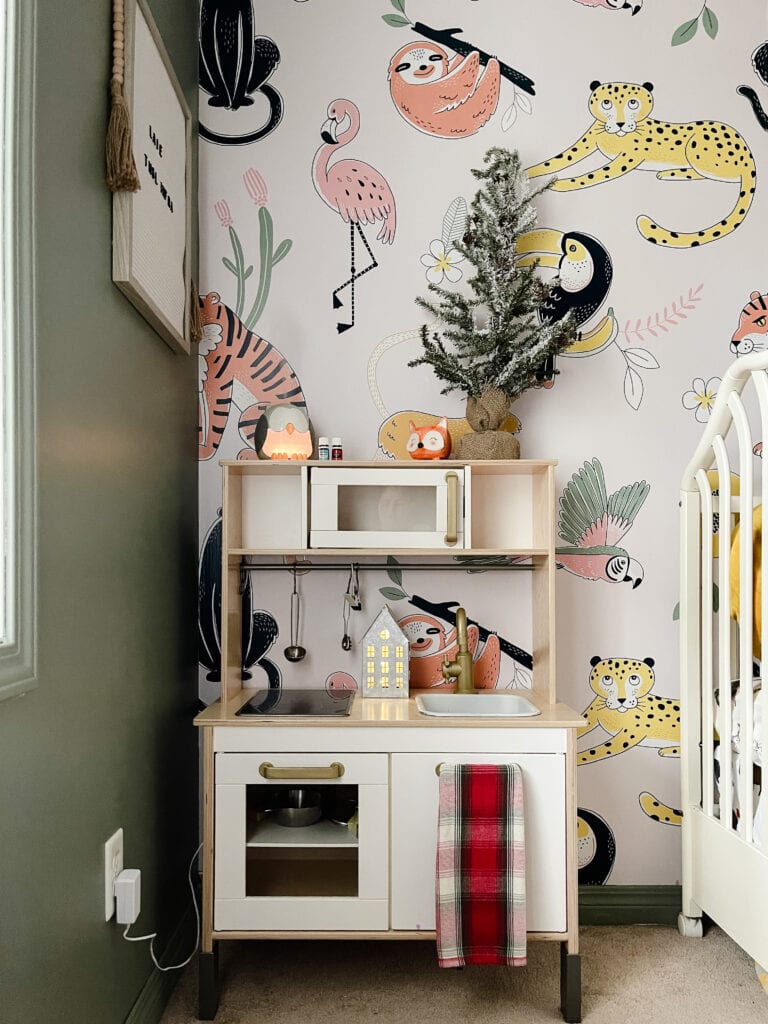 Decorating Ideas for the Dining Room
The dining room is a highlight of our home this year. We love hosting parties in our small home, and I find so much joy in seeing everyone we love having a great time together.
I want to reiterate that Christmas decorating doesn't have to be expensive or complicated. Especially when it comes to a tablescape.
This is how we like to decorate a tablescape:
laying a garland along the dining table
add some fruit like pomegranate or oranges that add some weight to the garland without overdoing it.
good matching plate set
and linen or high-quality napkins
We like to keep things simple by laying a garland on the dining table and even adding some fruit like pomegranates or oranges. It's a great way to add some weight to the garland without overdoing it.
Like any others, I like to bring out a good matching plate set, placemats, and some pretty napkins. Those are the things I will usually splurge on because it's something we can reuse again and again for dinner parties.
Decorating Ideas for the Living Room
I really love our living room decor this year, especially with our new frame tv that displays a fun Christmas painting I found on Etsy. Again simple is the way to go! Notice a reoccurring theme?
A few other ideas to decorate your living room:
Garland (I use them everywhere)
Twinkle Lights
Decorating Ideas for the Bedroom
The bedroom is another fun place to decorate, and I love Jillian's country home and her Christmas decorations were so pretty. She used plaid sheets, fun Christmas pillows, and a fur throw on the bed.
Other decor ideas for the bedroom include:
Hanging a wreath above the bed
A Poinsettia on the nightstand
Christmas scents to fill the room: you can find more information about Christmas scents here.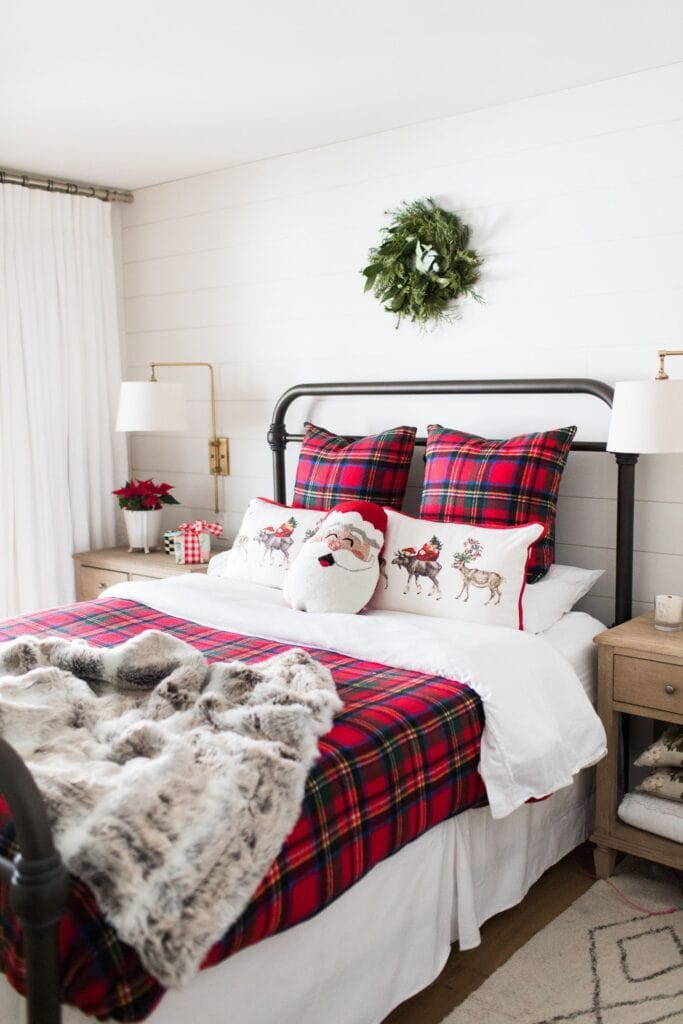 Decorating Ideas for the Bathroom
When it comes to the bathroom, there are so many ways you can decorate for Christmas. I enjoy having friends and family stop by and I want the bathroom to be decorated as well. I also focus more on the guest bathroom verse our own bathroom.
Some of my favorite ways to decorate a bathroom are:
Mini tree on the vanity
Hang a wreath over the toilet or even light over the mirror
Christmas smelling hand soap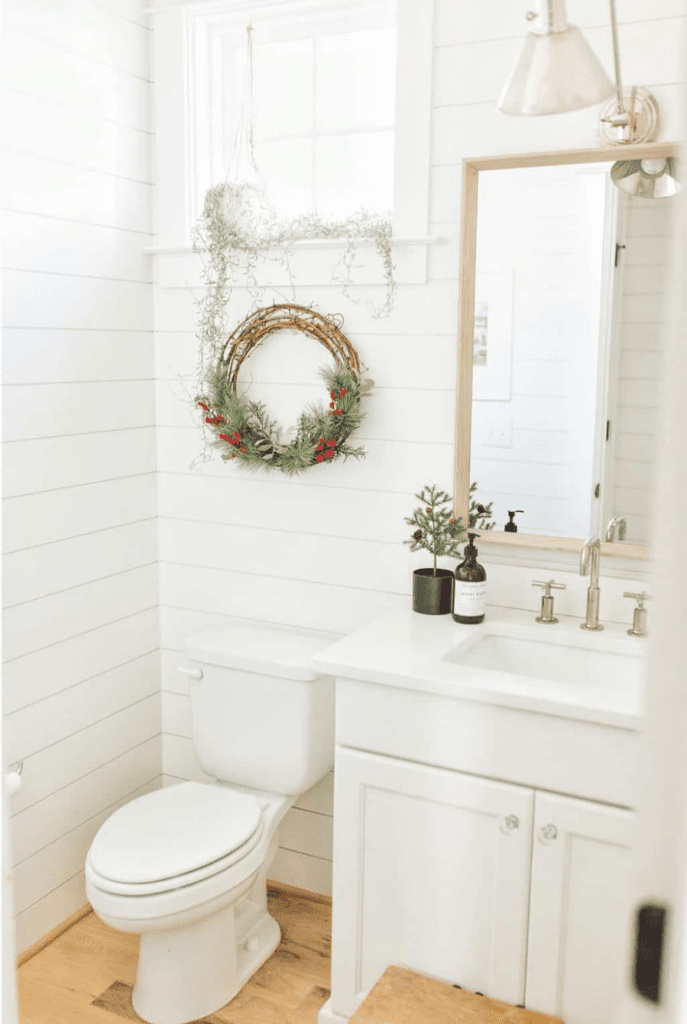 Christmas Tree Ideas for Cottage Style Homes
I couldn't write a post about decorating a cottage-style home without sharing a few tree ideas.
Our tree this year is a faux tree from Walmart. It came pre-lit with flocking and I think for the price it looks great! I'll leave the link here.
Decorating this year was a lot more relaxed than previous years, mostly because Penelope is at the age where she wants to be involved in decorating the tree. So we just gathered our favorite ornaments and went to town placing them on the tree. Like I said cottage style to me is a collection of all the things that feel like home. It's inviting and warm and I think your tree should reflect that.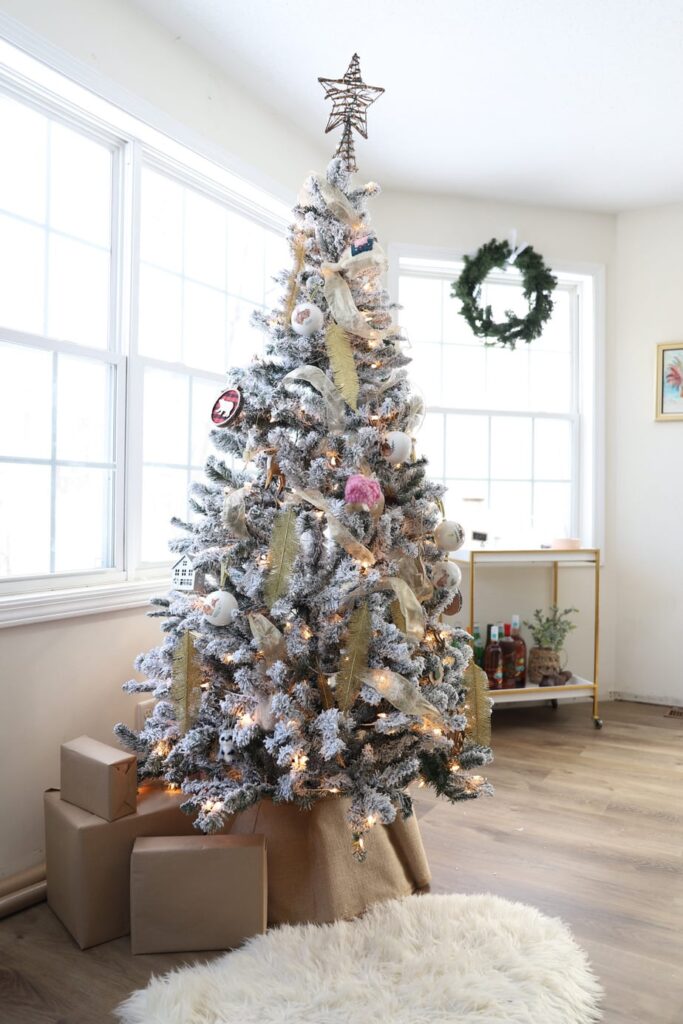 Last year we opted for a real tree, and I still wish we would have gotten a real one this year but we aren't here for Christmas so I didn't want to worry about taking it down.
But last year we went with a theme, that fit our cottage-style home perfectly. We collected woodland animal ornaments and I just love how it turned out. Instead of a typical cloth tree skirt, we went with this burlap style, but I really love how the pretty rattan tree collars look. You can read more of that post here.