How to Paint a Black Fireplace + The Best Black Spray Paint for Furniture!
This article is about how to paint a black fireplace and the best black paint for your fireplace.
I love affordable DIYs and easy updates, especially when it makes such an impact like this black fireplace does.
We've been slowly working on a few projects around the house, like laying the rest of the flooring and adding the finishing touches to the kids' bedroom. But a lot of the products and materials we need are delayed right now, and I've been wanting to do something really creative.
Which is where the idea to paint the white fireplace black came from.
Whether you have an electric fireplace, faux fireplace, or a real wood fireplace you can follow the same steps with a few minor changes.
Let's go over how to paint a black fireplace and what is the best black spray paint for furniture.
How to paint a black fireplace
What you'll need:
Step 1
Remove the Fireplace mantel if possible from the electric fireplace insert. If you can't, then tape around the wall, floor, and anywhere you don't want to paint.
Step 2
When it comes to furniture DIY's it's always best to start with a clean surface. So take a damp cloth and wipe down the fireplace mantel. Making sure it's cleaned from any sticky residue or dirt.
Step 3
Next, you want to take a sanding block. I like the 3M products, and for this project, I used a fine grit in 120. The idea is to lightly sand because the paint we're sharing works really well and the coverage is amazing. There's no need to do more work than necessary in my experience.
Step 4
Once you finished sanding you can take out Behr's Chalk Spray Paint in Classic Noir. I'll share more on why I like this paint so much below.
The idea is to spray using fluid movements, making sure to shake the paint can really well each time. Getting as much coverage as possible with one single pass of the spray paint.
To fully cover our 48 x 44-inch mantel, we used one and a half cans of spray paint. I did one coat and made sure to go over any areas I missed the first time.
Step 5
The great thing about using Behr's Chalk Spray Paint is that it dries really quickly! It was dry in about 15 minutes, but I waited a full hour before touching it.
The next step was adding a coat of wax on top of the paint. Again we used Behr's Interior Chalk Decorative Wax in Clear. It just made sense to stick with the same brand of paint. For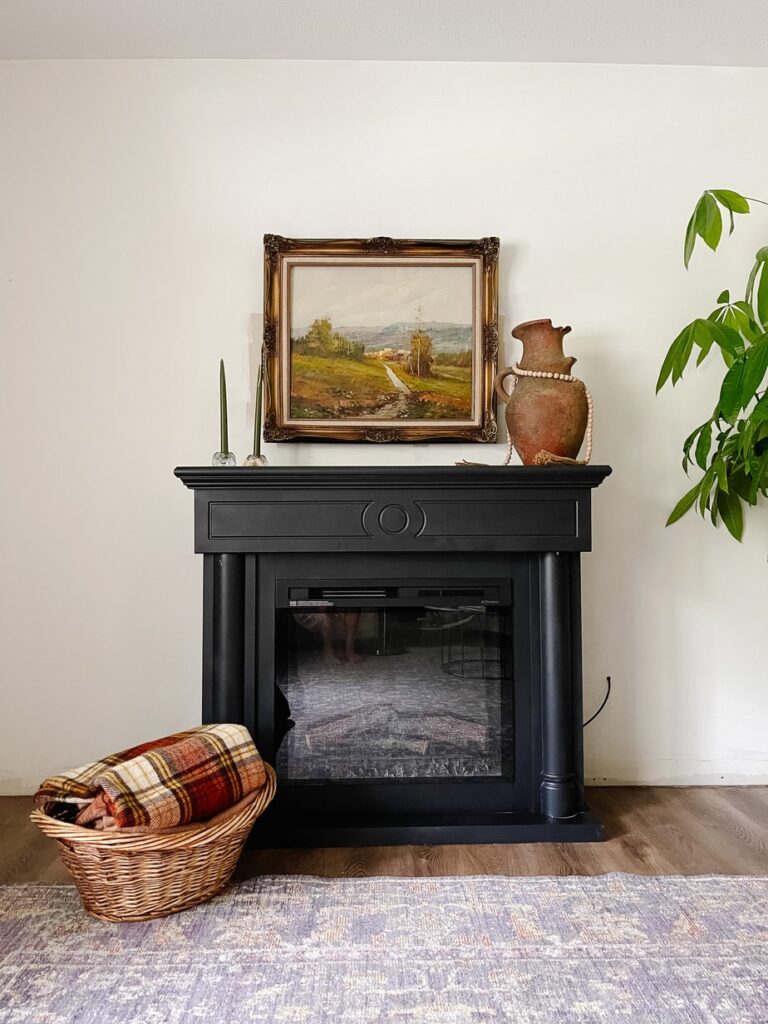 The Best Black Paint for a Fireplace Mantel
When it comes to refinishing furniture or painting anything other than your walls, you want to be very selective of the paint you choose. We've tried many brands over the years and while we seriously love a lot of them, for this project Behr's Chalk Spray Paint worked amazing!
Behr's Chalk Spray Paint
Easy to use
Full coverage
Great texture! the chalk paint was truly matte and perfect.
and it dries within 15 minutes which is insanely fast.
What paint should you use if you are painting a wood-burning fireplace?
If you have a wood-burning fireplace, or any mantel other than an electric one. I would recommend using high heat resistant paint. One of my favourites to use is Rust-Oleum's High Heat Ultra in Semi-Gloss. It's not quite as matte, but it works just as well and you need to take into consideration how you will use the fireplace after you paint it.
Can you Paint the Fireplace Insert?
Yes. You definitely can paint the fireplace insert. It's the same as painting the fireplace surround or mantel. But always use high-heat paint, like the one I shared above.
How to decorate a black fireplace
I'm not going to lie, one of my favourite parts of a project is being able to decorate after. I love styling and this is where I really shine.
Let me tell you, decorating a black fireplace can be so fun! I've shared a few of my favourite decor items for your new black fireplace below. I've included things like glass jars, baskets, pottery, stems, and even brass candles.

Also, stay tuned because tomorrow I'm sharing how to decorate a black fireplace for Halloween, which includes a free printable.
I hope you enjoyed this post! Don't forget to follow us over on Instagram for Daily DIY's, Projects and more.