How to Create a Home Gym in a Small Space
Post Summary: We're sharing exactly how to create a home gym in a small space, plus tips for design, storage, and ideas for budget-friendly equipment.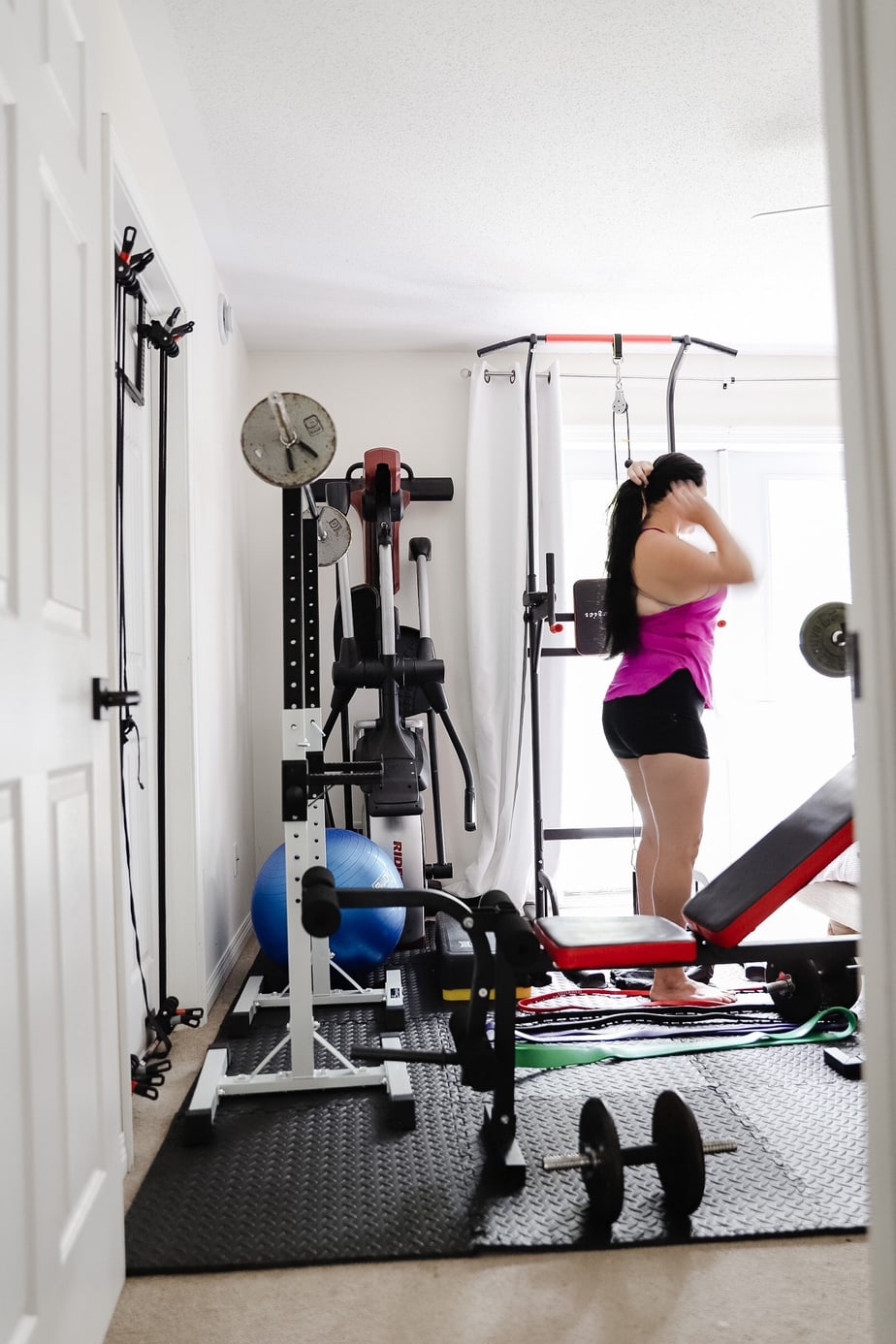 It's no surprise there's a connection between working out and feeling good. Since Covid-19 our workouts have become less about looking good and more about our mental and physical health. I've realized that even 10 minutes of exercise a day can have tremendous benefits on my mind and my body.
With limited time in my day, I try to avoid any excuse when it comes to working out. I also understand the struggle to go to a local gym or even finding space in your home for workout equipment.
In fact, the pandemic and the stay-at-home orders have created an entirely new need for easy-to-find and accessible at-home gym equipment! So today's post is all about how to create a home gym in a small space so you can always find time for your health and you don't need to leave home to get into shape!
How to Create a Home Gym in a Small Space
Creating a home gym has never been easier! In fact, we have a small 3-bedroom house that doesn't have a basement.
So we had to get creative and figure out how to create a home gym with the small amount of space we had.
These are the exact tips and tricks I used to create our own amazing home gym, which currently sits in our master bedroom.
Choose a Workout Room or Area
The first thing you need to do is figure out where your new workout room will go. Get creative! Maybe you have a small unused space in your bedroom, guest room, or even your living room.
Once you decide on the area, take measurements and write them down. So you'll have an idea of the gym equipment that will fit easily within it.
You should also, have an idea of the type of workouts you will be doing. It can be yoga, pilates, weight-lifting, cardio, or all of the above. From there you can start to figure out the type of equipment you'll need.
Multi-Purpose Equipment
Some of the best investments we ever made was buying multi-purpose equipment. Like the resistant bands set, or the Tower 200 by Body by Jake.
Equipment that can be used for several different workouts verse just one.
Things like resistant bands and weights can do wonders to transform your body and mind, while being compact enough to store in even the smallest spaces.

How to Store Gym Equipment in a Small Space
From an interior design standpoint, it can be hard tricky to figure out storage for your gym equipment, especially in a small space.
But there are a few options when it comes to storing your equipment that actually look good!
I'll link some of those ideas below, but essentially you want to store your equipment either in an a closet, on the wall or in a shelf if possible. I've used open shelving with baskets for free weights and bands, hooks yoga mats, and small storage for towels, shoes or any other small items.
Another quick tip is to group the items you leave out by color. It's more pleasing to the eye and will look less like a mess and more like it was planned out. Check out some options below.

Make your Small Space look Big with a Mirror
A full-length mirror is essential to at-home workouts, I always recommend investing in one.
Like gym equipment, there are tons of different options depending on your budget and style.
I like to choose between the full length mirrors that have their own stand, so you can bring them from room to room. Or a mirror that is installed on the wall and is out of the way which is perfect for really small spaces.
But my tip would be to look at the room you're going to use as a gym, and ask yourself if the mirror will look good as part of that room? When it comes to small home gyms it's better to buy for the original space than for the gym, that way when you put away all your equipment the room goes back to normal and you have a beautiful full-length mirror that works well in a room.

Amazon is a great resourse for home gym equipment on a budget
We've done a lot of research over the past year, and so far we found amazon to be the best and least expensive when it comes to home gym equipment. They have a huge variety of options, not to mention their shipping time is amazing. I've included all the gym equipment we own from Amazon below.
Then elaborate on each tip and talk about the reasons why they are great for a small space and contribute to an at-home gym atmosphere. You can include pictures of your own at-home gym and be sure to link to affiliate products of the items you have too.
Shop the post


Check out more
5 Apps I use to Workout from Home
Is it possible to make a home gym look good?