Making this Whole 30 chia seed pudding recipe was probably the highlight of my morning. I'm not even kidding. Anyone who is currently on Whole 30 or has done it before knows how much you crave a little sweet treat.
Or at least I do.
My husband and I have both on the program for over a week and so far our experience has been amazing. I normally have problems with bloat and other tummy issues but I am blown away how good I feel.
Which is all the more reason to keep going and finish strong.
Of course, I have been craving a few sweet treats here and there but definitely not the bread and carbs I thought I want. However, sweet cravings can still be hard to curb if your anything like me. This is why I wanted to share some of my whole 30 alternatives to some of my favorite meals. That way if you ever get the appetite for something like this you can whip it up in a few minutes and say bye to the cravings.
Is this chia seed pudding really whole 30 friendly?
After doing a bit of research I found a few reasons why it might not be whole 30 approved, but it is up to you and your discretion.
You aren't supposed to have store-bought almond or cashew milk because of the extra sugars and gum in it.
You can make your own cashew or almond milk which I did.
But according to Whole 30 rules, you could argue that pudding isn't allowed. Because half of your meals should be vegetables and this doesn't really fit.
You can use your own discretion and of course, you could add more vegetables to your diet elsewhere.
3 Healthy Recipes for Weight Loss
Health Benefits of Chia Seeds
Besides this being a very easy breakfast idea its also a handy snack to keep on hand. Plus there are a ton of health benefits to having chia seeds in your diet. Starting with chia seeds being rich in antioxidants, manganese, fiber, calcium, and of course healthy fats. All this means that they are great for digestion to keep things moving like they are supposed to. Chia seeds also support bone health and balancing blood sugar.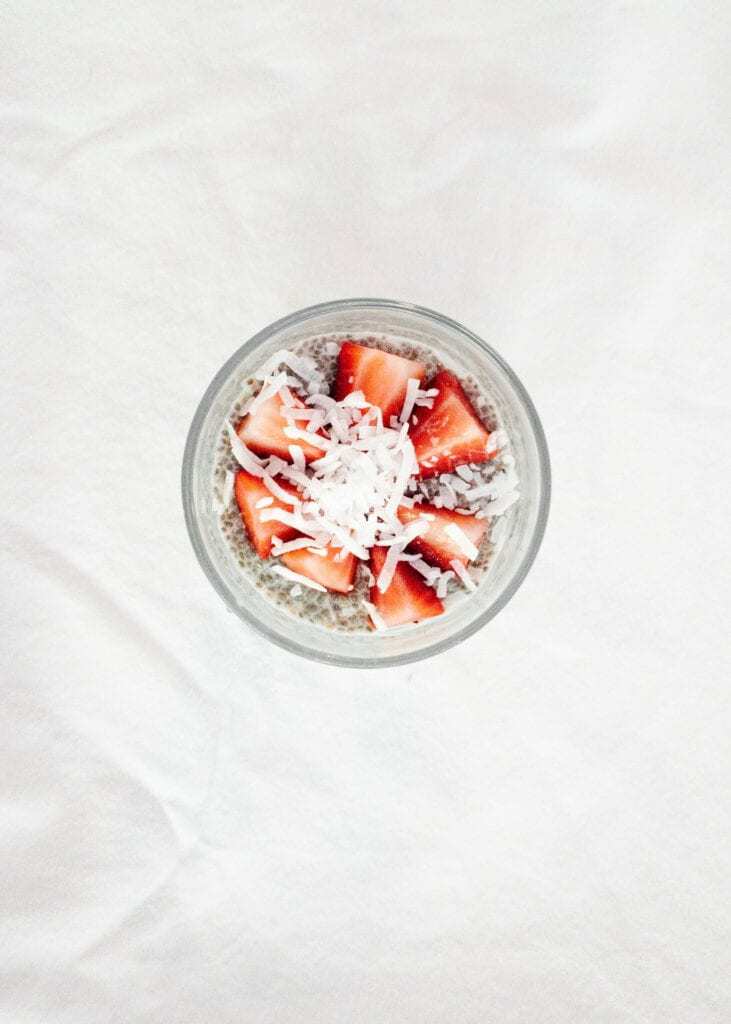 Whole 30 Chia Seed Recipe
Since almond or cashew milk is the main ingredient of this whole 30 chia seed pudding recipe I would suggest making your own milk using a blender. If you don't want to make your own you can look for an almond or cashew milk without the sugar in it. I'll add a few whole 30 approved favorites below.
How to make homemade cashew milk
Step 1: Measure 1-1/2 cups of almond milk into a glass jar
Step 2: Blend one date as a sweetener to the mix. If you aren't on Whole 30 you can use 1 tsp of maple syrup or honey.
Step 3: Add 3 tbsp of chia seeds and mix
Step 4: The trick to a good chia pudding is waiting and letting it sit for 5 minutes and mixing again before putting it in the fridge over night.
The best part of making chia seed pudding is adding the toppings to it the next morning. I like using whatever fruit we have in season, but I know a ton of people who love to put chopped bananas, strawberries, raspberries and even crushed almonds or walnuts. I've even seen people have a base of strawberry puree.
A Few Healthy Tips
If you are meal prepping this is a great option to add to your menu this week. You can double the recipe, keep them in mason jars and put them in the fridge. They can last up to two weeks or even longer if you freeze them.
There are tons of ways you can adjust this recipe to fit your diet or make it kid-friendly by adding additional toppings like peanut butter which was my daughter's favorite.
Lastly, check the ratios for making your chia seed pudding thicker by adding more chia seeds or less almond milk. Also, watch the portion size as it is very easy to overdo it. Trust me.
Don't forget to pin this for later!