Halloween Snack Board Ideas the Whole Family will Love!
Post Summary: This is a round-up of over 50+ Halloween snack board ideas to make the most of your movie night, party, or themed snack board.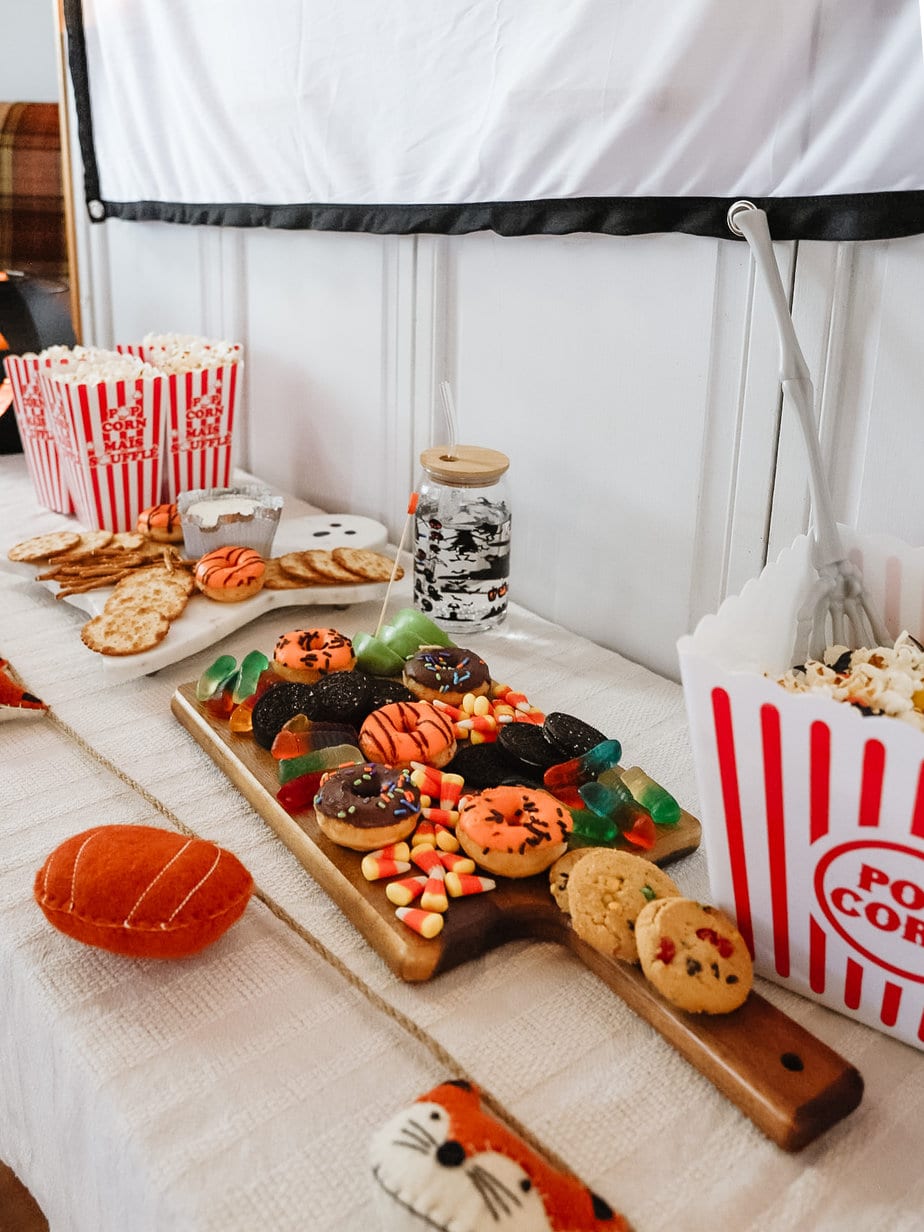 A few days ago I shared how to host a Halloween movie night, and I got a ton of messages asking for a blog post on Halloween snack board ideas. So here we are! I just want to preface this by saying I am rounding up a ton of ideas, some my kids love, and some they would never touch. But I felt like this would be helpful for anyone who is stumped on what to make, buy, and how to actually arrange everything when it comes to a themed snack board.
Now that spooky season is upon us! It's that time of year when the thought of Halloween fills the air with eerie excitement. A few weeks ago when I was trying to think of something fun to do with the kids, I stumbled upon a great idea: Halloween movie night complete with snacks and drinks. If you're tired of the usual Halloween cookies and are looking for something unique for your Halloween party, look no further.
Keep reading to find out my favorite Halloween snack board ideas!
Why a Halloween Snack Board?
A Halloween-themed board is much more than just an array of Halloween snacks; it's a canvas to unleash your creativity! Imagine the fun Halloween charcuterie board filled with a mix of sweet, salty, and savory goodies, fitting perfectly with the Halloween theme. Plus, it's a great way to get everyone grazing, chatting, and enjoying the festivities.
But creating a Halloween snack board is a favorite for so many reasons:
Visually Appealing: It's a show-stopper that can become the centerpiece of your Halloween party.
Include a Variety: Incorporate a mix of sweet, salty, and savory, catering to all taste preferences.
Interactive and Fun: Adults and kids can graze whenever they like, meaning less work for the host.
Customizable: Tailor it to dietary needs or themed elements specific to your party.
Creative Outlet: Allows for personal expression, where you can play with spooky designs and seasonal ingredients.
Inclusivity: It's a great way to include both classic Halloween candies and healthier options, ensuring everyone finds something they love.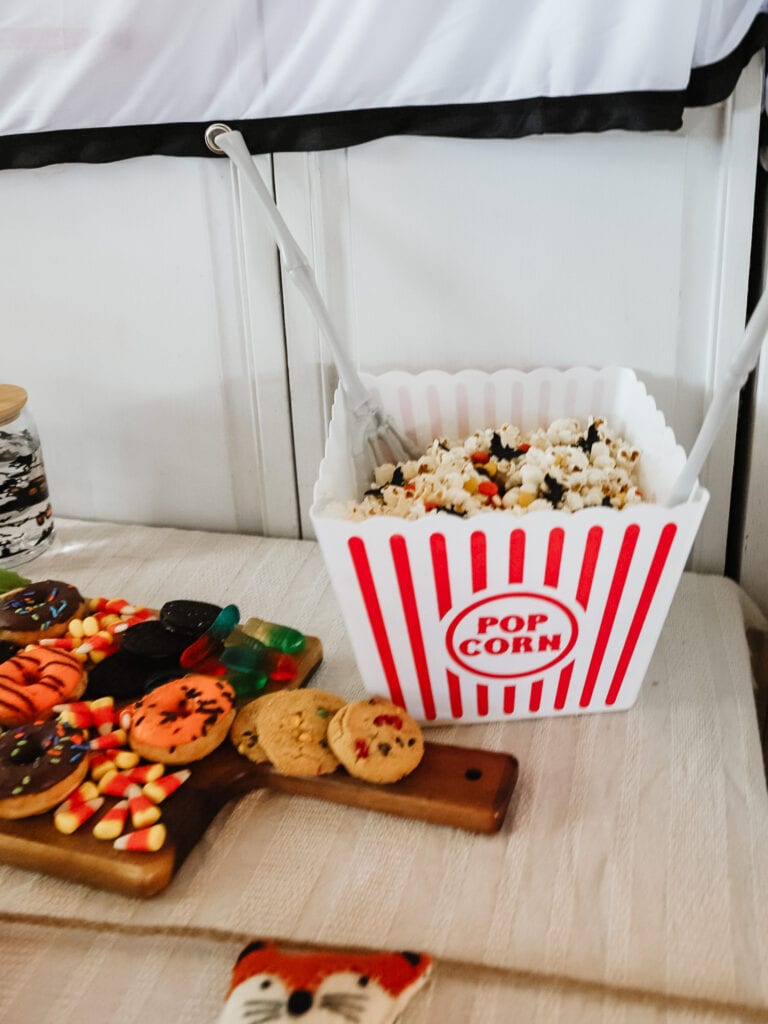 How to Start a Halloween Snack Board
The first thing you'd want to do is pick the perfect size base. A large cutting board or large platter works well. But if you're going for something even bigger, then why not a large table covered in Halloween decor? You can do this by laying brown craft paper (linked for you HERE), so you can put down all the food without worrying about it touching the table.
I love starting with small bowls and small plates, placing them in empty spaces but not too close together. Remember, there's no wrong way to create your themed snack board. However, to give you some fun ideas I've put together a list of my top tips:
Candy in the Corner: Fill bowls with candy corn, gummy worms, candy eyeballs, and candy pumpkins. Candy eyes are also a fun treat to sprinkle around!
Chocolate: Think white chocolate-covered pretzel sticks, dark chocolate pieces, Halloween Oreos, and Halloween sugar cookies. Use a cookie cutter to get those perfect Halloween shapes! For a playful twist, try spider web-designed banana ghosts or spider AB&Js (almond butter & jelly).
Savory Bites: For a more savory charcuterie board, consider cheese puffs, semi-soft cheeses, and goat cheese. Throw in some black olives and perhaps a spicy touch with a jalapeño pepper!
Fresh Fruit: Fresh fruit and fresh veggies add a pop of color. How about celery sticks filled with peanut butter, topped with raisin "bugs"?
Halloween Snacks: A trip to Trader Joe's or your local grocery store can give you many Halloween-themed snacks. From bat-shaped mini pizzas to puff pastry goodies, the options are endless.
Adding Snacks
Now that you have your main items, fill the board with smaller Halloween-themed candy, festive treats, and perhaps a cream cheese dip for those salty snacks. Don't forget those festive Halloween charcuterie board touches:
Spooky Halloween Decor: Think plastic spiders, a skeleton hand reaching for some cheese, or even small pumpkins.
Crafty Ideas: If you're feeling crafty, a visit to the craft store can give you great ideas. Consider adding bat shapes, Halloween shapes, or anything else that fits the Halloween theme.
My Personal favorites
My personal favorite from last year was the colorful Halloween dessert board with a mix of fun treats and spooky Halloween snack board vibes. Who could forget the dark fruit, resembling a spooky night, or the festive Halloween charcuterie board loaded with cream cheese ghosts and candy eyeballs?
Halloween Snacks Grocery List
Here's my personal grocery list for the Halloween snack board I recently made. I didn't end up using everything, because I ran out of room but this was my original idea. So hopefully this helps get your list going for your own snack board.
Sweets & Candies:
Candy corn
Chocolate chips
Dark chocolate pieces
Gummy worms
Gummy bats
Candy eyeballs
Candy pumpkins
Halloween-themed Oreos or other cookies
Candy eyes
Fruits & Veggies:
Apples
Grapes or other dark fruits
Celery sticks
Bananas
Clementines or small oranges
Carrots (possibly for dipping)
Savory Bites:
Pretzel sticks
White chocolate (for dipping pretzels)
Black or orange sprinkles
Cheese puffs or crisps
A block of cheese (like cheddar or mozzarella) for cutting into shapes
Black olives
Mini hotdogs or sausages
Puff pastry (for wrapping mini hotdogs)
Dips & Spreads:
Hummus (consider a pumpkin-flavored version)
Beets or roasted red peppers (for a red dip)
Dark chocolate spread or Nutella
Avocados (for guacamole)
Salsa ingredients (tomatoes, onions, cilantro, etc.) if you want to make a fresh salsa
Themed Bites:
Pizza dough (for mini pizzas)
Pizza sauce and toppings of choice
Sliced bread (for mini sandwiches)
Peanut butter
Jelly or jam
Halloween-themed crackers or crisps
Other:
Popcorn kernels or pre-popped popcorn
Sprinkles or candy mix-ins for popcorn
Cookie dough or ingredients for homemade Halloween cookies
Cheese sticks (for skeleton-shaped sticks)
Eggs (for "eyeball" boiled eggs)
Sliced olives (for egg "eyeballs" and other decorations)
Decor & Extras (optional, based on personal preference):
Plastic spiders
Small pumpkins or gourds
Any other Halloween-themed decor you'd like to incorporate
The Halloween season is all about fun, and what better way to celebrate than with a festive Halloween snack board or a spooky Halloween charcuterie board? The best thing is that there are no strict rules. Whether you're planning a movie night with close friends or a large Halloween celebration, these snack board ideas are the perfect addition.
Remember, whether it's a Halloween candy board, a dessert charcuterie board, or even a Halloween-themed cheese board, the goal is to have as much fun creating it as you would eating from it. So, unleash your creativity and have a happy Halloween!