Affordable Kitchen Countertop Ideas to do on a Budget
Post Summary: Here's how we got our dream countertops for $3000 and all the budget kitchen countertops ideas we found.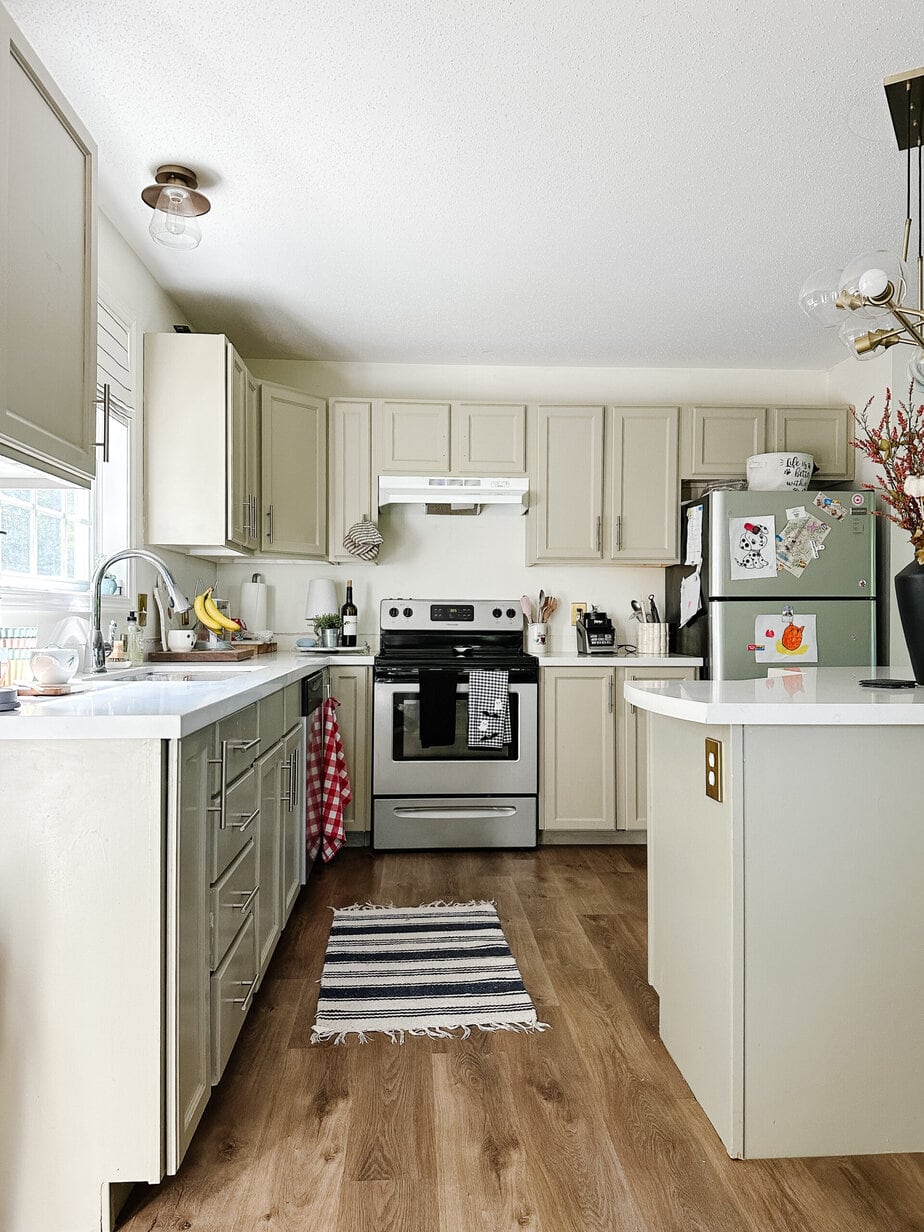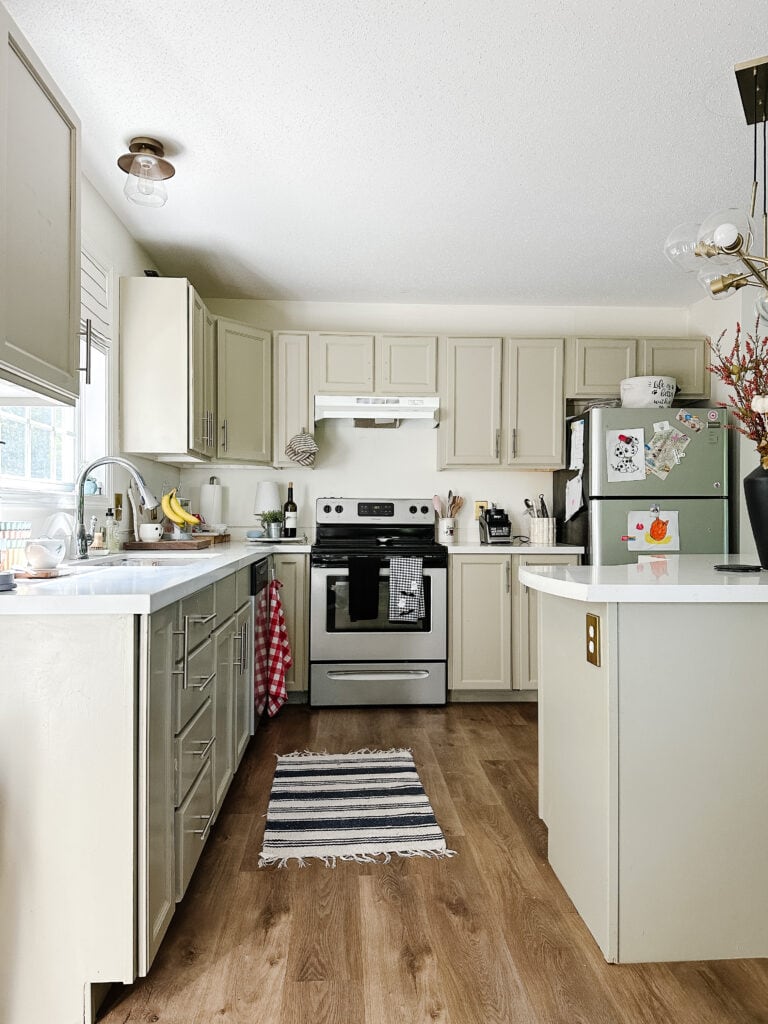 As long as we've owned our cottage, there's been an elephant in the room, specifically in our kitchen. Our dark brown laminate countertops made everything appear darker and outdated. While I had originally intended a quick and easy renovation, little did I know, that four and a half years later we'd be only starting renovating now.
During those four (nearly five) years, I tried a variety of budget updates from painting our oak cabinets, to installing shiplap and updating the lighting. But it just didn't solve the issue of brightening our dark 90's style kitchen.
So last November, we started looking into the possibility of removing them in hopes of installing my dream stone, within a $4,000 budget I might add! As I'm sure you know, stone is expensive and I have a tight budget.
I started gathering quotes from places like Home Depot, and local stone companies, and I soon found out that replacing our outdated countertops would cost my entire budget for a slightly nicer laminate or double my budget for the quartz countertops I loved so much. Needless to say, I spent the next few months feeling a little defeated and slowly researched all the budget-friendly options for updating old countertops which is what we'll share below.
​Keep reading to see all the budget kitchen countertops ideas, the average cost, and how we saved $4000 and got my dream stone!
8 Budget-Friendly Countertops Ideas
Revamping your kitchen design without spending a lot of money can seem challenging, especially when you're eyeing those new countertops. But here's the good news: there are a plethora of budget-friendly ways to achieve beautiful kitchens without the hefty price tag. This blog post will delve deep into kitchen countertop ideas that won't empty your pocket while giving your space a fresh look.
Laminate Counters
While you know my take on the 90's style, dark brown laminate countertops, but after a ton of research I learned that laminate counters have come a long way. These days, they can mimic the appearance of more expensive materials like natural stone countertops or wood countertops. Made from layers of plastic bonded to medium-density fiberboard, they offer a wide variety of colors and patterns. They are a great way to get high-end looks for a fraction of the cost.
Painted Countertops
I wanted to include painted countertops because it was a popular suggestion on Instagram and one that we are considering for my sister's Tiny Home build. All you really need is a paint kit, which you can find for under $100 on Amazon (linking one below). You can quickly and easily DIY the look of marble or quartz countertops just like A Beautiful Mess did above! Which is an easy and affordable way to update the overall look of your kitchen on a budget.
PAINTED COUNTERTOP AND CONTACT PAPER
Shop our favorite products to paint a countertop and install contact paper from Amazon.
DIY Contact Paper over Countertops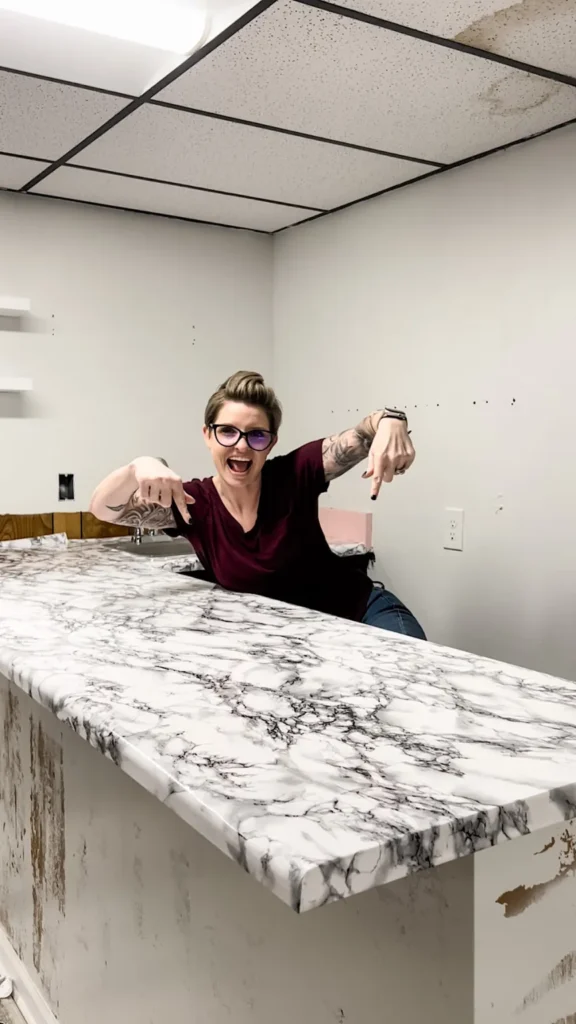 My friend Lela Burris, installed contact paper and I cannot stop Contact paper is an ingenious and budget-friendly way to refresh old countertops without the hefty expense of a full replacement. Available in a myriad of designs, from marble to wood grain, contact paper can mimic high-end countertop materials at a fraction of the price. Applying the contact paper is simple: with a bit of measuring and cutting, you can easily adhere the adhesive-backed paper to your current countertops and instantly update them. Not to mention, contact paper is also easily removable, making it an excellent choice for renters or those looking for a temporary solution.
Tile Countertops (Ceramic and Porcelain Tile)
I recently came across Tiled Countertops that A Beautiful Mess shared, and I was shocked by how good they looked! Maybe you already have tile countertops and if that's the case, hopefully, this will inspire you to keep them.
Tile countertops are a budget-friendly solution to update old kitchen surfaces. With no shortage of tile colors, shapes, and styles available, you can easily update your kitchen. Tiles, especially ceramic and porcelain options, are often more cost-effective than whole-slab counterparts, allowing for significant savings. Furthermore, for the hands-on homeowner, laying tile can be a DIY project, further reducing costs. So if you're looking for a little versatility, durability, and affordability tile countertops are a popular choice for a fresh look without a heavy financial commitment.
Wood (Butcher Block) Countertops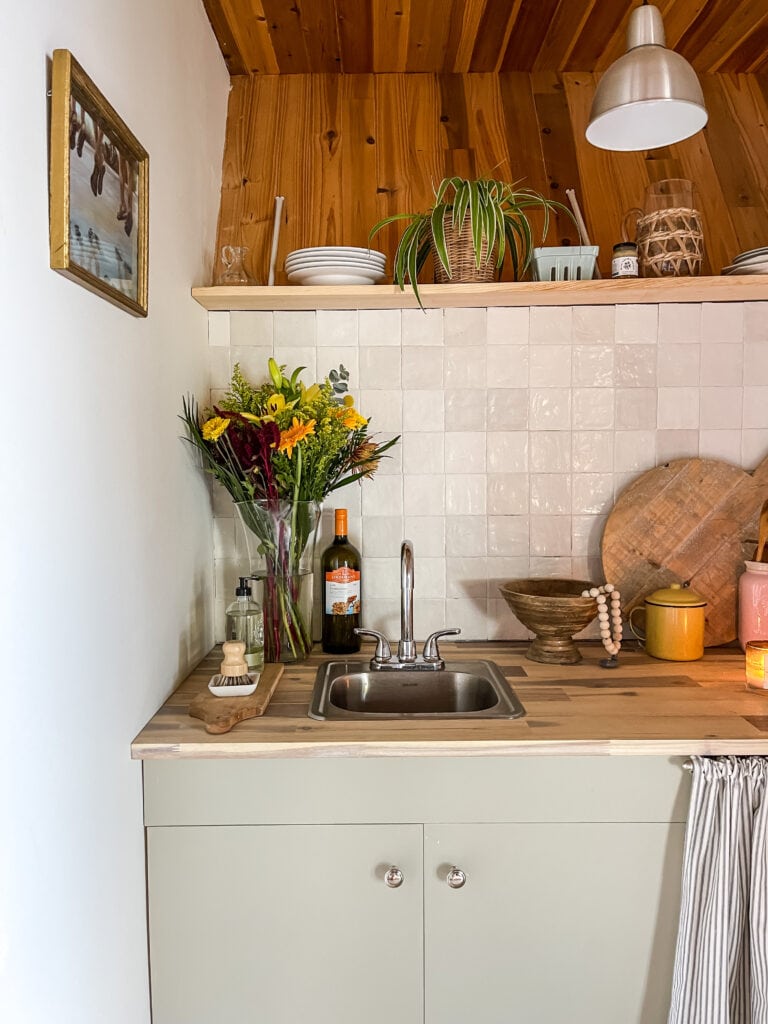 I recently installed butcher block in our cabin kitchen, and I love them! Wood counters, often known as butcher block counters, can bring warmth to a kitchen on a budget. They can double as a cutting board, are great for old houses with a rustic feel, and can be found at big box stores or home improvement stores. We bought our countertops for $200 and installed them along with the bar sink ourselves.
Concrete Countertops
Concrete countertops are gaining traction for good reason. They offer a seamless look, can be colored in a variety of ways, and give a great industrial feel to any kitchen. They are heat resistant and can be a DIY project if you're up for the challenge.
Granite Tile Countertops
​Natural stone materials, especially granite, are often the most expensive option for countertops. However, opting for granite tiles instead of a solid slab can save you a significant amount. Granite tile offers the same stain resistance and heat resistance as its pricier counterpart.
Solid Surface Countertops
Solid surface countertops can be made from layers of plastic, these countertops are an affordable option compared to natural stone countertops. They come in a wide variety of colors and provide a matte finish. Petite Modern Life shared a review of their solid surface countertop if you're interested in learning more.
Recycled Glass Countertop
I'll be honest, until this point I had never considered recycled class countertops as an option. But our friends at Charleston Crafted had recycled glass installed in their kitchen which they shared on the Cottage Living and Style last year. But I love the fact that they are an eco-friendly choice and recycled glass countertops give your kitchen a unique, contemporary look. Terrazzo is having a major moment right now, and this can give you the look without the cost. They are also easy to maintain, non-porous, and resistant to heat stains and bacteria, making them a great option for busy households.
Bamboo Countertops
Another eco-friendly option, bamboo countertops are a good choice for those aiming for a sustainable kitchen remodel. They provide a natural, warm feel to your space, and are of course also a budget-friendly option.
Average Cost Table for Each Material (per square footage)
​
| Material | Average Cost (per sq. ft) |
| --- | --- |
| Laminate Counters | $20 – $60 |
| Ceramic/Porcelain Tile | $10 – $80 |
| Wood (Butcher Block) Countertops | $30 – $85 |
| Concrete Countertops | $65 – $135 |
| Granite Tile Countertops | $5 – $15 per tile |
| Solid Surface Countertops | $40 – $75 |
| Recycled Glass Countertop | $50 – $80 |
| Bamboo Countertops | $40 – $70 |
Please note, that these prices can vary based on the region, quality, and where you purchase. Also, don't forget to factor in the potential additional costs for professional installation if you decide not to take on a DIY project.
Also, it's good to remember: that a new kitchen doesn't have to mean the most expensive materials or a complete overhaul. A fresh countertop can go a long way in rejuvenating your space. Whether it's for your kitchen, laundry room, or even bathroom countertops, there are numerous affordable kitchen countertops to fit your needs. Shop around, explore your local home improvement stores or big box stores, and, most importantly, have fun with the process!
How We Saved $4000 on My Dream Quartz Countertops
Okay, now I'm sure you want to know how I managed to get my dream quartz countertops and still have room left in my budget. The truth is I asked friends and family and started shopping around. When I heard about a new stone company that had just opened in the city, I reached out. Even though they weren't exactly local, they could beat the price of anyone around here and basically cut out the middle man which is why I got my quartz countertops for $3000 (including my bathroom countertops as well). So my advice is to shop around, check out other stone companies outside of your local area, and reach out to friends and family who might have connections.
​FAQ
What is the cheapest type of kitchen countertops?
​The cheapest type of kitchen countertops are laminate. Laminate surfaces of the 90's were dark brown countertops that would wear over time. However, they have come a LONG way! Now you can get beautiful laminate that looks like stone, in a variety of colors, and is relatively durable.
What is the cheapest way to do countertops?
There are a few inexpensive options for countertop materials, like laminate and tile.
Or you DIY them yourself, from painting countertops to using contact paper.
What are the cheapest most durable countertops?
Laminate is by far the cheapest most durable countertop material.
How to redo kitchen countertops cheap?
If you're on a really tight budget, my best suggestion would be to update your kitchen countertops using paint! There are some great paint options from Amazon that are specifically for countertops. I'll link my favorites next. You can also use contact paper and cover your countertops for under $100.
Hopefully, these budget friendly kitchen countertops ideas helped you make a decision on how to update your kitchen without the price of an expensive stone.