9 Unique Tiny Kitchen Lamps
This is our round up post about tiny kitchen lamps that we know you're going to love.
Earlier last year I was flipping through one of my favorite magazines, and I spotted a section on tiny kitchen lamps. After reading that, I knew I had to figure out a way to put one in our kitchen too.
We used to think table lamps were only for the living room. But they've been popping up in other rooms too, like bathroom and kitchens.
If you noticed in my stories recently I bought a small table lamp for the bathroom, and our kitchen. I used to hate going to the bathroom in the early mornings or late night, just to be blinded by the three light bulbs. Now we have a little lamp that emits a warm glow, it's honestly changed the entire mood of our home in the evenings.
It's a must-have in every home we have from this point forward. Let me know if you have one or if you decide to give it a try.
This article shares a quick styling tip and 9 unique kitchen lamps.
Round up of Unique Kitchen Lamps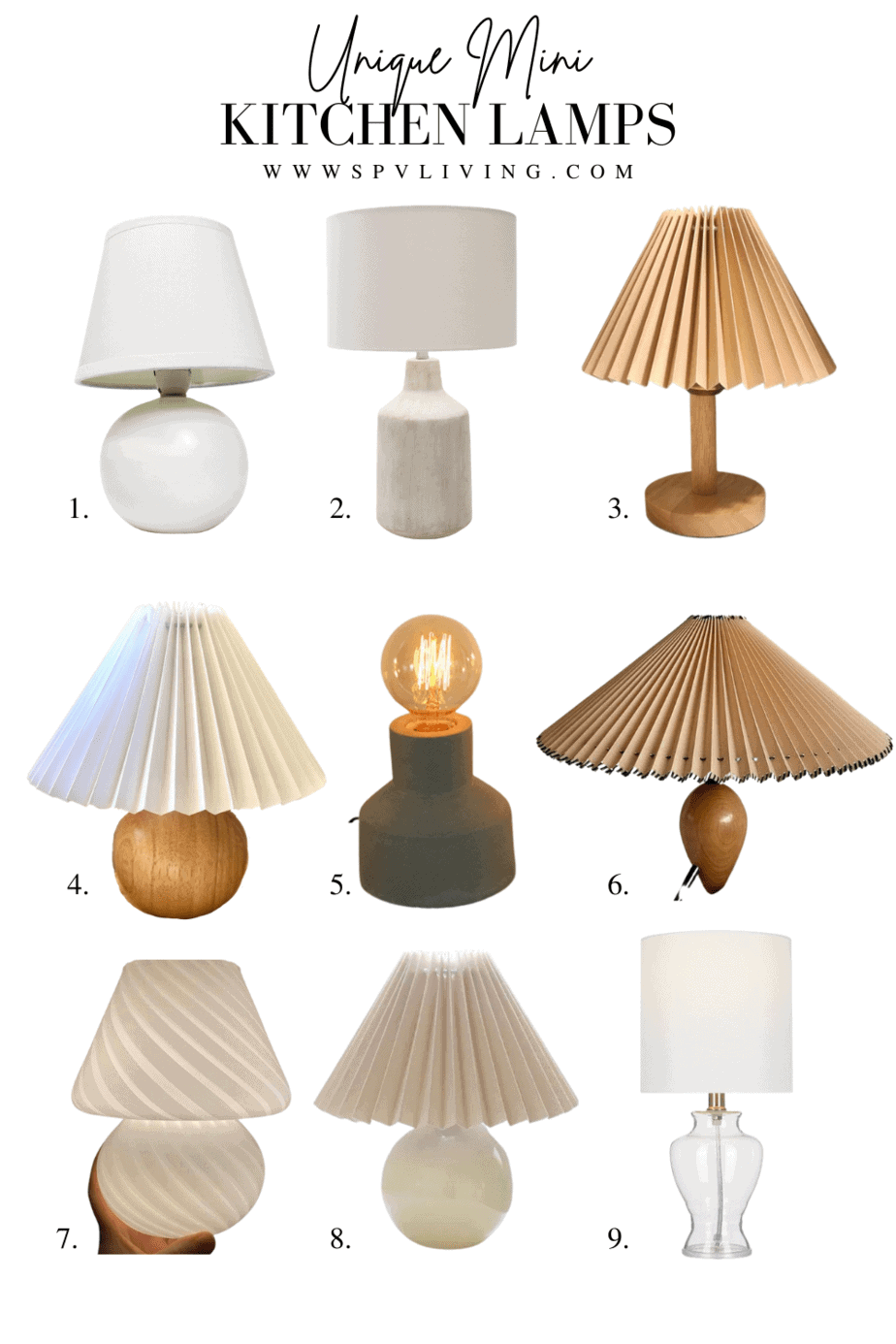 Tips on How to Style Kitchen Lamps
One of my favourite things about our home is the evenings. Sometimes in the early spring or summer months we will have the windows open. The breeze flows through the house, while I light some candles and turn on the lamps. I love creating a cozy home and the best way to do that is with lighting.
In the early mornings I'll do the same. I'll turn on the kitchen lamp while I start making a morning cup of coffee. The warm light gives me enough to see but doesn't blind me like our island lights do.
In my stories today, I'm sharing a little tip I came across for hiding the cord. The cord was the one thing that bugged me about having a lamp on the kitchen counter. So I grabbed a few cable ties and strapped them to the cord and hid them under the lampshade.
I've seen others decorate their lamp with stacked cook books underneath, but I prefer to get a lamp that draws attention on its own. Which is why I wanted to share these 9 unique kitchen lamps today. I think they would look good in any kitchen, regardless of the countertops or design. A little kitchen lamp can do wonders for making any space more cozy.
Looking for more styling articles?
A Guide to Styling a Shelf with Things you Already Own
Design Inspiration: Styling a Hallway
9 Must-Have Design Books You'll Love in 2021