36+ Stylish Dining Room Mirrors
We've rounded up over 35 dining room mirrors that are perfect for any size, shape, or style of the dining room. Plus a few simple interior design ideas to help your space, and make the dining room finally feel finished.
Dining rooms are easily one of the most used spaces in a home, I know that's true for us. It's where we spend our evenings eating dinner with the family, and on Sunday mornings you'll find us there making craft projects with the kids.
Dining rooms however are also notorious for being short on space or lacking separation from other areas in the home.
Both of those issues can make the dining room a challenge to decorate.
If this is something you're nodding at, or maybe you're just looking for the final piece to finish decorating your space. Read on because we have over 36 dining room mirror ideas that are perfect for any size or style of home .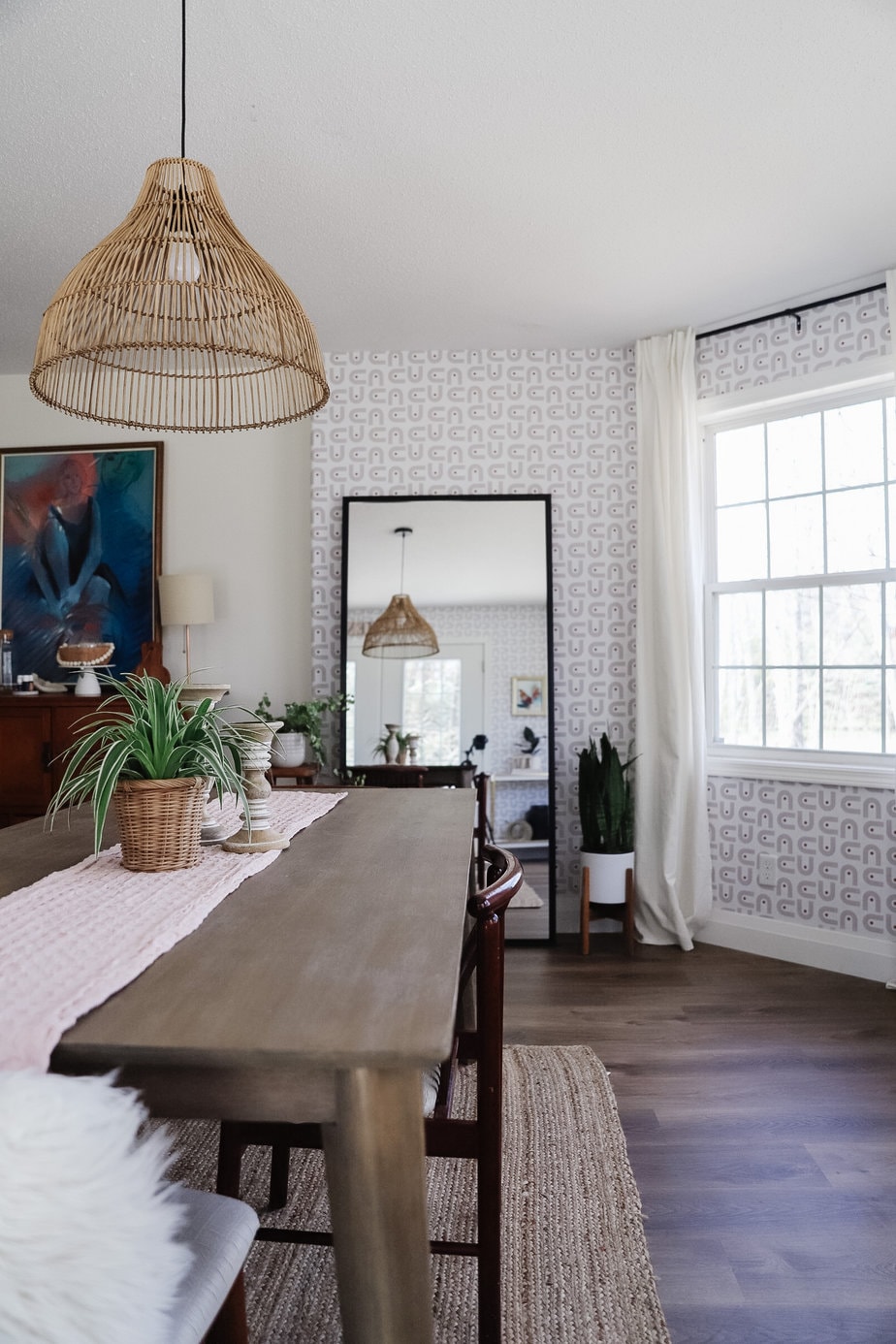 All About Dining Room Mirrors
When we started re-designing our dining room a few months ago, I struggled with a very odd-shaped wall between the dining room and living room. Turns out the previous owner, decided it would be a "good idea" to build a box around the electrical panel and place it in the dining room.
At first, I thought maybe I could build a door to enclose the panel and then wallpaper it to conceal it. I even wrote a whole post on ideas to conceal electrical panels because I was so stumped.
But after thinking about it. I knew it would look strange regardless of what I put there.
Even a large piece of art would have looked awkward, because of course the electrical panel wasn't centered.
Until one day I noticed this large mirror was on sale on Wayfair.
The large rectangular mirror was an easy way to hide the panel while having a big impact on the design of the room. Having an oversized mirror was also a great way to give the illusion of space, and bounce the incoming light around the dining room and into the kitchen.
Needless to say, covering the eye sore with a floor mirror was a fabulous idea.
If that doesn't sell you on adding mirrors to your dining room decor, here are a few more reasons why you should.
If you're a design lover, or you've read design blogs, then you probably know how important choosing the right mirror will be for your dining space.
A mirror can help brighten a dark room, add instant style and even give the illusion of more space.
But let me take this a step further.
If you're on a budget, or you're renting, investing in an accent mirror over decorative pieces or even wall decor is a great idea. Not only are there more affordable options for mirrors, but art will easily cost upwards of $1000 plus for a similar size piece. Mirrors are an investment that will always look good and can stand alone.
So we've rounded up a ton of dining room mirror ideas, from small mirrors, antique mirrors, and mirrors that help create a focal point.
We also wanted to make sure that as beautiful as these mirrors are, they will look great in any dining room.
To make this even easier for you, we've sorted each beautiful mirror into three different styles. So you can easily find what you're looking for.
How to Choose the Perfect Mirror for your Dining Room
In college, I was decorating my dorm room, and of all the mirrors I could have picked I left with the skinniest mirror I could possibly find. It was a lesson or more a right of the passage, which I quickly learned scale is everything.
So a few things to remember as we take a look at this round-up. First, scale and placement are the two more important rules. While material and style are more fluid.
Next, mirrors should also be placed in a space where guests can't see themselves eating so that the dining experience is always number one.
Round Mirror Ideas
A round mirror looks best on a square wall and should be placed at eye level.
When your thinking about the placement of a round mirror, you should think of the symmetry and if it's centered. While it's hard to tell in this round-up but we wanted to make sure we included a few options for sizing. The size of the mirror has a lot to do with how well the room will look. You want to make sure you choose a large round mirror if you have a large wall and vise vera.
1 // 2 // 3 // 4 // 5 // 6 // 7 // 8 // 9 // 10 // 11 // 12
Rectangle Mirrors
While there are no actual rules for finding the perfect location for a mirror. I will say that the perfect place for a rectangle mirror is on a long rectangular wall.
I love the look of clean lines and complementary shapes that give a finished look to the dining room.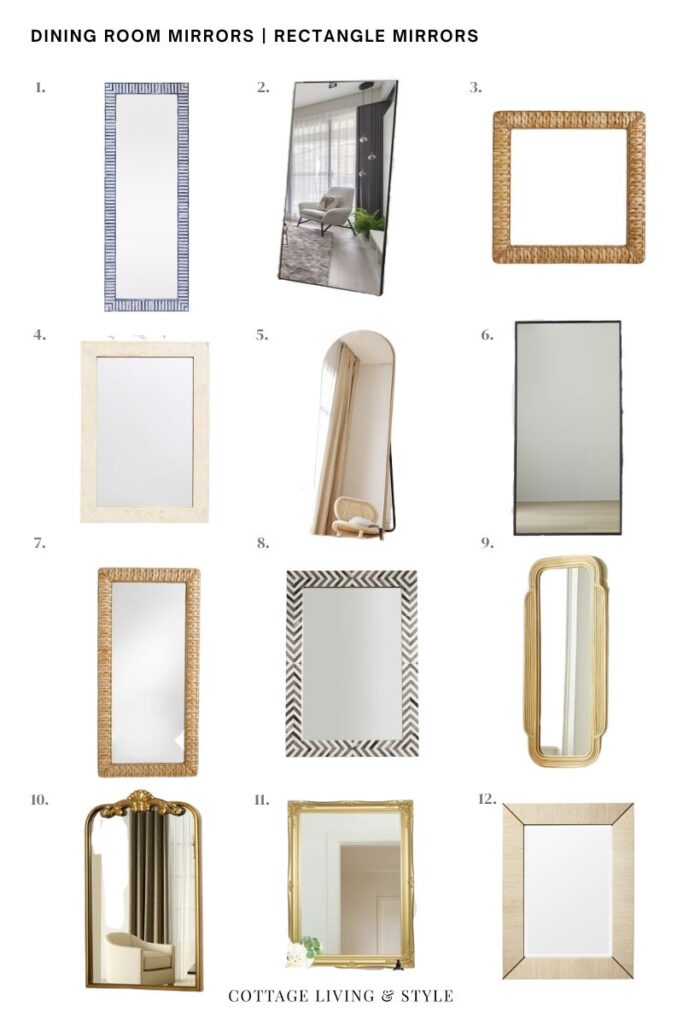 1 // 2 // 3 // 4 // 5 // 6 // 7 // 8 // 9 // 10 // 11 // 12
Decorative Mirrors
I love using a dramatic mirror in a modern-style dining room. The modern design paired with modern mirrors compliments the style so well. While we love a cottage-style dining room, I think there is absolutely a place for decorative mirrors in the world of cottage style. Again, a statement mirror can take place of a gallery wall and art pieces, which can definitely help save your budget.
1 // 2 // 3 // 4 // 5 // 6 // 7 // 8 // 9 // 10 // 11 // 12
Stay tuned for more design 101! and don't forget to pin this for later.