36+ Mid-Century Modern Lighting Options and How to Choose the Right One
Everything you need to know when it comes to choosing Mid-Century Modern lighting for your home. Plus we've collected over 36 options for to make things easier.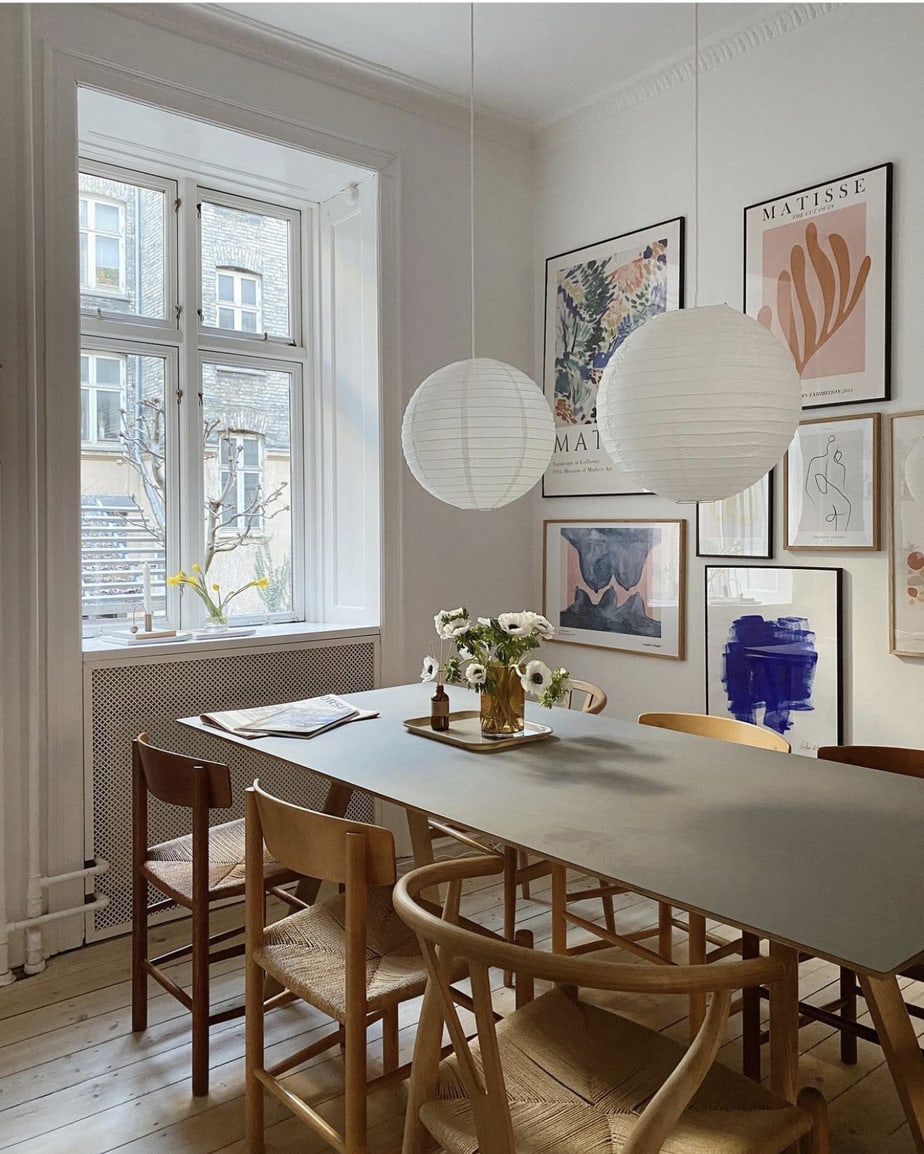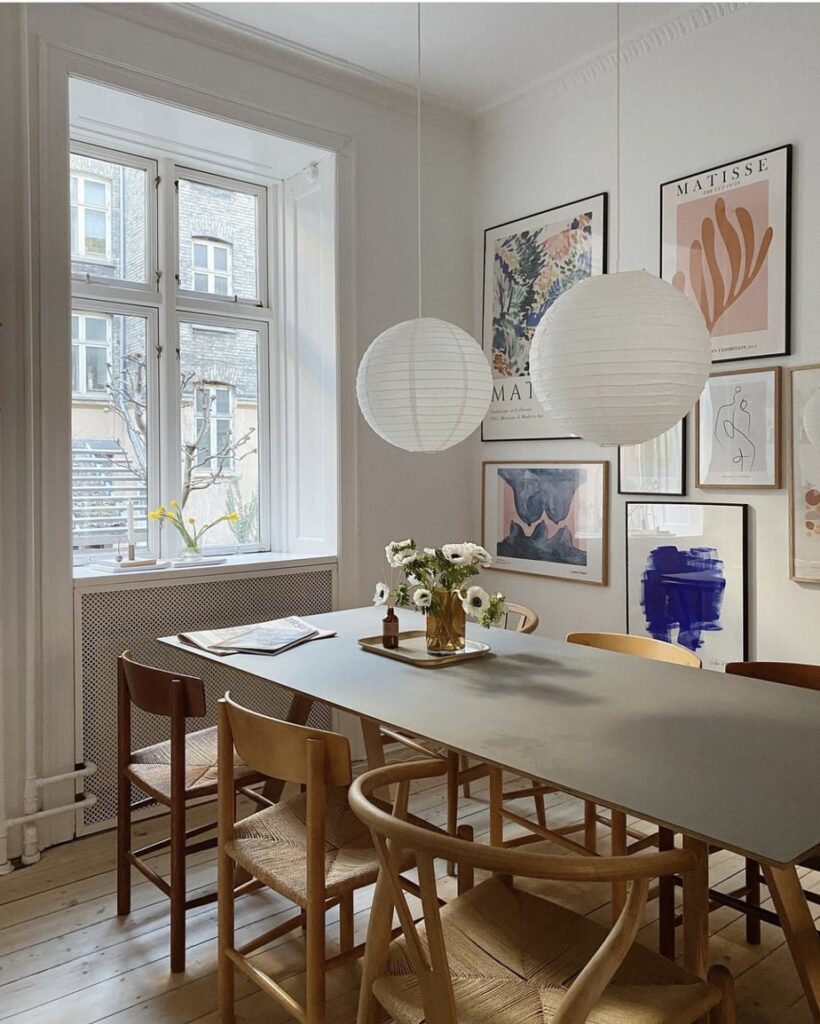 Earlier this week we revealed the bold wallpaper choice we made for our latest project. Prompting, us to start looking for the next item on our list which just so happens to be lighting for the dining room.
So we thought why not share our tips, tricks, and general rules when it comes to choosing the perfect Mid-Century Modern lighting. And even though we are specifically working on our dining room, this would work for any space in your home.
What is Mid-Century Modern Lighting
When I think of Mid-Century Modern, I think of a space with clean lines, sleek floors, and an open-concept floor plan. Not to mention a space with organic textures, and timeless features (like lighting).
Arguably, the style has become less of a trend and more of a timeless classic. Which is why we think Mid-Century Modern lighting has its place in a wide range of homes.
So regardless if you have a home that is entirely mid-century modern, or you just want to add some classic lighting without going overboard. Then these rules for choosing the perfect classic lighting are exactly what you need.
What Type of Light is Best for Your Room
While Mid-century modern lighting is very classic, there are types of lighting that will suit certain spaces better. For example, you are looking for a light for your bathroom. Most likely you don't want a pendant light (I mean it's totally possible), but a flush mount light would be better. Our "rule" is meant more as a guide than anything, but this is what we like to stick to:
Bathrooms – Flush Mount Lighting
Dining Rooms & Kitchens – Chandeliers and Pendant Lighting
Bedrooms – Pendants, Lamps, and Chandeliers
Hallways – Flush Mout and Pendant Lighting
How to Choose Lighting for an Open-Concept Home
Mid-Century Modern design generally has three base colors, black, white, and gold. Secondary colors range depending on your style, but when it comes to lighting we find sticking to one of the three options is best.
Not to mention choosing a complementary color for your light in an open concept home is tricky. It's actually something we're currently deciding on right now. We have a beautiful gold and glass light in our kitchen, and a gold and glass flush mount above our sink.
The issue is do I try to add another gold light or will that be too much gold? or my second option (and one I'm leaning on the most) is going with a large pendant light. With the right light bulb, we should be able to complement the rest of the lighting without competing.
Therefore when you're choosing a light for your open concept space, you have to think about the other lighting and colors in the space. The best way to problem solve is to create a mood board and check out a ton of inspiration on Pinterest.
How to Figure out How High to Hang your Light and other Questions about Scale
The last rule we always think about before committing to any light is figuring out the scale. Is the light too big for the size of the room? or is it too small? You don't want to have this underwhelming pendant light in a giant room.
Instead, you want to make sure you have the right size for the space. The best way is to take out a tape measure and find the answer to the following: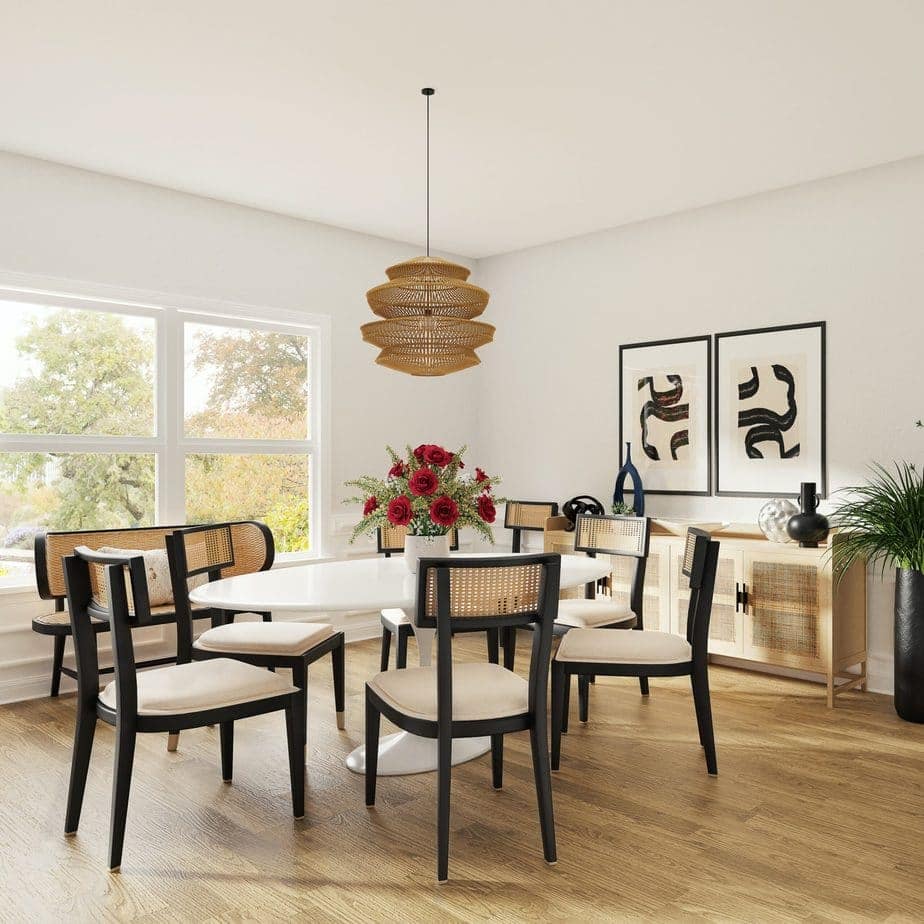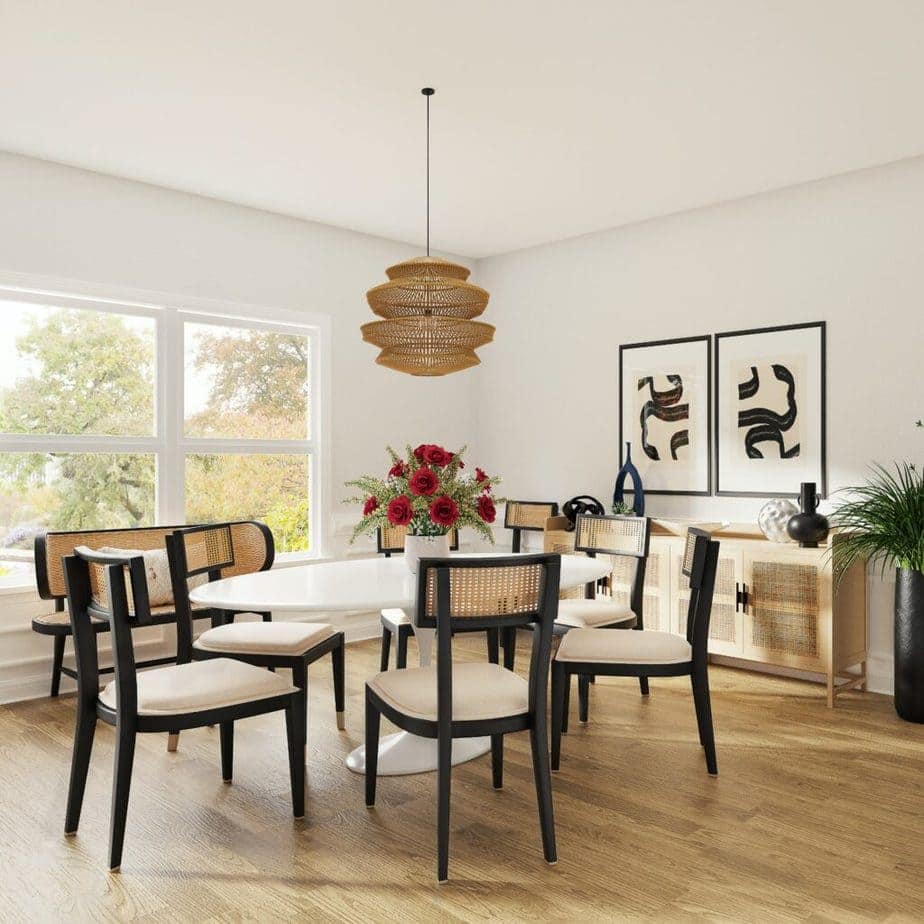 How to Figure out the Ideal Size of a Light Fixture
Measure the length and width of the room
Add both those together
Swap out the ft. for in. and that is the ideal size of the light.
Find the Perfect Hight of a Light Fixture
This is quite easy to find the perfect height to hang a light fixture, and once you know how to, you'll never forget.
Measure floor to ceiling
Take that number and multiply by 2.4 – 3
You'll get a number like (9ft x 2.5 = 22.5) (9ft x 3 = 27)
Convert from ft. to in. and that is the final number (ex. anywhere between 22.5 to 27)
How High Should your Light Hang in Each Room
When it comes to hanging your light, there is a general rule of height that will help you decide which type (the first rule) is best for your home.
The general rule is to have at least 7 ft from the floor and the light.
Hallways and entryways will need at least 3ft from the top of the door, while bathrooms need 8ft from the tub to the light fixture. However, that is a guideline and in some cases, we've had a miniature chandelier that sat 3ft or higher from the tub just to be safe.
The Perfect Size Light Fixture for Dining Room Tables
Dining room tables are really fun to design around, but there are several rules we like to follow on all our designs.
Dining tables need a light that is at least 6 inches on each end of the table.
Rule for Spacing Light Fixtures over a Kitchen Island
The general rule for spacing light fixtures over a kitchen island is simple. We like to stick to the following formula:
Measure the length of the kitchen island
Add the number of fixtures or pendents, by their diameter
Take this number away from the total length of the island
Determine the number of fixutres and add 1 for extra spacing.
Take the total from #3 and subtract the total from #4. This will give you the best spacing, which is usually around 9″ or so.
Okay, now that you learned a few of our general rules for not only finding the perfect light but also hanging the perfect light, we are going to share 36 Mid-Century Modern lighting options for you to go through below.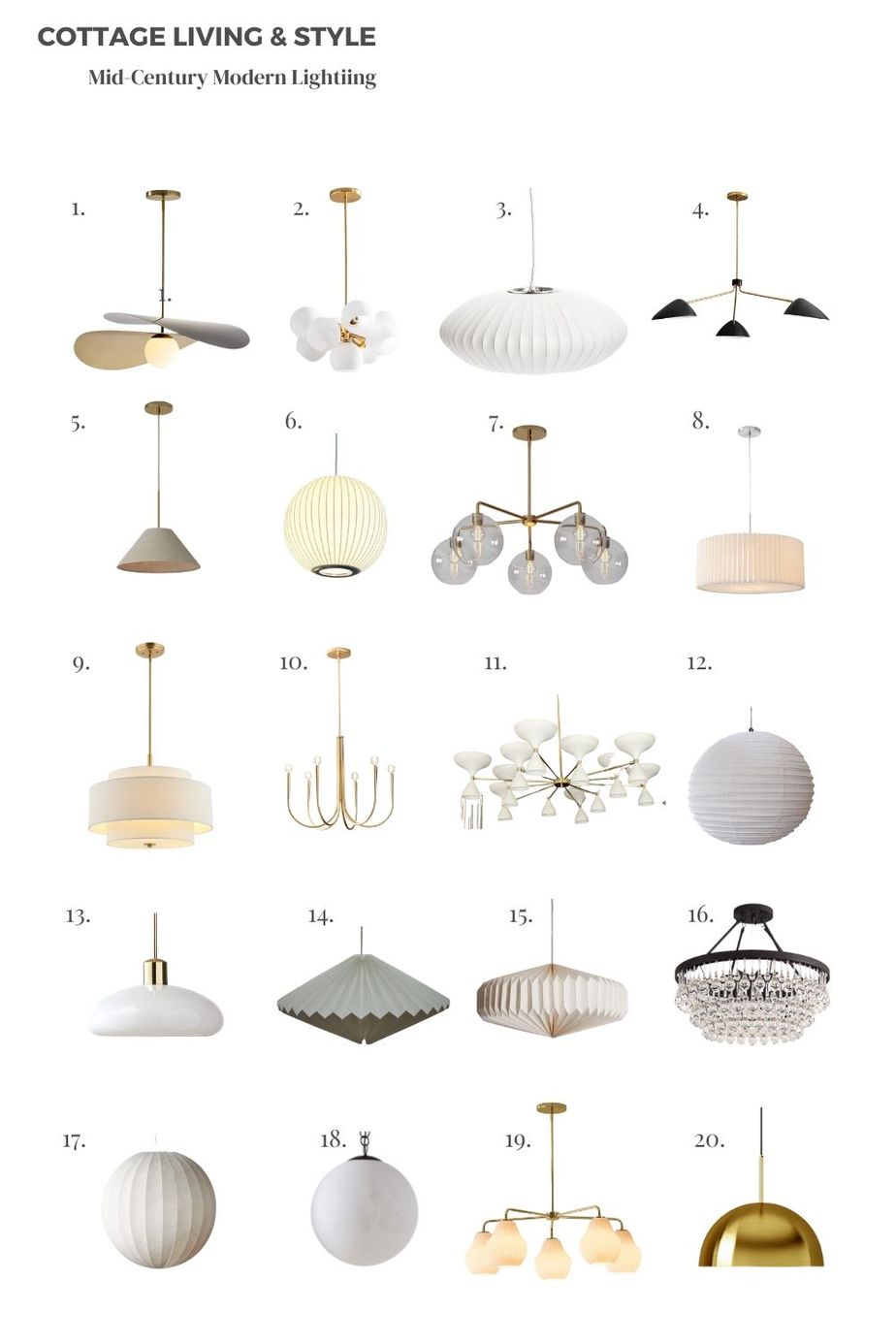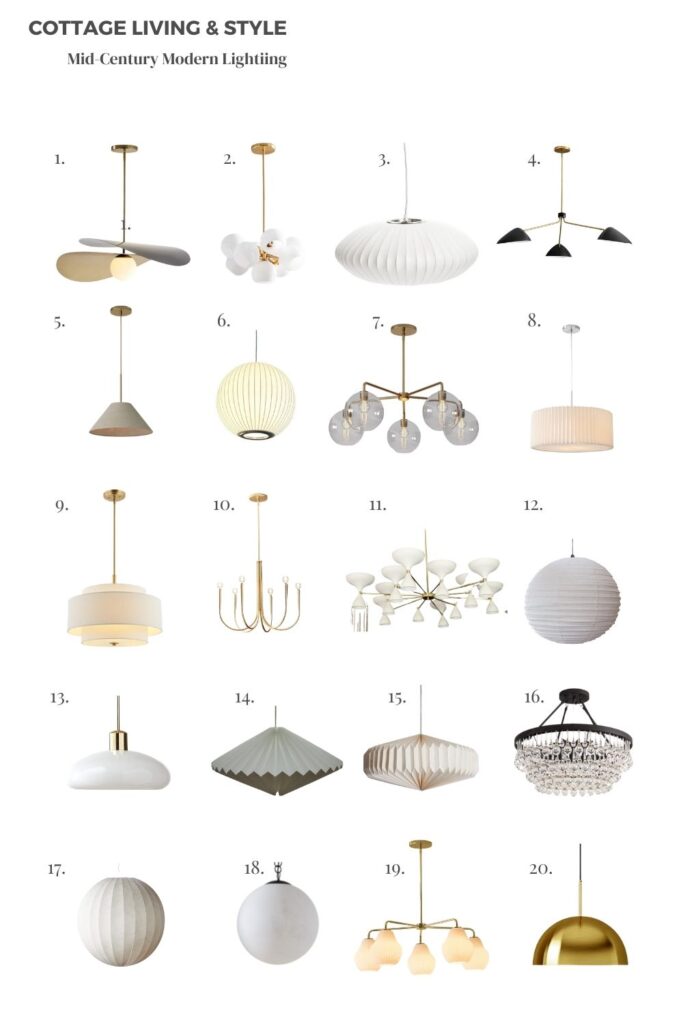 1. Olivia Pendant | 2. Staggered 9ft. Milky Glass | 3. Mid-Century Bubble Discqus Lamp | 4. Curvilinear Mid-Century Chandelier | 5. Sculptural Fabric Cone Pendant | 6. Mid-Century Bubble Lamp Ball | 7. Sculptural Glass 5-Light Globe Chandelier | 8. Short Drum Pendant | 9. Koeller 3 | 10. Swoop Arm Chandelier | 11. Huge Italian 12-Arm Chandelier | 12. Handmade Fringed Linen Light Shade | 13. Iona Polished Brass and Opaline Glass | 14. Origami Paper Lampshade, Eco-Friendly | 15. Indian Recycled Paper Saucer | 16. McKight-9 | 17. CB2 Lucent Pendant Light | 18. Moon Pendant Light | 19. Sculptural Light | 20. Lyle-1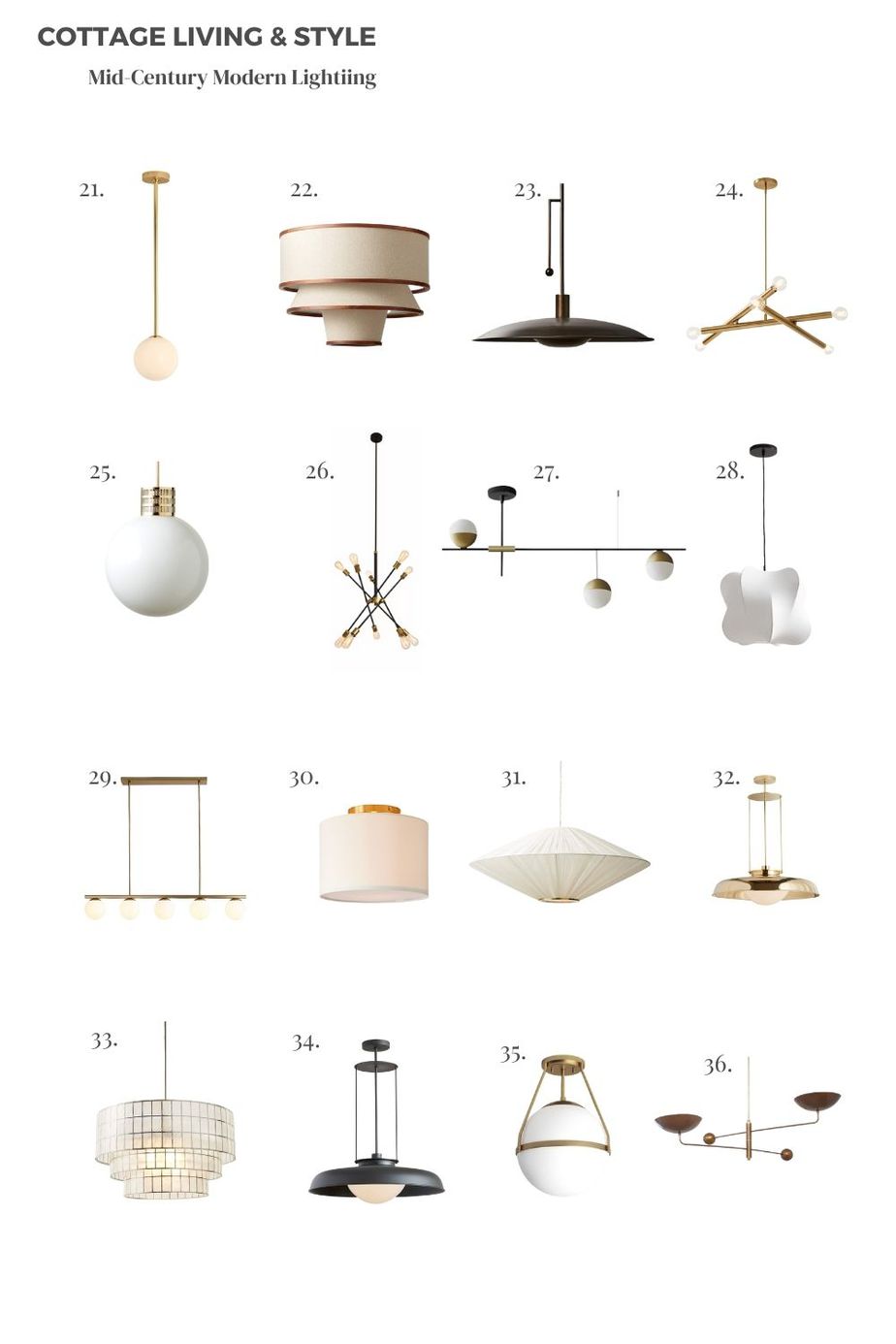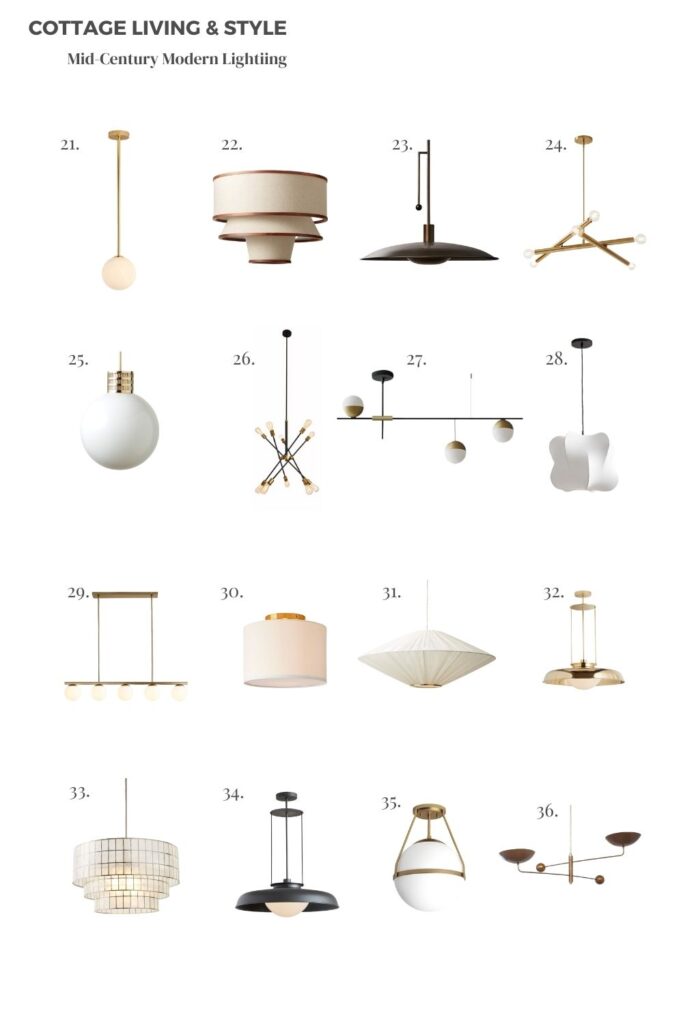 21. Allenglade 8″ Pendant | 22. Bruna Wallnut Wood and Linen Pendant | 23. Alavanca Oxidized Nickel Pendant Light | 24. Modern Linear Spudnik | 25. Givoni Polished Brass Pendant | 26. Arachne-10 | 27. Modern Mid-Century Light | 28. Cirrus Pendant | 29. Hayes Linier | 30. Drum Flushmount | 31. Goldie Nylon-Wrapped Pendant | 32. Ormandy Rod Pendant | 33. Capiz Tiered Chandelier | 34. Black Ormandy | 35. Amirah | 36. Mid-Century Raw Brass Spudnik