Shopping Challenge: $1000 Dining Room Makeover
Can we finish the Dining Room Makeover for under $1000? Read more to find out!
While we love being inspired by big-budget makeovers and even bigger renovations. I knew when we launched this design blog, that we would focus more on budget-friendly makeovers and small to mid-ranged renovations.
Only for the simple fact that those numbers are relatable to us right now.
We're a young family, with two small children who just bought their first house together, so as you can imagine we're in the early stages of making our house a home.
We have both worked really hard the past few years to pay off about 99% of our debt. And it wasn't until last year, that we were able to have a budget for our own home projects. Proudly, without needing a loan or credit (not that there's anything wrong with that route).
But we are excited to share exact budgets and real numbers on this blog. Hopefully, this will not only inspire you to make your house a home regardless of budget, but also give you the knowledge to do it.
So the question today is, do you think we can finish the dining room makeover for under $1000?
Shopping Challenge: $1000 Dining Room Makeover
Our dining room makeover has been a long time coming. We installed new flooring and purchased a dining table about six months ago, and last week we installed the wallpaper.
So the bulk of this makeover is done, which is why today is all about shopping for the finishing touches with the remainder of our budget. Let me remind you, that these finishing touches, are what make the space look and feel finished.
They are also the hardest part for most people.
I think a lot of people get paralyzed with choices and end up not making a final decision. So this is our journey to finish the room and inspire you to make a budget for that room in your own home.
The Challenge:
To find and purchase the following for under $1000.
Baseboards
Dining Room Lighting
Curtain Rods (3)
Curtains (3)
Decor (Indoor plants, and art)
The Baseboards
The first stop on my list is to purchase baseboards. But after calling around and doing some research I decided we would visit Barrie Trim and Doors.
We need about 114 ft of baseboard to finish the dining room (hallway and living room). This is the area where I don't suggest you cheap out on. I also suggest you visit a store if possible and grab some samples to make sure they are exactly what you are looking for.
Tip: For our 8ft ceilings we are looking for 5/8th x 5 1/2 will make the room look modern.
I found exactly what I was looking for from Metrie for $2.27 ft.
What I paid
$358.12
This price includes delivery, which is next Monday. So make sure to follow us on Instagram for more behind the scenes.
Remaining total budget
$641.88
Dining Room Lighting
On to the dining room lighting, which was really hard for me to decide what I wanted. I loved the mid-century modern lighting, but after I saw a few in person I decided we would go a different direction.
We ended up stopping at Bouclair because they have a great selection of lighting for anyone on a budget.
So here are the two options I am considering: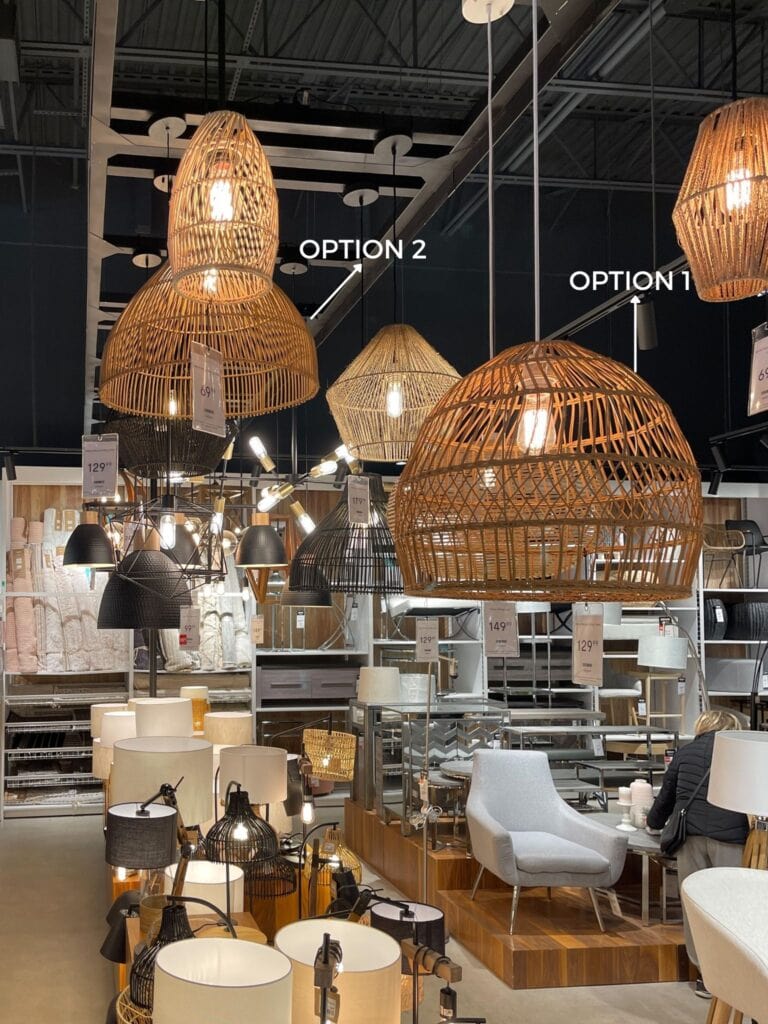 Option 1 is nice, the shape is great is it to boho? Im not sure.
Option 2 is a little more structured, with cleaner lines, and IN STOCK!
Needless to say, you can probably guess which one I left with.
The total cost of the light:
$155
Remaining total budget
$486.88
Curtain Rods
While we were at Bouclair, I took a look at the curtain rods. They have a huge selection of not only rods but also curtains.
To finish off the dining room we need three curtain rods, (2) 50″ and (1)110″.
Luckily I got the 110″ on sale for 30% off, and the other two at full price.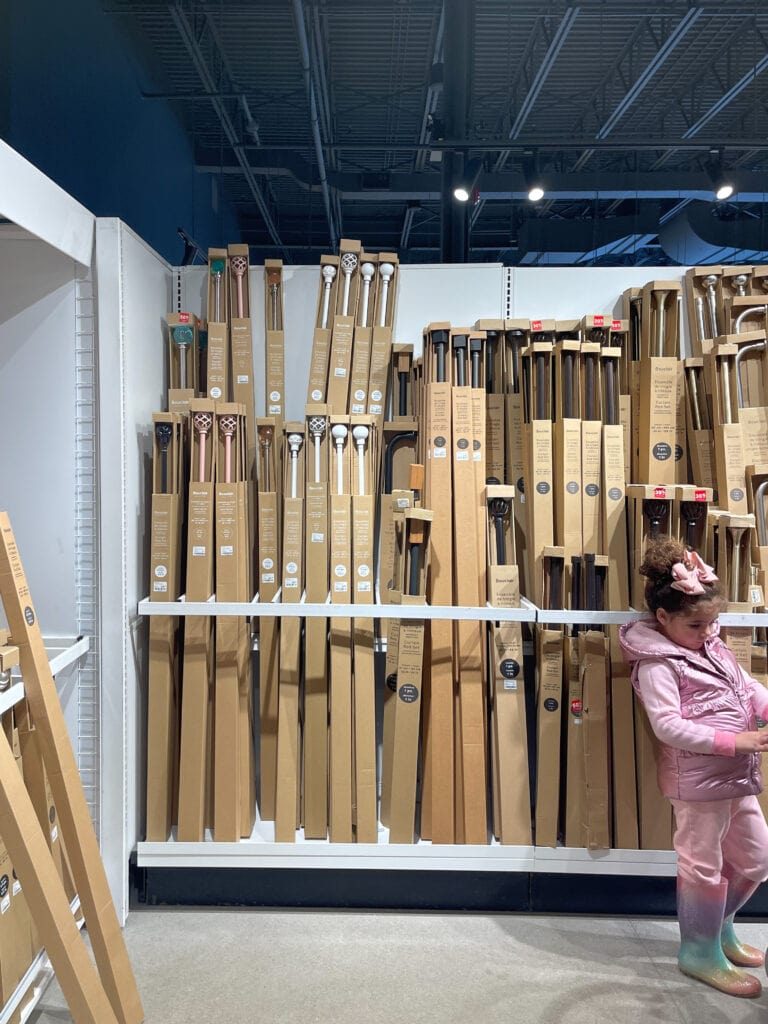 The total cost of the curtain rods:
$80.16
The remaining budget:
$406.72
Curtains
Next, I went looking for curtains. I searched everywhere for curtains that were long enough (you can read more about choosing the perfect curtains here), without grommets, and of course the right shade.
I wasn't sure which color I wanted, but now that I can see how the carpet looks in the dining room I'm leaning more towards white verse using any color. Anyway, I ended up ordering Ikea curtains, which are a great budget option if you need it.
The total for curtains and curtain rings
$89.97
Remaining total budget
$316.75
Decor (Art, Plants, and Pots)
Finally, we are down to the last few pieces of decor to finish our makeover. We always recommend shopping your home first, and finding out what you have and can repurpose.
Since we don't have any small indoor plants to use for the dining room, I thought I would add a few snake plants to the list. Plus a white plant stand, I actually saw it on Pinterest and loved how it looked.
While we were at Homesense, I spotted two pieces of art that would be really pretty in the space. However, I wasn't 100% sure about the two. They were also around $100 each, and that would surely push me over my budget.
Do I regret not buying them? maybe. I just think if I hold out a little longer I might come across something special.
The total for decor:
$19.99
Remaining budget:
$296.76
Surprisingly, I came in under budget but also, I'm not exactly finished. We still have art and plants to find. So this could honestly push me over budget, quite easily. But I hope you had fun reading this because I had fun writing it. Plus it might help you see another side of design and the things I think about when making over a space on a budget.