Whimsical Cottage Style Toddler Bedroom
Welcome to our daughter's whimsical cottage-style toddler bedroom. We hope you'll find some ideas and inspiration for your child's bedroom.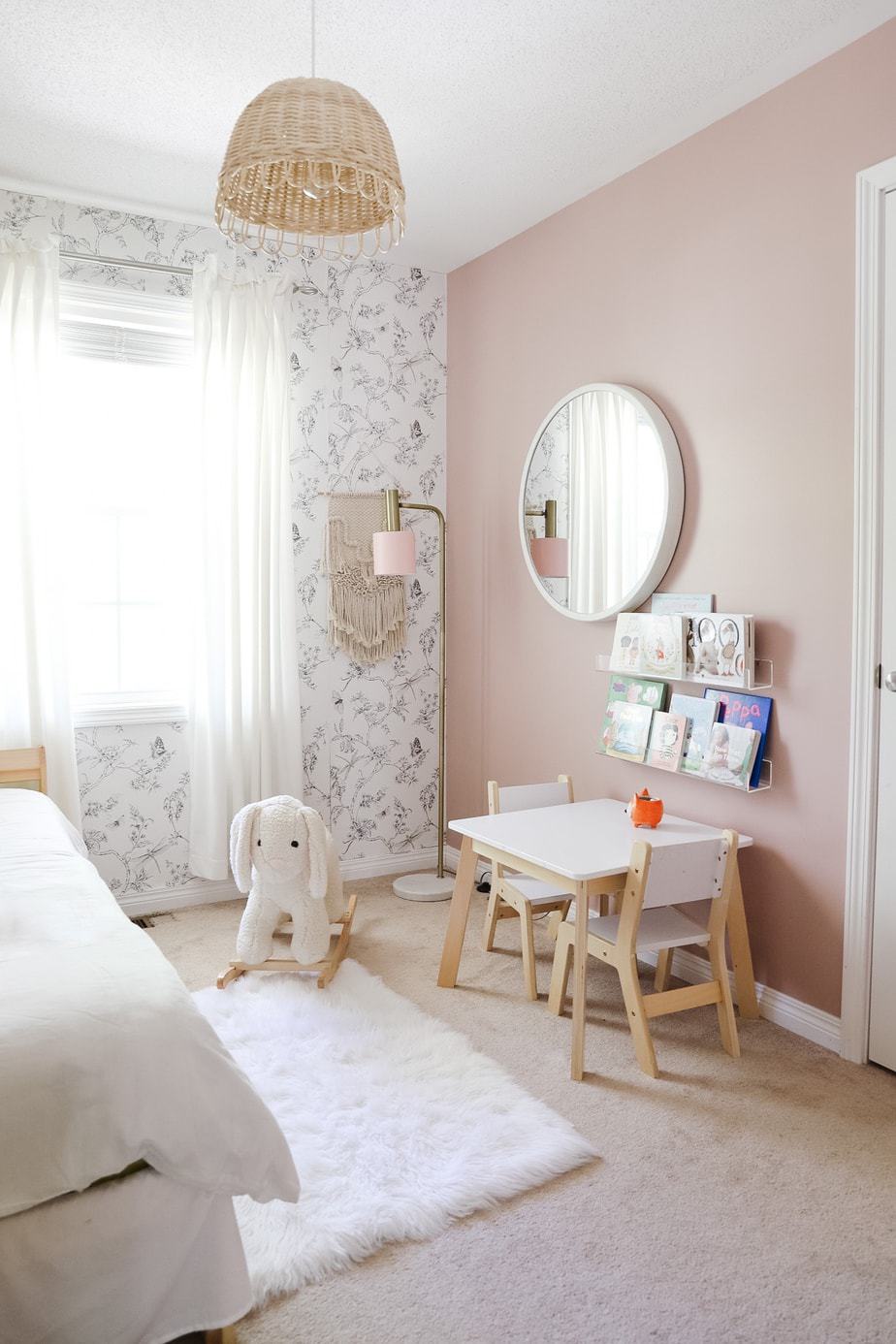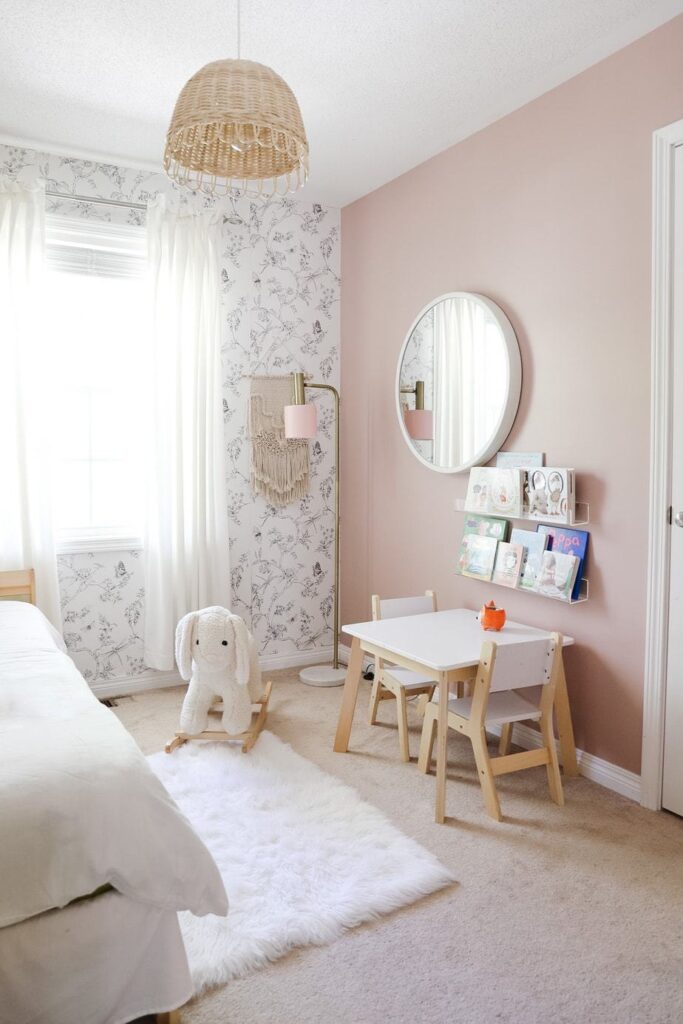 It's been nearly three years since we made over this whimsical cottage-style bedroom for our daughter Penelope. We thought it was time to re-share this beautiful budget-friendly makeover, especially since we're about to start on our daughter's big girl room.
Welcome to my favorite room in our home, our two-year-old daughter's bedroom. It's the perfect mix of whimsical and cottage, fit for a real-life princess. Even though we had a limited budget for this project, we loved the way it turned out!
It has whimsical wallpaper, pink walls, and toddler-sized furniture.
Keep reading to see how we put together this project in only a few short weeks.
Pink Paint for a Little Girls Cottage Bedroom
I wanted to start with the pink paint, and why we chose this particular shade.
The paint color I used is #S190-3 Sedona Pink and it's a gorgeous color. We used Behr's Dynasty Paint, for its stain and scuff resistance. The bedroom walls were all unfinished and had never been painted or primed. So we needed something that had full coverage and only required one or two coats.
Sedona Pink was a great choice because I really didn't want a color that was too bubble gum pink, or pulled too cool.
If I had to descibe the color to you, I would say it certainly pulls warm tones. It does however have hints of rusty orange, with a bit of brown and pink. Hopefully that can help paint a better picture of how this color looks in person.
Finding the Perfect Whimsical Wallpaper
I get a lot of questions about the wallpaper I used. It's probably my favorite part of her entire bedroom because I know she will love it for years to come. The wallpaper is called White Mica and I purchased it from Home Depot. It took about three rolls to cover the one wall, and we had a bit left over.
I used the Roman Wallpaper and Boarder Adhesive since I did not get the pre-glued option. If I had to do it again, I would definitely get a peel and stick wallpaper. Glueing it took so much longer and it was harder to know if I was doing it right.
But the entire goal for Penelope's bedroom was to keep her room as minimal as I could for a child's bedroom. I didn't want a bunch of toys and books everywhere, so I started putting them in these collapsable bins and taking advantage of the storage space in her closet.
As a former teacher, I picked up a lot of tips and tricks for kids' spaces. One of the best tips was rotating her toys and books every season. It helped that I found a great acrylic bookshelf to showcase books for each season or holiday.
The Details
The white shag rug from Amazon was meant to be a place holder, but we ended up spending a lot of time on it. The sheepskin rug by the kitchen set is old from West Elm, but this is another option.
The curtains are the velvet curtain panels from CB2 in Ivory.
Looking for vintage Turkish rugs? The exact rug is currently sold out in this size but this is a similar color in that size (it's currently 20% off and free shipping).
The Furniture
Her bed, dresser, and mattress are all Christmas present from my parents, and they are all from Ikea. The 5-drawer dresser is TARVA, and her bed is a single NEIDEN bed frame with a single mattress.
Her bedsheets are also from Ikea which is one of my favorite places to find twin sheet sets.
Resources
Kids table with chairs – US link HERE.
A similar pink globe is linked here
Wallpaper is linked HERE!
Easel is mine as a child but this is a similar one
Acrylic bookshelves – US link HERE.
I can't find the gold mirror so I'll link one here and here
This is the ceiling light we added, and her pink lamp
The pink kid's tent is linked here and here.
For her pillows, I had them custom made so unfortunately, I can't link them. But I was able to find similar options like this velvet green pillow and this other green pillow. I'm also thinking about getting a pink pillow cover as well.
The animal hooks and everything hanging on them were either gifted and I don't have a link for them right now. But if I do I will be sure to update her big girl bedroom reveal for you.