This post is our boho pink girls room reveal! We're sharing the exact paint colour, wallpaper and more.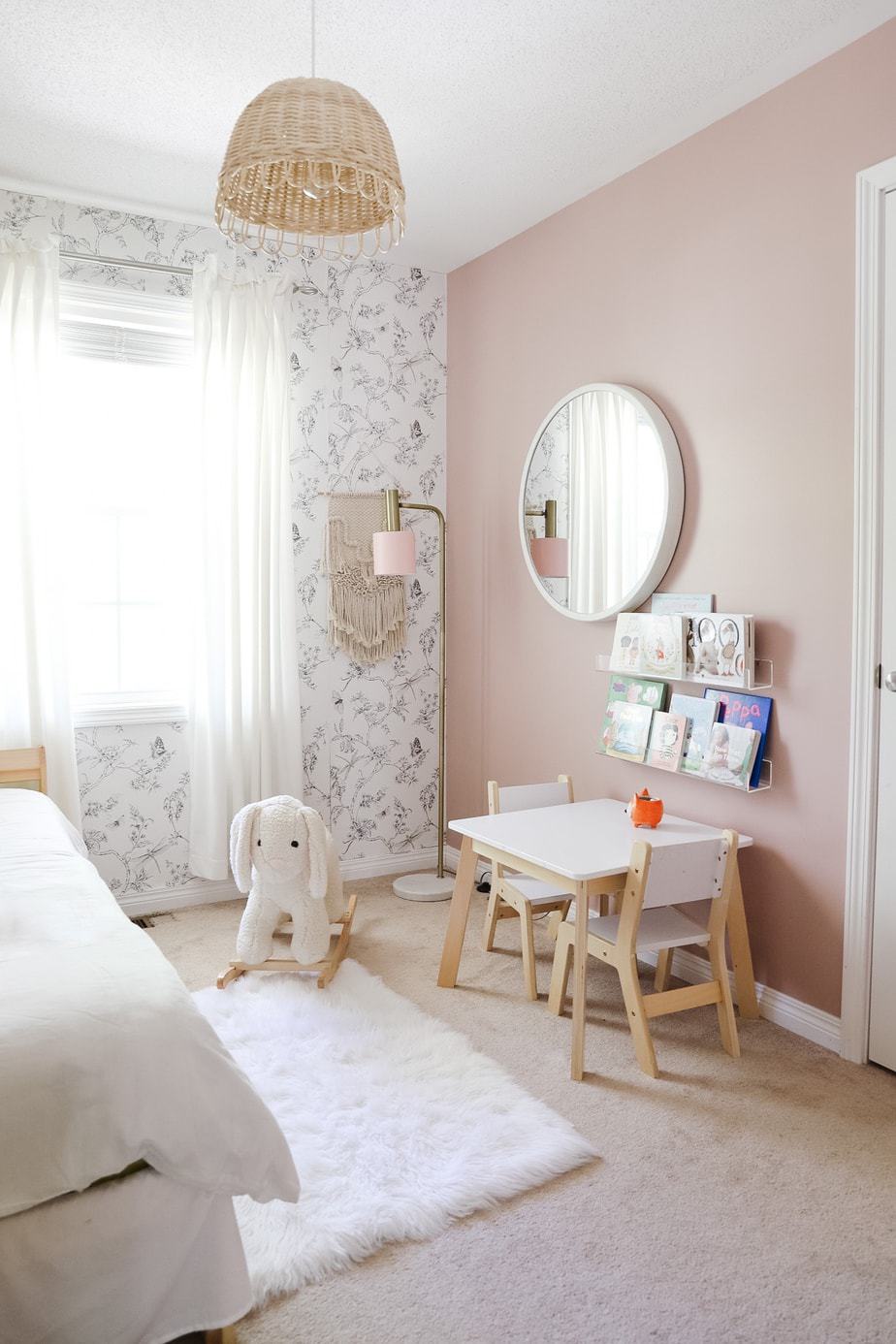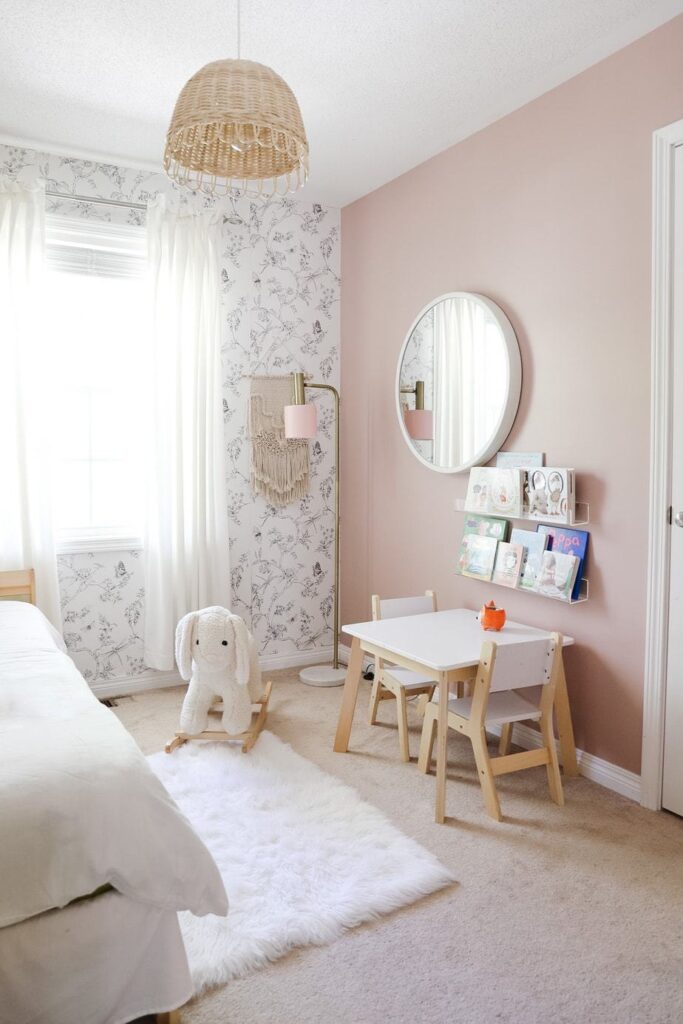 Our pink toddler bedroom reveal is finally here! It's been two years in the making but it was so worth it. I think it's turned out beautiful and more importantly, I am so happy that my two-year-old absolutely loves her new bedroom.
The Perfect Paint Color for the Pink Toddler Bedroom
I wanted to start with the paint color because it's a question I get asked quite regularly. To be honest I didn't want to paint our daughter's bedroom pink, just because I felt like it was too overdone. I originally planned to create a gender-neutral room with a lot of beige tones, but I also wanted to find something that would match her personality. This is why the pinky-beige paint color was a perfect choice, and it makes her bedroom feel very whimsical and boho.
The paint color I used is #S190-3 Sedona Pink and I used almost one entire can of an all-in-one paint from Behr Premium Paints.
Mind you our walls were unfinished and just whatever the drywallers used. So all I had to do was fill a few holes and sand them before I started painting. If you are planning on painting and have paint color on your walls I would recommend using a primer first.
The Perfect Boho Girls Room Wallpaper
Another question I get a lot is about the wallpaper I used. It's probably my favorite part of her entire bedroom and I know she will love it for years to come. The wallpaper I used is called the White Mica and I purchased it from Home Depot. I used 3 rolls and had a bit leftover, but I did mess up on a few pieces so it worked out. I also used Home Depot's wallpaper glue since this particular wallpaper doesn't come pre-glued. If I had to do it again, I would definitely get the pre-glued wallpaper as I used in my Chic Home Office. Installing wallpaper with glue is a pain!
Shop The Post


I wanted to keep her room as minimal as I could for a child's bedroom. I didn't want to be a bunch of toys and books everywhere, so I started putting them in these collapsable bins and taking advantage of the storage space in her closet.
As a former teacher, I picked up a lot of tips and tricks for kids' spaces. One of the best tips was rotating her toys and books every season. It helped that I found this great acrylic bookshelf and I couldn't be happier with it! In fact, it's often one of our top-selling items (so everyone else must love it as well).
Where are the rugs and curtains from?
Another common question is where we found the shag rugs? The white shag rug is from Amazon (I'll be replacing it with a larger one soon!). The sheepskin rug by the kitchen set is old from West Elm, but this one looks better in my opinion.
The curtains are the velvet curtain panels from CB2 in Ivory.
Looking for vintage Turkish rugs? The exact rug is currently sold out in this size but this is a similar color in that size (it's currently 20% off and free shipping).
The Dresser, Bed, and Mattress
Her bed, dresser, and mattress are all a Christmas present from Ikea. The 5 drawer dresser is TARVA, and her bed is a single NEIDEN bed frame with a single mattress.
Her bedsheets are also from Ikea which isn't bad, but I think I'm going to change them to this white set or this striped one.
More Links:
Kids table with chairs – US link HERE.
A similar pink globe is linked here
Wallpaper is linked HERE!
Easel is mine as a child but this is a similar one
Acrylic bookshelves – US link HERE.
I can't find the gold mirror so I'll link one here and here
This is the ceiling light we added, and her pink lamp
The pink kids tent is linked here and here.
For her pillows, I had them custom made so unfortunately, I can't link them. But I was able to find similar options like this velvet green pillow and this other green pillow. I'm also thinking about getting a pink pillow cover as well.
The animal hooks and everything hanging on them were either gifted and I don't have a link for them right now. But if I do I will be sure to update her big girl bedroom reveal for you.
SAVE this PIN for our boho pink girls room reveal!
FOR MORE, CHECK OUT:
11 Favourite Children's Books including 6 That Celebrate Diversity
Our Homeschool Room for Preschoolers