11 Nursery Organization Ideas
This post is about the nursery organization hacks I wish I had.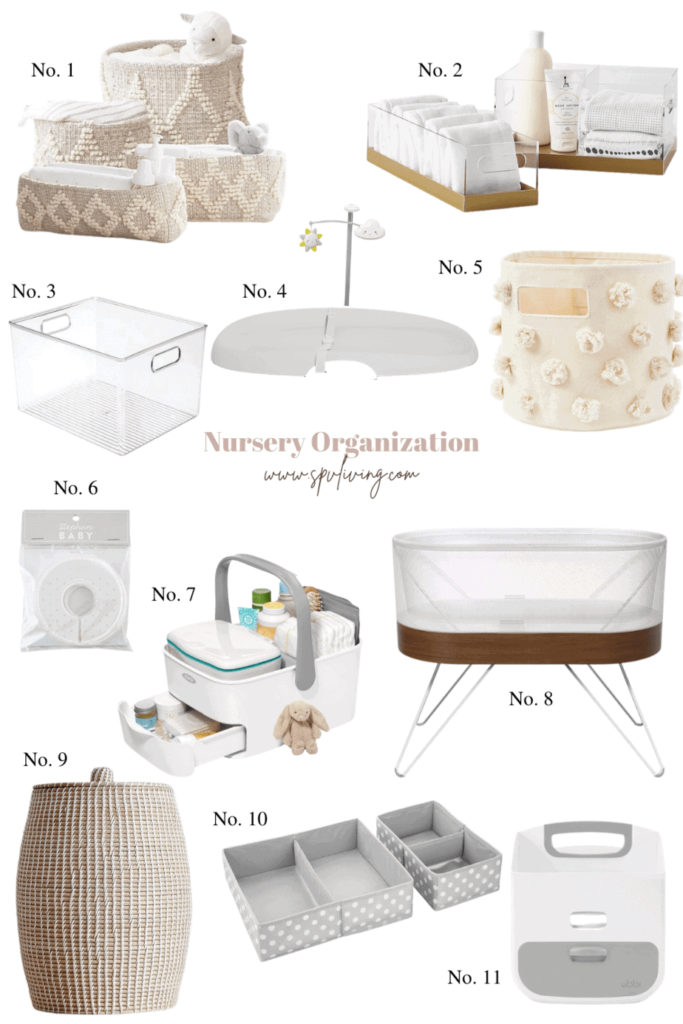 When we first brought Penelope home from the hospital, I was sure we had everything we needed. I felt like I was prepared for newborn life, but now that I look back there were definitely a few things I could have done to make things easier for myself.
Things like simple nursery organizers for diapers, laundry, and of course a basket for night time nursing.
Here are 11 Nursery Organization Ideas that every mama needs!
The best nursery organization ideas
Different Size Baskets

This probably isn't going to be something new to you, but its honestly a necessity when it comes to nursery organization. These different sized baskets are great for rolling up muslin cloths, blankets, or the other things you don't use as often. Personally, I store them in the closet which is why I add things that I use once a day or once a week.
Clear Trays

These clear trays are perfect for adding on top of a dresser, or changing table. This is where you would store baby products that you use daily, like baby lotion, diaper rash ointment or nipple cream. I love pretty nursery organization products, because I'm more likely to leave them out instead of tucking them in a drawer.
Plastic Bin

Another plastic bin that is perfect for your nursery. When your a new mama the last thing you want to do is go looking for another sleeper or set of mitts. Having a clear bin in the closet will make it easier to see exactly what's in it when you need it. Plus they look chic and perfect for any gender themed nursery.
Changing table

Even thou a changing table isn't really an organizational product, I wanted to include it anyway. I've tried several over the years and again I come back to this specific change table because it's easy to stash under the dresser, in the closet or bring with you in the house. I like changing tables that are movable, and easy to clean.
Cute Basket

If you couldn't tell, the major theme is cute baskets. I made sure to include gender neutral options for all new mamas. The baskets that are a bit bigger like this one is where I store our rattles, and toys. It's an easy way to clean up a mess really quick, or find something to entertain your baby.
Clothing Organizer

I didn't use a clothing organizer at first, and I was constantly sorting through Penelope's outfits to find the ones she could fit. This is one of those things you think you wont use, but I promise they make your life easier.
Diaper, Wipes and Changing Mat

Getting yourself a diaper caddy is such a smart idea, especially if you have a two story home. It's the perfect way to make sure you have diapers, wipes and a changing mat in the living room or where ever you hang out most in your home.
Bassinet

This is another thing that isn't a nursery organizational product, but it is a good hack. If a Snoo is within budget it's another item I plan on using in our nursery. I've read a few reviews all raving about the Snoo, which I will link here for you. If you don't want to splurge on it, a simple bassinet will do the trick for mama's who want your baby close by.
Laundry Hamper

I wish we had more room for a laundry hamper in each room, because if we did this is the one I'd use. I like that you can put all the dirty clothes in it and close the lid. It's an easy way to make the nursery look clean and organized.
Drawer Organizer

We all have one of these drawer organizers in each of our dressers. I just find it an easy way to not only sort our socks, but also the tiny baby clothes. I ordered two sets to make sure I had room for baby necessities I don't want out, and for the little sleepers, undershirts and mitts.
Diaper Caddy

The last nursery organization hack is a simple diaper caddy. I just love these and I have at least two of them. One for the living room and one for her bedroom. This one in particular is one I keep in the nursery and include her lotion, oil and ointments.
Other posts you may like…