Tips + Tricks to Paint Honey Oak Kitchen Cabinets
If your trying to decide if painting oak cabinets is worth it, this post is for you. I share how to paint oak cabinets, list the pros and cons (now that it's been several years), and the best tips and tricks.
Before we bought the Cottage Bungalow, we owned a two-bedroom condo in Toronto. It was the perfect place for a young couple and added to my love of design. We had big windows in each room that overlooked the Toronto skyline, and a beautiful condo-sized kitchen.
That kitchen had dark laminate cabinets, quartz countertops, and a conventional stovetop built into the island. It was perfect for us at that time. However, our new house feels like we've taken a step back. The day we placed an offer on this house, I knew two things.
The honey oak cabinets in our kitchen needed to be updated, and the brown laminate countertops had to go! So that became the plan. I was going to figure out how to give our wood cabinets a new look that updated the feel of my kitchen.
If your house was built in the 1980s, or 90's then you probably have an L-shaped kitchen with partial overlay oak cabinets. It was a popular design choice during that time, and even after since our house was built in 2011. These traditional styles of cabinets are not only popular but the least expensive, which is why you'll see a lot of builder-grade homes with this style. The orange oak or cherry oak is a dead giveaway if you're questioning the type of wood cabinet you have.
While you can't do much to modernize the partial overlay cabinets, however, I truly believe there is so much power in paint. But there are rules to making sure you get the highest-quality results, such as:
Make sure you have quality materials like primer and a paint sprayer
You actually take the time to do the prep work like sanding (or if you're not sanding, to clean and degloss the cabinets first)
It's totally possible to paint oak cabinets, but if you aren't into DIYing it yourself, make sure you find a professional painter who can. 
Luckily there are solutions to updating oak kitchens on a budget! Keep reading to learn how to update your cherry cabinets without spending thousands on a new kitchen.
Painting Oak Cabinets
In this section, I'm sharing expert tips for painting oak cabinets, how to make them look modern, and the best primer and paint you'll need.
I do want to preface this by saying that even if you choose the no-sanding primer route, prepping your cabinets is the key to beautiful kitchen cabinets.
Materials
Tack Cloth
Wood filler
Putty knife
Deglosser
High quality paint
Latex or oil-based primer (Zinsser BIN)
Paint sprayer
Mini foam roller
Paintbrush
Step-by-Step Tutorial for Painting Oak Cabinets:
Clean Cabinet Doors
The best way to prep for paint is to wipe your cabinets and drawer fronts down first. We recommend doing this with mild soap water and a clean rag. Next, you want to grab either mineral spirits or a deglosser like Krud Kutter, which you will spray and wipe away the shine and build-up. Lastly, take an orbital sander with 100-120 grit paper to get rid of the oak stain.
Use Wood Filler or Grain Filler
Next, you will need to assess your oak cabinet doors for any imperfections and fill the grain. We recommend you use a wood filler like Bondo Wood Filler. With a putty knife apply the product, wiping it into the grain, and wiping any excess product in a single stroke.
Once the filler is dry, use the Orbital Sander with 120 grit and then 220. This, of course, seems like extra work, but if you don't want to see any oak wood grain then this is important.
Finish with a tack cloth, wiping down just before you're ready to paint. This will make sure there is no debris or even fluff on the cabinets before adding a coat of paint.
Hang or Lay the Cabinets
The first way is to use a paint sprayer.
For this option, you will want to hang your cabinets. The best way is by screwing a cup hook into the bottom of your cabinet, preferably with a pilot hole. The hangers will then be able to be hung on hangers (standard hangers for PDSR). The next way is by laying them on top of a plastic sheet, waiting for one side to be finished at a time. Obviously, this takes longer.
Prime Cabinets
There are many different types of primer, but the best primer for kitchen or bathroom cabinets is a Zinsser product. Their BIN Shellac is a wonderful product that I've used time and time again.
I applied 3 coats of primer to each cabinet, either with my paint sprayer, foam roller, or with brush. If you are using Zinsser primers in a paint sprayer you have to make sure after you are done spraying (max a few hours), you will need to clean it with acetone. Or it will harden and ruin the spray gun.
Paint with a Brush or Roller
As I said, for my kitchen I opted to use a paintbrush. Not only was It was horrible weather, but I had already tested this out on our bathroom cabinets. So I knew I could get a great look without a sprayer.
In hindsight, I wish I would have just bought the sprayer and taken the extra steps. I'm sharing more about that next.
But you will need to use the roller and paintbrush regardless of the kitchen island. And I learned that the trick to getting a smooth finish with a paintbrush or roller is to do light sand after each coat of primer. Followed by a wipe with a tack cloth, ensuring there is no sanding dust left.
Paint with a Sprayer
In the long run, this looks the most professional, and taking time to prep properly makes a world of a difference (trust me I know, I'm about to repaint our other cabinets).
Along with any other project that requires a paint sprayer. You need to make sure it does not have any splattering or overspray. So keep the nozzle moving at all times, continuously spraying back and forth.
Again, for best results, I did 2-3 coats of paint.
I'm sure by now they look like brand-new cabinets!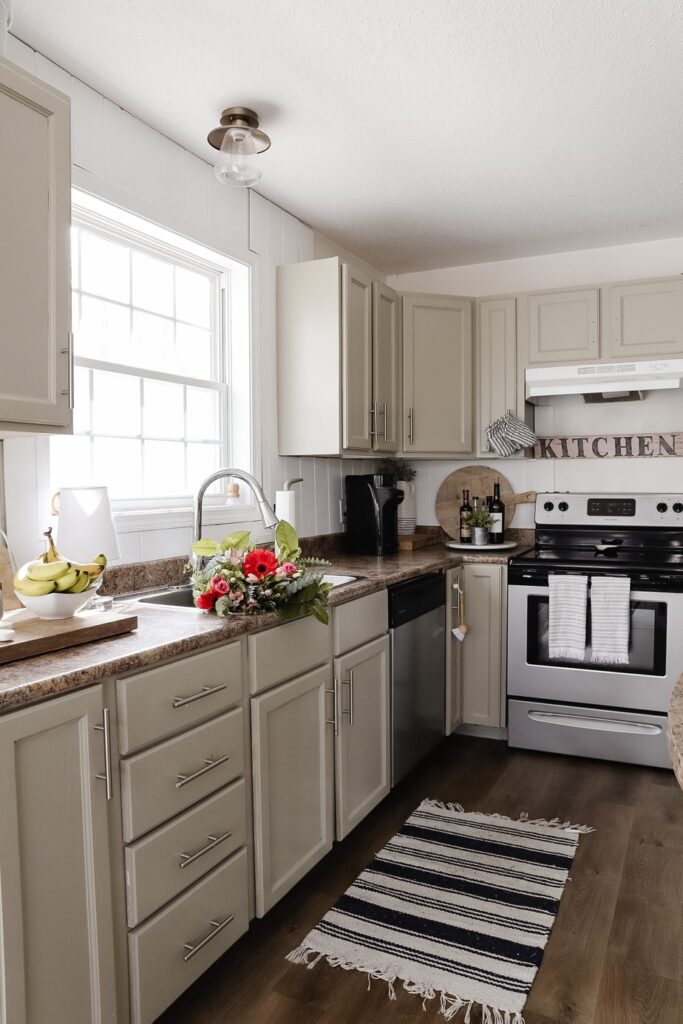 FAQ
Can you Paint over the Oak Cabinets?
​Of course! Yes, you can. Oak cabinets that are in good condition, and you have no problem DIYing this or hiring someone to paint it for you. Then this is a great way to update your kitchen or bathroom without spending thousands to replace cabinets.
Type of Paints that are Best for Painting Oak Cabinets?
Benjamin Moore Advanced Interior is great for painting cabinets in kitchens.
Chalk Paint is a great option as well (I love using chalk paint for bathroom cabinets)
When it comes to choosing the right paint, you want to make sure it has the following:
– Stick with a gloss, semi-gloss, or satin instead of a matte. (matte will not be good for wiping cabinets and avoiding stains)
– While any high-quality paint would work, we suggest grabbing a can of paint that is specifically made for painting cabinets and furniture.
– Lastly, grab an acrylic-latex paint over oil-based paint.
What Paint Finish is Best?
If you are painting a kitchen or other high-traffic area you will want something that can be wiped down easily, but won't show imperfections like a high gloss. Which is why a satin sheen finish is recommended. However, if you are looking for something more glossy, the good news is a semi-gloss will still give you the final finish you are looking for, without showing the brush strokes and imperfections.
What are the Best Paint Colors for a Kitchen?
In 2023 you will still see a lot of white cabinets, along with creams, greys, and greige colors (which is what we went with).
What is the Best Primer for Oak Cabinets?
A good primer will make a huge difference in the look of your cabinets. Which is why we always go with Zinsser products, like BIN. It's a shellac-based primer that is also a stain and odor blocker that covers wood knots.
We've used these products several times for other projects like the minimal bunk beds, and the china cabinet.
How much does it cost to Paint Oak Cabinets?
If this is a DIY project for you, the materials will cost anywhere from $200-$500 depending on the materials and tools you will need to get.
​If you are hiring professional painters, you're looking at $55 – $120 per cabinet door. Which can easily increase based on the extra work they will need to do (like filling the grain, fixing damaged oak cabinets, or if they are extremely dirty).
Do I need to sand Oak Cabinets Before Painting?
No. I shared a detailed tutorial on painting oak cabinets without sanding them HERE.
Is it Better to Spray or Brush and Roll my Oak Cabinets?
The best finish will be with a paint sprayer, but that being said, if you have a smaller kitchen you can certainly get away with just rolling.
How to Make Oak Kitchen Cabinets Look Modern
I figured until we had a bigger budget to renovate the kitchen, that I would find a way to make the kitchen work for us right now. I'm all about making the most of what you have, with what you have.
So I did some research, and it turns out painting oak cabinets was actually a really good option for us. I did test how to paint oak cabinets without sanding on our bathroom vanity first. I didn't want to attempt to paint our entire kitchen without knowing it would actually look good.
As a recap, here are affordable tips to update your kitchen cabinets to look modern without buying a whole new kitchen
– Paint the oak kitchen cabinet a color that will complement the rest of the house
– Replace cabinets with new hardware
– Add lighting underneath the cabinets
Painting Oak Cabinets Before and After
Here are our greige kitchen cabinets, one year after I painted them. And of course, a photo of the golden oak cabinets we started with. One of our most asked questions is if you can paint oak cabinets without sanding them. and the answer is yes. But you need a quality primer, which we've shared in the FAQ section.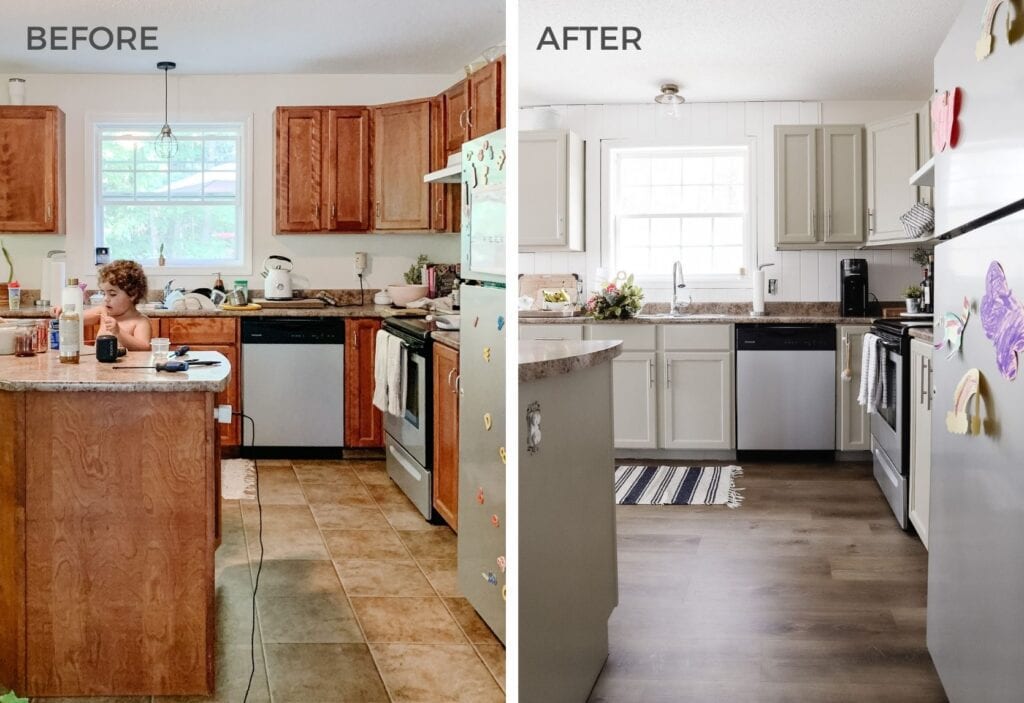 How to Paint Oak Cabinets without Sanding
Here are our greige kitchen cabinets, one year after I painted them. And of course, a photo of the golden oak cabinets we started with. One of our most asked questions is if you can paint oak cabinets without sanding them. and the answer is yes. But you need a quality primer, which we've shared in the FAQ section.
The secret to getting a high-quality finish and painting your oak cabinets without sanding them first is a good primer like the Zinsser product I shared above. But another product I wanted to mention was the Behr's Kitchen, Bath and Trim, Stain Blocking Primer, and Sealer. It's definitely not an area you want to cheap out on.
Wipe and Clean Cabinets
​Start by wiping down your cabinets with a clean rag, water, and mild soap. Next, you'll want to use a tack cloth to remove any debris. I recommend using mineral spirits or a deglosser.
Prep and Hang
I liked to prep the oak cabinets by using a wood filler with a putty knife. But that does require a bit of light sanding with an orbital sander. You can avoid that together if you don't mind the grain (which I didn't mind or notice). Install cup hooks to the bottom of the cabinets, allowing you to hang them from a hanger to spray and paint.
Prime
Use a high-quality primer like Zinsser BIN. This is not only great for hiding stains and odor and even helps with some of the grain in the oak cabinets.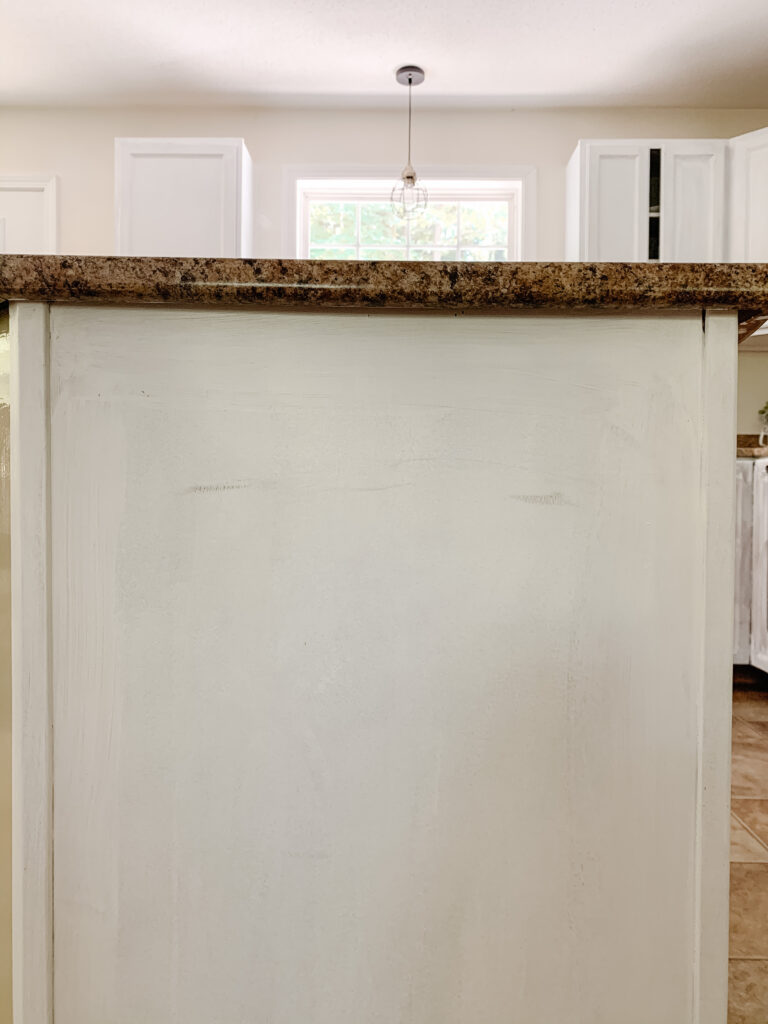 Paint with a Sprayer, Paintbrush, or Roller
A paint sprayer is going to be the best for a smooth, flawless finish. However, you can get a smooth finish with a roller and paintbrush as well. The trick is to use a thin layer of paint, letting it dry before applying a second or third coat.
You do want to use 2-3 coats of paint.
I also covered how we painted the oak cabinets in our bathroom in a step-by-step tutorial which I'll share below.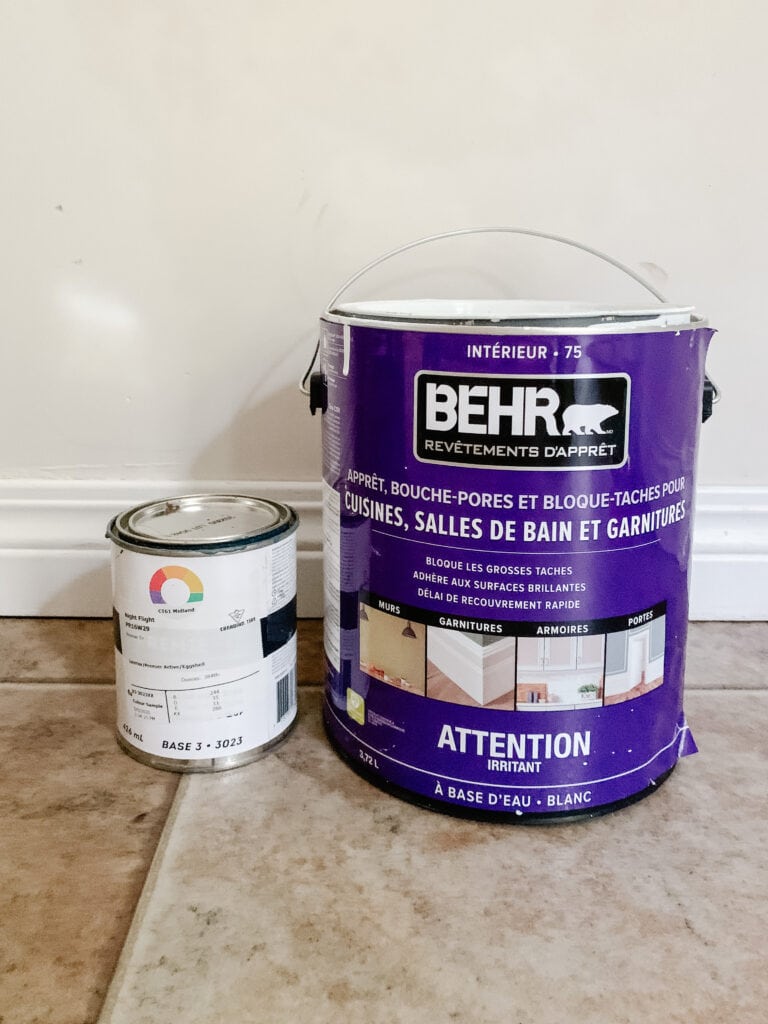 MORE HOME IMPROVEMENT TIPS
7 Steps to Painting Bathroom Oak Cabinets without Sanding First
Do you want to update the look of the oak cabinets in your bathroom? But you don't have the time or space to sand them? Here's how you can get perfectly painted oak cabinets without sanding them.
Painting Oak Cabinets Grey
I did decide I would paint the oak cabinets gray with a twist. We're calling it Greige. It's green, grey, or beige? You'll see what I mean below. It's a paint color I felt worked really well for our little country home in the forest. The color we chose is called Sandy (5114-2) from SICO paint.
Sandy (5114-2) from SICO paint
The exact paint color we used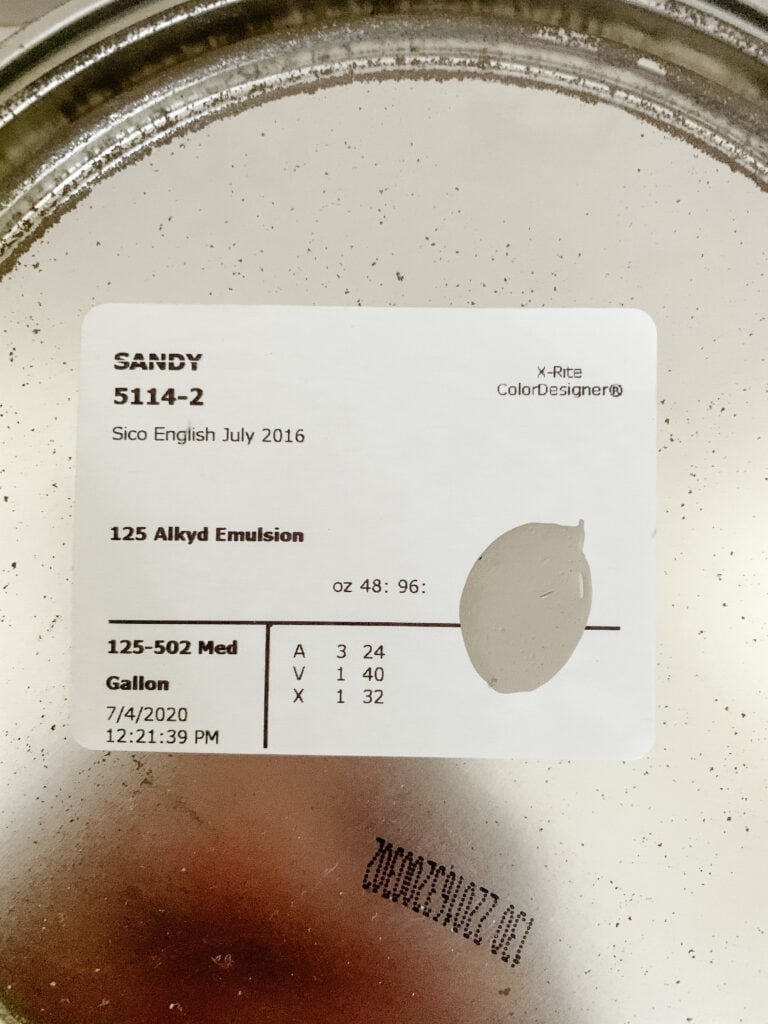 Do I Regret Painting our Oak Cabinets?
Now, time to answer the question you all want to know. Do I regret painting our oak cabinets? Yes, and no. It's been a year, and they still look amazing. Actually, I am beyond impressed with how well the paint has held up.
We don't "baby" our cabinets, and with two small kids and a puppy, you would expect to have a few chips. However, despite a lot of messages from others who have painted their kitchen cabinets, and had issues with chipped and peeling paint. Over the years, ours have remained in great shape and the paint hasn't peeled.
I can attribute this to using a high-quality primer. It makes a world of a difference when it comes to the longevity of the project. While I don't regret painting the oak cabinets because it made our kitchen look more modern and essentially gave it an update on a budget.
But, I regret not using a paint sprayer. I should have done a better job painting it. I can see drip marks in certain areas, and the inside of the cabinets has some lighter areas. Which is obviously due to my painting skills, not the paint itself.
Pros and Cons of Painting Oak Cabinets?
We know the perfect paint job can be costly or time-consuming. So before you start, we thought we would help you make an informed decision. Here are some pros and cons of painting kitchen cabinets, from someone, who actually did it herself a few years ago. Not to mention, I've had a lot of time to think about the project and assess how well they've held up.
What are the Pro and Con of Painting Oak Cabinets
Pro's
It's a budget-friendly and affordable way to update your kitchen
You're able to do it yourself and save even more money
It's a quick way to update your kitchen
Con's
It may be a temporary solution
It's a lot of work
If you choose to paint it yourself, it might not be as high-quality as a professional
Added costs to make it look professional (either hiring a professional painter or purchasing a paint sprayer)
Time-consuming
Hard to touch up if needed
Conclusion
It is defiantly possible to update your oak cabinets by painting them. You can paint them with or without sanding them first. There are several other ways to update your cabinets, along with painting them. It's really important that you use quality products and materials (like paints and primers). If you don't want to DIY it yourself, you can pay a professional painter but expect to pay anywhere from $55-$120 per cabinet door.
Wondering what's next? I've been really into more of a natural wood tone for the kitchen. Wood kitchen cabinets are definitely trending right now, and seeing them everywhere makes me wonder if I should have spent time sanding and stripping the cabinets.
Maybe that's another project I can do sometime in the future. But my advice is to know what you want, and not to be afraid to paint your kitchen either. So now that you know what I think about painting kitchen cabinets, and how they've held up over the past year. Good luck! I hope this helped you decide if painting your oak cabinets is something you can DIY yourself, or hire a professional to do. But we promise it can be done and can save you thousands of dollars, over buying a whole new kitchen.