If I had to go back in time and repaint our greige kitchen cabinets, would I do it? We're chatting about the pros and cons of painting oak cabinets, and sharing all the before and afters.
Editors Note: We recently updated this article to help you get the best information and tools. If you notice anything or have more questions please let us know in the comments or through email.
Before we bought this house, we owned a two-bedroom condo in Toronto. Not only was it the perfect place for a young couple, but it sparked my love of design even more. We had big windows in each room that overlooked the Toronto skyline, and a beautiful condo-sized kitchen.
That kitchen had dark laminate cabinets, quartz countertops, and a conventional stovetop built into the island. It was perfect for us at that time.
However, our kitchen now feels like we've taken a step back.
The day we placed an offer on this house, I knew two things. The golden oak cabinets in our kitchen needed to be replaced or repainted. And the brown laminate countertops had to go!
So that became the plan…
I decided I would figure out how to make oak kitchen cabinets look modern, and give it an update on a budget.
Painting Oak Cabinets
How to Make Oak Kitchen Cabinets Look Modern
I figured until we had a bigger budget to renovate the kitchen, that I would find a way to make the kitchen work for us right now.
So I did some research, and it turns out painting oak cabinets was a great option. Here are the ways I made our oak kitchen cabinets look modern.
Paint the oak kitchen cabinet a color that will complement the rest of the house
Update the kitchen hardware
Clean and wipe down the cabinets
Add lighting underneath the cabinets
Painting Oak Cabinets Before and After
Here are our greige kitchen cabinets, one year after I painted them. And of course, a photo of the golden oak cabinets we started with.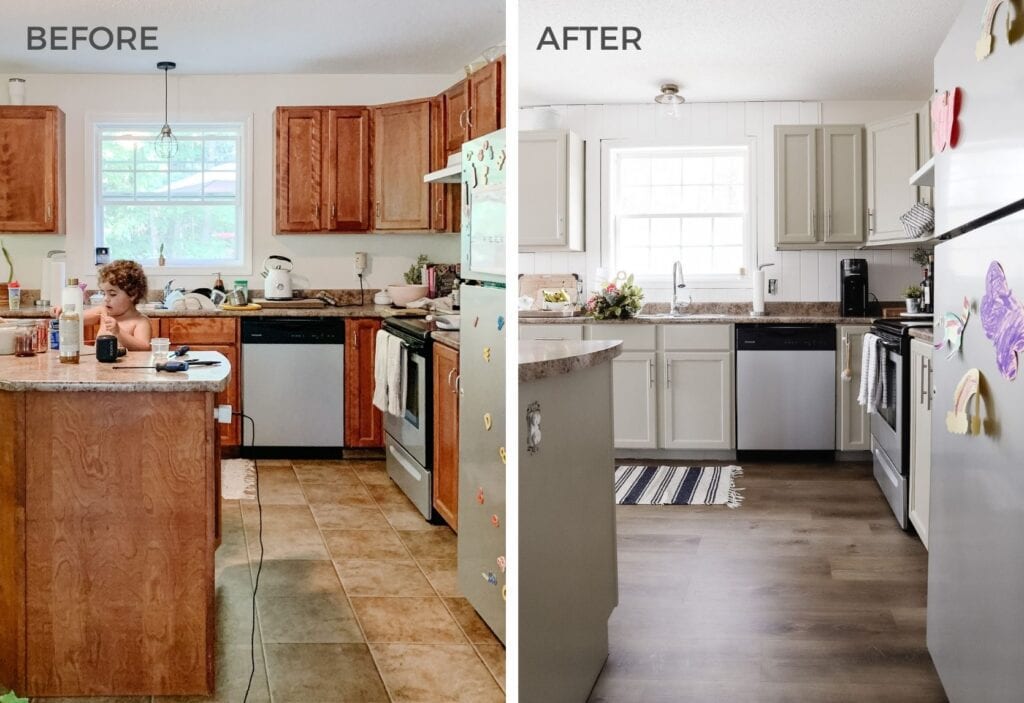 How to Paint Oak Cabinets without Sanding
Did I tell you I painted oak cabinets without sanding them first? I know it's crazy. So many people told me not to, and others told me horror stories of peeling paint and chipping.
But I am happy to say it's been a year and there is not one single paint chip or peel going on.
Want to know my secret?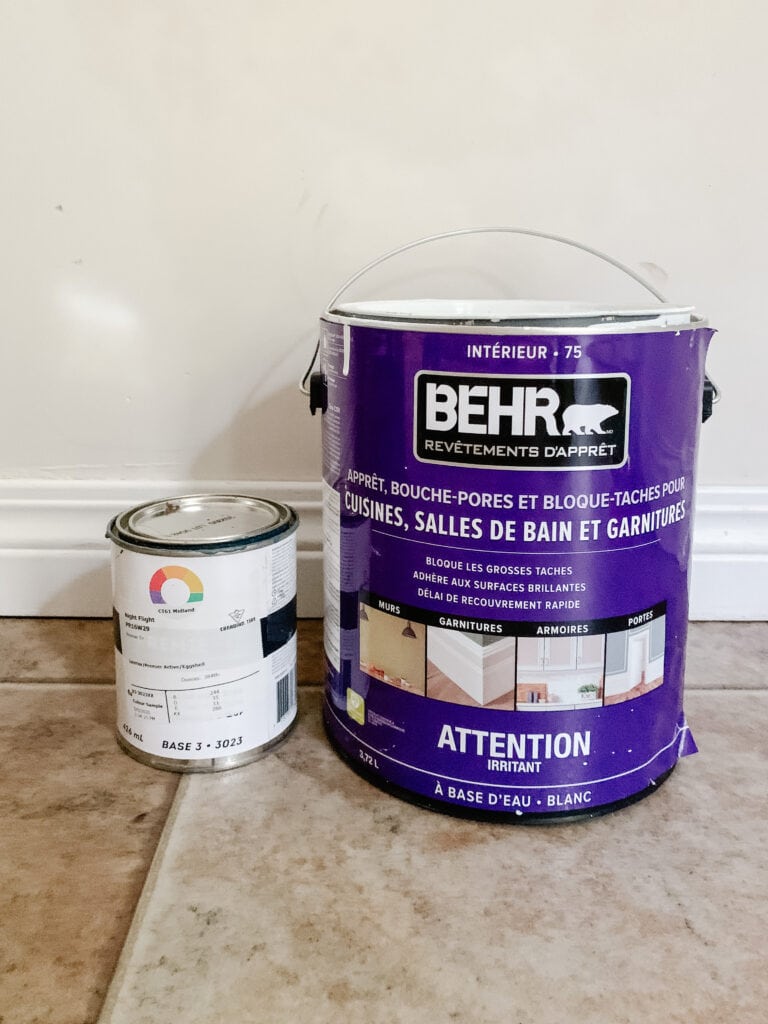 Using a great primer!
The secret to getting a high-quality finish and painting your oak cabinets without sanding them first is a good primer. This is not an area you want to cheap out on. We used Behr's Kitchen, Bath, and Trim, Stain Blocking Primer & Sealer.
I covered how we painted the oak cabinets in our bathroom in a step-by-step tutorial which I'll link below.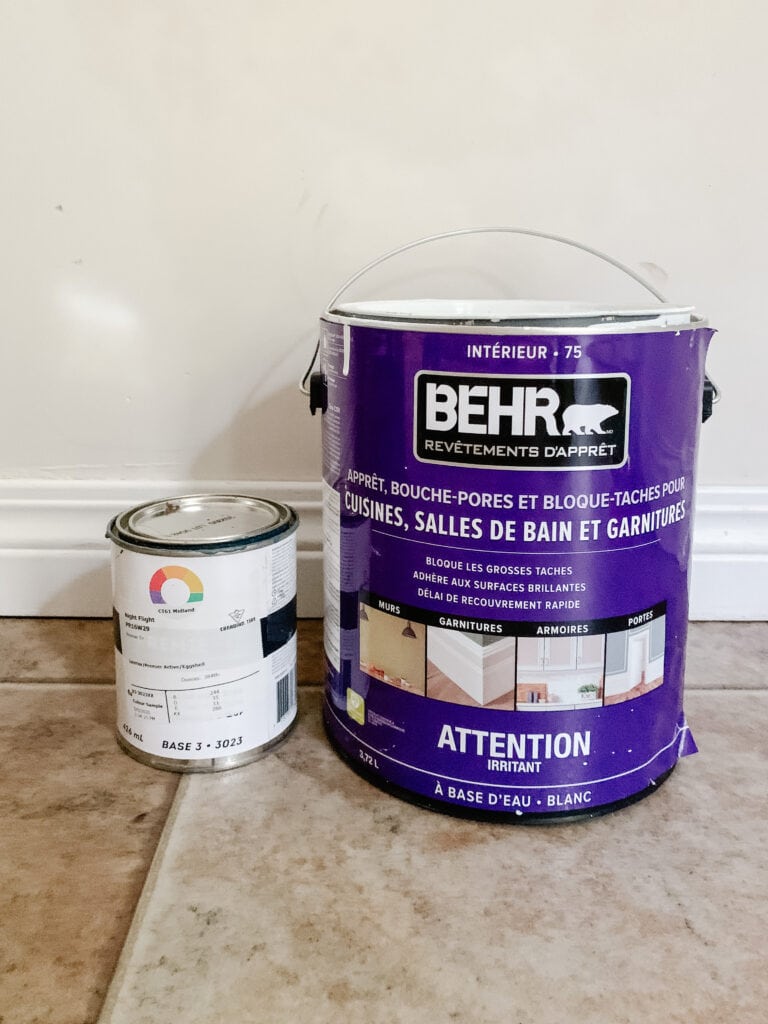 MORE HOME IMPROVEMENT TIPS
Painting Oak Cabinets without Sanding
Do you want to update your oak cabinets? But you don't have the time or space to sand them? Here's how you can paint oak cabinets without sanding them first.
Best Paint for Oak Cabinets
When it comes to choosing the right paint, you want to make sure it has the following:
Stick with a gloss, semi-gloss, or satin instead of a matte. (matte will not be good for wiping cabinets and avoiding stains)
While any high-quality paint would work, we suggest grabbing a can of paint that is specifically made for painting cabinets and furniture.
Lastly, grab an acrylic-latex paint over oil-based paint.
Painting Oak Cabinets Gray
I did decide I would paint the oak cabinets gray with a twist. We're calling it Greige. It's green, grey, or beige?
You'll see what I mean below. It's a paint color I felt worked really well for our little country home in the forest.
The color we chose is called Sandy (5114-2) from SICO paint.
Sandy (5114-2) from SICO paint
The exact paint color we used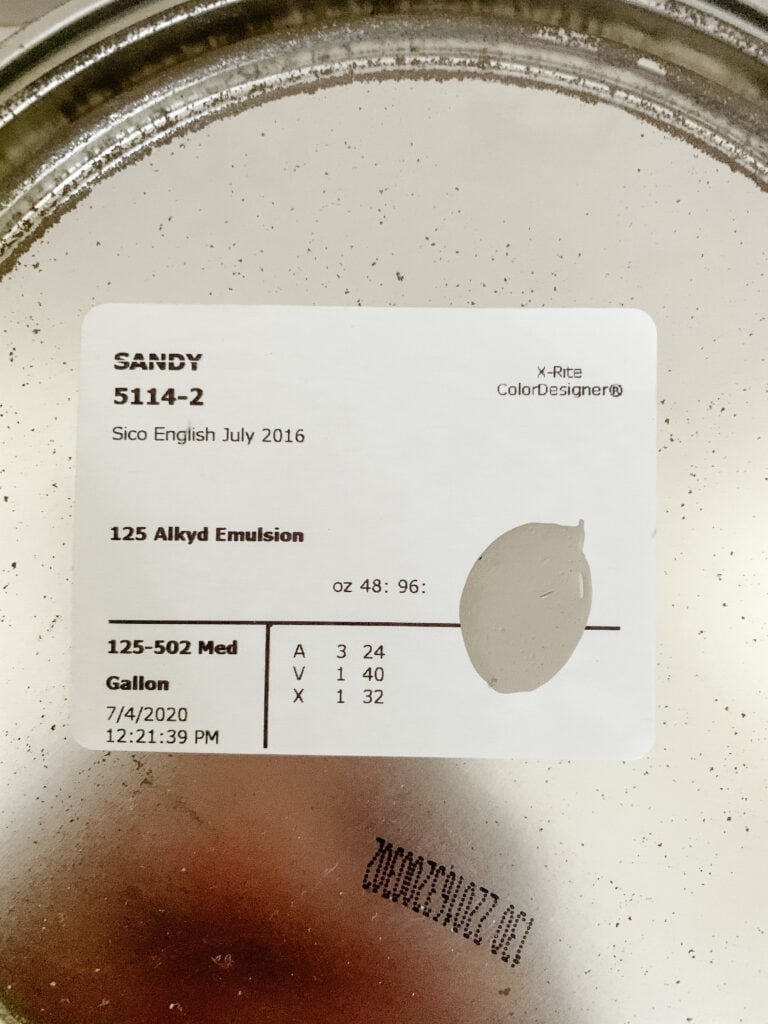 Do I Regret Painting our Oak Cabinets
Now, time to answer the question you all want to know. Do I regret painting our oak cabinets?
Yes, and no.
It's been a year, and they still look amazing. Actually, I am beyond impressed with how well the paint has held up. We don't "baby" our cabinets, and with two small kids and a puppy, you would expect to have a few chips. However, despite a lot of messages from others who have painted their kitchen cabinets, and had issues with chipped and peeling paint. Ours have remained in great shape and the paint hasn't peeled.
I can attribute this to using a high-quality primer. It makes a world of a difference when it comes to the longevity of the project.
While I don't regret painting the oak cabinets because it made our kitchen look more modern and essentially gave it an update on a budget. But, I regret not using a paint sprayer. I should have done a better job painting it.
I can see drip marks in certain areas, and the inside of the cabinets has some lighter areas. Which is obviously due to my painting skills, not the paint itself.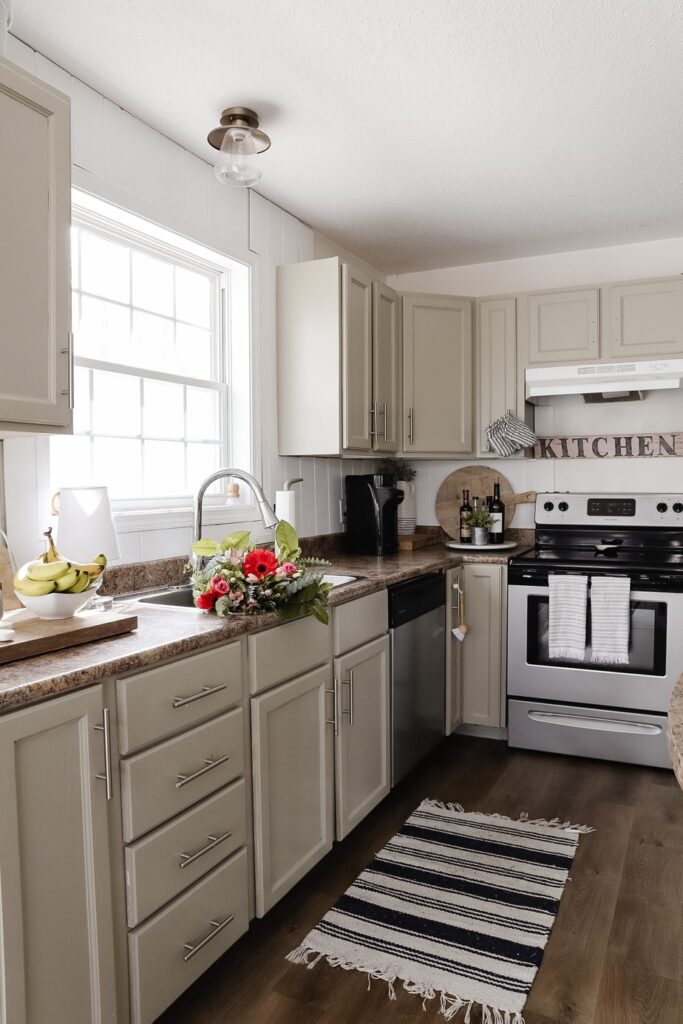 Pros and Cons of Painting Kitchen Cabinets
We know painting your kitchen cabinets can be a big project. So before you start, we thought we would help you make an informed decision. Here are some pros and cons of painting kitchen cabinets, from someone who actually did it over a year ago. I've had a lot of time to think about the project and assess how well they've held up.
What are the Pro and Con of Painting Oak Cabinets
Pro's
It's a budget-friendly way to update your kitchen
You're able to do it yourself and save even more money
It's a quick way to update your kitchen
Con's
It may be a temporary solution
It's a lot of work
If you choose to paint it yourself, it might not be as high-quality as a professional
Added costs to make it look professional (either hiring a professional painter or purchasing a paint sprayer)
Time-consuming
Hard to touch up if needed
Wondering what's next? I've been really into more of a natural wood tone for the kitchen. Wood kitchen cabinets are definitely trending right now, and seeing them everywhere makes me wonder if I should have spent time sanding and stripping the cabinets.
Maybe that's another project I can do sometime in the future. But my advice is to know what you want, and not to be afraid to paint your kitchen either.
So now that you know what I think about painting kitchen cabinets, and how they've held up over the past year. Hopefully, this will help you figure out if you should paint your kitchen cabinets or not.