Painting a China Cabinet 101
Interested in painting a china cabinet? We're sharing all the tools and tips you need to DIY your old china cabinet and make it look modern and stylish.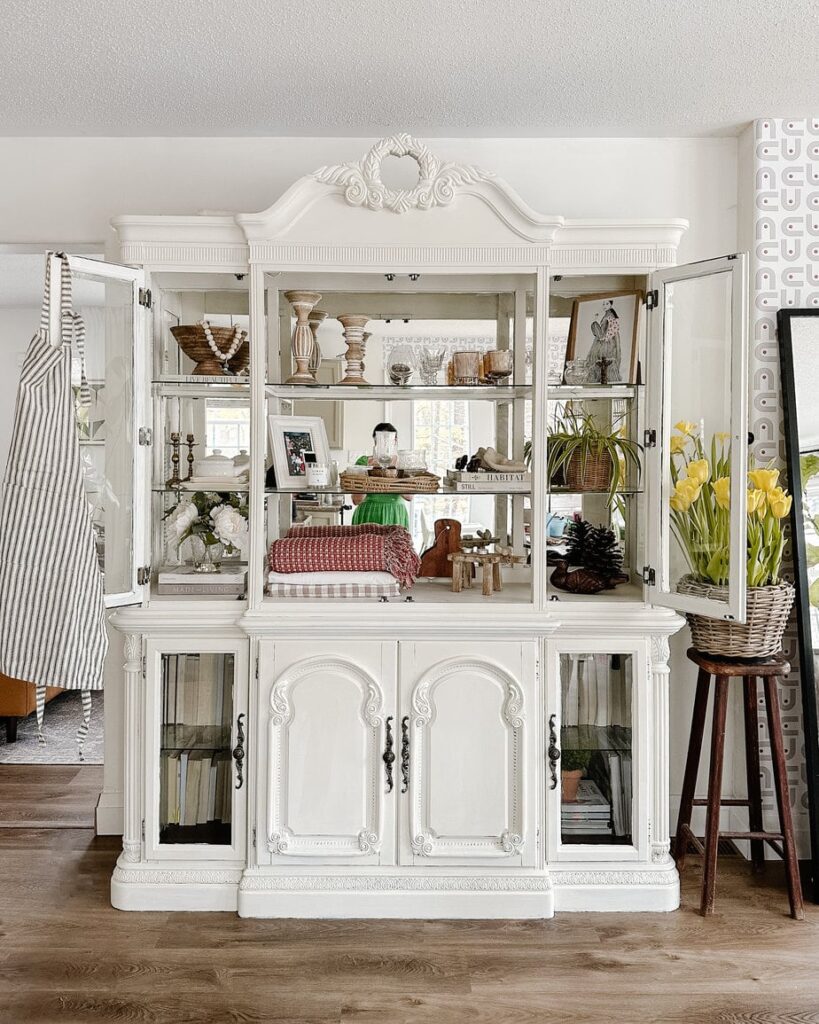 I recently finished our dining room makeover, but I was still struggling with the empty wall that connected with the kitchen. I knew that I wanted a hutch or china cabinet that not only fit our style but also served as extra storage.
So, of course, I started looking for used furniture on Facebook Marketplace. That's when I came across a painted china cabinet for FREE! I was looking for a new project, and this had so much potential. I also found out the type of paint the seller had used for the blue china cabinet and knew I could easily cover it with a bit of light sanding, primer, and mineral paint.
I'm going to show you how to refinish a china cabinet, the best paint for china cabinets (even stained china cabinets), and how to style a china cabinet.
Painting a China Cabinet Prep
China cabinets used to be very popular in the 1900s, serving as a way to display fine china, beautiful dinnerware, glass, and heirlooms. But over the years, china cabinets have slowly fallen out of style. Instead, people opted for functionality over fancy displays.
Which hasn't impacted the price of a quality cabinet much. You can expect to pay anywhere from $1,000 to $4,000+. So if you're on a budget, keep reading because I just gave an old china cabinet a makeover for under $100.
Before we get into the steps you need to take to refinish a china cabinet, let's go over the materials you'll need to get started.
Tools you'll need
Click on any of the items above to shop directly.
How to Paint a China Cabinet
When it comes to refinishing furniture, the trick is to use the right paint. So what kind of paint do you use to paint a china cabinet? Mineral paint and chalk paint are my favorites for painting furniture in general.
What is the difference between Chalk Paint and Mineral Paint
The difference between chalk paint and mineral paint is the finish. We'll explore more about the differences below and you'll be able to understand what paint is best for your project.
Chalk Paint
If you like a matte or satin finish then chalk paint is your go-to. However, unless you use a wax top coat, the paint tends to chip and get flakey over time. But chalk paint is a great budget-option, that does not require sanding or priming. However, chalk paint will require more coats.
Best Brushes for Chalk Paint
A pure bristle brush or nylon brush tends to be the best for chalk paint and applying waxes.
Mineral Paint
For this project, I opted for Mineral Paint. If you prefer a slight sheen but a smooth finish, that doesn't require a top coat then Mineral Paint is your go-to. The only issue with using Mineral Paint for painting a china cabinet is it's hard to cover over, and it's not easy to distress because of how fast and thick it dries. Plus, sanding is recommended if the cabinet is previously painted. But sanding is not needed to cover raw wood.
Best Brushes for Mineral Paint
Synthetic brushes are usually the best for mineral paint, as it glides on and off the brush with ease.
Now that we've gone over the types of paint I recommend for China Cabinets. Let's go over the steps to actually painting a China Cabinet.
Step-by-Step to Refinishing a China Cabinet
It can be intimidating painting a china cabinet for the first time, but trust me, you can do it. I'm sharing the exact steps I took to refinish our older cabinet.
Clean
The first step is to take everything off and wipe down the china cabinet. I use a damp cloth with water and soap.
Sand
Do you need to sand a china cabinet before painting? the answer is no. But only if you're using the right paint. A good chalk paint or mineral paint will be okay to cover the original hutch. However, if you have a stained hutch or it was pre-painted, keep reading because we share exact steps to properly paint it.
Tape
I prefer to tape, but I've also tried to cut in myself. The option will depend on your comfort level. If you end up painting glass with either mineral paint or chalk paint, you will be able to remove paint using a razor after you're done.
Paint
Once you choose the paint for your project, you'll want to get the right paintbrush. I love the Pro Grade Paint Brushes (Linked for you), because not only are they great for painting with this type of paint, but also inexpensive.
The number of coats will depend on the type of paint, the prep work, and the state of the china cabinet beforehand. But it usually takes 2-3 coats. This means I'll use anywhere from 2-3 bottles of Fusion Mineral Paint (my paint of choice).
Finishing Touches
If you used chalk paint, and you want a durable finish, then you'll probably want to add a top coat of wax. I don't use a top coat when I use mineral paint, but again it's all preference.
Painting a Stained Hutch
A stained hutch is when a type of colorant that is applied to hutch that will still show the natural grain underneath. It also seals the pores, preventing it from taking water, discoveration and protecting it from UV rays.
When it comes to refinishing a hutch or china cabinet that has been stained, these two products together make a world of a difference to the quality of the makeover.
When painting furniture with a stain on it, you'll need to buy a really good primer. A primer will not only going to save you on the number of coats you'll use, but it will also ensure the stain is properly covered.
Primer is a great option because it seals the stain, preventing any discoloration, while reducing the number of coats you'll need, and preventing any paint from peeling.
There is also a difference in the type of primer, which is why we like to use ZINSSER's Bullseye 1-2-3 Primer. It's a great product that we've used time and time again.
How to Style a China Cabinet
One of my favorite places to style in my home is our china cabinet. Not only do I decorate it for each season, but I also like to style a china cabinet for the holidays. So I'm going to share the basics of styling a hutch or china cabinet and give you some ideas to make the most of yours.
If you're looking for a more permanent way to style a china cabinet you can also use paint, wallpaper, or cane. Some ideas are:
Bright Painted Color
Wallpaper
Two-Toned
Cane or Wire
But if you're looking for a less permanent, more seasonal way of styling your china cabinet. Then we have a few other ideas for you.
Patterned Dishes, Vintage Dish Sets, or Lean Beautiful Dishes
Brass, Gold, and Silver
Glass Items
Bar or Beverages as Decoration
Books
Decorate on top of the china cabinet
Group Similar Items
Remove the Doors
Use Plants and Flowers
Place Heavy Items at the Bottom
Wallpapering China Cabinet
Upcycle a china cabinet in a few simple steps by adding wallpaper. Our personal preference is to use peel-and-stick wallpaper on the inside.
Remove and Clean the back of the China Cabinet
Measure and Cut the Wallpaper
Lightly Sand
Stick on and Remove any Bubbles
How to Paint a Hutch with Chalk Paint
A mid-century china cabinet can easily be updated with chalk paint. Painting a hutch with chalk paint is similar to painting a china cabinet. Follow the steps below:
Clean and Wipe Down
Prep and Lightly Sand
Use 1-2 coats of primer
Apply 2 coats of Chalk Paint
Apply a Top Coat of wax
Chalk Paint China Cabinet Before and After
This was one of our favorite DIYs, and we hope you learned a thing or two about painting a china cabinet or hutch. Let us know if you have any questions, and make sure you stay tuned on our Instagram page for more projects.